The Jamaica-born, Victoria-based artist has shown at the Brooklyn Museum and Pérez Art Museum Miami—but only recently had his first Vancouver solo show
The Jamaica-born, Victoria-based artist has shown at the Brooklyn Museum and Pérez Art Museum Miami—but only recently had his first Vancouver solo show
The title of Charles Stankievech's sparse solo exhibition "Horror Vacui" refers to the fear of empty spaces associated with Outsider art and psychedelic imagery.
In "Constellations," Sara Angelucci has curated a thoughtful exhibition of work by two artists who use found materials and the medium of light to seek reconciliation with the complex legacies of the Second World War.
A theatre is a familiar space. Its basic structure of proscenium stage plus auditorium dates back to ancient Greece and was adopted throughout the world without many radical changes.
When Manet cited Raphael in Le Déjeuner sur l'herbe (1863), he did it by way of an engraving—Marcantonio Raimondi's reduction of the lost Judgment of Paris—that functioned as a schematic by which Manet brought Raphael back to canvas.
The Winnipeg-born Montreal artist Dil Hildebrand is already big for his britches.
Exponential Future," an exhibit of eight young Vancouver artists co-curated by Juan Gaitán and Scott Watson, provokes a very simple question: what kind of future is this?
Never before having visited the Fondation Cartier, I had diamond-encrusted visions of the Jean Nouvel–designed building.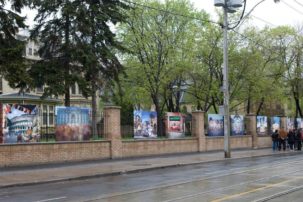 As Toronto's CONTACT Photography Festival wraps up, Canadian Art Weekly takes a step back to examine the fest's overall highlights.
Balint Zsako's practice is often described as quirky, disturbing, otherworldly and a little bit dirty. But despite all of the swollen sex organs and pendulous breasts on view, his work doesn't feel pornographic; rather, it feels mythic.
The centerpiece of Simon Starling's new exhibition at The Power Plant, Infestation Piece (Musselled Moore), demands some explanation to be fully understood.