The Jamaica-born, Victoria-based artist has shown at the Brooklyn Museum and Pérez Art Museum Miami—but only recently had his first Vancouver solo show
The Jamaica-born, Victoria-based artist has shown at the Brooklyn Museum and Pérez Art Museum Miami—but only recently had his first Vancouver solo show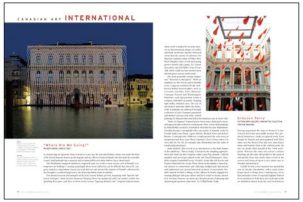 A constant stage for spectacle, Venice is home to a new one...
"Murray Laufer" by Stephen Weir, Winter 2006, pp. 92-93
On the occasion of Centre Clark's 18th birthday, Mathieu Beauséjour curated a small but dense show under the title "Teenage Kicks."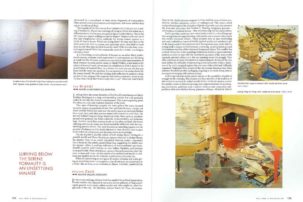 In his recent paintings, Etienne Zack has applied his political imagination to the modern city. ...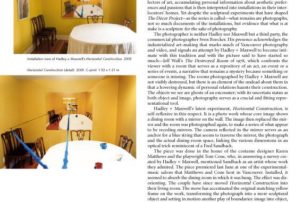 Intimacy is key in the work of Hadley + Maxwell. Since 2001 the duo has been working through a series of close encounters with curators and collectors of art, accumulating personal information about aesthetic preferences and passions that is then interpreted into installations in their interlocutors' homes.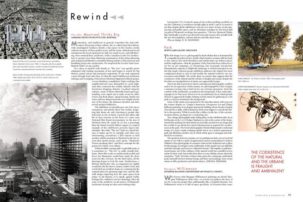 Who knows what Margaux Williamson's paintings are about? Margaux Williamson, that's who—or at least one gathers she does, if not by conscious design then subliminally, like a forgetful dreamer.
The first image I see is a photograph by Karin Bubas that is dominated by a magnificent redwood tree, beside which stands a woman with her back to the camera. ...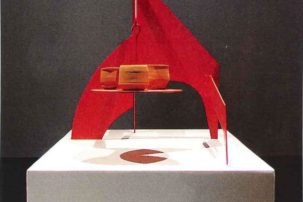 The Vancouver-based artist Damian Moppett recently set himself the task of learning the craft of pottery. ... Summer 2005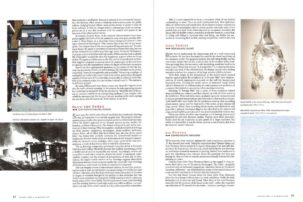 The anatomy of art receives nightmarish (and scrupulous) attention in Ben Reeves's new work. ... Summer 2005
For some decades, abstract painting has been tricky terrain to negotiate. ... Fall 2004