On Trump's first day as president-elect, a bare-chested man with shoulder-length, middle-parted brown hair crosses his legs and feet atop the steps of the Musée d'art contemporain de Montréal, reading a book next to his backpack and his bouquet of flowers, and basking in the unseasonably warm sun. My sister and I have just paid admission to the MAC, intending to see the Biennale de Montréal, but really to coat-check our belongings after leaving our AirBnB, "the former studio of international graffiti artist" Omen, whose name was stencilled, spray-painted and framed across from the bed we shared.
A group of people with tall, thin yellow cones atop their heads begin to gather outside Place des Arts. After an hour, it's a full marching crowd. It's been two years since I spent a summer in Montreal to learn French (but instead Tindered relentlessly), so all I'm able to make out from the dispersed placards are the words "LGBTQ," "women," "Muslims," "refugees." A man breaks out from the crowd and marches alongside it to boast his painting—spanning the stretch of his arms and almost his height—of a devil-horned Trump.
Inside the Biennale, titled "Le Grand Balcon," Walter Scott's Headbanging (for Shelley)—its four neon, screaming, glowering faces arranged like the leaves of a clover, each taking a turn to light up, clockwise, around a central axis—is a personification of my news feeds in the hours and days following the announcement of Trump's election. I see Scott's work before the thinkpieces flood in, many of them dispassionate, theoretical analyses from people whose lives won't be directly affected. Instead, in the moment, I read frantic, tongue-tied tweets and status updates, ranging from white-liberal shock and incredulity that white supremacy is still alive and well—even though people of colour have been calling it out since forever—to let-it-burn nihilism, to Canadian pride at our ostensible inclusivity. A few hours later, I see calls for solidarity to protect the people—anyone who isn't white or cis or straight or male or passing for any variation thereof—who will be immediately and tangibly affected by the white-supremacist, misogynist and homophobic policies that Trump will likely instate when he takes office in early 2017. But it's already happening: hours after the news breaks, telephone-pole posters appear in Toronto appealing to white people tired of political correctness, of being blamed for everything that's wrong with the world, of being afraid to celebrate "white heritage," of surmising that diversity means less white people.
I lay eyes on the bodies of men pulsing with disenfranchisement and national pride, chanting tahya masr ("long live Egypt") and rallying in a public square in David Gheron Tretiakoff's video A God Passing, and I am instantly reminded of the footage I inhaled breathlessly for 18 days in February 2011 after receiving a Facebook-event invite to the protest that would start a revolution overthrowing the three-decade authoritarian rule of Hosni Mubarak. Egyptians of my generation and our parents' and their parents' never believed that such pervasive disenfranchisement would materialize into anything, let alone dissent and ousting.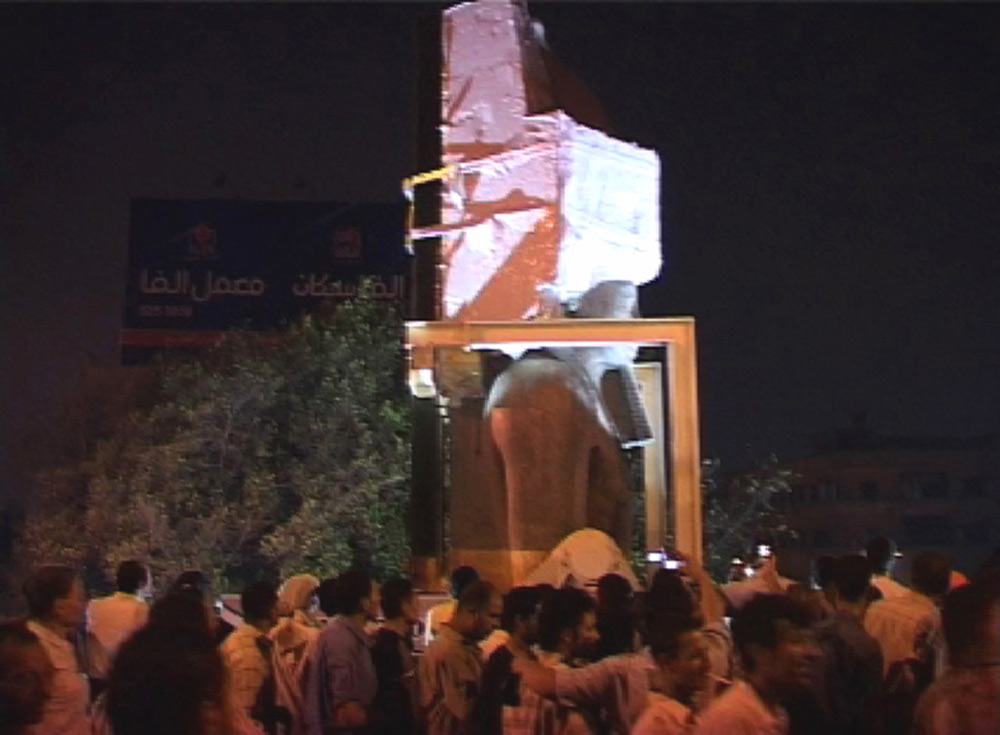 David Gheron Tretiakoff, A God Passing (still), 2008. Courtesy the artist.
While the events depicted in A God Passing predate the revolution by about five years, the didactic asks if "the removal of Ramses [can] be seen as the starting shot of the revolution in the Middle East." The five-storey-high, 83-ton-heavy statue of Ramses floats through throngs of men crowding the streets of Cairo, with military omnipresence, to watch the spectacle of the historic eight-mile pilgrimage from pollution-heavy, high-traffic Ramses Square to the Giza plateau, where it will eventually end up in the temperature-controlled Grand Egyptian Museum, not scheduled to open until 2018. The protective braces obscure everything but his face and its forward-looking, granite gaze, on a float bearing the logo of Egypt's antiquities council. Flags flicker throughout the crowd. A man ascends the shoulders of another and leads the others in general patriotic chants for his 15 minutes of fame. Another man holds a sign that loosely translates to an exclamation of pride in his Pharaonic ancestry, and passersby pick arguments with him over whether or not all Egyptians share this ancestry. He responds with something like, "The descendants of pharaohs are enslaved in their own country. We don't deserve to carry Ramses's blood."
Even though it's a national spectacle—a result of four years of planning, with a replica made to rehearse the journey—there are no women in sight in the crowds, leaving them to watch only from balconies and televisions. The chants mute at the climax, when Ramses is within arm's reach, no longer hovering in the horizon, and the crowds watch in awe, filming on their flip phones. Egyptian revolt overthrew a three-decade military rule, then voted in a Muslim Brotherhood mouthpiece, then overthrew him. Now, in a cruel, circuitous irony, Egypt is ruled by another military general.
Throughout "Le Grand Balcon," I read didactics first. They extol the work's poetics (or polemics, sometimes) but when the wall text says that the viewer ought to glean "horse fetishism, female sexuality, the subconscious, and collage, in a surrealist, almost 'Dali-esque' world"—this pertaining to Lena Henke's ceramic sculptures of horses' feet—all I see are opaque plastic milk containers nestled into wooden pedestals, and not the "vagina-looking forms" or the suggestion of "high-rise buildings evoking brickwork" as the text suggests. When I look at Celia Perrin Sidarous's Notte Coralli, all I see are pristine, deadpan still-lifes composed of seashells, vases, leaves and cut-out shapes, devoid of the suggestion of "a new reality" or the "layering of temporalities" I ought, according to the didactics, to fathom. I ought to pick up on a reference to beds and their "intimate psychological associations" when I look at Nadia Belerique's Bed Island (Don't Sleep), but all I see are wine bottles and cigarettes and other about-last-night effects that you can only notice by standing underneath the storey-or-so-high translucent glass tables atop of which they're arranged.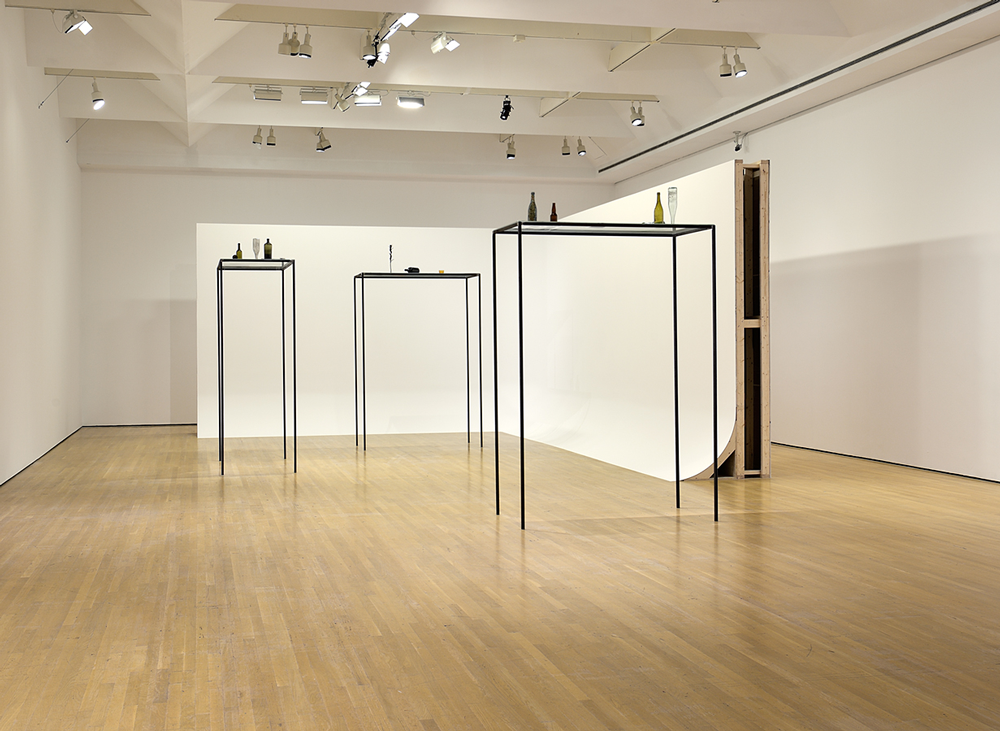 Installation view of the Biennale de Montréal 2016 at the Musée d'art contemporain de Montréal featuring Nadia Belerique, Bed Island (Don't Sleep). Photo: Daniel Roussel. Courtesy the Biennale de Montréal.
My synapses just aren't firing. In this state it's all just a grouping of personal affects/effects composed to make an object or a video or a space. And without didactics—to which I resorted, as most people would, to contextualize the work and supplement its legibility—it's literally just that: a grouping of personal affects/effects composed to make an object or a video or a space. With this consistent discrepancy between the work and its didactic interpretation, I wonder: how would the didactics' removal affect the legibility of "Le Grand Balcon"? Do artworks in an exhibition with a curatorial mission to "[deflect] every attempt to fit in or create an overarching narrative, to be introduced into a system of classification or to be pinned down, [so that] the exhibition becomes a place of fallacy, where things can go astray" need didactics, in the same way that the brightest supermoon since 1948 needs clickbait articles to tell the non-astronomically inclined what it is? Are we not able to discern the moon's uncharacteristic brightness with our naked eyes?
I yearn to hear my mother tongue again, so I seek out Hassan Khan's piece. Before I get there, I make my way through what feels, at moments, like a children's discovery centre. Nicole Eisenman's flat, crude-but-crisp Shooter diptychs each depict a head-on view into a gun barrel, from the point-of-view of a close-up target. Ben Schumacher's Telephone & Telegraph is a metal, hotel sign–like iron frame hung perpendicular to the wall, with a cord-wrapped globe in its middle. On the floor, a rusted bundle of telegraph cables snake to the other side of the gallery. The didactic says something about globalization and the obsolescence of communications technologies.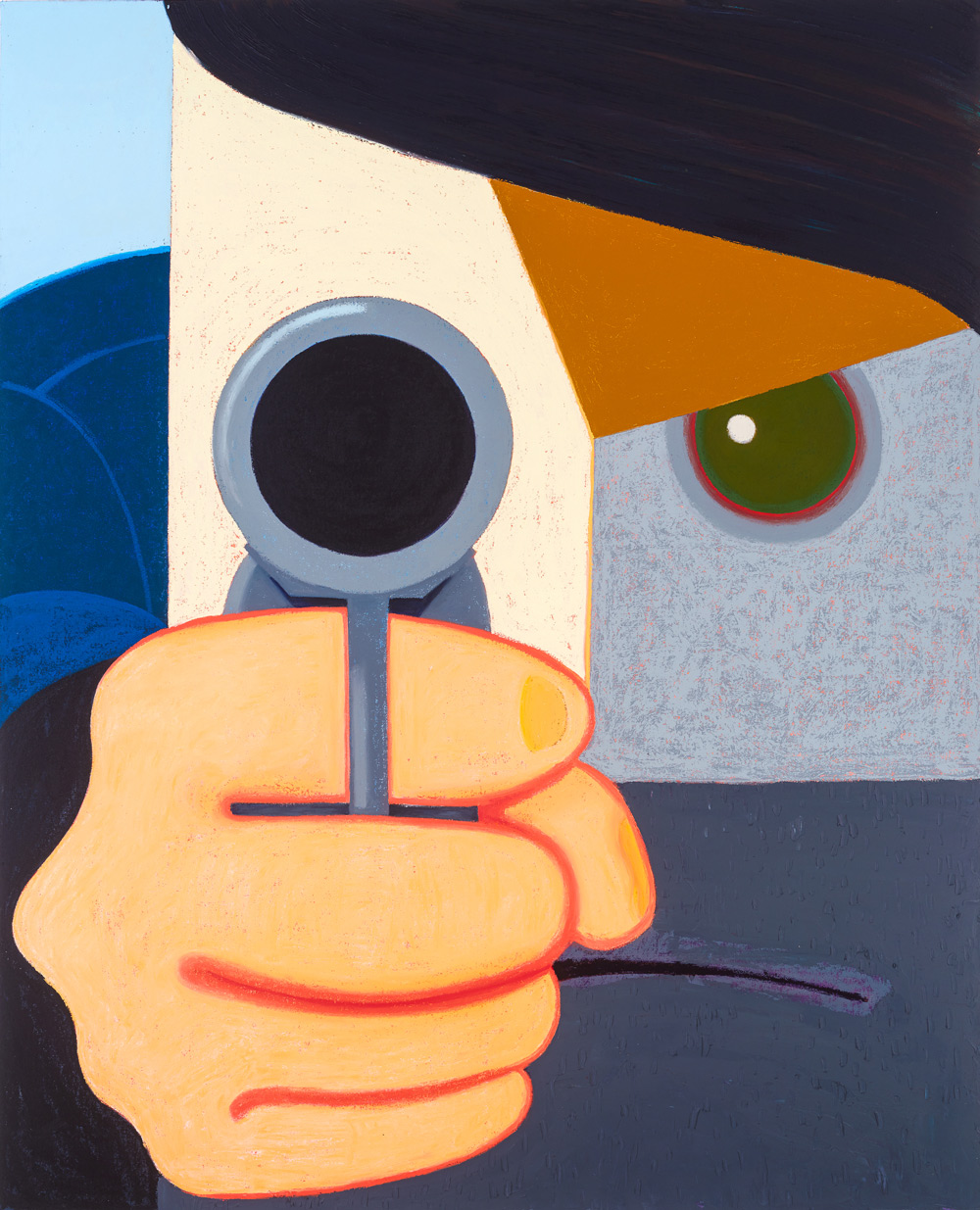 Nicole Eisenman, Shooter 1, 2016.
Khan's The Slapper and the Cap of Invisibility is set in a vacuum-like black box. With unbridled affect, two men in the black-and-white video—one bald and in a suit, whose idiot-savant mannerisms mimic those of Ismail Yassine, the quintessential Egyptian slapstick comedian; the other in a plaid shirt and toupee, whose gestures and persona mimic those of Tawfiq al-Daqqn, the prototypical recurring villain—play out an allegory of the emperor's new clothes, a trope of Egyptian comedy. When the bald man arrives late, the toupeed man says, "It's all my fault, waiting for someone like you. I've been standing here for over two hours. Your kind doesn't appreciate the value of time. The years we lose are never regained." The bald man retorts, "Our lives are lost anyways."
The bald man has a slapper—a novelty-sized wooden hand, hinged on a stick—that the toupeed man covets, and they squabble over it. The toupeed man attempts to sell the bald man on his sole possession, the cap of invisibility, and when the bald man puts it on, the toupeed man exclaims he can't see him. "You're doing all of this just so you can take my slapper," the bald man says, until the toupeed man puts on the cap himself and the bald man exclaims he can't see him either. Who's exploiting who? The toupeed man tries to convince the bald man of all the great things they could do if they were to join forces. The bald man objects. In between the Arabic speech and the English subtitles, entire phrases are not just lost in translation, but lost entirely.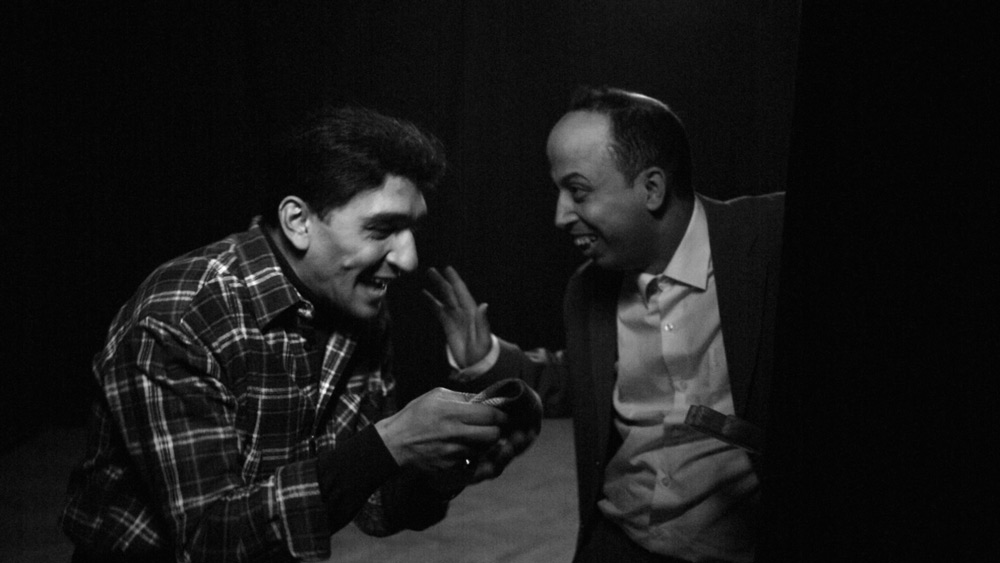 Hassan Khan, The Slapper and the Cap of Invisibility, 2015. Courtesy the artist, Galerie Chantal Crousel, Paris and La Biennale de Montréal.
As I write this, it's been a week since the election results, and everything that could possibly be said initially, and infinitely more, has been said, about a vote that exposes the US's sweeping bigotry, and Canada's denial of its own. Dichotomies between "us" and "them" dissolve when we see images of people wearing T-shirts saying "Gays for Trump" or "Arab Christians for Trump." It took eight years for Pepe the Frog to mutate from an oft-brooding, benign meme to an anti-black, anti-Semitic hate symbol. Last week, a safety pin designed to ostensibly declare #IWillStandWithYou is coopted by the alt-right within 24 hours, and then by Etsy, in 14-karat gold, 24 hours after that. First the news breaks, followed by an unabating cycle of analysis, counter-analysis, counter-counter analysis and so forth—until Leonard Cohen dies. I'm reminded of Scott's piece again. The question "What now?" abounds, with the urgent imperative "Don't agonize. Organize." circulating in response.
I find momentary solace in the dependable monotony of Moyra Davey's voice, narrating her essayistic film Hemlock Forest, in which she reflects on living life versus recording it, and on isolation and loss. She thinks through the strategies of filmmaker Chantal Akerman, who took her own life during the film's making. I can't help but note these words of wisdom: "A disappointed woman should try to construct happiness out of a set of materials immediately within her reach." "Take the good with the bad. Otherwise you're a hypocrite," Davey reminds us.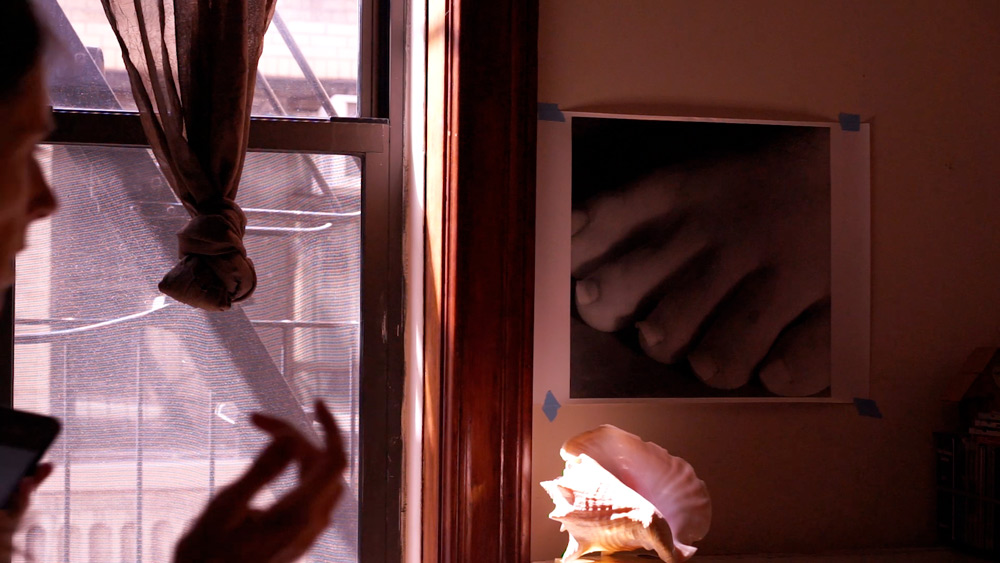 Moyra Davey Hemlock Forest (still), 2016. Courtesy the artist and Murray Guy, New York.
After my sister and I leave the MAC, we go to McDonald's before we catch our Megabus, but the hamburger I order doesn't come with the promised two—three, if you're lucky—pickles. Michael Bublé's lite-jazz rendition of Bon Jovi's "It's My Life" drones on. I wound up here after the last Biennale, "L'avenir (Looking forward)," which was charged with over-declarative, sometimes promising, sometimes pessimistic political work, and long videos that warranted multiple viewings, and international art stars that all made a cohesive(ish) statement. But "Le Grand Balcon" makes no sense at all, especially on the day that I go to see it.
A friend of a friend takes me to a shooting range outside Toronto the following day. I sit in a seminar room with a dozen other adults as a broad-shouldered teenage boy instructs us to keep our index fingers off the triggers of a rifle, a shotgun and a handgun at all times unless aimed at a target. "It's a loaded gun. Treat it as such," he asserts. A week after seeing the show, I finalize this piece at another McDonald's, sitting in front of a fake fireplace.
Merray Gerges was Canadian Art's Editorial Resident in summer 2016. Video of her shooting one of the aforementioned guns is at https://www.instagram.com/merrayrayray/.