Winter 2021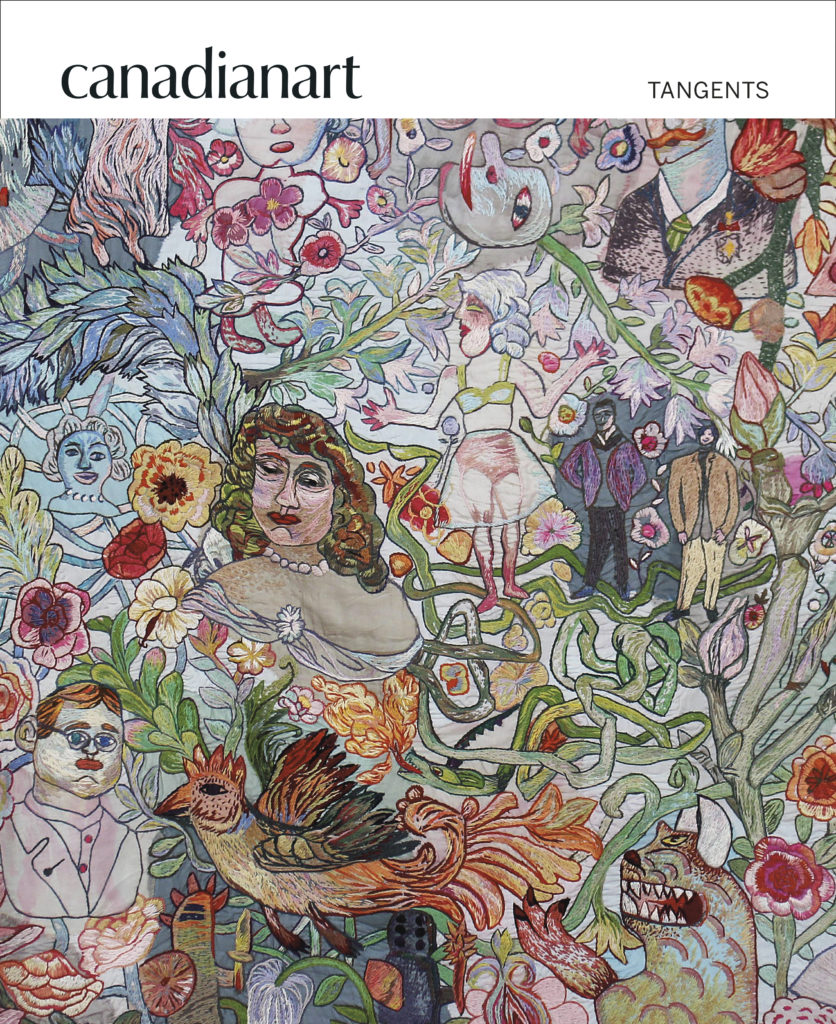 Tangents
Available from December 15, 2020, to March 14, 2021
For this issue we asked artists to tell us stories about their stories—to write about idiosyncratic histories, side interests or obsessions, curiosities and unknowns. Taking our lead from artists and their research, we're exploring how lateral and divergent thinking can produce ideas that change course, ideas that, however subtly, resonate and shift the direction of a project or practice. The stories that follow are all written by artists: some detail how the day-to-day aspects of personal life can directly inform a practice; others mine family histories, inherited narratives and obscure archives to find meaning in the present; still others focus on plant and animal life, exploring topics that may seem unrelated but which often lead to surprising parallels in one's work.
This Issue
Written entirely by artists, this issue explores the tangents of thinking and writing that inform artistic practice
Features
Memory Work
Two powerful photographs of a 1986 workers' strike suggest the dystopian consequences of collective forgetting
A Garden Diary
The embroidery lessons that I learned from my mother and grandmothers seeded large, complex textile artworks
Pasolini's St. Paul
What is at the heart of an unrealized idea? The marginalia on Pasolini's last screenplay mark the edges of a sacred story
A Topography of Free
A Toronto installation artist accumulates materials for her found-object sculptures by navigating neighbourhood free piles and scouring curbside detritus
Two Passages
In a fictional dialogue between two artists, the persistent image of a famous lighthouse and the story a sculptor intertwine
Preview
Alex Turgeon, Kapwani Kiwanga, Thelma Pepper, Anna Binta Diallo and Marigold Santos talk about their recent and upcoming exhibitions, while Heather Igloliorte discusses the curation of "INUA" at Qaumajuq
Reviews
Owen V. Gordon
For his first solo exhibition in Canada, the Toronto artist presents a body of work that deals with a range of political, environmental and social concerns
Wendy, Master of Art
In the third instalment of Walter Scott's graphic novel series, Wendy goes to grad school where she has new responsibilities to her students, friends and lovers—but is she ready?
Azadeh Elmizadeh
The suite of paintings in "Subtle Bodies," at Toronto's Franz Kaka this fall, blended Sufi cosmologies, Persian miniatures, abstraction and light
Reviews in this issue also include: Ossie Michelin on "Acts of Resistance" at the Museum of Vancouver; Bryne McLaughlin on Manuel Mathieu at the Power Plant, Toronto; Chelsea Rozansky on Patrick Cruz at Gallery TPW, Toronto; Johanne Sloan on Cynthia Girard-Renard at Darling Foundry, Montreal; Harry Burke on Elif Saydamat Tanya Leighton, Berlin; and Christian Vistan on "Third Realm" at the Polygon Gallery, North Vancouver.
Backstory
A Letter for Immediate Use
On the Cover
Party with Dionysos 2
Hand embroidery on silk, 105 cm x 1.8 m