In Owen V. Gordon's first solo exhibition in Canada, "A World Asleep But Me" at BAND Gallery, the Toronto painter, sculptor, mixed-media artist and writer transports us into a chaotic ensemble of imagery heightened by vibrant colours, rich textures and charged compositions. The exhibition title is borrowed from a collection of his unpublished poetry, a bound manuscript that is available for reading onsite. "A World Asleep But Me," curated by Karen Carter and Amin Alsaden, features a series of never-before-shown paintings and collages dispersed throughout the gallery's two floors. It is an overview of the artist's decades-long practice. Gordon, who is a Jamaica native and immigrant to Canada, traces a relationship between storytelling and modes of representation in his work. His many visual references—from portraits reminiscent of Amedeo Modigliani's elongated faces to lush fictional landscapes—put forward relevant interpretations of modern art history as well as prevailing contemporary issues.
The combination of figurative and abstract elements, which Gordon arrives at through a transformative process, demonstrates the multidimensionality of his thematic and stylistic approach. In speaking with him, I learned that many of his paintings have layers of scrapped scenes and sketches hidden below their surfaces. In some cases, he collages pieces of paper directly onto the canvas. One of the most interesting aspects of Gordon's oeuvre is this use of texture; some works recall an Impressionist style, with simple details rendered in visible brushstrokes that appear to vibrate on the canvas's surface, creating a subtle buzz that amplifies the atmosphere. In Homage to Cecil Baugh (2015), Gordon depicts the late Jamaican master potter at work in his studio. With elongated and expressionless facial features, the figure stands with his colour-blocked pottery wheel before him, spinning clay. Behind him, colourful shelves hold up clusters of objects and a pot of glaze. The black-and-red checkered flooring takes over the canvas. The flattened objects and space, as well as the geometric patterns, are all nods to Cubism and Fauvism. And though Gordon does not add many details to the painting's composition or spatial perspective, the viewer is able to decipher the scene.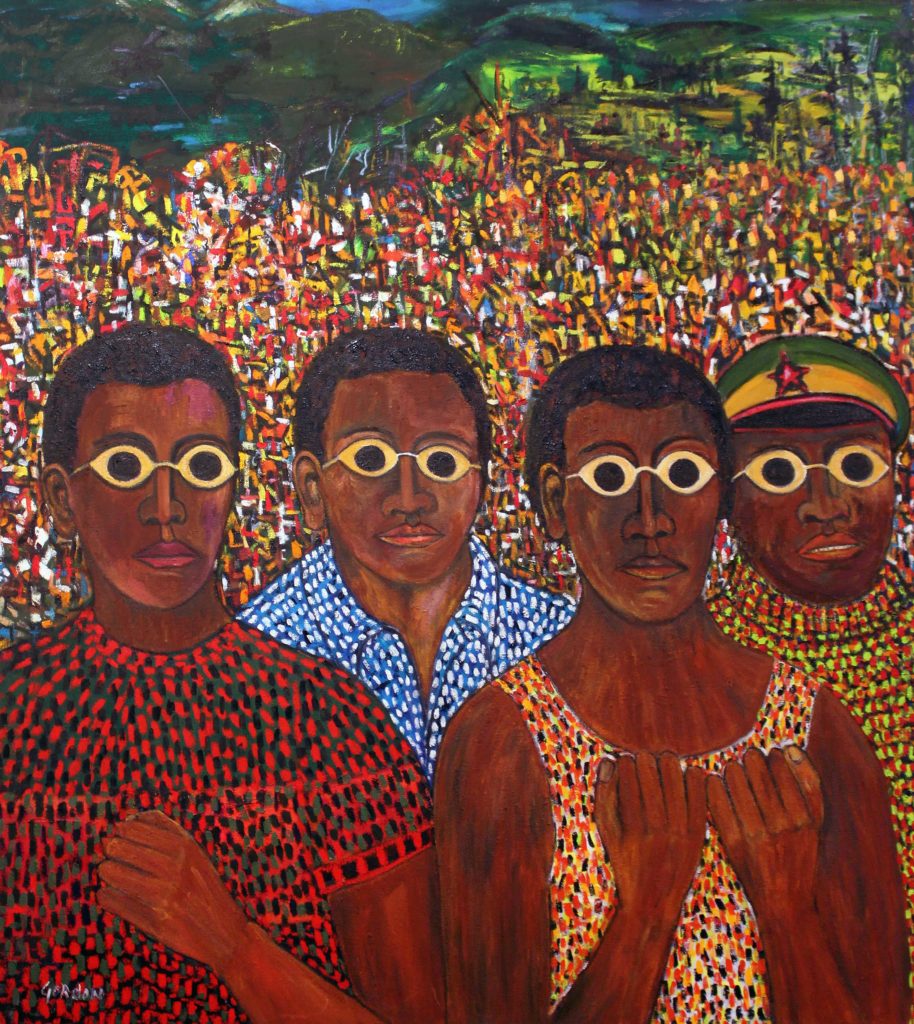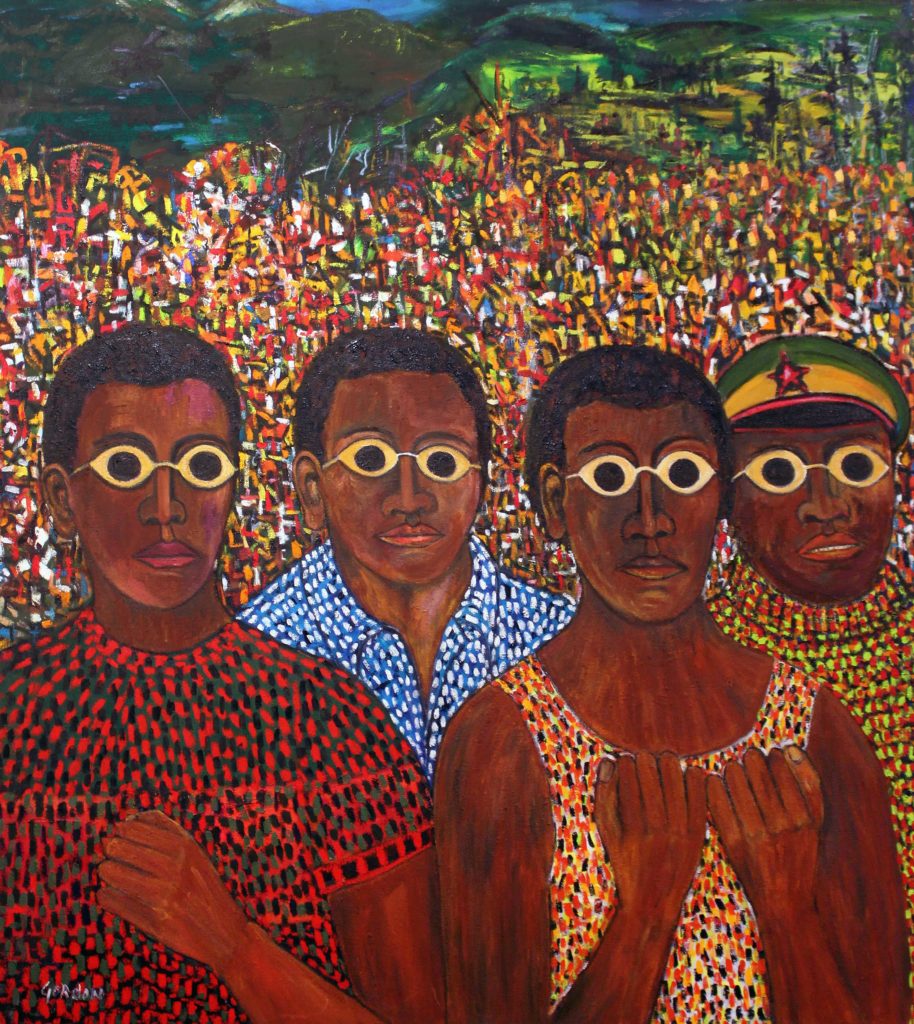 One series of paintings foregrounds Gordon's commentary on national and international events, from civil disorder in Myanmar to turmoil in Iraq. In Peaceful Protesters (Enough Already) (2016), Gordon floods the canvas with rows of protesters holding signs. Gordon's imagery connects past events to our current socio-political climate by highlighting right-of-centre views, such as those of the anti–Trans-Pacific Partnership and anti-abortion movements. In our present time of global civil unrest, representations of protesters denouncing critical issues might risk introducing new levels of discomfort in some viewers.
"A World Asleep But Me" draws attention to one of many Caribbean artists working in the diaspora. The exhibition unearths a remarkably diverse body of work that places Gordon's practice solidly among other Black artists now receiving attention late in their careers. The political, environmental and social concerns revealed throughout this extensive survey demonstrate the innate curiosity that inspires his practice. Gordon paints a vivid picture of a world both awake and alert.