This winter has been bleak. Vancouverites are not insulated against cold snaps so frigid that the City offers mounds of free salt—something to throw at the maddening ice. During those weeks, my boots retain deposits garnered from roaming the sidewalks swimming in grey brine; I become fed up with waiting for busses that slow to a crawl to manage downhill passage of slick streets. It has been, largely, a winter of chill winds that drain cellphone batteries, zapping location services, revoking the floating blue orbs that ground us in space. A winter of seeking, and of feeling lost.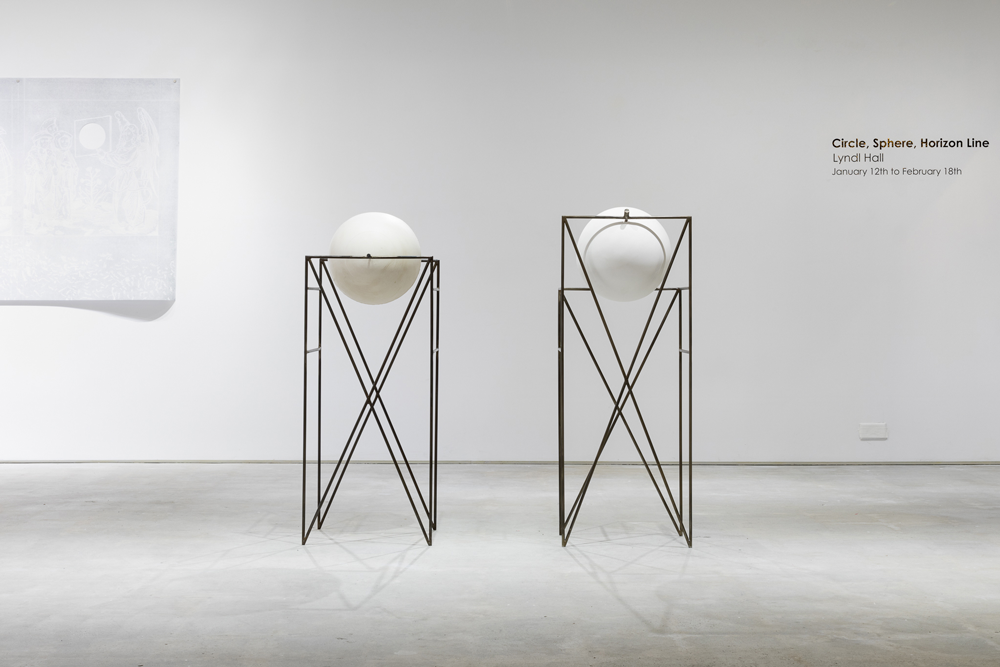 Lyndl Hall, "Circle, Sphere, Horizon Line" (installation view), 2017. Courtesy Burrard Arts Foundation. Photo: Dennis Ha.
Two smooth plaster spheres cradled by wire-frame plinths stand at the entrance to "Circle, Sphere, Horizon Line," Lyndl Hall's solo exhibition at the Burrard Arts Foundation. Like classroom globes with their map-skins removed, scraped clean of topographic ridges, they've been refined to base substrates and armatures. These once-guiding forms are now blank pages waiting to be rewritten, perched like skulls on piles of bones.
Nearby, a faint triptych in traditional gesso on routered wood panels references the patron saint of travellers, Christopher, said to have carried the Christ child across a deep river. He's an icon often invoked for protection by drivers, boaters and pilots, and his legend points to other child-and-guardian contexts present in the show.
Hall's Birds/Boat (2016) is a two-channel video comprised of decades-old footage taken by her father aboard a ship to Antarctica. One camera angle captures the bow of the ship against an unstable horizon line; the other skillfully follows an albatross circling the boat's wake.
While Hall's practice is informed by a longstanding interest in navigation, cartography and wayfinding, there's an emphasis here on disorientation. Tools and technologies have been traded for symbols, omens and talismans—things that at best provide comfort, not answers.
Arrow (2015), an alluringly rough floor sculpture in cast bronze, identified by the handout as the exhibition's central work, points north. I leave the gallery, and head in that direction.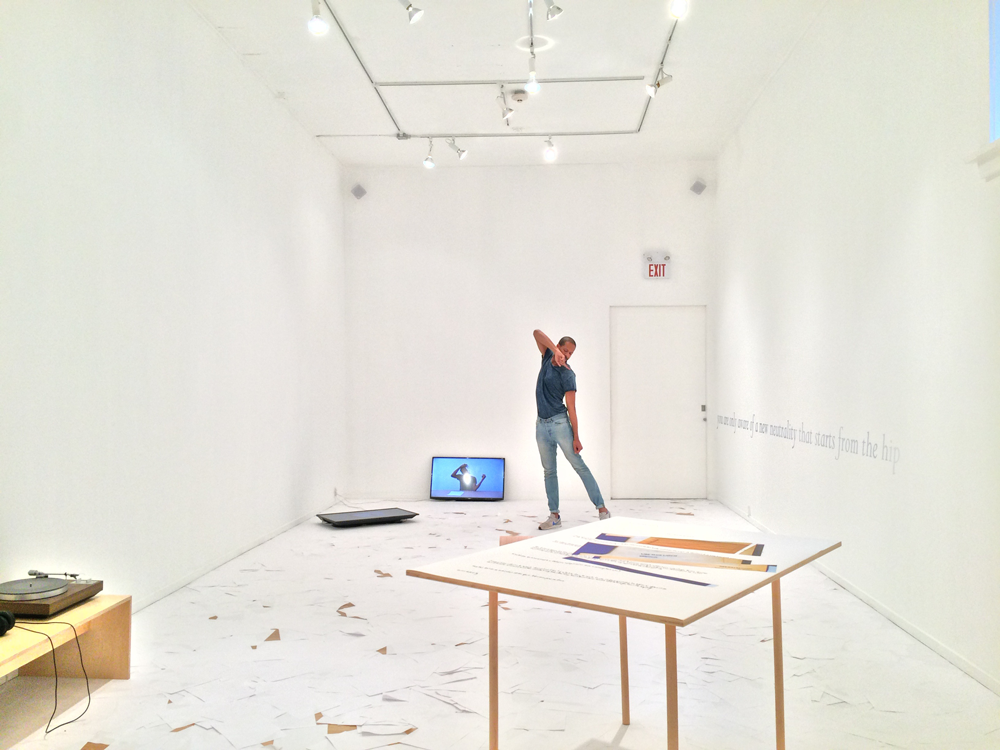 Jimmy Robert performs at Western Front as a part of "Wanna talk about reading?" (2017).
Three blocks away, looking in from the doorway to "Wanna talk about reading?"—Jimmy Robert's solo exhibition at Western Front—the scene is of stillness after commotion. Blank letter-sized papers cover the entire wood floor, flattening the room. They bear evidence of visitors in their dark squishes and dusty prints, left from the soles of shoes.
Nearby, a turntable stalls on the looping final groove of a record. I reset the needle to play Suspended closure, suspended (2012) an editioned vinyl LP featuring the artist dispassionately reciting collaged verses that seem to combine scholarly and diaristic passages. The recording ends with singing by Gert Hohmann, whose countertenor voice gives the room a vaguely ecclesiastical feel.
Sounds from Robert's video works also beckon. Two flat-screen monitors rest haphazardly on the floor in the back corner. In Untitled (Folding 2) (2012) hands fold and unfold a photograph to cover and reveal sections of its human subject's curled figure. Paramètres (2011) sees the artist seated at a table with numerous diagrammatic drawings that he holds up to his face, one after another, while reciting directive phrases. Isolating his facial features through cutouts on each sheet, the angular shapes echo those created by the scattered pages at my feet.
When I return days later for Robert's live performance, he moves slowly through the gallery space to the recorded voice of Jane Ellison—a dancer, teacher and artist with longstanding ties to Western Front programming. At one point, Robert lowers himself to the floor, resting his right cheek on the papered surface as Ellison's voice blends with other sounds from the exhibition and elsewhere in the building.
For lulling moments like this, Robert's performing body encompasses the wood, the walls, the voices, the shuffling paper, the photographed figures, the rapping sounds of rhythmic footsteps overhead. Other segments are, conversely, jarring—like when he disjunctively lip syncs to Ellison's words, becoming eerily animatronic. The performance, and overall exhibition, amounts to a series of subtle gestures that swing the artist toward or away from subject or object.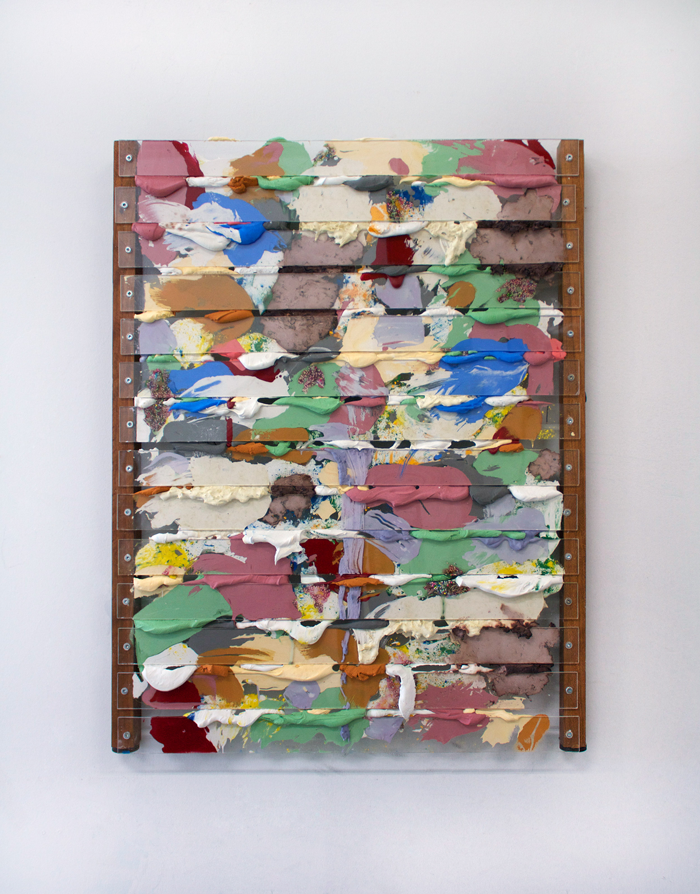 Derya Akay, Plexi Lath, 2016. Plaster, pigment, sugar, plexi, walnut wood. Courtesy Unit 17.
Farther north, at Unit 17—a new gallery open by appointment in the studio building above 2400-block Main Street—an inaugural exhibition features recent photography, painting and sculpture by Derya Akay, Tiziana La Melia and Tristan Unrau.
Unrau's The Innovator (2015) is a sobering greyscale in a room otherwise bursting with colour. The oil painting on canvas presents an interior view of a bus, or train, empty of passengers, straddling memory and premonition, with windows spilling light that could be either warm summer sun or nuclear flash.
La Melia's folded screens stand centre gallery, pigment and paint on wood shapes with edges finished in brass. Slightly above standing height, they divide the space, their perforations allowing playfully obstructed views of the other visitors and wall works.
Several archival prints of scans by Akay are distributed around the room, including Scan 592 (Strength) (2016) featured on the cover of the current issue of Canadian Art, but the standout work in the exhibition is Akay's Plexi Lath (2016). In the latter, pigmented plaster blobs squish against horizontal strips of acrylic glass mounted between two vertical lengths of walnut. Co-opting the forms of an outdated building process used to finish interior walls, the work spits anxieties of potential renoviction which are painfully familiar to longtime residents, like Akay, who rent in this ever-gentrifying neighbourhood.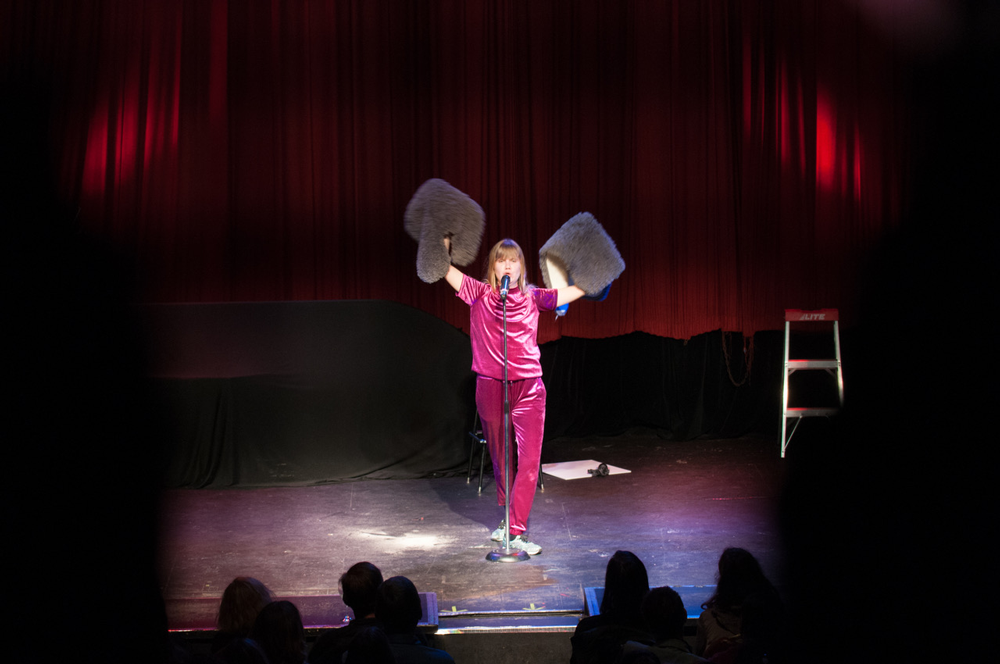 Bridget Moser, Things a Person is Supposed to Wonder, 2017. Courtesy PuSh International Performing Arts Festival. Photo: Mark Montgomery.
Across the street at Fox Cabaret for Club PuSh 2017, Bridget Moser recently presented Things A Person is Supposed to Wonder, featuring a repertoire of various short performances created over the past three years.
In this work, to a score of balmy synthesizer and audio samples, Moser demonstrates her usual sophisticated blend of arresting turns of poetic phrase, inventive prop improv and impeccable comedic timing. Half the battle in winning over her audiences is in choosing, as her costars, perfectly generic objects with seemingly little left to wonder about. This iteration features a step ladder, a coat rack and a toilet seat, among the other items into which Moser commands new life.
Moser understands so deeply the power of her own character, able to produce humour and pathos in equal parts, along with secondhand embarrassment. The audience laughs together and apart, the weight of absurdity hitting individuals in unpredictable intervals.
There's attention to every detail, from the performer's platform sneakers to her fuchsia velour attire, to her unremarkable shoulder-length mop. In the stage lights, we're able to see singular hairs shed while she shakes and contorts across the scene. Even this seems deliberate—a strategy employed to underscore pointed moments with liveness throughout, like when the music exclaims "The world is a vampire" before breaking into dubstep, to which Moser whips and convulses.
There's anger seething just beneath the surface of Moser's bitingly satirical declaratives, and why shouldn't there be? It can be frustrating to spend so much time wondering about the world, while effecting change seems to happen so slowly.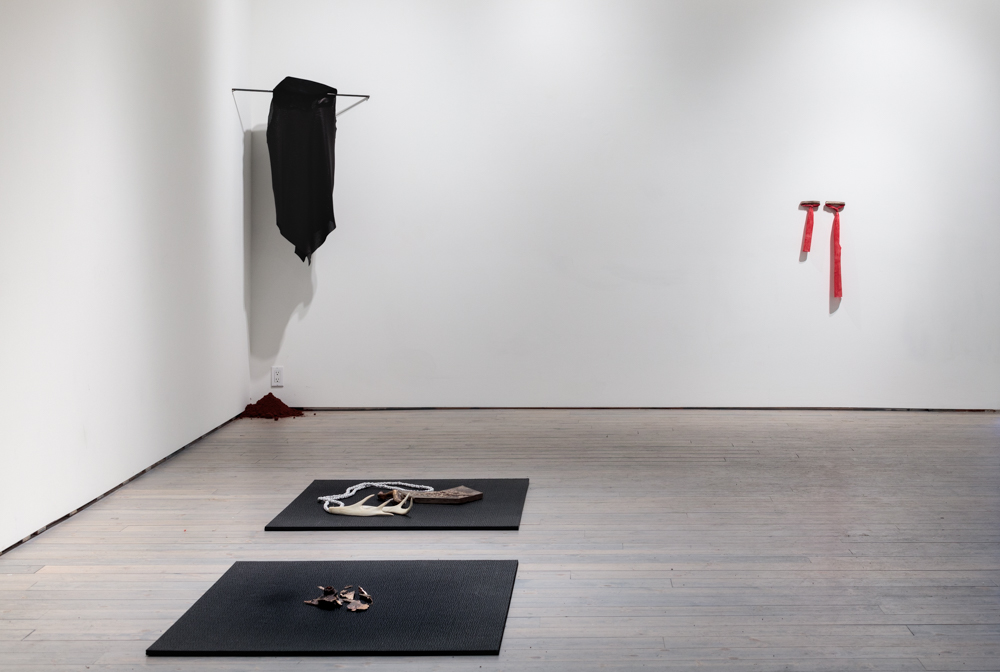 Jeneen Frei Njooltli, "LUX | MAM" (installation view), 2017. Courtesy Macaulay and Co. Fine Art.
My northernmost stop, Jeneen Frei Njootli's "LUX | MAM," a solo exhibition at Macaulay and Co. Fine Art, is a call to arms. The exhibition takes cues from training facilities, presenting sculptural works that imply conditioning movements—Frei Njootli's versions of jump ropes, strength bands, weights and stretching mats—while incorporating materials embedded with historical and personal symbolic value, such as caribou antler.
LUX | MAM V (2017) is a braid of beaded strands activated by the artist during an in-gallery performance. She skipped with the intricate length until its threads gave way, spilling black beads across the floor. Viewers in closest proximity were instructed to wear carved polycarbonate masks, a collection together titled LUX | MAM VIII (2017), evocative of the sort worn by riot police, but adorned with sweeping patterns.
Other works seem to demand immediacy through unstable applications of ephemeral materials, like the dust on the precariously balanced leather gloves in LUX | MAM VII (2017) or the facial-grease prints that kiss leaning red Plexiglas in LUX | MAM VI (2017), its protective film evidently just removed and heedlessly piled beside.
The gallery press release uses the phrase "vital disruptions" in relation to Frei Njootli's practice, and an exuberant physicality comes across here, articulating an invitation to sweat it out, as if to say "resistance is not futile."
Lucien Durey is an artist based in Vancouver. His performative works engage with collections, found objects and ephemera.