"In Some Far Place" begins with a pink bird falling out of the sky: in 1977, a flamingo blew off course and landed on Newfoundland's northern shore. A fisherman, who had never seen anything like the tropical bird, shot it down immediately. The flamingo was stuffed and put in a glass box for display in the provincial museum, where it has sat collecting dust in storage instead, for the past 40 years.
A new exhibition at the Rooms Provincial Art Gallery, curated by Mireille Eagan, breathes exquisite life back into this dead bird. Sprawling in size and scope, the exhibition gathers together more than 11 artists, both Canadian and international, to produce an affecting elegy for this pink-feathered oddity, and to explore the moral of its sad story: humans are afraid of what does not belong. In that context, these new and recent works—four of which are new commissions—provide softly edged statements on how collection practices and colonialism work to possess and destroy what is different or unfamiliar.
"In Some Far Place" succeeds as a critique of insidious models of inclusion and exclusion by affording airiness and nuance, breathing room, to the often sharp and blunted storylines of "Us versus Them." A Newfoundland exhibition exploring themes of belonging could have landed heavily on played-out discussions about the "come from away" designation (in Newfoundland slang, a CFA is a person who lives in the province but wasn't born there). Instead, this exhibition overlooks geographical distinctions in favour of more invisible divisions spanning Western culture and histor(ies). Video works, such as Addio del Passato (So Closes My Sad Story) (2011), in which a black woman performs the last act of Verdi's opera in sumptuous 18th-century garb, by Yinka Shonibare MBE, and Sara Cwynar's Soft Film (2016), which attempts to salvage meaning from eBay detritus, act as entry points into issues of privilege, race, class and classification. These questions of identity touch us all, especially as the beginnings of Trump-era politics rage outside the gallery walls.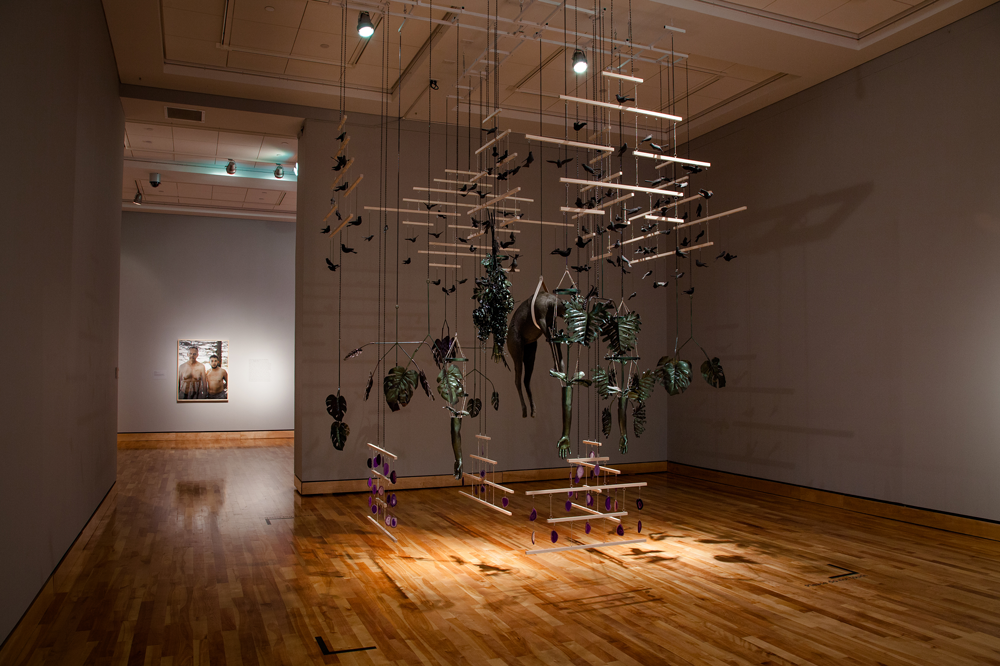 David R. Harper, Omnibus (2016), and Stephen Brace, Shawn and Jacob: Father and Son (2016). Courtesy the Rooms. Photo: D'Arcy Wilson.
The real success of the show, however, is its soundtrack. Shonibare's dramatic opera drifts from a screening room into the main gallery space, while two turntables, spinning records stuck on their last grooves, create distant chirping in the sound work Constellations (2008, reworked for the Rooms) by Charles Stankievech. It sounds like canned birdsong. These background sounds also filter in and around David R. Harper's newly commissioned Omnibus, a large-scale mobile of dead flora and fauna topped with a flock of birds, creating a birdcage-like atmosphere. But it was two live performances by Mi'kmaq artist Ursula Johnson, in collaboration with the all-women Indigenous drummer group Eastern Owl, and D'Arcy Wilson, that hit the most powerful notes.
In the three-hour period leading up to the exhibition's opening, Johnson and Eastern Owl performed a song created from an Indigenous methodology called songlines, in which music is composed according to the topography of a carefully chosen area. As part of Johnson's ongoing project Ke'tapekiak Maqim'kew: The Land Sings (2013–), the drummers sang, "You are the land / On which we have not walked softly / We give you the promise of our voices / With this we may heal" to a 400-kilometre path—stretching from Boyd's Cove, on Newfoundland's Notre Dame Bay, a heritage site of the Beothuk, all the way to the Rooms—that bears the scars of human development and the colonial project.
Following Johnson's performance, visitors were asked to tiptoe into the gallery and join Wilson in singing a lullaby to the taxidermied flamingo, a surprisingly small and delicate specimen. The sound of more than 100 voices singing to the bird landed as an emotionally charged, woeful attempt at solace and comfort for the pitiful creature.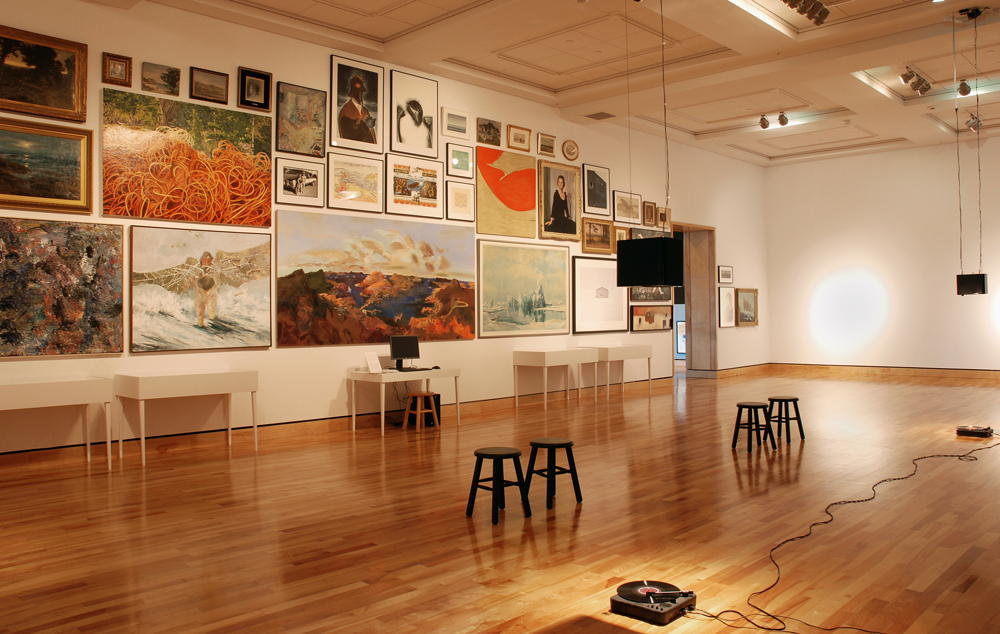 Charles Stankievech, Constellations (version of installation from 2008), in front of the permanent collection salon hang. Courtesy the Rooms.
A dominating salon hang is a less-nuanced effort at underscoring that there is something just plain sad about museum collection practices. A selection of forgettable landscapes and portraits from the Rooms collection that have never seen the light of day fill an entire wall. Hanging front and centre, a lithograph by Mi'kmaq artist Jerry Evans, titled I Honour my Mi'kmaq Blood (1997), is a well-placed reminder that museums are colonial enterprises and their collections are places where history is selective, and where a lot of art goes to die.
Maryse Larivière's take on captivity moves into the seductive territory of longing and desire. Her sculptural version of a hummingbird "playhouse" includes a trio of lush, ruby-red hanging "bird bafflers" (objects meant to both draw and repel a bird). The surrealist installation, as a whole, brings to mind scholar Lauren Berlant's theory of cruel optimism—that wanting something really badly only ushers in a slow death. After all, the bird jungle gym doubles as a death trap. Several other works about lost love, such as Benny Nemerofsky Ramsay's video work Live to Tell (2002), and Rhonda Pelley's photograph of endless longing, from her series The Small Hours (2014), come close to emotional overkill. In relation to the other complex feelings swirling in the room, the expressions of romantic heartache veer toward the simple and saccharine.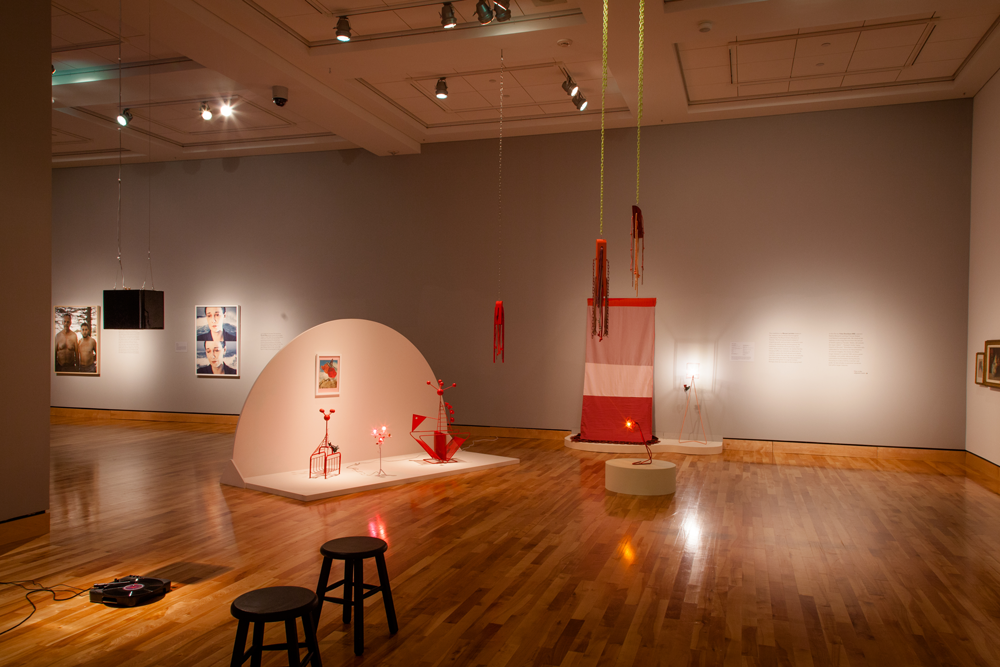 Installation by Maryse Larivière; Stephen Brace, Shawn and Jacob: Father and Son (2016); Rhonda Pelley, White Horses (2014). Courtesy the Rooms.
Stephen Brace's portrait of his father and transgender sibling, Since we were brothers (2016), lends further weight to the exhibition's unofficial queer mascot, the flamingo, as does Egan's conscious use of pale pink (evident in Adam David Brown's wall work, LIFE (2010/2017), made by using a pink eraser to rub out, and in the process make visible, letters on a wall).
Though "In Some Far Place" cannot escape singing a sad tune, Egan allows room for expressions of sincere lament and yearning, if not hope, that the next flamingo that finds itself above the North Atlantic might have a different fate. It is not easy to balance the complex politics of belonging with flights of fancy, yet that's exactly where this exhibition, and its pink bird, come gently to rest.
Penelope Smart is a curator and writer based in St. John's, Newfoundland.