In Chloë Lum and Yannick Desranleau's exhibition at the Musée d'art contemporain de Montréal (MAC), one is greeted by melancholic sounds rather than the artists' customary bright visuals. Dissonant aural strains filter into the foyer, revealed to be lines from What Do Stones Smell Like in the Forest? (2018), a two-channel video opera about chronic illness featuring a diva golem figure, played by mezzo-soprano Marie-Annick Béliveau. Installed in a room replete with ink-jet-printed canvas poufs and copies of the libretto in French and English, the autofictive opera showcases the duo's recent foray into text-based narrative. In Stones, the fraying yet resilient golem, weighed down by oblong pink and green papier-mâché and plaster forms, relates her experiences ("I am always careful to not overstate pain, to not overuse the word") to a chorus of three women, who offer variously supportive and skeptical responses. Beyond the screening room, the mixed-media sculptural installation The Face Stayed East The Mouth Went West (2014) doubles as the set for An Autobiography of Air (2019), a series of live, contemporary dance–inspired performances that occur twice weekly during the exhibition.
Seen together, Stones and The Face Stayed East—the latter shown for the first time since being acquired by the MAC in 2016—present a fecund opportunity to consider Lum and Desranleau's ever-evolving themes and material approaches. In particular, the presence of hyper-tactile hand- and machine-made pieces evokes an ongoing attention to the innate theatricality of objects, presented interchangeably as props, set pieces and actors. The objects' hybrid identities, such as the chorus' disc-like props that become masks in Stones, and their perpetual rearrangement, as in An Autobiography of Air, imbue Lum and Desranleau's works with an improvisational energy. To wit, in The Face Stayed East, three large light boxes show layered photographs of the same tableaux of objects, hinting at the ways in which artworks are documented, catalogued, stored and (re)presented (in a sense, living out alternate realities). The light boxes lean against the far wall of the gallery, surrounded by monochromatic bean-bag shapes that recall the colourful tarps and quasi-industrial materials in the photographs. Cross-referencing materials is key to Lum and Desranleau's practice—objects frequently reappear in new permutations across different works.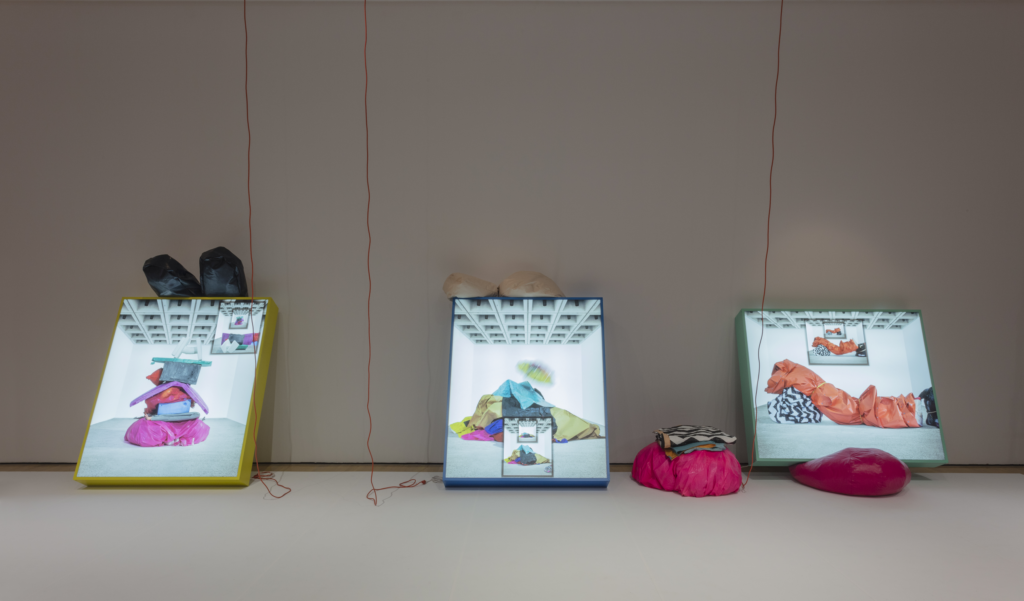 Chloë Lum and Yannick Desranleau,
The Face Stayed East the Mouth Went West
(installation view), 2014. Collection Musée d'art contemporain de Montréal. Photo: Richard-Max Tremblay.
The continuous recontextualization of objects and concepts alludes to Lum and Desranleau's potent sense of world building. The artists, who have collaborated for almost two decades, from the early 2000s noise band AIDS Wolf to the much-lauded screenprinting outfit Seripop, have developed a rich shared vocabulary. Though the attention-grabbing surfaces of their works may hook viewers initially, the artists' wry, absurdist-tinged commentary—the golem's acerbic asides, such as "I know what doctors think of complaining women," come to mind—reflects a critical and interconnected approach. At the MAC, the artists essentially act as dramaturges. They conceive of—make, build, write and design—much of their own content and collaborate with other artists, including dancers, choreographers, musicians, lighting technicians and cinematographers, to produce the final results: a genre-bending account of society's marginalization of women's illness in Stones and a surrealist playground-cum-industrial circus-cum-contemporary dance set in The Face Stayed East.
In the gallery, viewers also have the chance to rest a moment, perhaps to recline upon a lumpen-pouf printed with close-up images of the viridescent costume from Stones, and to contemplate the myriad ways in which Lum and Desranleau's hyperbolic worlds may extend our own apprehension of bodies, objects and their interdependencies. Whether the body is explicitly present, as in Stones' narrative, or alluded to by its absence, as in the set-like ambience of The Face Stayed East and its continual reconfiguration by performers, Lum and Desranleau denote the ways that bodily alterity mimics that of objects and vice-versa. By drawing on theatrical tropes across three distinct mediums—video, installation and performance—the artists remind us of how bodies and objects are always performing, always exerting themselves upon a kind of stage and anticipating their next act.