In this article from Canadian Art's Summer 2016 issue on collaboration, Alison Cooley and Daniella Sanader create a cross-Canada roundup of leading-edge collaborative art practices, ranging from the tongue-in-cheek boosterism of Edmonton's Tennis Club to the travelling memorial project Walking with Our Sisters. Canadian Art's Summer 2016 issue is on newsstands now. To get every issue delivered straight to your door before it hits newsstands, visit canadianart.ca/subscribe.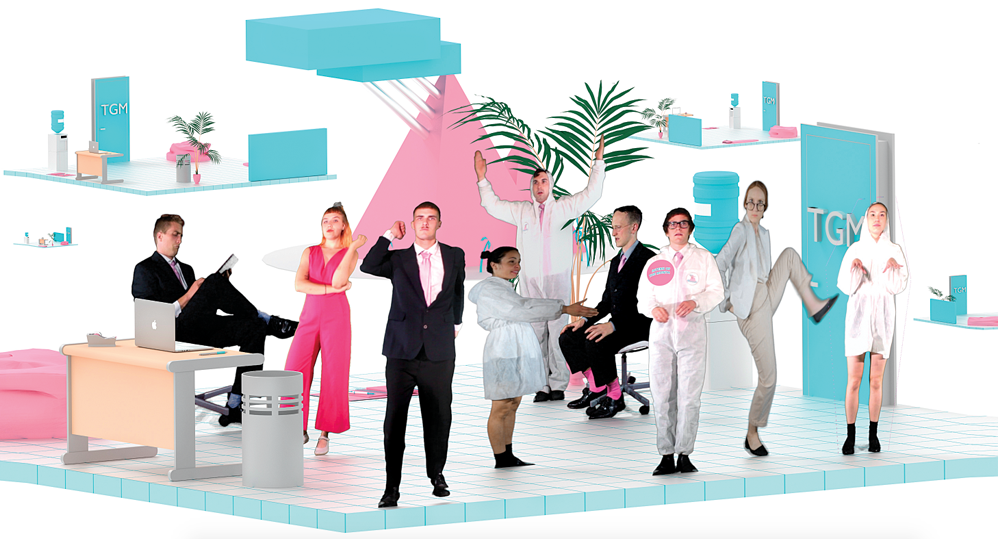 Tough Guy Mountain, Intern Purgatory (interactive online video still), 2016.
It's perhaps fitting that the hues of Tough Guy Mountain's brand identity anticipated another recent mega-merger of aesthetic and corporate values: Rose Quartz and Serenity, the 2016 Pantone Colour of the Year. Since 2012, the Toronto-based collective has been producing irreverent and fantastical performances, videos, merchandise and market research about the uncanny parallels between creativity and capitalism. Tough Guy Mountain is apparently fuelled through the unpaid labour of an army of interns, whose names are available for branding opportunities, according to a recent TGM tweet. Their executive team comprises new-media artists and designers Iain Soder, Jonathan Carroll and Cat Bluemke, whose upcoming business initiatives include a musical virtual-reality project following an intern's first day at the mega-corporation, developed through a residency at Toronto's Trinity Square Video.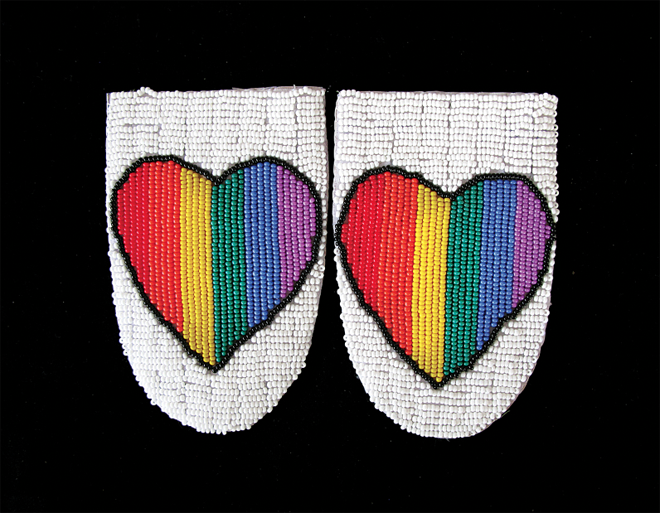 Walking with Our Sisters, Moccasin vamps by Ruth Cuthand, 2012–.
Walking with Our Sisters takes on a new shape in each community it visits. In Brandon, Manitoba, the exhibition circled an infinity symbol traced on the floor; in North Battleford, Saskatchewan, an eagle and feather were central to its configuration. The project acts as both an exhibition and a public space of mourning and commemoration, inviting visitors to match their paces with more than 2,000 pairs of hand-beaded moccasin vamps, representative of more than 1,181 murdered and missing Indigenous women in Canada over the past 35 years. It began in 2012, when artist Christi Belcourt sent out a Facebook call for contributors, to incredible response. Since then, the project has travelled across seven provinces and territories, spearheaded by a network of dedicated volunteers. While the sheer mass of participants testifies to the urgency of a public reckoning with Canada's relationship to Indigenous women, each individual bead also manifests as a gesture of labour, mourning and tenderness for the disappeared. The memory of each woman's unfinished life is memorialized in the stitch and the step.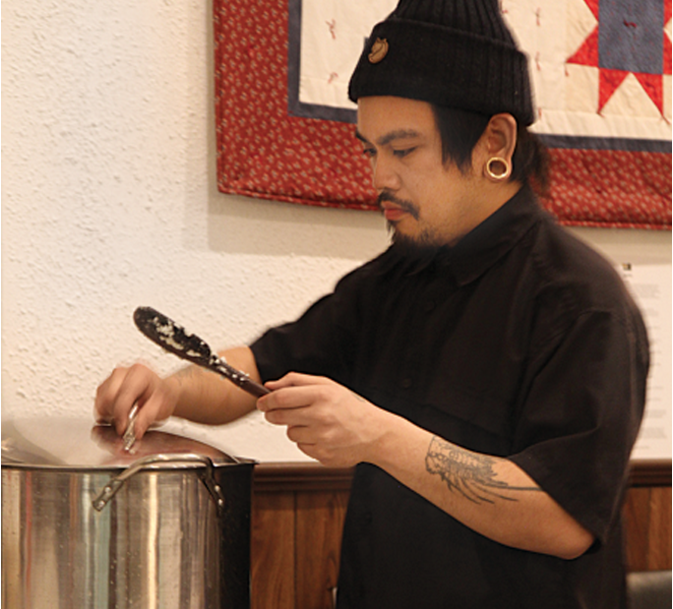 People of Good Will, Kitchen Codex (performance by Patrick Cruz at Guelph Black Heritage Society), 2015. Courtesy Musagetes. Photo: Kade Twist.
Based in the historic space of Guelph, Ontario's Heritage Hall, a church built by former fugitive slaves in the 1880s, People of Good Will was a collaborative project by the Guelph Black Heritage Society, the Musagetes foundation and art collective Postcommodity. People of Good Will programmed a number of events across 2014 and 2015 that used the site-specificity of Heritage Hall to reflect on fraught colonial legacies, Indigenous sovereignties and intercultural relationships in the present. Duane Linklater and Tanya Lukin Linklater presented performances around record collections and poetic art criticism; Patrick Cruz exchanged homemade Filipino meals with personal recipes from local participants; and Toronto's Gendai gallery launched their ambitious publication on the racist myth of the "model minority." In March 2016, People of Good Will presented Game Remains, an immersive sound performance–turned–video-game developed by Postcommodity in collaboration with Guelph residents.
Ladies Invitational Deadbeat Society, LIDS' First Annual Joyce Wieland Day Bed-In (Baby Makes Three) (performance at John Snow House Library and Archive, Calgary), 2012. Photo: Olya Zarapina.
Some turn to collective practice to increase productivity, achieving together what seems unmanageable alone. Yet the Ladies Invitational Deadbeat Society (LIDS) want the exact opposite. Working under the declaration LEZ GET LAZY, members Anthea Black, Nicole Burisch and Wednesday Lupypciw organize performances, publications and interventions that politicize undervalued and underpaid forms of labour within arts communities. LIDS's "tactical laziness" was on full display with their cross-stitch-pattern poster printed in the final issue of FUSE Magazine, which critiqued austerity measures and dwindling arts funding in a simple yet direct slogan: DO LESS WITH LESS / DO MORE WITH MORE (2013). Refusing the easy capitalist assumption that busy equals successful, LIDS use their interdisciplinary projects to praise slowness, conversation and crafting. When they feel like it, that is.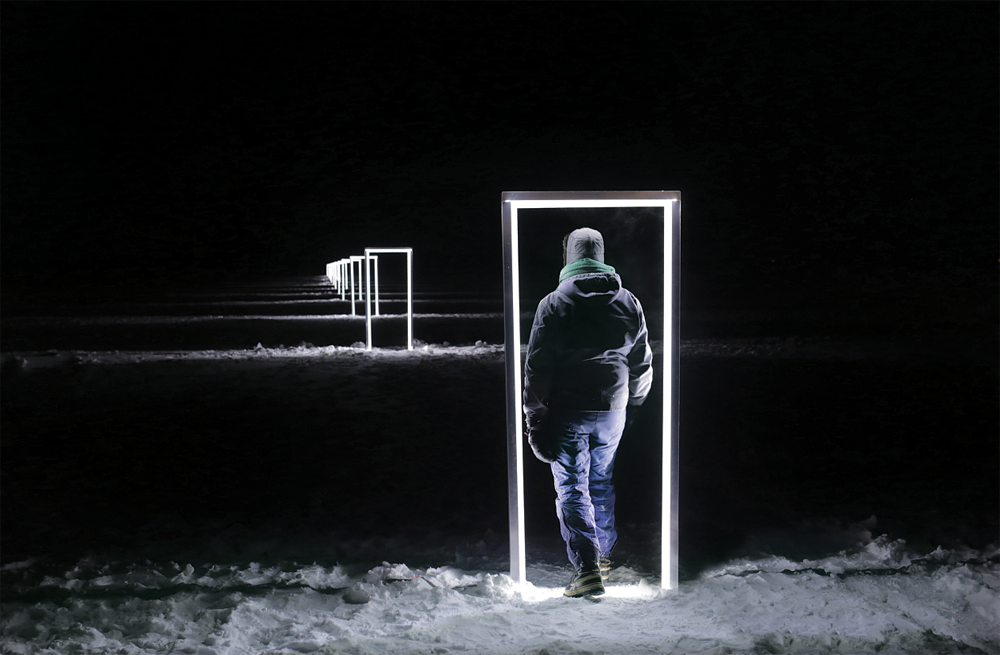 Caitlind r.c. Brown and Wayne Garrett, The Deep Dark, 2015.
Caitlind r.c. Brown and Wayne Garrett have gained international attention for their whimsical approach to public sculpture. Their project CLOUD—a playful shape built from 6,000 incandescent light bulbs—was first shown at Calgary's 2012 Nuit Blanche and has since travelled as far as Moscow, Jerusalem and Singapore. Brown and Garrett have continued to investigate the material quality of light in their work: in The Deep Dark (2015), a pathway of glowing LED doorways led people on nighttime walks through forests in Banff, Dawson City, Saskatoon and North Bay. For the 2016 Winter Stations Design Competition, their project In the Belly of a Bear (a collaboration with Lane Shordee) transformed a lifeguard station along Toronto's Woodbine Beach into an otherworldly social space: an orb of charred wood with an interior lined in second-hand fur.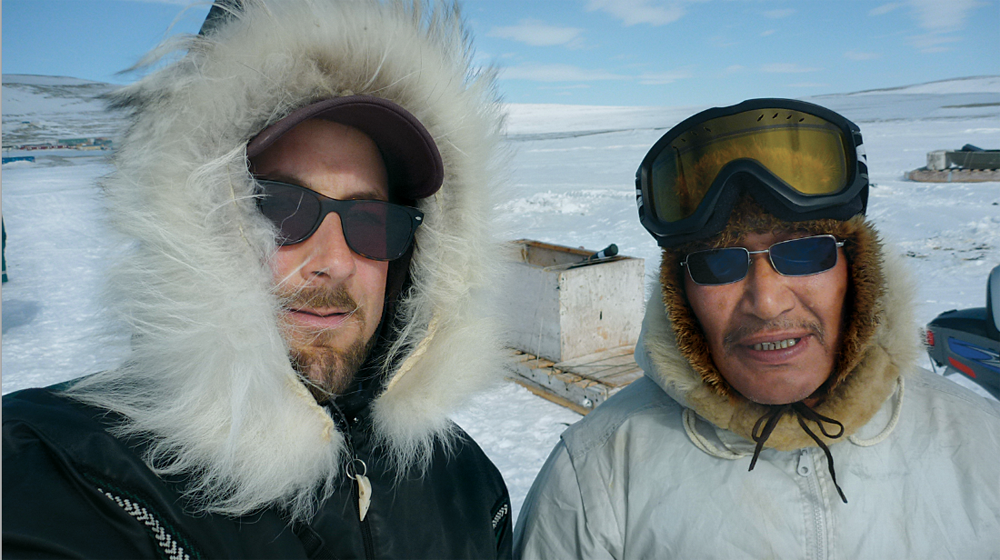 Ian Mauro and Zacharias Kunuk during the shooting of Qapirangajuq: Inuit Knowledge and Climate Change, April 2009.
After meeting in 2008, award-winning Inuit filmmaker Zacharias Kunuk and University of Winnipeg geographer and filmmaker Ian Mauro spared little time initiating a major collaborative project. Two years later, they debuted Qapirangajuq: Inuit Knowledge and Climate Change, the first Inuktitut-language film to address the human effects of climate change, composed of more than 60 interviews with elders, hunters and leaders from Inuit communities. The two teamed up again for the 2013 multimedia project Our Baffinland. An astute blend of geographic expertise and Indigenous storytelling, the project used GPS-enabled cameras to shoot interviews chronicling the increasing presence of resource extraction and industry in Northern Canada. While further collaborations are underway, Qapirangajuq is still drawing international attention. Returning from the 66th Berlin International Film Festival, the duo continue to speak publicly about the ongoing relevance of the film, and the necessity of bringing traditional Indigenous knowledge to the forefront of scientific thought.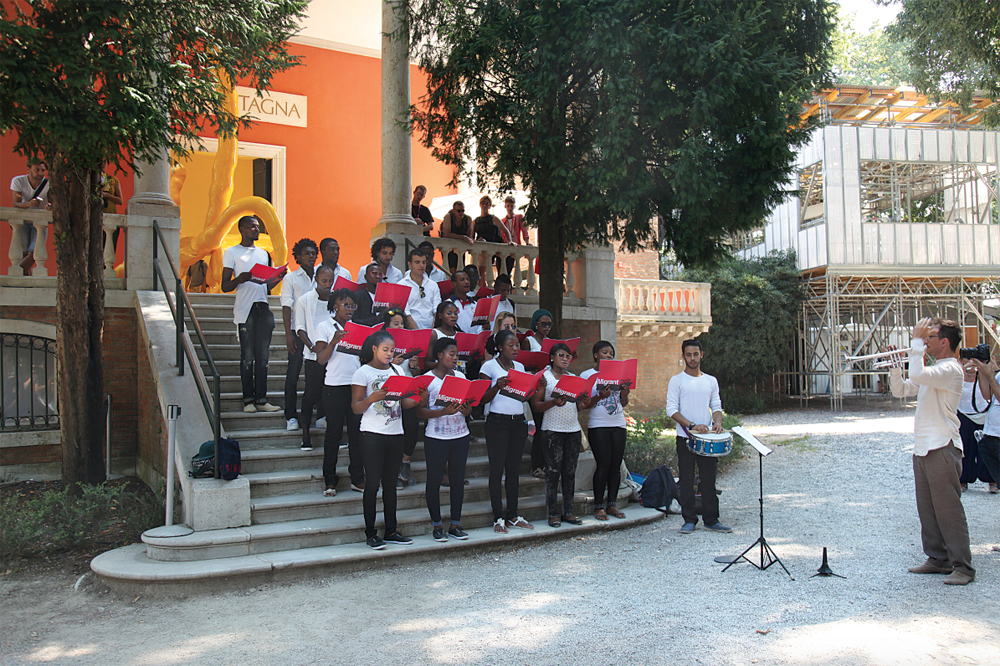 Public Studio (with Adrian Blackwell), Migrant Choir (performance as part of the Creative Time Summit at the Venice Biennale), 2015.
Public Studio, the multidisciplinary collaborative practice of filmmaker Elle Flanders and architect Tamira Sawatzky, is perhaps best known for its distinctly political works. In ongoing projects such as What Isn't There (1990–) and video works such as Road Movie (2011), Public Studio has addressed Israeli-Palestinian relations with depth and adroitness. In others, such as the exhibition "Under the Last Sky" (2013) and the video Drone Wedding (2014), the pair have probed the complexities of surveillance culture and its implications for global conflict. But their voracious research practice also often generates works that verge on the expansive and the cosmic. For Toronto's 2015 Nuit Blanche, they produced Zero Hour, an apocalyptic, poetic and meteorological meditation on the night sky. This year, they presented What We Lose in Metrics at the Art Gallery of York University, an ambitious interrogation of how human experiences of nature are measured in a capitalist society.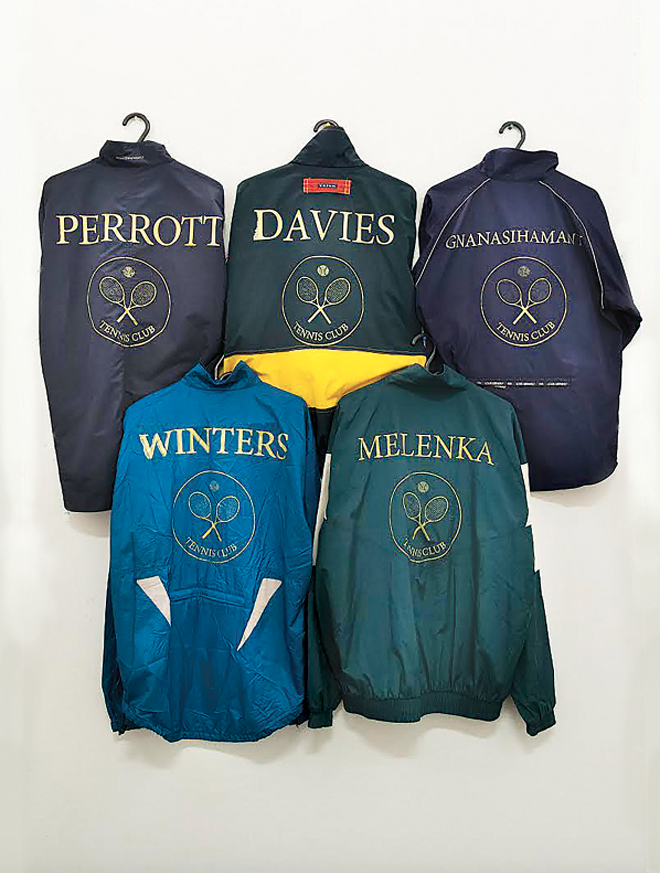 Tennis Club, Team Jerseys, Hall of Fame, 2016.
Like a troop of overeager Girl Guides, the members of Edmonton's Tennis Club (Morgan Melenka, Megan Gnanasihamany, Marie Winters, Alyson Davies and Renée Perrott) are out to do good deeds. Previous performances have involved participating in groundbreaking ceremonies for new condo developments, meeting Calgary's mayor, guiding people through sidewalks in construction zones and cheering on recreational runners with Gatorade and participation ribbons. Their determination is laudable, all the more so since the gestures themselves tend toward the poetically impractical. Still, equipped with matching outfits, tennis racquets and the veneer of authority brought about by positioning themselves as a team, the emerging collective is always ready to tackle the complexities of suburban Edmonton's attitudes towards sport, gender and leisure.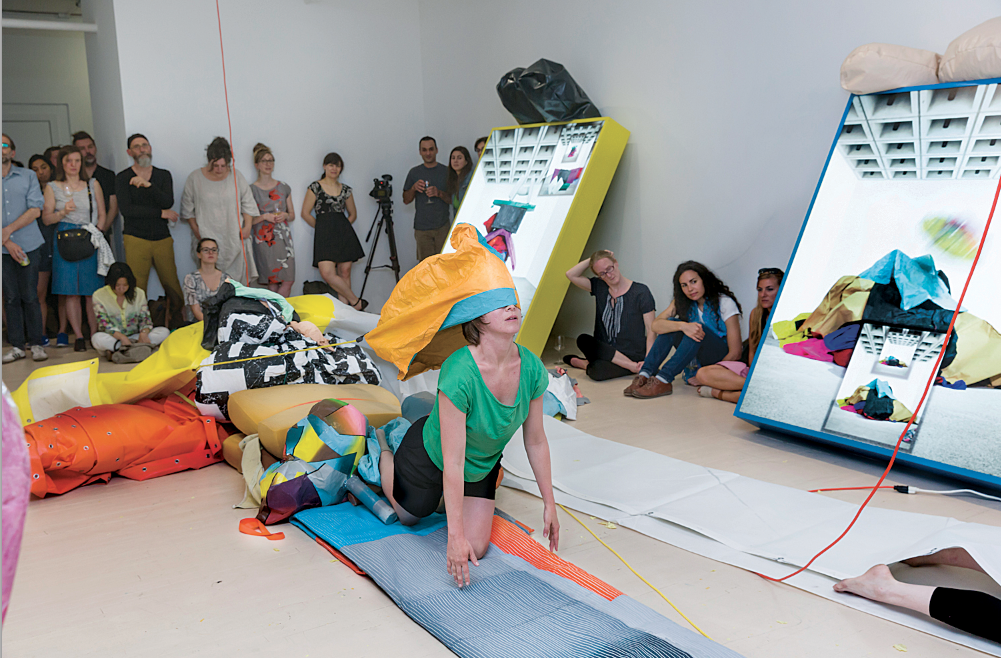 Chloë Lum and Yannick Desranleau (with Sarah Wendt), The Face Stayed East The Mouth Went West (elements) (performance), 2015. Courtesy Galerie Hugues Charbonneau. Photo: Guy L'Heureux.
Chloë Lum and Yannick Desranleau's artistic practice emerged from the posters they started making shortly after meeting: wild and obsessive serigraph prints to promote shows by their bands (first the Electric End and eventually AIDS Wolf), which defied the punk-scene norm of black-and-white photocopies. By 2002, they were widely exhibiting their posters under the collective name Seripop, and by 2007, they were also crafting installations that played with the aesthetics of erosion and decay they'd come to know well from postering throughout Montreal. Their monumental screenprinted paper installations have travelled across Canada, and recent projects have incorporated performers who activate the psychedelic paper excess of their work. Lum and Desranleau's bizarre exhibitions retain their unabashed DIY aesthetics and revel in the decline of simple materials that are constantly performing life cycles of use and reuse.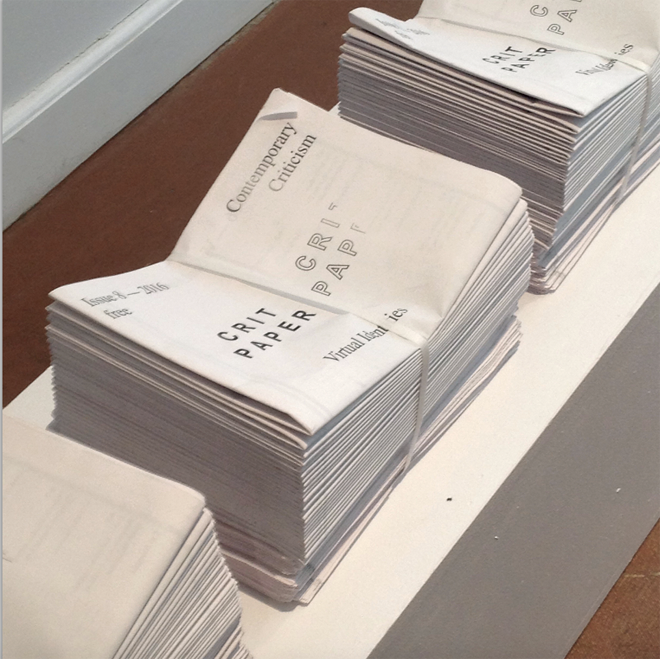 Copies of CRIT Issue 8, Virtual Identities. Photo: Merray Gerges.
"We want to activate the dying space of the printed page using our curiosity and inquiry," wrote the voices behind CRIT in the "Manifesto" introducing their inaugural 2012 issue. Since then, editors Merray Gerges and Rupert Nuttle and designer Robert Ewanchuk have been publishing their entirely free newsprint publication in partnership with Halifax's Khyber Centre for the Arts. What began as a student newspaper—addressing a lack of publishing opportunities for the NSCAD University community—is now distributed nationally, with one of the most recent issues (Issue 8, Virtual Identities) launched at Toronto's 8-11 in March 2016. CRIT wryly imbues its physical newsprint with the current concerns of a digital age. The publication's intersectional approach creates a space for new conversations in Canadian art criticism. Or, as the editors put it in the Spring 2014 issue: "you, the cappuccino-slinging post-structuralist Masters of Art,/who have exhausted language and in turn are exhausted by it…you, of generations X-Y-Z…this one's for you ;)"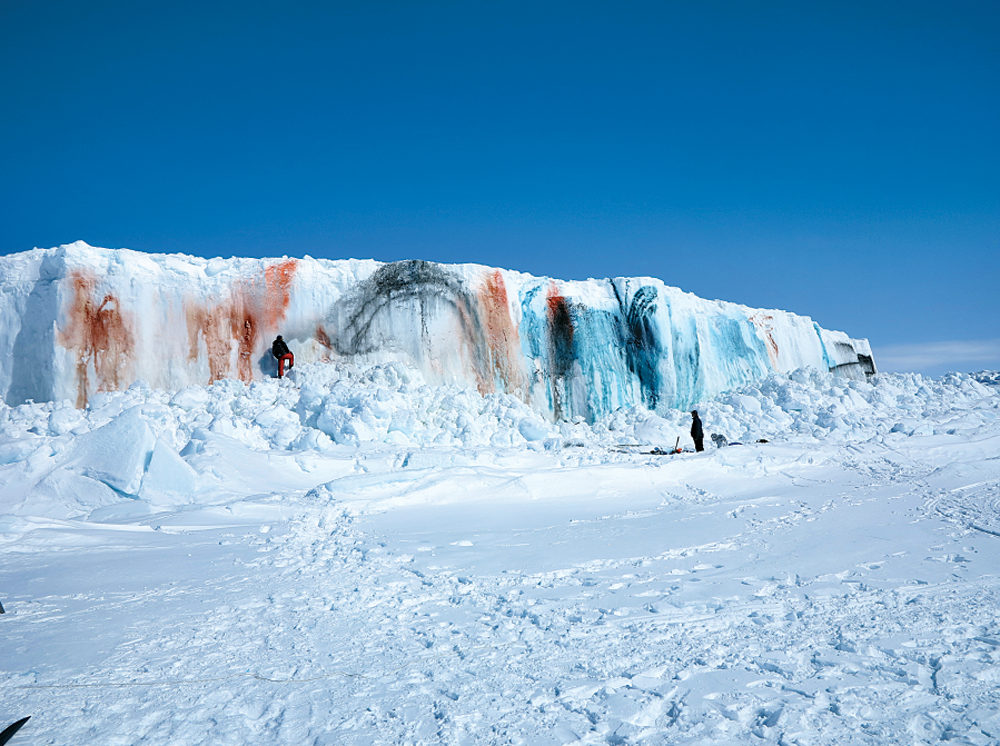 PA System, Gauge (production still), 2013–15. Photo: Alexa Hatanaka.
Nominally, PA System is artist duo Alexa Hatanaka and Patrick Thompson. But the artists, who over the past 10 years have spent time in Nunavut and Nunavik initiating projects that often rely on north-south collaboration, extend their creative partnership far beyond each other. Under the title Embassy of Imagination, the pair has led major collaborative workshops with Inuit youth, including the project Piliriqatigiingniq (an Inuktitut word for working together towards a common goal), a 2015 Toronto mural that arose out of a partnership with teenagers from Cape Dorset and the Oasis Skateboard Factory alternative school in Toronto. Other works have included a mural project with young Inuit artists Parr Etidloie and Audi Qinnuayuak at Kinngait Studios and Gauge, a collaborative three-channel film made on Baffin Island that documents the translation of mural techniques onto monumental ice walls, with artists using temporary materials like food colouring and burnt cow bone to mark their vast surfaces.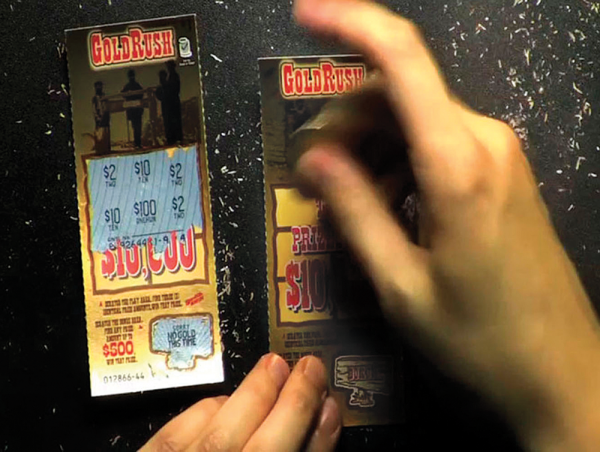 DRIL Art Collective, GOLDRUSH (video still), 2011.
DRIL Art Collective's sensory and absorbing works probe the agency of things: vacated buildings, tumbleweeds, light. The Vancouver collective of NSCAD University grads (Dylan McHugh, Leisha O'Donohue, Ian Prentice and Rachel White) craft immersive, quiet and enigmatic installations that reveal strange, elaborate stories. Underneath their often ghostly works is a preoccupation with the authentic and the imagined, and how our realities are mediated by the triumphs and failures of perception. A 2011 performance where the artists gambled away their fees on Gold Rush scratch tickets interrogates the symbolic and actual worth of artist fees. A project based on an 1886 photograph of Vancouver's improvised city hall after a historic fire becomes a platform for the formulation and reformulation of history via the image. Whatever the project, DRIL delicately traces the intangibilities of narrative, with subtle social implications.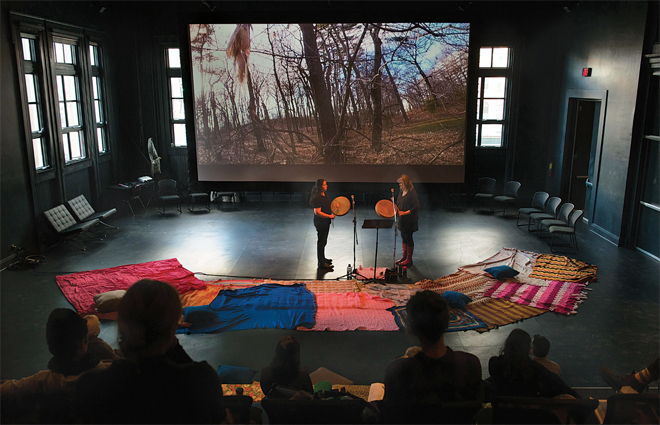 Ursula Johnson (with Cheryl L'Hirondelle), Ke'tapekiaq Ma'qimikew: The Land Sings (performance), 2016. Courtesy FADO Performance Art Centre.
It may seem evident that collaboration involves conversation: finding someone to listen to your voice and respond with their own in return. Yet in Ursula Johnson's Ke'tapekiaq Ma'qimikew: The Land Sings, territory is the primary conversation partner. For each "visitation," Johnson maps a terrain: first, near her home on Mi'kmaw territory in Nova Scotia; most recently, a stretch from the Chippewa of Georgina Island First Nation, north of Toronto, into the city's downtown west end. She then invites a collaborator from local Indigenous communities to compose a song transcribed from the topography's crests and plunges. Typically, they sing their response in a performance lasting up to six hours, apologizing to the land and recognizing its specificity. In Toronto, Johnson performed with Cheryl L'Hirondelle as part of MONOMYTHS, a performance series by the Progress Festival and FADO Performance Art Centre. The upcoming (fifth) visitation will take place at Vancouver's Grunt Gallery for #callresponse, an initiative that highlights the resilience and creative work of Indigenous women in the ongoing processes of reconciliation.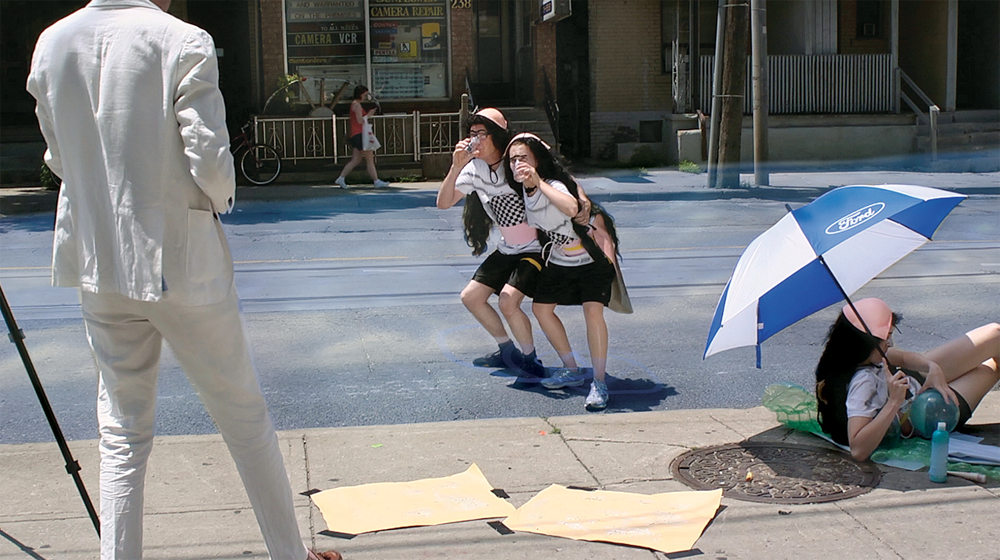 Life of a Craphead, Bugs, (HD video still) 2015.
While Life of a Craphead's largest project to date, Bugs (2015)—their ramshackle-epic, cross-species, dollar-store feature film—has been premiering across Canada in locations such as Vancouver's Western Front and Toronto's Art Gallery of Ontario, it's worth looking back (and forward) at some of their other significant projects. Thankfully, Amy Lam and Jon McCurley have done the legwork for us (and them), plotting the full scope of their 50-year career during a 2013 residency at the AGO. In 2007, their project Free Lunch used grant money to purchase every item from the menu of a local Chinese restaurant. In 2025, they will produce two giant purple things: a lumpy one for gallery display, and a considerably smoother one for safekeeping in a nearby shed, in the aptly named There's a Better One in the Shed. In 2056, the collective will be replaced with an ordinary towel protected in a hermetically sealed cabinet: it's The Good Towel. It remains to be seen if Doored—their monthly performance-art and comedy night in Toronto's Kensington Market—will also continue until 2056. Whatever happens, we look forward to it.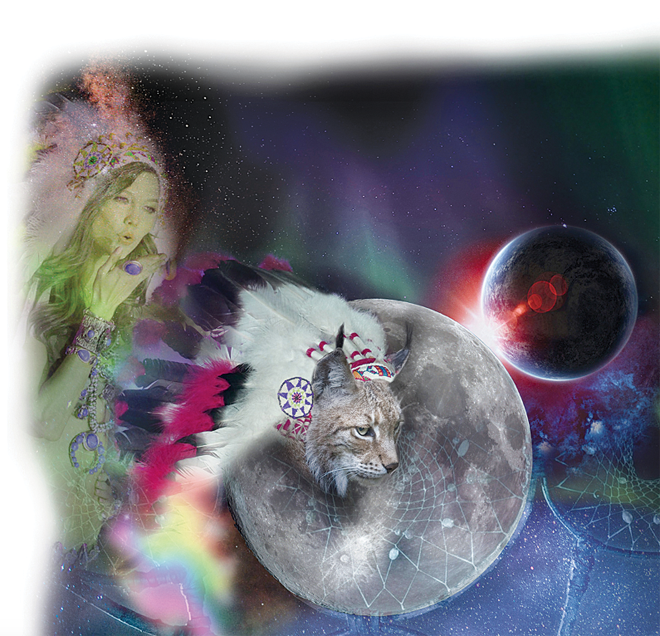 Neon Kohkom, More Nativer Than You (detail), 2013.
Neon Kohkom
We live in an age where "we're a culture, not a costume" has become a common Halloween refrain, pseudo-Indigenous headdresses are being banned at music festivals across Canada, and sports teams are being lobbied to change their racist names. Enter Neon Kohkom, which tackles such questions of cultural appropriation with great deftness and humour. Styled as an exaggerated First Nations stereotype (a wise old grandmother who lives deep in the woods and possesses mysterious healing powers), Neon Kohkom creates artworks that rely heavily on tourist-kitsch aesthetics. Her oeuvre includes cheesy multicoloured T-shirts and drawings and prints that pile misrepresentations of Indigeneity steadily atop one another. For the artists behind Neon Kohkom, partners Jordan Bennett and Amy Malbeuf, adopting this character has also been an opportunity to playfully examine distortions of Indigenous culture internationally (with a major 2014 residency at the Royal Melbourne Institute of Technology), and to work together while maintaining their individual creative practices.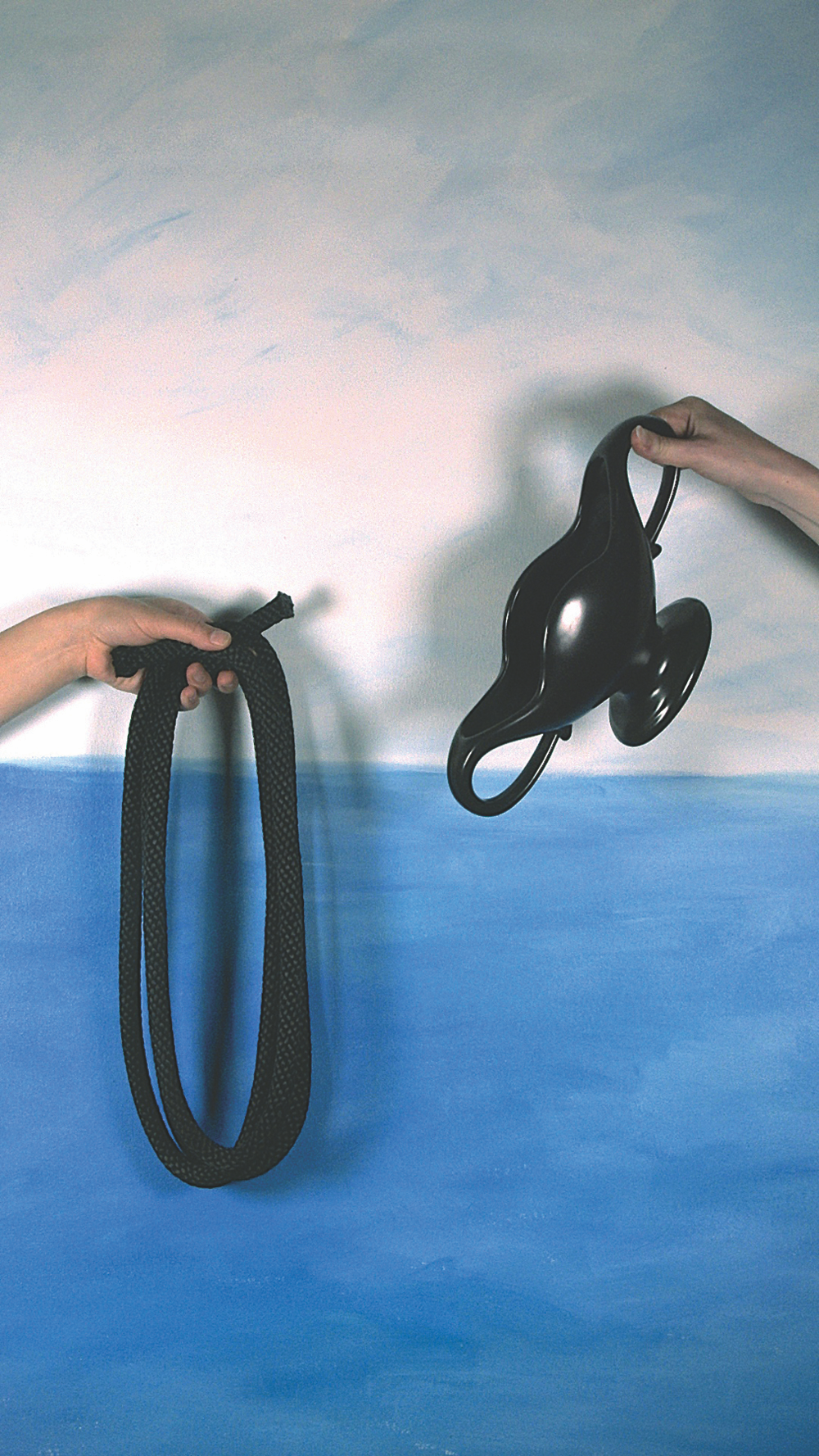 Leisure, Time Capsule (video still), 2014. Courtesy Erin Stump Projects.
Montrealers Meredith Carruthers and Susannah Wesley have been collaborating under the name Leisure since 2004, developing an extensive research-based practice that brings underrepresented women across the histories of art and design into conversation with one another. Leisure mines historical material for quiet moments of aesthetic affinity. Their 2015 exhibition at Toronto's Erin Stump Projects, "Arranging Time/ Chorégraphie temporelle," paired experimental floral arrangements by Constance Spry with innovative framing techniques by the painter Gluck. (Spry and Gluck were not just creative contemporaries, but lovers as well.) Understanding the creative practices of women as something akin to a trans-temporal choreography, Leisure has also charted movements and gestures across propositional actions by Brazilian conceptual artist Lygia Clark, performances by Quebecois dancers Françoise Sullivan and Jeanne Renaud and interior designs by Lina Loos, the under-acknowledged wife of Austrian modernist architect Adolf Loos.
Alison Cooley and Daniella Sanader are writers and curators based in Toronto.