"What kind of birds are those?" we asked our driver, as we made our way from the Miami airport to our hotel and looked out at the menacing black creatures circling over the palm trees. "Those—I don't know what they're called in English—in Spanish they're zopilote. They eat meat, old, rotten meat." "Vultures?" we asked. "Yes, vultures, that's right. They eat meat, like the gators. The gators are in the canals, too, and even in Bayfront Park. They're not hiding anymore!"
He went on to tell us that during the election campaign, he had driven both Ted Cruz and Carly Fiorina around Miami. He said he'd even met Donald Trump once, back when he was at the New York Military Academy, where Trump is an alumnus. There's a photo of them together, standing in front of a limousine. "Who would have thought," our driver said, "that a few years later, I'd be the guy driving the car, and he'd be the guy running the country?"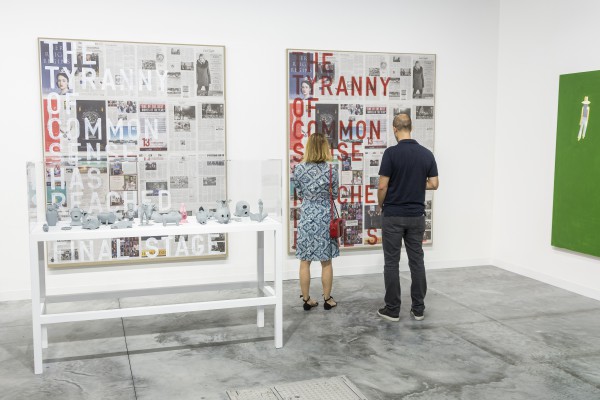 I skipped Miami last year—to be honest, I found the spectacle of it somewhat exhausting—but this year I decided to come back. I was curious about what it would feel like to be in the US during this strange pre-Trump, post-truth pocket of time.
I thought it would be particularly interesting, maybe even enlightening, to visit Florida during this time. I hoped I might meet some local Cuban-Americans. As a group, they were among the country's only Hispanic GOP voters, and I wondered what their various perspectives might be in the wake of Fidel Castro's death, as the US government—from my outsider's perspective—teeters on the precipice of being run by a despot who believes his own propaganda over evident truths. Of course, I also wanted to see art. And hit the beach.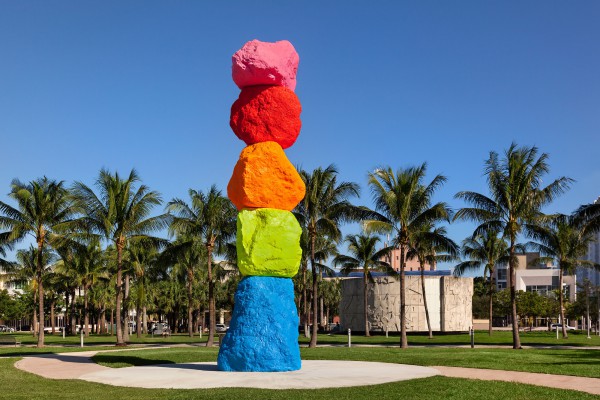 During art fair week at least, Miami already feels like it exists in a realm divorced slightly from reality. Tanned older men with slicked-back grey hair and loafers chaperone flamingo-like young women in stiletto heels and runway-ready dresses down streets lined with Art Deco hotels tinted like Jordan almonds. Cotton-candy sunsets descend over striped umbrellas on pristine white beaches. Madonna performs a Britney Spears song in a clown costume. The picturesque movie-set scenery suffers the occasional puncture, thanks to souvenir shops selling the latest in polyester neon and blaring Pitbull and LMFAO so loud that you can't even think (some, like Alvin's Island on Collins Avenue, are works of art in themselves). It all feels expensive and bombastic and artificial and magnificent, just like Ugo Rondinone's Miami Mountain, now installed permanently outside the Bass.
Apart from a black American flag hanging from the exterior of Collins Avenue's Catalina Hotel and Beach Club, and a dancer in a lizard-green G-string voguing solo in front of a sign that read "Make America Gyrate Again," I didn't see much public artwork that engaged with the looming Trump presidency.
Maybe people were taking a break from that anxiety. Maybe fair organizers, in a state that voted for Trump and where he lives part-time, felt it wouldn't be a good look. Maybe the already-rich, set to prosper economically and socially under Trump, and the commercial galleries that rely on those rich buyers to stay afloat, just don't care all that much.
Or maybe people were just there in fewer numbers. The number of Canadian galleries in attendance went down this year, but many from Canada's art world still headed down, snowbird-style, to partake as visitors. On the plane on the way over, I found myself seated next to Paul Zacharias of Winnipeg's Lantern gallery, who was visiting for the first time to see what the fuss was about, and planned to trek around with Division Gallery's Sarah Anne Johnson.
The scene certainly felt calmer this year than when I visited previously—a feeling corroborated by reports that attendance was lower (by 9.4 per cent) and that hotels, their rates padded in anticipation, hadn't managed to fully book all rooms. I know that some fair regulars didn't attend because of fear of contracting the Zika virus, and that others felt that Miami Art Week, glutted now with 20-plus satellite fairs, was choking itself into irrelevance.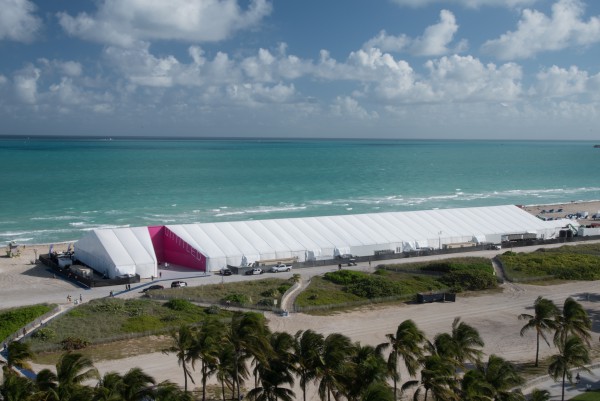 An awareness of life outside of the moneyed art-world bubble was there, however, if you looked for it. At Untitled, OCAD alumnus Rirkrit Tiravanija, with Tomas Vu and a group of Columbia University MFA students, were silk-screening and selling T-shirts (for $30 a pop) adorned with phrases such as: "POLICE THE POLICE," "UP AGAINST THE WALL MOTHERFUCKER" and "TOMORROW IS ANOTHER DAY." The artists also supplied Pussy Riot–inspired surfboards that fair visitors were encouraged to borrow to cruise over Atlantic Ocean waves, as part of participatory installation DO WE DREAM UNDER THE SAME SKY. I saw a couple of the surfboards nestled in a corner.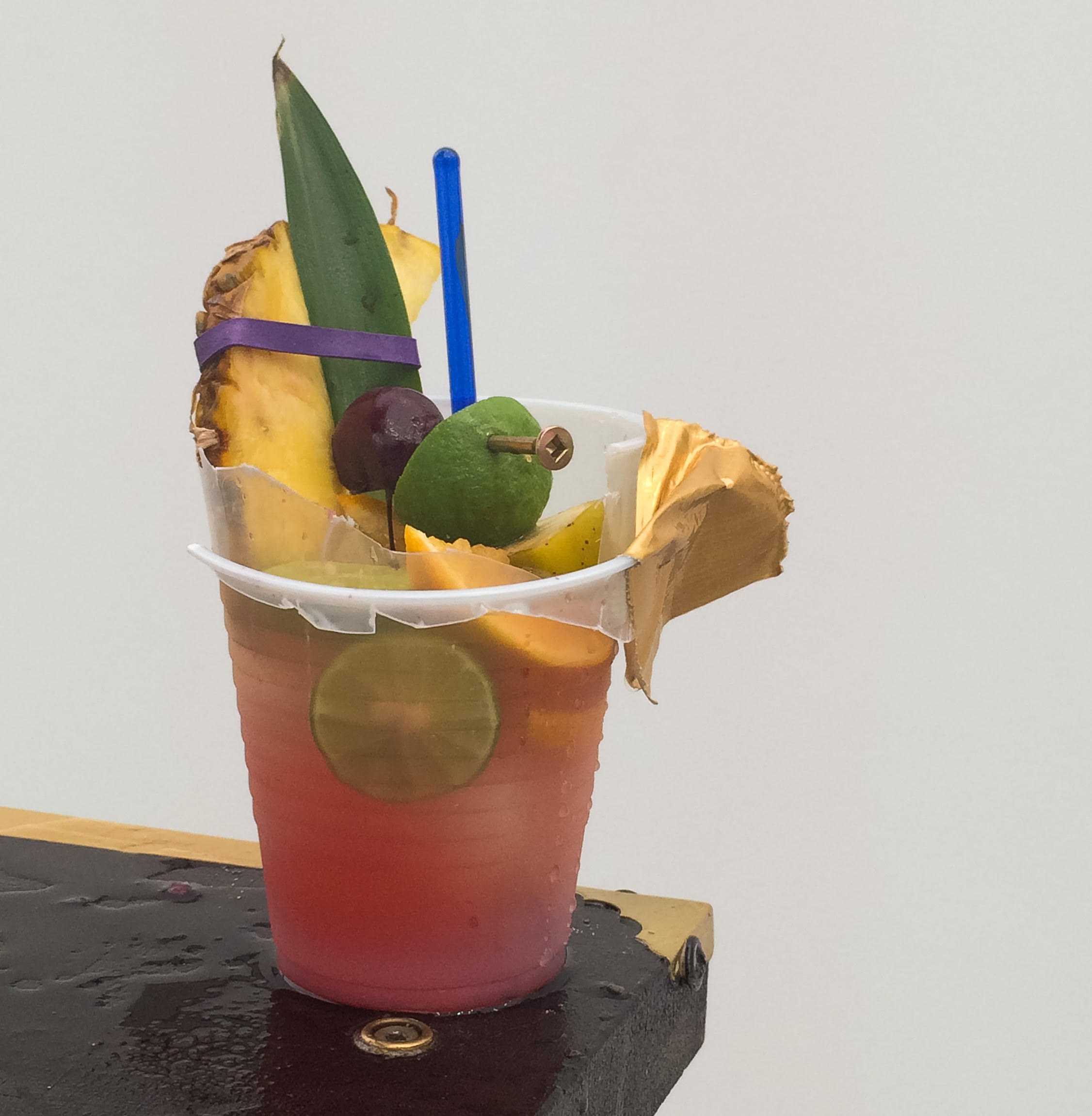 Untitled had the most Canadian presence out of all the Miami fairs. Galerie Nicolas Robert from Montreal, showing in Miami for the first time, brought suitably pastel-hued paintings by Pierre Julien, as well as works by Jim Verburg and Lorna Bauer. RBC Canadian Painting Competition 2016 honourable mention Nika Fontaine had some of her fantastic glitter paintings at the Wildpalms booth. Toronto- and New York–based Mulherin brought paintings by Mike Bayne and Matt Kleberg, as well as Dean Baldwin's showstopping Bar Piano II (Mahogany Baby Grand), which poked out of the gallery booth just enough to entice visitors in. I enjoyed a rum cocktail prepared by the artist himself using ingredients from the installation—he informed me that the drink was variously titled "A Hawt Booth," "A Bad Review," "Toronto Drill Bit," "A Missing Crate," "Where's My Truck?" and "A Very Bad Year," among about six other contenders.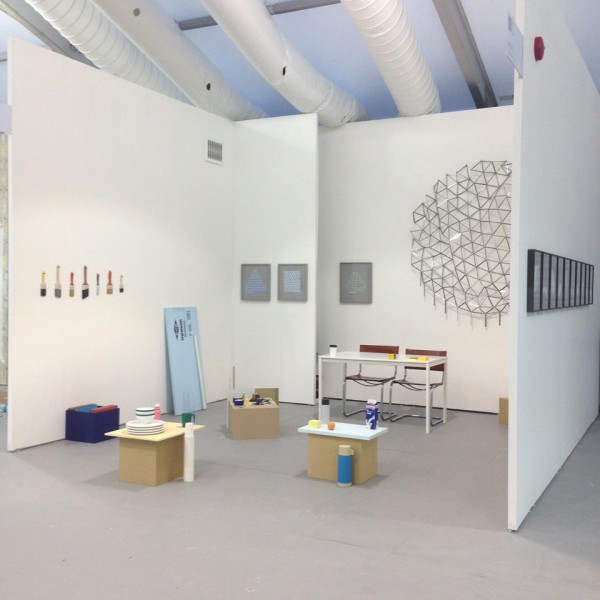 My favourite story from Untitled came from Michael Klein, of Toronto's MKG127, whose booth contained works by Roula Partheniou and Kristiina Lahde. After they'd set up, Klein told me, a member of the fair's curatorial team came by to visit and see how everything was going. Klein walked him around to the exterior wall of the booth, where, next to the gallery signage, at the top of the booth wall, they'd installed a trompe l'oeil work by Partheniou that was indistinguishable from a bona-fide fire alarm. "It's a shame we got stuck with the booth that had the fire alarm attached to it," Klein joked. "Oh, well," said the curator. "Just tell people it's contemporary art."
The hotel we stayed at, East Miami, whose elevator contained a wall installation that riffed on Yayoi Kusama's Infinity Mirrored Room, was on the Miami mainland, away from the fairs and the beach, but conveniently located close to Miami's spectacular Pérez Art Museum, Wynwood Arts District and lauded private collections. At the De La Cruz Collection, "You've Got to Know the Rules" included work by Peter Doig, and the Rubell Family Collection's show, "High Anxiety," included work by Brent Wadden.
A smattering of Canadians were present at other fairs across Miami Beach. Toronto- and Vancouver-based Bau-Xi Gallery brought Joshua Jensen-Nagle and Janna Watson to Context, where Vancouver's Jennifer Kostuik Gallery and Montreal's Galerie Matthew Namour (showing work by Gary Taxali, Jon Todd and others) also had booths. Toronto's Nikola Rukaj Gallery was at Art Miami, which also hosted a project by Canadian artist Donald Ian McCaw at Kustera Projects. Toronto's Nicholas Metivier Gallery was at Pulse, which also had works by Canadian Thrush Holmes at Beers London. And Art F City, helmed by Guelph, Ontario–raised, Acadia University–trained Paddy Johnson, was at Satellite. Art Basel mainstay Landau Fine Art, from Montreal, was back at the central fair this year, along with Toronto's Art Metropole, as were Canadians Hugh Scott-Douglas and Brian Jungen at Casey Kaplan Gallery, Stan Douglas at Victoria Miro and David Zwirner, Sara Cwynar at Foxy Productions and Olivia Mc Gilchrist at the Davidoff VIP lounge. Petra Collins didn't go to Miami this year, but fair visitors who wished they weren't there either could interact with her custom-designed Snapchat filter, made in collaboration with Artsy.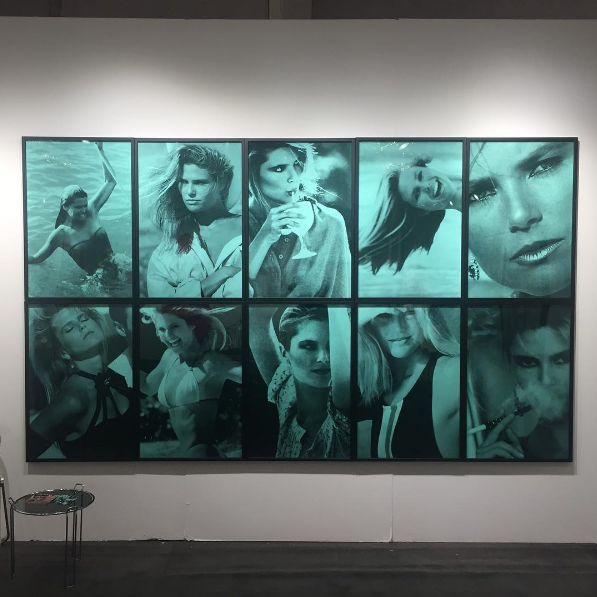 Up in North Beach, at the Deauville Beach Resort, which hosts NADA, Cooper Cole was the only gallery present to hail from Canada, and brought Vikky Alexander and Sara Cwynar. "I think it's a good opportunity to contextualize two Canadian photographers from different generations," director Simon Cole told me. He was also one of the few gallerists to present photographic works at a fair mostly populated with paintings and sculpture, which served him well. Now a member gallery, Cooper Cole also curated a video piece by Brittany Shepherd into the fair's Related Videos program and a Chloe Seibert sculpture, wittily titled Empty-Headed Creature, into the lobby.
Cwynar also had two works at the Foxy Productions booth, and I spied two walnut-sized sculptures by Curtis "Talwst" Santiago at New York's Rachel Uffner Gallery. Shawn Kuruneru and Robin Cameron showed with Minneapolis-based David Petersen Gallery. Elizabeth McIntosh, who has just signed with Catriona Jeffries in Vancouver, was at New York–based gallery Canada, and Canadian expats Chloe Wise and Asher Penn both presented their books as part of NADA's poolside Smoke Break program. Los Angeles–based Night Gallery and New York–based Tomorrow Gallery, each helmed by Canadian directors, were also at the fair. Hanna Hur was part of the one-day-only "Beach is Better" exhibition, organized by Fringe Projects and installed behind the hotel.
And finally, it was at NADA that I encountered one crack in the Miami facade—or, more accurately, a gaping hole. A giant art crate containing two paintings by Sojourner Truth Parsons was momentarily stuck when the Deauville's freight elevator broke down. In order to transport the works to Tomorrow Gallery's booth, someone made the call to take a jackhammer to the walls of the hotel building, creating an aperture big enough for the nine-by-nine-by-three-foot crate to pass through.
The fair slapped a banner over the cavernous hole, which, when viewed in the context of art, might provide the political commentary I was looking for: like a flimsy, flapping bandaid, perviously protecting a crumbling structure from temperamental shifts in weather and predatory vultures, that banner temporarily maintained the illusion of decorum and stability—all the while concealing a messy, dangerous and significant chasm.
Rosie Prata is managing editor of Canadian Art.