A controversial public art installation by Brian MacNevin in Bridgewater, Nova Scotia, has earned the support of local government—provided it passes an upcoming safety inspection.
In September 2018, Town of Bridgewater staff, acting on multiple complaints, ordered the artwork in MacNevin's front yard be removed. They deemed it "dangerous or unsightly" under a section of the Municipal Governance Act generally reserved for unkempt or hazardous properties.
MacNevin's front-yard artwork is somewhat rusty and jagged: it consists of a fragment of the anti-whaling ship Farley Mowat and a section of local-railroad-track-cum-harpoon. Yet this artwork is situated on a manicured lawn fronting a private heritage home, well away from the sidewalk.
Thanks to a November 2018 Town Council appeal and vote, the artwork can stay. When presenting the appeal, lawyer Kathryn Dumke argued that MacNevin's installation is protected by both a "right to freedom of expression" as covered by the Canadian Charter of Rights and Freedoms, as well as "recognition of the contributions of artists" as articulated in Nova Scotia's Status of the Artist Act.
Town Councillor Bill McInnis said after the vote that "Council wants to really promote arts and culture in our town. From that point of view, we think a mutually acceptable arrangement was made here to support the artist." Under the terms of the council vote, MacNevin will make the artwork more structurally sound by end of April 2019—and in an interview, he told me he is now confident that concerns of unsightliness have been largely addressed, and safety is well in hand.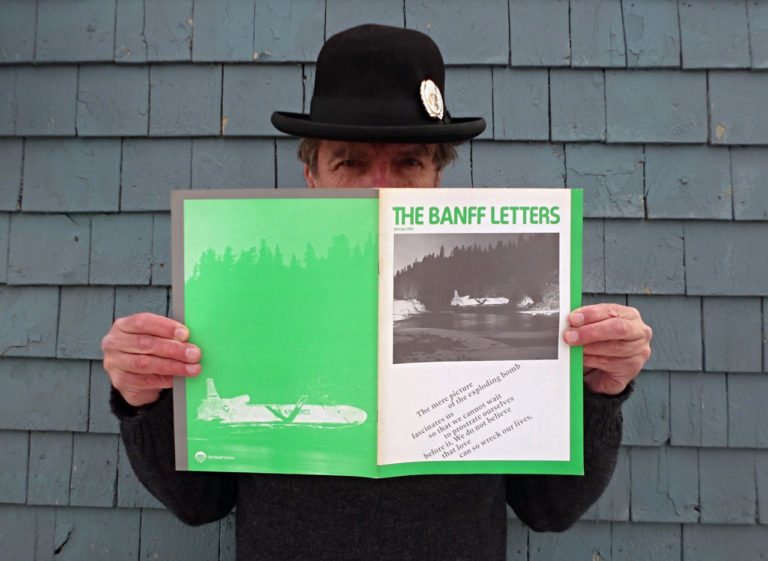 Artist Brian MacNevin holds a document related to a public Krzysztof Wodiczko projection he assisted with at Walter Phillips Gallery in Banff in 1983. Photo: Wanda Kushner.
MacNevin has experience with other public art projects that fly against the grain. While on staff at Banff Centre's Walter Phillips Gallery in 1983, he assisted with Krzysztof Wodiczko's large-scale projection of a cruise missile on the side of a mountain across from the Banff Springs Hotel. (Wodiczko's artwork referred to Canada's 1983 decision to host cruise-missile tests in Alberta.)
Also while at the WPG, MacNevin curated the exhibition "Vocation/Vacation," in which artists including Michael Asher, Hans Haacke and Garry Neill Kennedy were asked "to venture outside the institutional purview of the gallery and out of the Banff Centre into the town itself," as Vincent Bonin writes. In 2009 in Lunenburg, across the peninsula from Bridgewater, MacNevin also installed a "bunker" for ICA•RDI, the International Current Art Research and Development Institute, a registered non-profit organization founded by the artist and based on UNESCO's Status of the Artist recommendations.
MacNevin's Farley Mowat installation and ICA•RDI bunker, as well as other recent works, push beyond colonial histories popular in the area, including the lore of the Bluenose, a ship originally launched in Lunenburg and still much-celebrated there. The Farley Mowat work highlights the marine activist Sea Shepherd Conservation Society, which sailed that ship in protest of whaling and sealing. It also recalls the Canadian writer and environmentalist for whom that ship was named. Further, the installation serves as a counter-monument of sorts, given that the Farley Mowat was seized by Canadian authorities in waters off Newfoundland and Labrador in 2008 after observing a seal hunt; it was then sold multiple times and gradually deteriorated (also not uncontroversially) in various Nova Scotia harbours.
In a recent interview, Brian MacNevin told me that he is buoyed by the appeal victory and is thankful that the Farley Mowat sculpture has a more assured future. It has certainly made an impact: local journalist Ed Halverson acknowledged the imbroglio as one of the biggest regional stories of 2018, crediting MacNevin with "a career more interested in the backstory than the visual appearance of the artwork"—a scenario that many other Canadian municipalities often grapple with when addressing their own public-art decision-making.
Just as Canada's national Status of the Artist Act played a significant role in a 2014 Supreme Court decision supporting collective fee negotiation for artists exhibiting at the National Gallery of Canada, this more recent turn of events in Bridgewater, calling on the national Charter of Rights and Freedoms as well as a provincial Status of the Artist Act, may bolster those working in public art elsewhere.
This article was corrected for typos on January 4, 2018.