If you could write anything on a large, eight-character, light-display billboard in a highly trafficked area, what would it be?
For eight years, Berlin artists Jan and Tim Edler (also known as realities:united) have been working on a public artwork at the Pioneer Village subway station in Toronto that asks this question. Understandably, they went through a series of public approvals and consultations during those years, completing the standard cycle of stakeholder consults and board okays.
The Edlers' finished artwork, LightSpell, was due to launch on December 17 with the grand opening of six new Toronto Transit Commission stations, Pioneer Village included. But on December 14, the artists learned the TTC had put the piece on hold due to concerns about the public uploading inappropriate content.
On December 22, the Edlers sent out a release decrying what they identified as the TTC's "censorship." Other artists joined the call on social media, and news coverage ensued.
What is LightSpell's fate, and has the TTC overreacted?
The Edlers point out that while the TTC is concerned about inappropriate content, the LightSpell system is already self-regulating.
"Several touch-screen terminals are available to passengers waiting for their trains, placed at intervals along the entire length of the station," says Jan Edler via email. It is only through these touch-screen terminals that messages can be uploaded to the display. "There, they can easily enter symbols and words that appear directly in the light installation as a repeating chain of characters."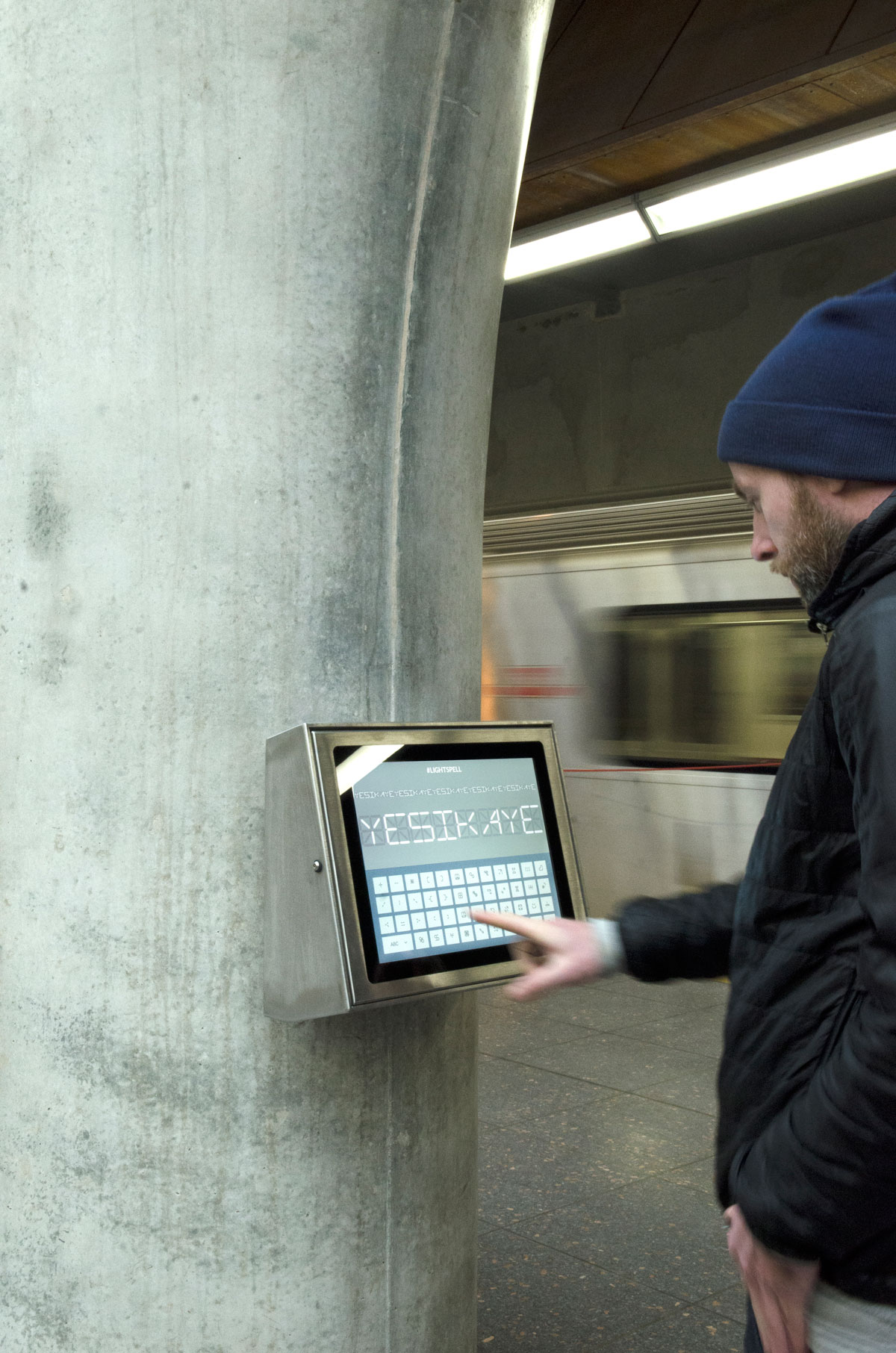 A view of a touch-screen interface for LightSpell by Jan and Tim Edler (aka realities:united) during testing at Pioneer Village Station in Toronto. Photo: Copyright realities:united.
If someone were to input something offensive, another person on the platform could easily override it with another input. "All of these terminals are of equal rank, hence any terminal can be used by any waiting passenger to overwrite any content at any time with the touch of a finger," Edler says.
Montreal artist Rafael Lozano-Hemmer, who has created interactive public artworks across the country and internationally, has been vocal on social media about the matter.
"I think it's really not about art," says Lozano-Hemmer in a phone interview. "It's about the state of public space in Canada."
Lozano-Hemmer adds that the attitude displayed of late by the TTC is "paternalistic and condescending."
"In the 25 years that I have been doing this kind of [public art] work, we always have this debate, and we always win—because we can show that in fact 99.9 percent of the public participation is funny or political. Only a very, very tiny amount is moronic" or abusive.
Lozano-Hemmer emphasizes that, in his experience, there is a vast difference between the kind of content people create when they are physically present in a space as opposed to the content they create when they are physically distant from a space. The former situation—often used in his artworks and in LightSpell, designed only to accept messages from keyboards installed on that subway platform—generates what he calls a "self-moderation" and "civility" unknown in online-only or physically distant forums.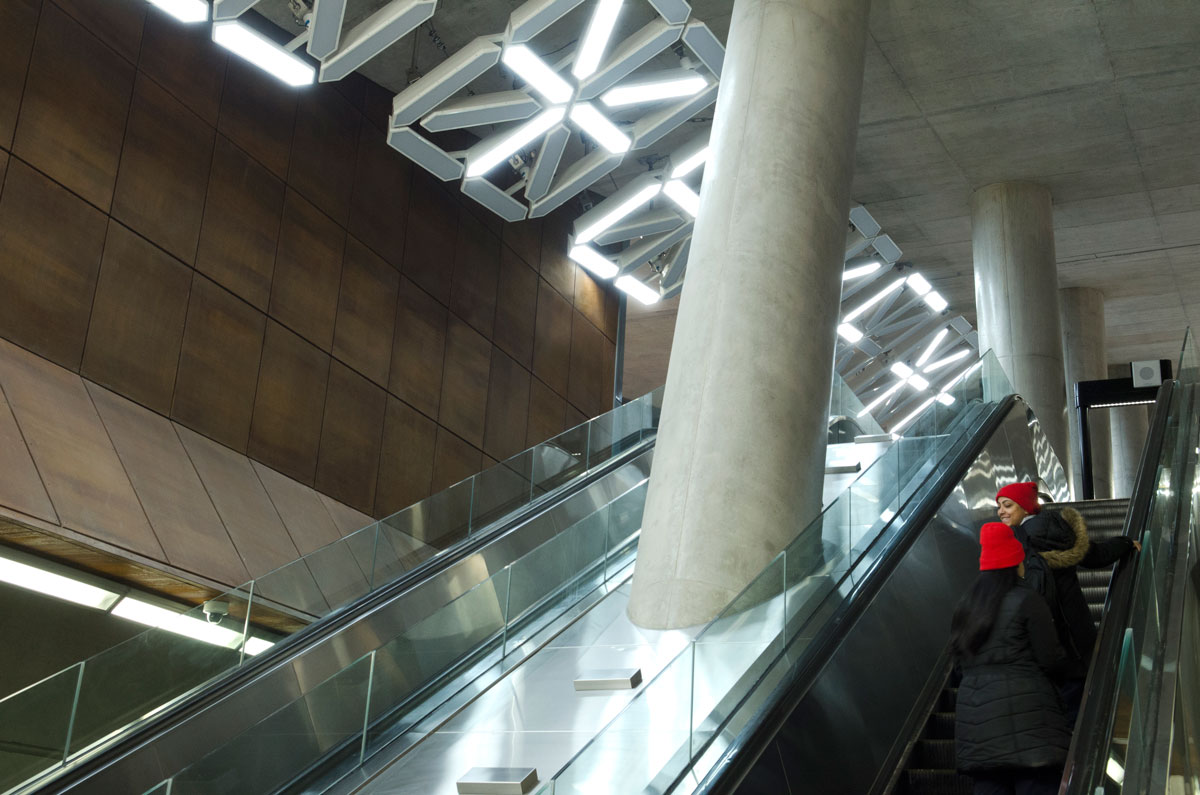 A view of LightSpell by Jan and Tim Edler (aka realities:united) during testing at Pioneer Village Station in Toronto. Photo: Copyright realities:united.
Lozano-Hemmer also notes that interactive works of various kinds have been created around the globe without significant crises arising. "No one has been able to explain to me why Toronto would be different than New York City or Berlin or London or Mexico City or Amsterdam or any of the cities where we have successfully done these kinds of projects," says Lozano-Hemmer.
"What is it about Torontonians that should not be trusted with the tools of civility?"
Interestingly, LightSpell was shaped by feedback received from a group of local and regional stakeholders early on in the artwork's consultation process. The group was certainly open to seeing something more "democratic" than a set of pre-programmed texts or messages, says Toronto art consultant Brad Golden—and the idea of public-input content rather than artist-input content fit that mode.
Accordingly, many are wondering why the TTC's concern around potentially inappropriate content in LightSpell was flagged so late in a years-long development and approvals process—and what it means for public trust right now.
"There was a concern about the potential for hate speech," admits Stuart Green, senior communications specialist at the TTC. "You can say some pretty awful things in eight characters."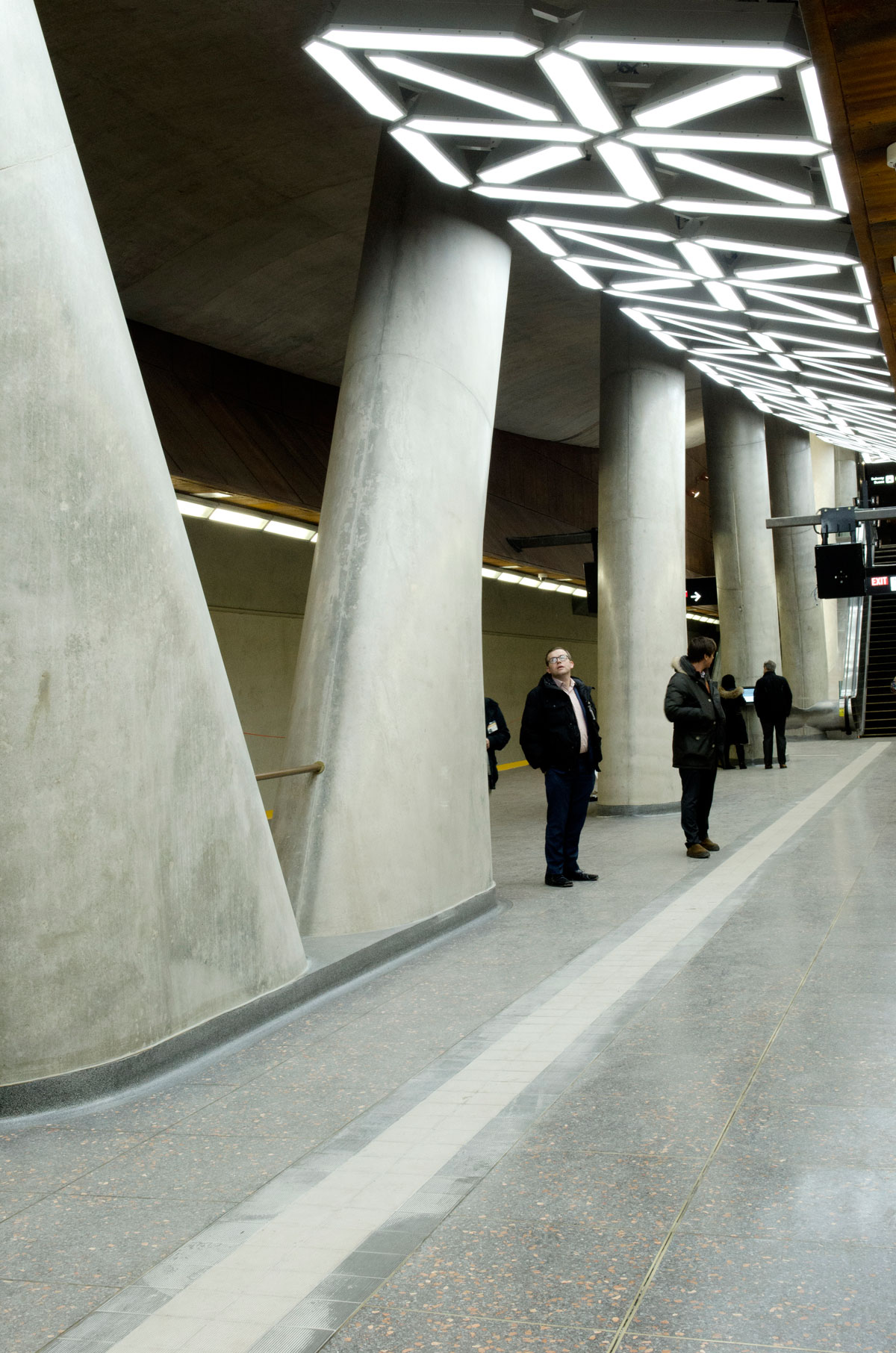 A view of LightSpell by Jan and Tim Edler (aka realities:united) during testing at Pioneer Village Station in Toronto. Photo: Copyright realities:united.
The Globe and Mail has reported more context: TTC staff actually typed offensive messages into the system during a test run late this fall, took photos of the artwork displaying those messages, and sent them to then-CEO Andy Byford, who has since left the organization and is moving on to manage New York's transit system.
The TTC has proposed a "whitelist" of accepted terms to the Edlers, or a "blacklist" or banned terms, Green says, also noting that the TTC decides on the appropriateness of messages in the stations when they are in advertisement form—so why not art?
The Edlers are currently working on a public installation for a high-rise development in downtown Toronto, and have already successfully realized two public installations in Edmonton. They say they will persist in demanding full public control of LightSpell. "We feel that the reaction of the TTC…acts out of fear, and as we all know, fear has never been a good advisor," Jan Edler writes in his email.
Like Lozano-Hemmer, Edler argues that "mapping mechanisms of Facebook and the like blindly onto 'real' or 'natural' public spaces jeopardizes the nature of these spaces and potentially cripples human interaction."
"We will not give up," he concludes. "We will definitely keep on trying everything to get permission for the installation to go into public operation. This is what we developed the piece for."