Wearing a mask inside buildings. Initiating timed ticketing and admissions. Limiting elevators to one person or household unit. Mapping a single, prespecified route through a gallery. Requiring self-screening for COVID-19 before and when entering a cultural institution.
These are just a few of the guidelines that art galleries and museums across Canada are either considering or implementing as they begin to reopen this month.
Some, like the Winnipeg Art Gallery, which reopened May 5 with two days dedicated to only frontline workers, have managed to put an artsy twist on rule communiqués: on its social media feeds last week, the WAG asked that "all of [its] visitors adhere to physical distancing protocols while visiting the Gallery—2 metres, or the length of The Story, by George Agnew Reid."
In fact, it was posting about art on social media daily during the WAG's extended closure that prompted gallery director and CEO Stephen Borys to understand Canada's oldest civic gallery—and its crisis-era reopening—in a new way.
"I realized this museum has a critical role to play during and after this pandemic. And that's not just about the art collections we hold and share—it's about spaces we can offer that are safe, engaging and inspiring," says Borys. "Every museum is different, but we are all rethinking how we can remain sustainable—and that also means impactful and relevant"—and, of course, safe.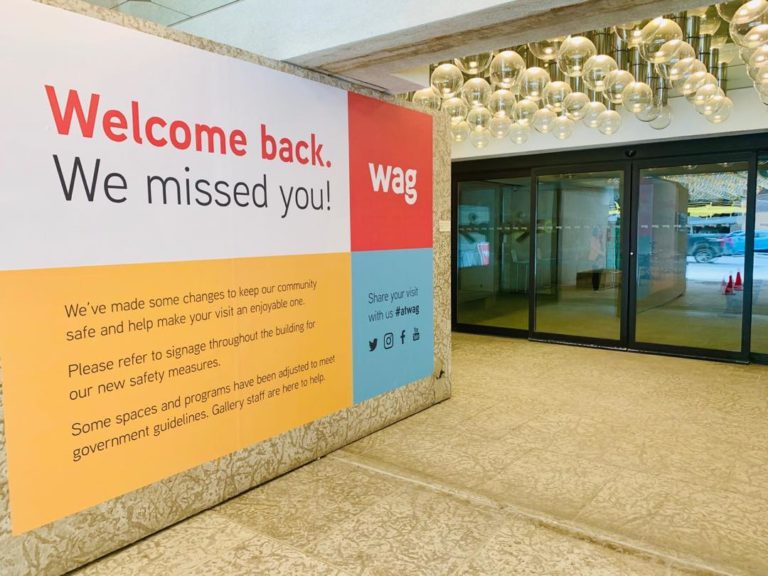 New entrance signage at the Winnipeg Art Gallery. Photo: WAG.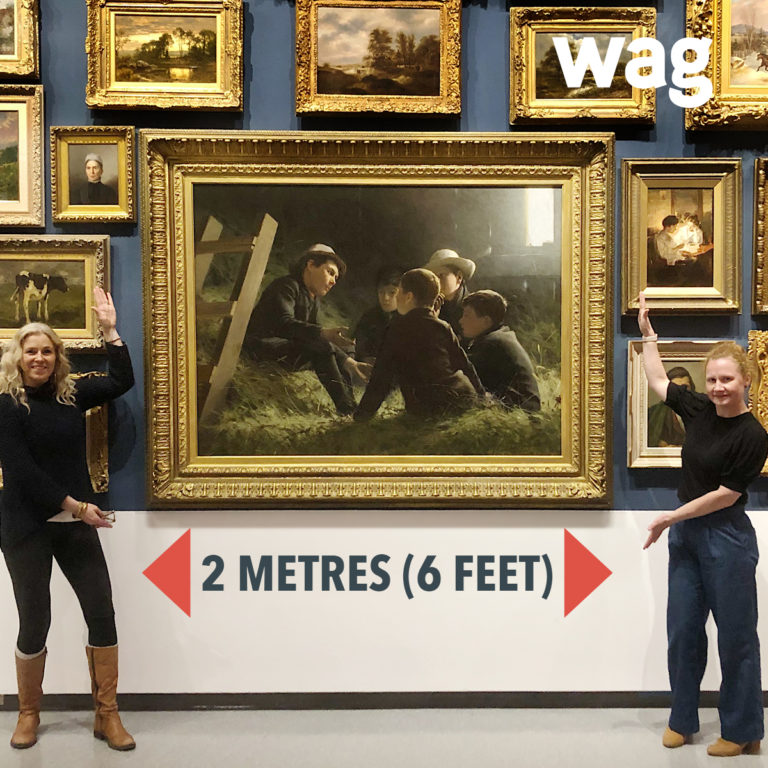 An image the Winnipeg Art Gallery posted to social media during reopening week, with the caption "We ask that all of our visitors adhere to physical distancing protocols while visiting the gallery—2 metres, or the length of
The Story
, by George Agnew Reid." Photo: WAG.
Borys says that the WAG's decision to reopen was made in consultation not only with the provincial government, but also in consideration of regular calls with gallery and museum directors across the country as well as leaders in the wider arts sector.
"In a way, museums and galleries have an advantage in the cultural sector in that visitors usually practice physical distancing quite well, and we have significant square footage to offer them," Borys tells Canadian Art. "We felt confident that not only could we follow all the [government] protocols that were in place but also do even more in terms of creating a very safe and enjoyable environment."
For instance, many of the WAG's office staff have been redeployed to public areas to help ensure social distancing. The gallery is encouraging users to download gallery guides onto their phones rather than offering hard copies in person. Interpretive touchscreens have been removed, and floor markers have been added to prevent congestion. And the gallery is still providing some online-only programs for those who prefer to, or need to, stay at home.
At Quebec City's Galerie3—a five-year-old commercial gallery that reopened May 6—distancing guidelines are also in place, albeit on a different scale.
"We have about 2,000 square feet, and it's separated into four sections," says Galerie3 co-owner and co-director Abdelilah Chiguer. "The main idea is to give collectors time to be alone in each section."
As dictated by Quebec provincial guidelines, a specific route is mapped through the gallery, and there's a handwashing station, regular cleaning of surfaces and a limit on visitor numbers.
"I can see us having between 4 to 16 visitors at a time without any problems," says Chiguer. "We had between 60 to 70 per cent of our normal traffic on the first day."
"People crowding in to see the Mona Lisa—that's something that will probably never, ever happen again," says one museums expert. "And they say blockbusters are dead—at least in the short term."
Galerie3 was also active in other ways during its physical closure.
"We continued having sales, even while closed," Chiguer says. "Some collectors called us after the first week [of closure] to see how we were doing, and ask which of our artists really needed support—and then bought art to support them. We never experienced that type of solidarity and support from collectors before, and it's great to see."
The biggest change for Galerie3, Chiguer says, is no openings or receptions, nor any group visits: "I don't think we will have demand for that."
Indeed, the art events and art institutions that relied most on big crowd turnouts may also be the ones most affected in the era of coronavirus-sensitive reopenings.
"People crowding in to see the Mona Lisa—that's something that will probably never, ever happen again," says Kathleen Brown, chief operating officer and senior practice leader at Lord Cultural Resources, a global museum and art gallery consulting practice headquartered in Toronto. "And they say blockbusters are dead—at least in the short term. There is just so much for an institution to manage around that, it becomes overwhelming."
Perceiving a need for more sector guidance on these issues, Brown and her colleagues recently launched a new suite of Lord Cultural services for museums and art galleries "in the post pandemic world." These include reopening strategies, future-proofing and resilience planning, digital strategies, strategic communications and shovel-readiness for government and other funders' recovery projects.
"Shutting down is fairly easy—it's really the reopening that, from the outset, we knew would be a huge challenge," Brown explains.
"What we're hearing from the Prime Minister and others is that reopening is likely not a one-shot deal," Brown notes. "This is gradual, and could take the form of a back-and-forth—where there will be interruptions on service delivery depending on what happens with the curve and with contagion."
"It's one thing to reopen museums," says Brown, "and it's another to position yourself flexibly and responsibly so you can respond to different circumstances coming down the road."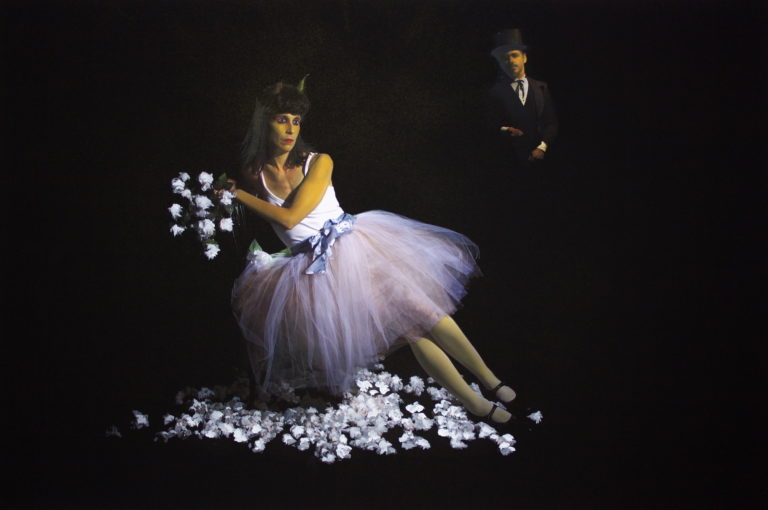 Claudie Gagnon,
Appropriation no. 4 hommage a Jean-Louis Forain
, 2018. Courtesy Galerie 3.
Julien Boily,
Motif de synthese 1
, 2018. Courtesy Galerie 3.
It's not even physical facilities that may prove the biggest logistical concern for large museums and art galleries looking to reopen.
"The first thing is really getting your staff back online, because that precedes opening the doors," says Brown. "And that will be somewhat complex, because for whatever reason some may not be comfortable returning to work, or some may have young children and nowhere to take them for child care. Overall, it may be a challenge to get your workforce back up and activated."
And yet, these are challenges that, in the next few weeks, more and more museums and art galleries in Canada will be trying to juggle.
According to the Alberta government, art galleries and museums may be permitted to reopen there as early as May 14—though the Esker Foundation, Contemporary Calgary and Latitude 53 have already issued statements indicating they will be taking it more slowly than that. The Art Gallery of Greater Victoria is planning to reopen May 19 with seven weeks of free admission, but other BC institutions are pacing it differently. In New Brunswick, the historical site Kings Landing recently announced it will reopen to the public June 13—with the plan that visitors will wear masks inside its heritage buildings.
Reopening protocols also vary across provinces: while museums and galleries were part of the Phase 1 reopening in Manitoba, they're part of Phase 4 in neighbouring Saskatchewan.
And not everyone is confident that reopening cultural facilities will lead to audience engagement—far from it. On Monday, a group of Quebec culture leaders—including Jean Paul Riopelle Foundation executive director Manon Gauthier and Société des arts technologiques president, founder and artistic director Monique Savoie—called for renewed action and support in the culture sector, citing recent surveys indicating that "two thirds of Quebecers are not ready to go back to concert halls or visit a museum. Their concern could last up to 6 months."
There's even one Canadian senator, Patricia Bovey, a former curator and museum director, who has taken a special interest in this issue.
"The cancellations of theatre, dance and music seasons, summer festivals and shuttering of galleries and museums have had disastrous financial implications," Bovey wrote in comments to media this month. "Other serious challenges include the safety of audiences as we restart. How do audiences and presenters rise above the fear of entering public spaces?"
"We must assess the specific challenges to ensure audiences have the confidence to partake in creative events," Bovey states. "We must also ensure that artists can reclaim their careers and reschedule their cancelled performances and exhibitions at home and internationally."