Before coronavirus hit, the Montreal Museum of Fine Arts hosted 1,174,890 visitors (in 2019) making it one of Canada's most popular museums.
Last week, following more than two months of closure, the MMFA reopened its doors—but with just one exhibition open and strict limits on viewership in order to help prevent coronavirus spread.
The sole exhibition, on now through June 28, is the touring show "Egyptian Mummies: Exploring Ancient Lives." Visitors must purchase tickets online for a specific time slot and follow a one-way exhibition pathway to maintain physical distancing. Face coverings are strongly recommended, and the museum's cloakroom, restaurant, café and guided tours all remain closed.
The MMFA's reopening followed the Winnipeg Art Gallery on May 5, the Art Gallery of Greater Victoria on May 19­ and the Royal Alberta Museum, the largest museum in Western Canada, on May 16.
This week, as other art museums and major public galleries are reopening—or planning to—a new survey by Nanos Research, Business/Arts and the National Arts Centre indicated that no matter how many galleries and museums reopen, it may take some time for publics to feel safe returning, because of the risk of COVID-19 specifically.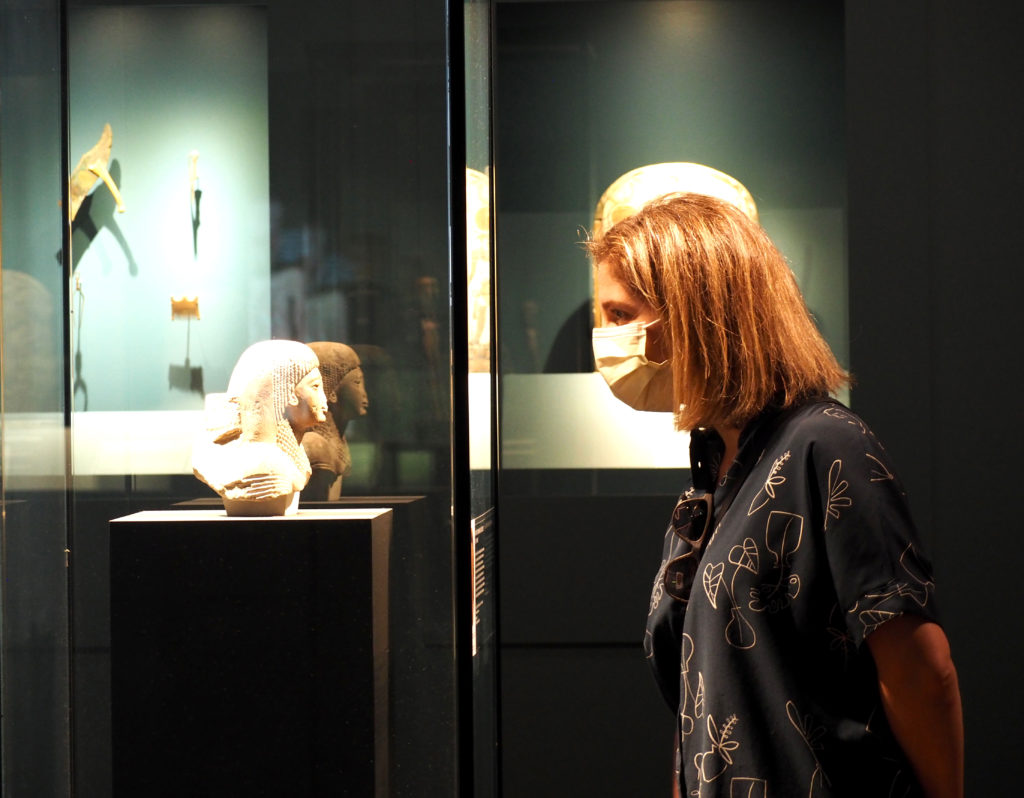 A masked visitor at the Montreal Museum of Fine Arts in June 2020 considers part of the exhibition "Egyptian Mummies: Exploring Ancient Lives." Photo: MMFA, Solene de Bony.
Nationally, only 30 per cent of art gallery- and museum-goers said they would return immediately after institutions open—although that figure was higher in Quebec, with 44 per cent there saying they plan to attend in person immediately after businesses, government and cultural organizations are opened and following public guidelines.
Caution remains the watchword for art visitors nationally: 27 per cent of art gallery– and museum-goers said they would wait an average of five months before returning to these spaces, while 42 per cent of art gallery– and museum-goers are unsure about when they might return.
Here are some of the reopening plans so far for art galleries and museums across the country:
The Kelowna Art Gallery opened June 2 with free admission for all visitors in June and the first hour of each day (10 a.m. to 11 a.m.) reserved for seniors and visitors who are part of an at-risk population.
The Contemporary Art Gallery in Vancouver reopened June 9, with visitors admitted in 30-minute intervals as well as booked in advance. Visitors in high-risk groups are welcome to request a private visit outside of normal operating hours, and the group show "The Artist's Studio is Her Bedroom" is on view until July 5.
Some museums and galleries are setting aside the first hour of each day for seniors and others at high risk of developing COVID-19. Others are are permitting free visits for frontline workers.
Darling Foundry in Montreal reopened on June 10 with its regular hours of Wednesday to Sunday, 12 p.m. to 7 p.m., and until 10 p.m. on Thursdays. Exhibitions by Vikky Alexander and Michael Eddy are up until August 30.
The Art Gallery of Alberta reopened June 11, with Thursday to Saturday hours and the first hour of each day—11 a.m to 12 p.m.—reserved for vulnerable and at-risk visitors. For the month of June, the AGA is also offering pay-what-you-wish admission to essential workers and arts workers.
The Museum of Vancouver also reopened June 11 with reduced hours of Thursday to Sunday 10 a.m. to 4 p.m., advance ticket booking and a maximum of 10 people admitted per entry slot.
The Vancouver Art Gallery will reopen June 15 with two mornings of free, early-access admission to frontline workers during its first week and a maximum capacity of 225 visitors; they are also extending the run of "Shuvinai Ashoona: Mapping Worlds."
The Canadian Museum for Human Rights (CMHR) will reopen its doors to visitors on June 17. Frontline workers and their families will be offered complimentary admission every Friday until the end of summer, available by reserving free tickets online.
The Musée d'art contemporain de Montréal is reopening with a day of free admission on June 24, followed by a shorter weekly schedule—Wednesday to Sunday, from noon to 6 p.m. As of July 4, it will be exhibiting a pair of dystopian video works by Jon Rafman.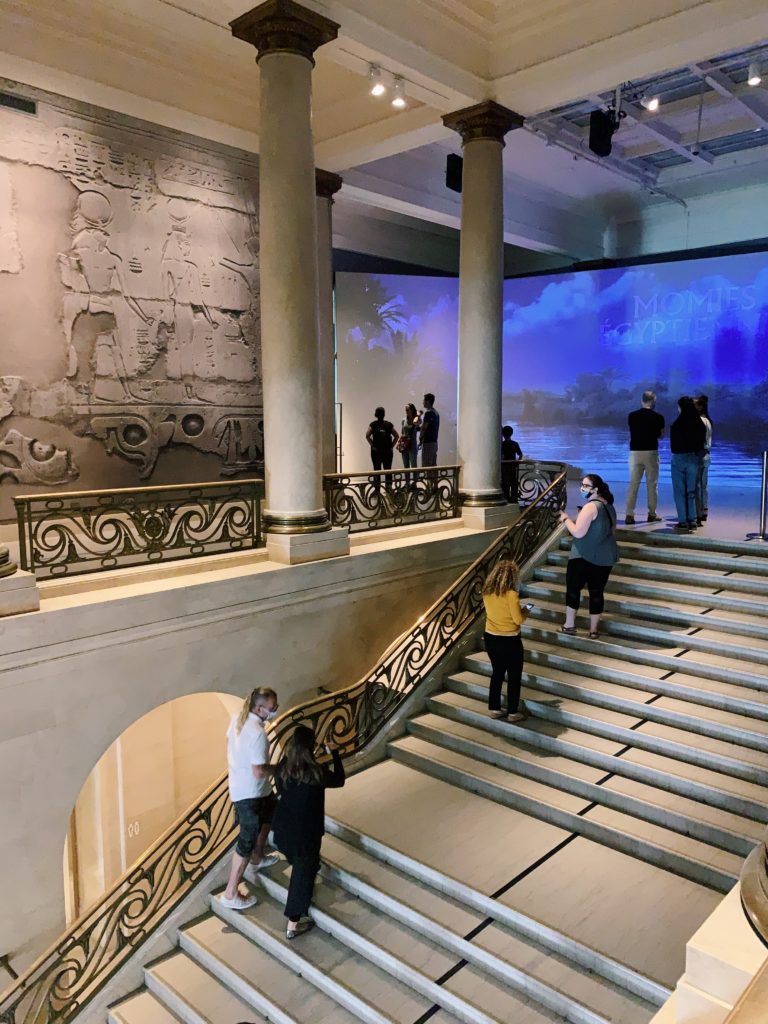 Visitors distance, use masks and follow a set exhibition pathway at the Montreal Museum of Fine Arts in June 2020. Photo: MMFA, Solene de Bony.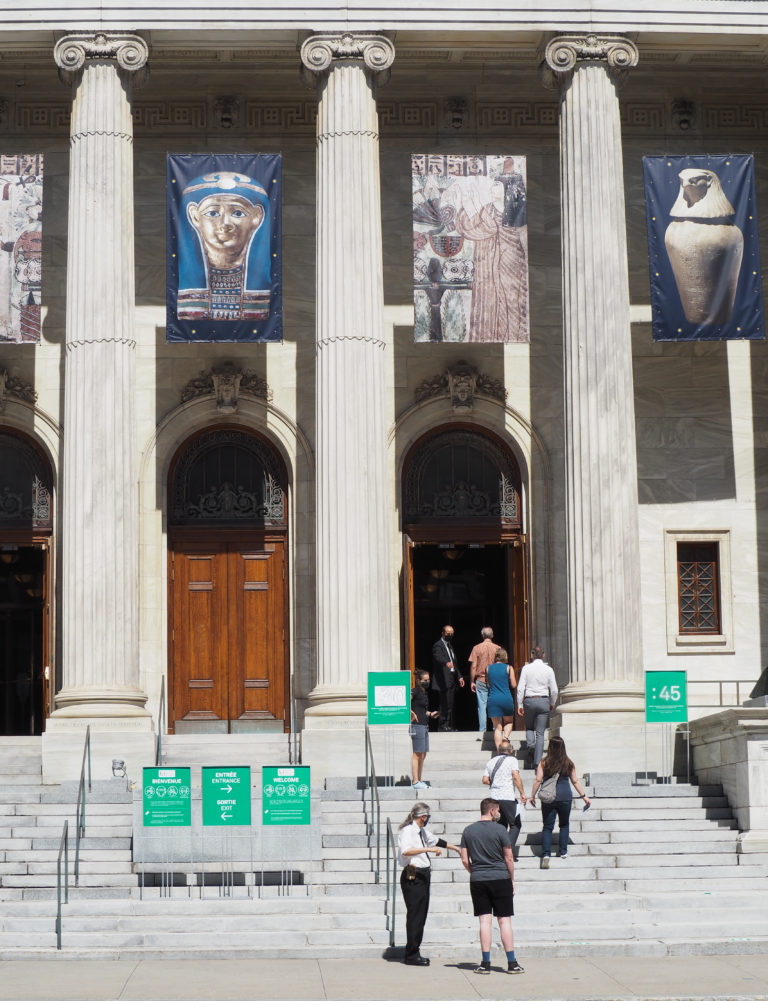 Visitors line up outside the Montreal Museum of Fine Arts in June 2020. Photo: MMFA, Solene de Bony.