As Jacques embarks on a new position as Remai Modern's New Head of Exhibitions and Collections/Chief Curator, she looks back at her achievements at the Art Gallery of Greater Victoria
As Jacques embarks on a new position as Remai Modern's New Head of Exhibitions and Collections/Chief Curator, she looks back at her achievements at the Art Gallery of Greater Victoria
Olympic Plaza, Calgary September 15 to 16, 2012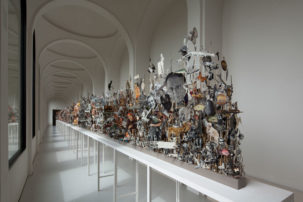 Neue Galerie, Kassel June 9 to September 16, 2012
What makes museums tick these days? In this interview from our Summer 2012 issue, archivist Adam Lauder explores this question—and related ones—with influential Toronto museums consultant Barry Lord, co-founder of Lord Cultural Resources.
Mug shots go monumental in "Pioneer Ladies [of the Evening]," a Winnipeg exhibition that draws upon—and then redraws—histories of the city's sex trade. In this interview with Bryne McLaughlin, curator and historian Laurie K. Bertram talks about her hopes for the show.
Over the past five years, the ceramic engine sculptures of Saskatchewan artist Clint Neufeld have won increasing recognition. With a Mendel Art Gallery opening this week, and MASS MoCA's "Oh, Canada" on the horizon, Neufeld talks with Leah Sandals about his military start, farm heritage and more.
One of Rebecca Belmore's most recent works, The Blanket, continues the artist's practice of speaking to the centuries of abuse Aboriginal peoples have endured in Canada. In this interview with Lee-Ann Martin from our Spring 2012 magazine, Belmore discusses her critically acclaimed works and their meanings.