In recent years, shipping containers have been repurposed as affordable housing, artist's studios and sidewalk food stands hawking fried chicken.
Now, just a few steps from Toronto's City Hall on Queen Street West, is likely the first shipping container ever emblazoned with the words "Sexual Assault: The Roadshow" and "It's Never OK."
"Can you imagine this on a highway?" asks one of the project's artists, Heidi Cho, when I visit the container during its trial run earlier this summer at Toronto's Scadding Court Community Centre.
"It travels on a flatbed truck, on the 401," explains sexual assault activist Jane Doe, one of the directors of the project. "So you're driving along, and it's like, 'Ethel, what does that say?!?' The container is a star—it's a main feature. Its very physicality makes us stop for a second, consciously or not, and just register that message."
Doe, along with dub poet and Road Show artistic director Lillian Allen, hopes the container will be on the highway a lot in the next two and a half years.
The plan is for this container—and its associated program of arts and activism workshops—to visit 15 communities in Ontario by the end of 2018.
"Everybody is creative, and developing a voice through the arts is important for everybody," Allen explains at the Roadshow's official Toronto media launch on September 13.
Already, besides the trial run at Scadding Court in July, Sexual Assault: The Roadshow visited two other locations in August.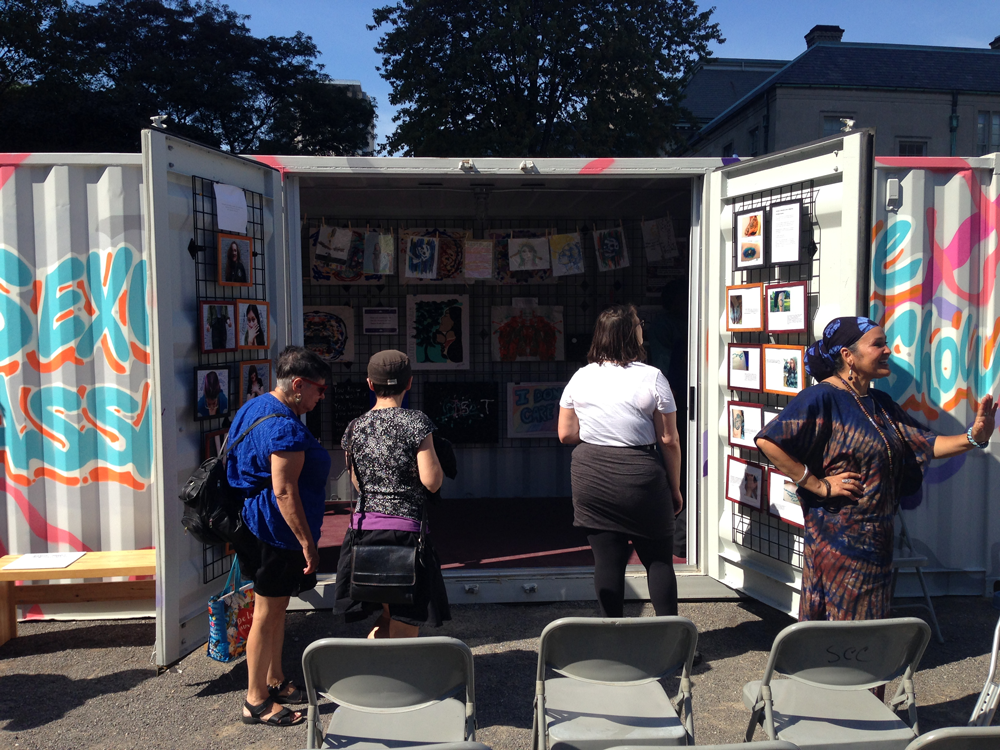 Sexual Assault: The Roadshow installed near Toronto's City Hall.
One stop so far has been Hamilton—where Cho ran zine workshops in partnership with SACHA, a local non-profit that supports survivors of sexual assault. Copies of a zine from that project, titled Dreams, Healing and Safety: A collaborative zine against sexual assault, are travelling on with the Roadshow. One page reads, "I am not broken…. See me as a whole person and not just the abuse that happened to me."
Another Roadshow stop was the village of Ohsweken on the Six Nations of the Grand River First Nation Indian reserve near Brantford—where artist Julie Jamieson led workshops in spirit painting. Some of these paintings, and the makers' interpretations, are now on view in the Roadshow's display as well.  One such interpretation by Amye Werner speaks of how "sexual violence is a spiritual trauma…when working on my spirit painting I set the intention for intergenerational healing."
"This is pretty amazing," Allen notes. "We are here at City Hall and we are bringing the voice of many who have not been heard, or who will not be heard."
One work on paper currently on display at the Roadshow features a cutout of Caitlyn Jenner on one side and the words "My beautiful trans body costs me more than money. Stop violence against all women" on the other.
Another collage-type work focuses on an image of an Indigenous woman drumming in a Warrior Up! T-shirt, with the words "Colonization = Violence Against Aboriginal Women" sketched in blue and red above her head.
The Roadshow also has selections on view from Mandi Gray's Resistance is Etched into My Skin—a project in which Gray collects photographs of tattoos that represent experiences of sexual assault, and related texts. (Among the contributors to the project is Glen Canning, father of Rehtaeh Parsons. Discussed are tattoos both father and daughter received following Parsons's assault and bullying.) Gray, whose rapist was convicted this summer in a case covered widely in local media, writes that "tattooing provides a unique space for reclamation, empowerment, resistance and healing."
"I think we are lost without art specific to sexual violence," says Jane Doe, who successfully brought a case against the Toronto police after her own rape in 1986. "I think it's the power of art to talk and to resist an extremely difficult thing where there are no words, where there is no language except a revictimizing language, a state language, or a police language."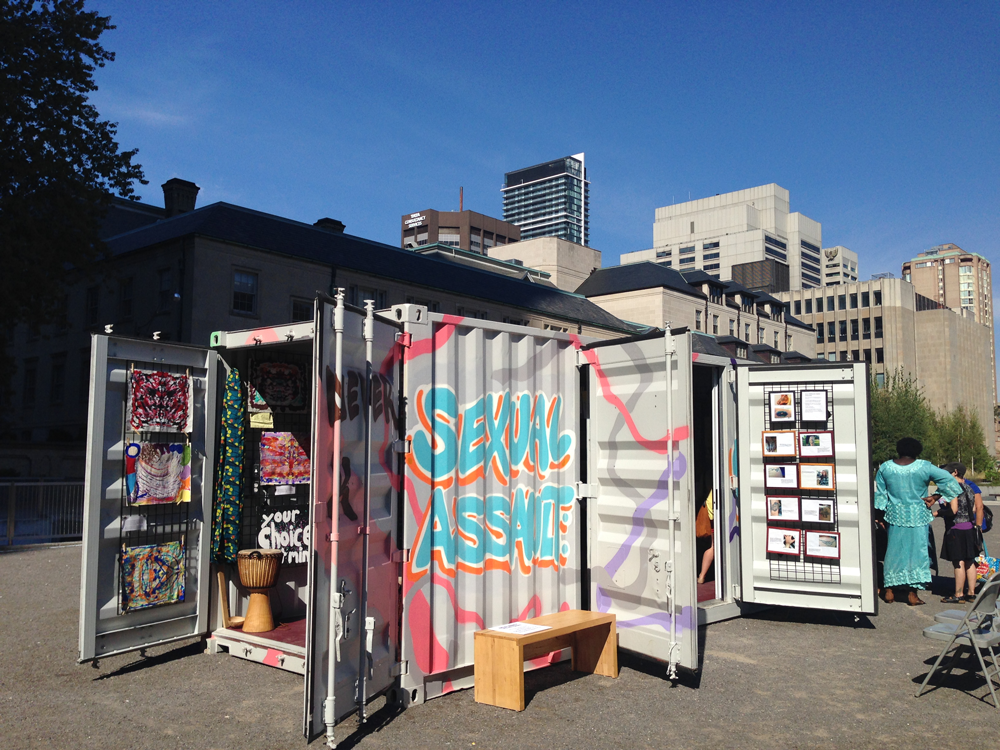 Sexual Assault: The Roadshow installed near Toronto's City Hall.
Art is so important to Doe that when she released a book about her life in 2003, she asked Shary Boyle (who later represented Canada at the Venice Biennale) to contribute drawings and images.
"I lecture a lot and I often use Shary's art [in that]. I hand it out and ask the students what's going on here for them, to translate the art into words," Doe explains.
Vtape, the Toronto-based artist-run distributor of video art, has come onto the Roadshow as a sponsor.
And the Ontario government is also on board with the idea of what Doe calls "finding new narratives through art around sexual violence."
In fact, the Roadshow tour couldn't have happened without a unique provincial government initiative.
Sexual Assault: The Roadshow is just one of 11 projects that received funding this year from Ontario's new $2.5 million Creative Engagement Fund—itself a part of the Ontario government's wider action plan on ending sexual violence and harassment.
Administered by the Ontario Women's Directorate and the Ontario Arts Council, the Creative Engagement Fund funds partnerships between arts and not-for-profit community organizations, professional artists and sexual violence experts to develop projects that will stimulate conversation, shape people's perspectives and opinions, and give them new tools to name and take action on sexual violence and harassment in their communities.
Some of the other Creative Engagement Fund projects funded recently include Aanmitaagzi's project "Material Witness," which involves dance theatre and Indigenous women; Lamphead's "Get Consent," a one-year youth-led animation project; and Northwestern Ontario Women's Centre's two-year project "Just Believe Us" around storytelling and digital art.
"We celebrate our spirit, we celebrate survivors, and strugglers, and whatever other words come up," says Allen.
Sexual Assault: The Roadshow will be in the south-west corner of Toronto's Nathan Phillips Square until September 18, featuring workshops by Mosa McNeilly and Apanaki Temitayo Minerve. It will also be at OCAD and Ryerson later this fall. After taking a break for the winter, it will be heading to an Indigenous community in the Kawarthas. For more information, visit the Roadshow's Facebook page.