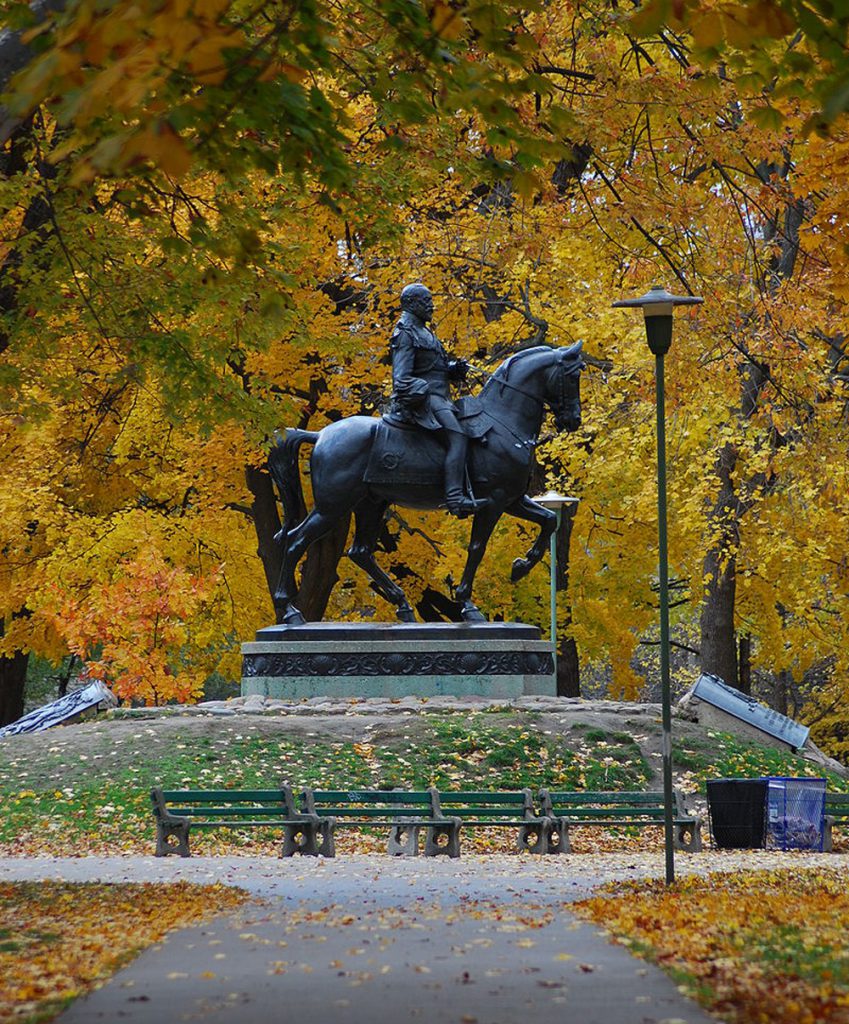 An autumn view of the King Edward VII equestrian statue in Toronto's Queen's Park. Photo: Marcus Obal, 2007. Reproduced under a Creative Commons License. CC-BY-SA 4.0.
In 2009, I was growing tired of diasporic angst in Canada, growing tired of a queer community that was railing against whiteness and colonialism. I wanted a creative, generative space where I would figure out how to be brown and queer without having whiteness as a reference point, a space where I could explore the complexities of my own histories, stories and journeys. I craved conversations that pushed the margins of my Punjabi self to incorporate my queer self.
Realizing that there was no space on Turtle Island where I could escape whiteness, I quit my job, packed my bags, and left for India in search of radical queers. Unbeknownst to me, those were heady days for queers in India, as the Delhi High Court decision decriminalizing same-sex sexual activity in private had just come down. Dating back to 1861, Section 377–called Unnatural offences–existed in some form across the colonies:
Whoever voluntarily has carnal intercourse against the order of nature with any man, woman or animal, shall be punished with imprisonment for life, or with imprisonment of either description for a term which may extend to ten years, and shall also be liable to fine. 
Through a spate of life-altering occurrences, including a love affair with one of the lawyers who fought for the decriminalization of Section 377, I ended up spending the better part of 2010 through 2013 in India. I worked for a queer film festival, took part in planning pride parades and joined collectives. I learned about the political and cultural ways in which queerness was lived, and how it challenged heterosexual society. While whiteness was not the reference in India, colonial law continued to influence the cultural ways in which sexuality was governed.
These thoughts came to mind as several performances related to Queen's Park and its King Edward VII statue occurred this fall. Life of a Craphead created a life-size replica of King Edward VII's statue and took it for a ride down the Don River. These performances were looking at the impact of colonialism on the land and bodies of people in Toronto. In her site-specific performance Where Once Stood A Bandstand For Cruising & Shelter, interdisciplinary artist Hazel Meyer paid homage to the queer history of Queen's Park as a site for cruising. Seen through the prism of Queen's Park, this project illustrated the ways queer and colonial histories are embodied and located.
For me, Queen's Park as a space and the statue of Eddie represent something slightly different: a global, multidirectional flow of power, money and mortality with white supremacy at its heart.
***
In India, I walked around the city admiring layers of history; the modern intersecting with the colonial; the ways in which medieval buildings were still in use. Falling in love with the city and the lawyer, I spent time in the ruins of the Hauz Khas Complex, amongst lovers who had stolen away a few moments for themselves in the crumbling structures. I watched films at Connaught Place, the centrepiece of Lutyens' Delhi, named after the British architect Edwin Lutyens who was responsible for much of the architectural design and building of Delhi in the 1920s, 1930s and 1940s.
I loved seeing historic diversity in ways that I had never witnessed before. In Canada, diversity is a state-sanctioned performance in which one can excel as long one knows the rules and stays within their parameters. All its fault lines notwithstanding, diversity in India is old and chaotic. Delhi has seen countless invaders come and go over the centuries. I admired the street signs in at least four different scripts (Roman, Devanagari, Shahmukhi and Gurmukhi), and the way that most neighbourhoods and streets had adopted names related to the freedom struggle, Mughal rulers or other names specific to that geography.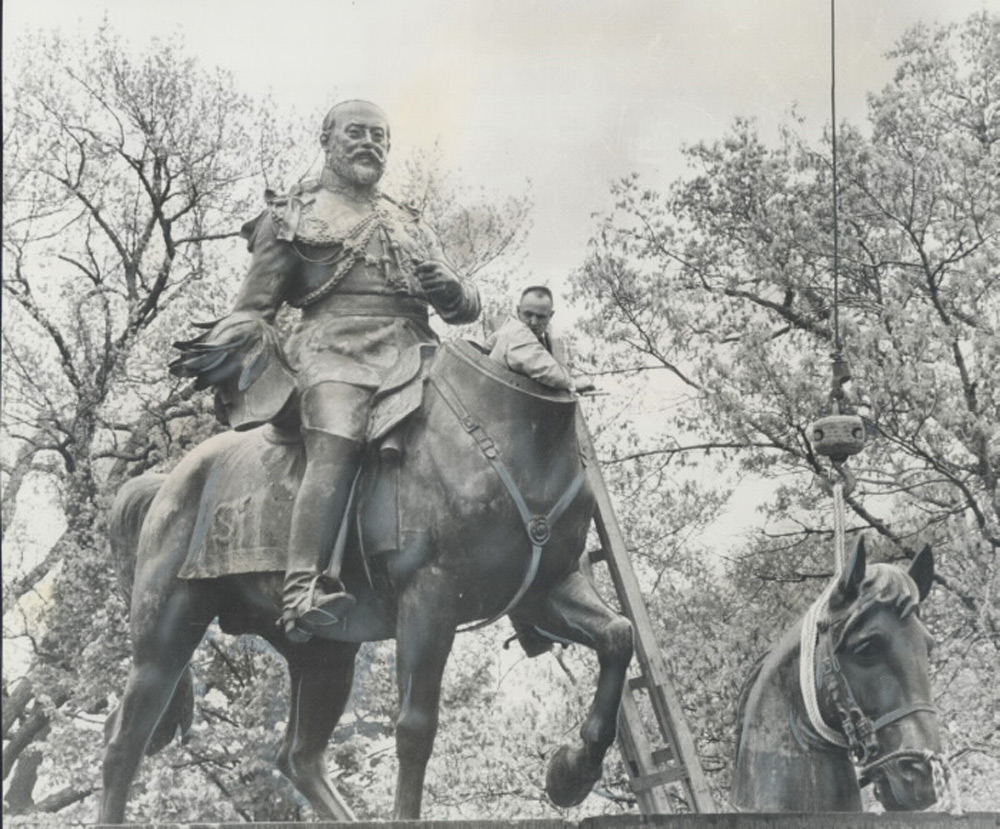 Crew putting together the 3-ton equestrian statue of King Edward VII in Queen's Park in 1969. Photo by Mario Geo. Accessed via the Toronto Star Archives at the Toronto Public Library.  
In this contemporary moment, in the Western world, there is an intellectual civil war over similar token reminders of colonialism. Over the past several years, there has been increasing discourse about renaming streets and taking down statues that serve as embodiments of colonialism. The King Edward VII statue, which now stands in Queen's Park, was removed post-independence from its original site in Delhi and deposited with other statues of its ilk in a park outside of that city. The colonial relics stayed there for several years as the new government in India decided what to do with them. In this moment, I wonder if decolonial movements in the West might benefit from an engagement with what happened in that post-colonial period that existed for a couple of fleeting decades after 1947.
***
In 2012, I moved back to Toronto with my partner from India. As we went to enrol her into a PhD program at the University of Toronto, we walked through Queen's Park and met an elder South Asian queer who told us in a snide voice: "I can't believe this country still has things named after the Queen. How ridiculous!" From about 100 feet away, we saw the glorious statue of King Edward VII on his horse, Kildare. We felt like we knew this statue; we felt drawn towards it. As we walked closer, we laughed because somehow the statue reminded us of home. It was like us—displaced and well-travelled within colonial flows of several centuries.
The inscription revealed the statue's mundane administrative story, stripping it of its poetry, its context, and its significance:
"EQUESTRIAN STATUE OF KING EDWARD VII
Originally standing in Edward Park, Delhi, India, this statue was erected on the present site through the generous subscriptions of the citizens of this area.
This gift to the City of Toronto was made possible by the Government of India and the former High Commissioner to India, His Excellency The Right Honourable Roland Michener, C.C., C.D., Governor General of Canada, and brought to this City through the personal generosity of Henry R. Jackman, Esq., Q.C.
May 24, 1969
William Dennison
Mayor"
Below this inscription, the original plaque read:
"THIS TABLET WAS PLACED IN POSITION BY HIS MAJESTY KING GEORGE V EMPEROR OF INDIA ON THE OCCASION OF HIS VISIT TO DELHI FOR THE CORONATION DURBAR 15TH DECEMBER 1911"
We sat at the feet of Kildare as our friend recounted what it had been like to cruise in that area as a queer and brown person in the 1980s and 1990s. He regaled us with stories of his activist days with Desh Pradesh. King Edward VII reigned from 1901 to 1910, and the sections criminalizing gay sex (amongst other things) were written in 1861, a mere 40 years before his reign. The image of Eddie bearing witness to "carnal intercourse against the order of nature" for decades felt like wicked revenge.
***
Recently, during the 2017 Nuit Blanche Festival in Toronto, Hazel Meyer presented her performance Where Once Stood A Bandstand For Cruising & Shelter. The project examined the policing of public space by drawing attention to the ways that the park, among other things, was constructed through careful landscape architecture.
The original idea was for banners to be dropped from scaffolding encasing the King Edward statue. Through a series of administrative mishaps, the piece was relocated outside of the park when it was discovered that, even though the statue itself is under the purview of the public art collection of the city, the space around the statue is not. In the end, Meyer dropped 24 banners from high scaffolding erected on a traffic island just beyond the north end of Queen's Park. Unlike activist banners, these banners did not list clear demands, but rather contained poetic fragments that served as provocations to think about the historical traces that are left on that small piece of land.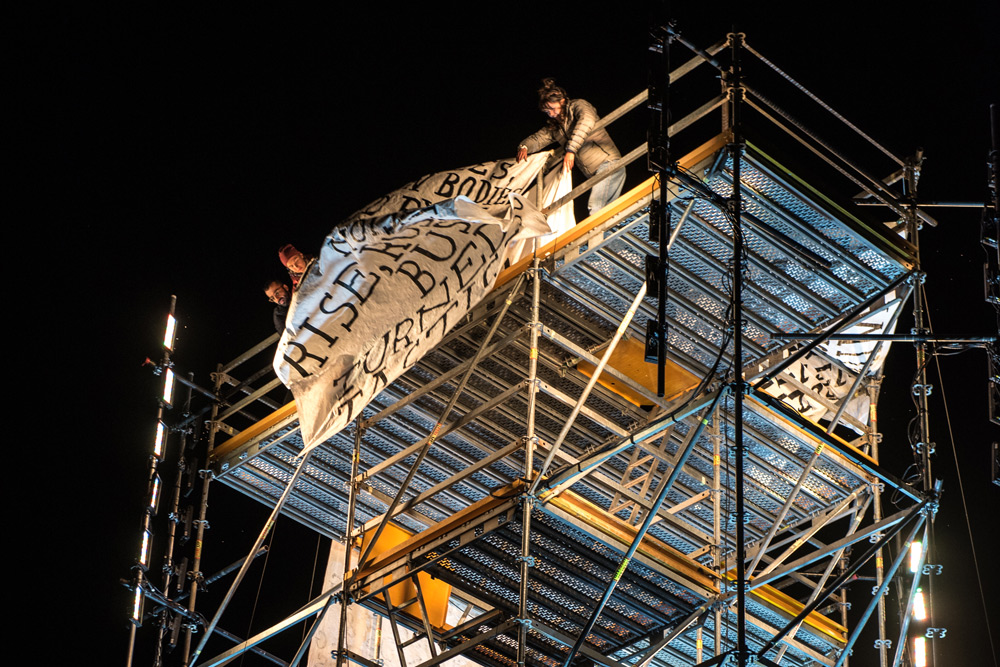 Where Once Stood A Bandstand For Cruising & Shelter (2017) performed by Hazel Meyer and collaborators on the north end of Queen's Park for Nuit Blanche Toronto. Photo: Nick Wons. Courtesy Nuit Blanche Toronto.
The banners read:
2.
sweat
on trees,
dew on the legs of
bodies, alerted
by a noise.
rise, rose,
bushes
turned to
tactics
3.
who knew
landscaping
could be
so ferocious,
so targeted,
so
intentional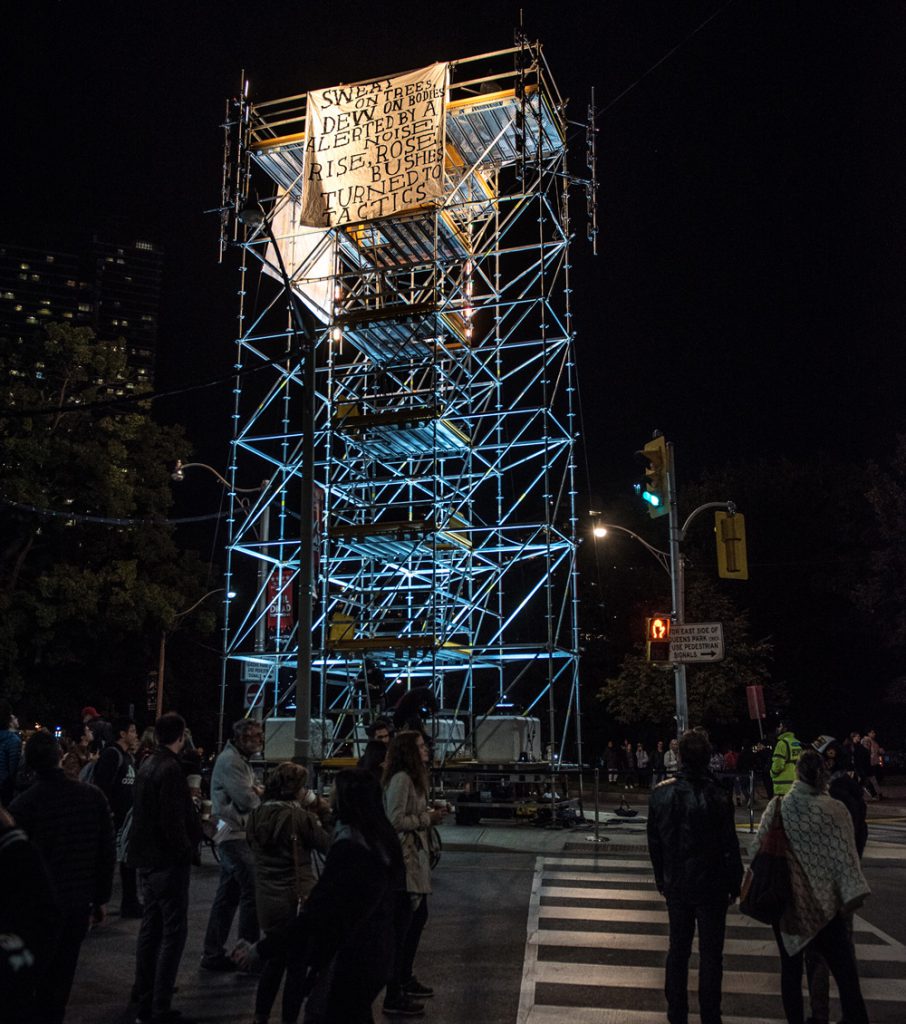 Where Once Stood A Bandstand For Cruising & Shelter (2017) performed by Hazel Meyer and collaborators in Queen's Park for Nuit Blanche Toronto. Photo: Nick Wons Courtesy Nuit Blanche Toronto.
***
Also this fall, Evergreen Brick Works presented the performance King Edward VII Equestrian Statue Floating Down the Don River by Amy Lam and Jon McCurley working together as Life of a Craphead. The artist duo created a life-size replica of the King Edward VII statue that was scheduled to be pulled up and then floated down the Don River weekly, over the course of four Sundays.
In the early 20th century, during World War One, the All India Memorial Committee commissioned renowned colonial sculptor Thomas Brock to memorialize the short-reigning King Edward VII. The statue resided in Delhi for the first half of the 20th century and was exiled along with its other colonial compatriots to another British colony, one that still bows its head to the Commonwealth and abides by colonial logic. That is how Eddie and his horse Kildare arrived in Toronto. This site-specific performance attempted to draw together two disparate moments of colonial history: the administrative history of the statue itself and the time in 1958 when the Don River was reportedly chlorinated and perfumed for the benefit of Princess Margaret's visit to Toronto.
King Edward VII Equestrian Statue Floating Down the Don River (2017), a performance by Life of a Craphead which took place on selected Sunday afternoons this fall. The piece was part of Evergreen's Don River Valley Park Art Program. Photo: Yuula Benivolski. Courtesy of Evergreen.
This work has tapped into many of the anxieties around the history and process of settler colonial Canada as it exists today. Life of a Craphead's highly photogenic work gestures to the volatile political conversations du jour about the politics of statue removal à la Rhodes Must Fall and Charlottesville. It speaks to the context here, as site-specific work is poised to do. In doing so, it has also garnered the attention of white supremacists who made their presence known at the November 12th performance.
***
While living in Toronto, we have kept returning to Eddie's statue in Queen's Park as a reminder of the economic, social and colonial flows that have led us and thousands of others to this land–one that is being taken from its caretakers by the same forces of colonialism that changed the face of the South Asian subcontinent. I am interested in the journey of the statue as a way to understand the flows of colonialism.
India won independence in 1947. Eddie was removed from his original place soon after and kept in a far-off corner of Delhi for almost 20 years. The poetry is this: for many years Eddie was made irrelevant, just another guy on a horse. There is beauty in taking his power and grandeur away.
The difficulty for people of colour who live as settlers on this land is that we are forced to contend with, engage with and centre whiteness. In 2009, I went to India because I sought to find a place where there would be scope for people of colour to engage with each other's work critically without the burden and barrier that whiteness places on us. Today, I realize that the process to that freedom might be more creative and vibrant than the goal itself.
***
Once a year, in an act of guerrilla artistic intervention, some U of T freshman paints the horse's testicles on the statue red. Unintentionally, that act points to absurdity of colonialism. I find comfort in this flippant attitude towards the monarchy—that stripping of power, that act of mutilation of the monument.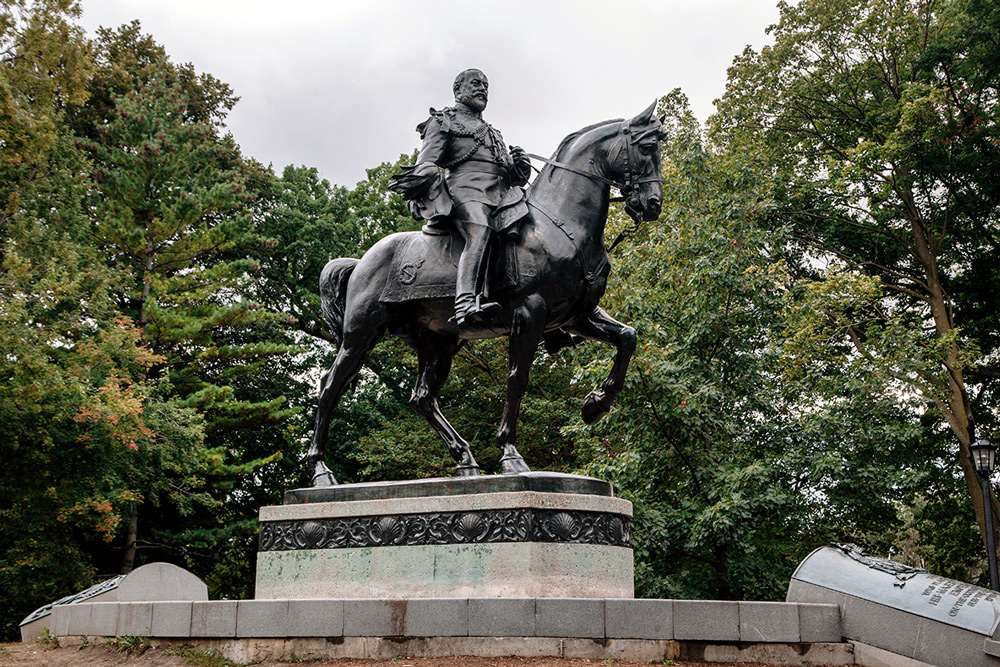 King Edward VII Equestrian Statue in Queen's Park, Toronto,  2017. Photo: Yuula Benivolski. Courtesy of Evergreen.
Personally, though, I am not interested in a reading of the statue's presence in Toronto that is, like the annual anonymous defacement of Kildare's testicles, a one-liner. Coming from an activist background, my impulse is to question the fundamentals, to widen the scope, to see a more holistic picture of colonialism, to see the connections between resource extraction in South Asia and occupation in North America. I am interested in the conception, financing and journey of the statue as a way to understand the ravages of colonialism. I am interested to know why the All India Memorial Committee commissioned a statue of Eddie in the first place.
In this contemporary moment, there is a polarized debate of either getting rid of monuments like the King Edward VII statue altogether, or of preserving the colonial history and the ethos these monuments represent. These statues serve as the perfect target and representation of the wrongs committed by those who have held power for centuries. Post-colonial India removed many of these statues and kept them in a remote area, stripping them of their power before disbursing them to other parts of the world. I am interested in an equivalent gesture; something that takes the power of colonialism away without forgetting history—a moving on rather than a letting go.
If I was to do a traditional activist banner drop in Queen's Park, I would say "Dismount Eddie, Keep Kildare!"
Indu Vashist is currently the executive director of the South Asian Visual Arts Centre in Toronto. She was born and raised on Coast Salish Territories, on the land of the Cowichan peoples, where her community, the Punjabis, have been settled for over a century. Prior to working at SAVAC, she had been splitting her time between India and Canada. 
This article was corrected on December 7, 2017. The original stated that the bronze for the King Eddie statue was collected during WWI and that Hazel Meyer's performance happened inside Queen's Park, as well as incorrectly suggesting that all colonial statues were removed from Delhi after independence.