I was probably 50 feet underground in east Toronto, hurtling further east at 30 kilometres an hour, when I realized which artwork I'd spent the most time considering in 2017.
It was a drawing of a man in profile—a serious-looking man with a long, pointed nose and thick, close-cropped hair, a high coat collar flipped up against his neck. Though the artist's line was slightly jagged in places, it reflected the same steadiness and intelligence as the bearing of the man it pictured.
I knew in that moment that this was, at least in terms of time spent, my "artwork of the year" because I was staring, once again, right at it: Marek Badzynski's Sketching on the Yonge Line, between Bloor and Sheppard. The drawing has been reproduced on hundreds of subway posters as part of "Sketching the Line," an exhibition this year organized by Art in Transit.
Reflecting on the year that was, then, it is public art that really comes to the fore. And not only for its visibility—also for its ability to twist and entwine with the everyday settings it finds itself in. "Sketching the Line," with its drawings of commuters by commuters, for instance, cannily (in both form and content) played off the tendency for transit users to avoid each others' gazes.
Also, rather than depending on the presence of a magically "context-free" white cube for its effect, good public art must address (and, nay, compete with, even collaborate with) the differing ways different residents are enmeshed in and navigate the city, whether economically, geographically or socially. Here are a few of the other public artworks and events (outside of the Toronto subway system, that is) that I noticed and found affecting this year.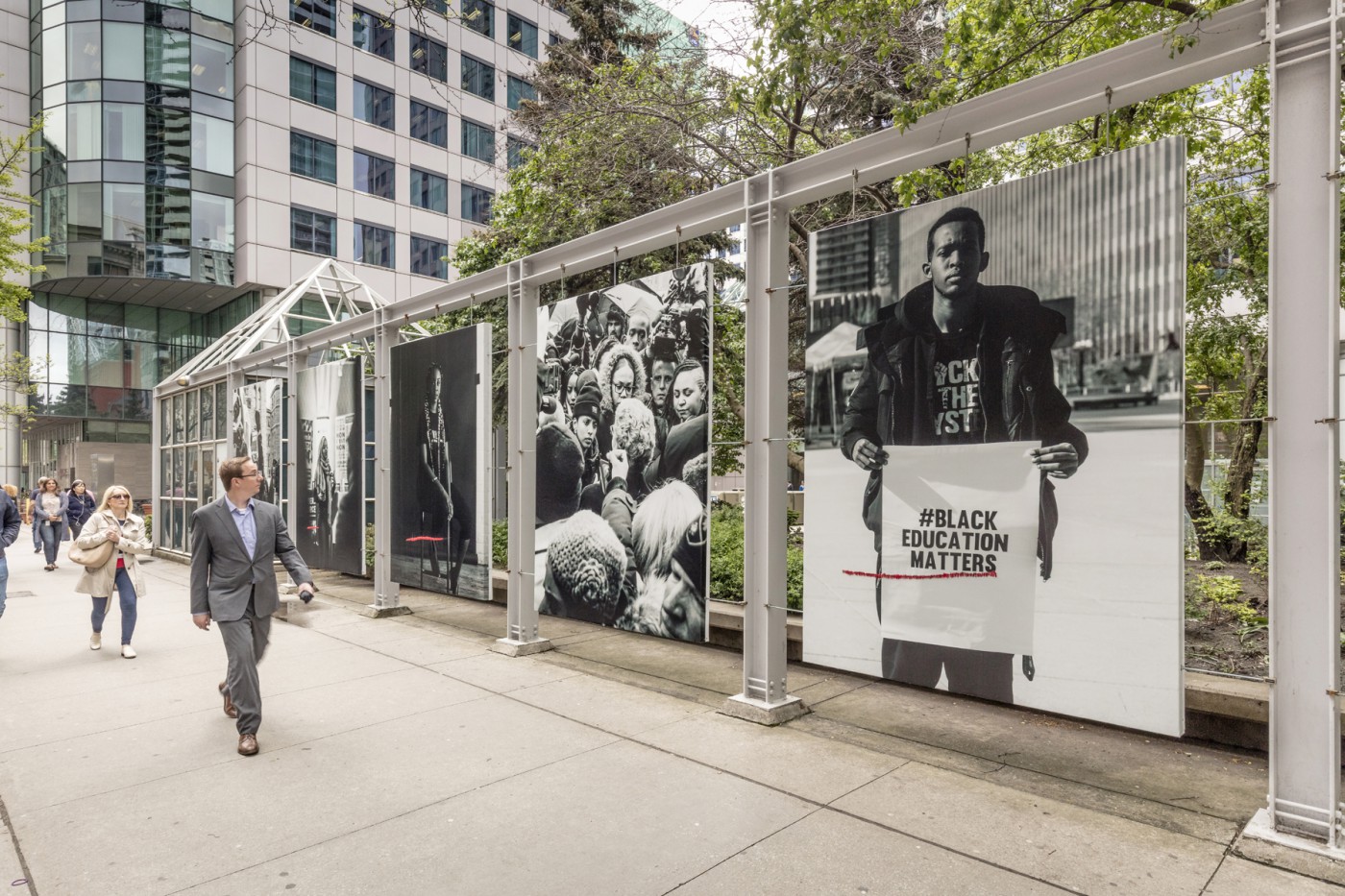 Jalani Morgan's The Sum of All Parts at Metro Hall in Toronto during the Contact Festival. Photo: Toni Hafkenscheid.
Jalani Morgan's The Sum of All Parts at Metro Hall / Contact Festival
Raised in Scarborough and now based downtown, Jalani Morgan has been photographing the Black Lives Matter Toronto movement for some years now.
From one-on-one studio portraits to dark, mass-protest "die-in" pics, Morgan has elegantly documented the scope and strength of this movement, and continues to do so.
In May, Morgan's photos found wider impact when they were blown up more than 10 feet tall on vinyl banners and hung outside of Metro Hall as part of the Contact Photography Festival's public art program.
Given the vital calls to awareness and action that Black Lives Matter have put to Toronto City Hall, Toronto Police Services, Toronto Pride and other civic (or civic-seeming) entities over the past few years, the installation of Morgan's images outside of a government building had a particular power.
At heightened scale, Morgan's images also seemed to pay tribute to individuals who otherwise might have been lost in the crowd or in the moment—a young Black man delicately holding a poster that reads #blackeducationmatters, for instance, or a Black woman in a patterned dress, her hand raised in the air.
When holes were slashed in some of Morgan's images early on in the installation's run, the artist, with friends, stitched the holes with red string. The result was an installation that spoke even more powerfully of the need to make visible both violence and vitality, resistance and renewal, mass outcry and individual care.
Nuit Blanche, for Better and for Worse
Nuit Blanche is a project that many Toronto art folks love to hate—and often for good reason. But I still find many of its offerings as potent as they are popular.
I started the evening at 7 p.m. sharp at Nathan Phillips Square, determined to take in the central "Monument to the Century of Revolutions" exhibition before lineups began. Curated by then-Creative Time artistic director Nato Thompson of NYC, this exhibition was positioned as a central attraction of the evening, promising a "living, breathing monument [that] brings into the world a social space that informs and complicates the narrative and history of global justice."
There in the civic square, amid dozens of shipping containers—an environment implicitly of provisionality and precarity—were projects like The Viminal Space, an interactive installation featuring the work of four distinct groups of sex work advocates including Butterfly: Asian and Migrant Sex Workers Support Network and Sudbury's SWANS. Alongside were installations by established artists like Conde & Beveridge, who invited visitors to take a protest selfie. Banners stating "Never Give Up" (by 88 Days of Fortune) and "There Is a Crack in Everything; That's How the Light Gets In" (borrowed from Leonard Cohen) pushed against the darkness of a Toronto evening. Folks stepped up to screenprint mini-posters reading "Eclipse Capitalism" and "No Pipelines in the Great Lakes" at the Just Seeds booth. Live sound elements by Lukumi Dub Opera echoed through the square, offering a further call to revolution.
So, y'know, all that was pretty great.
Less great were two elements that ultimately worked against the project's revolutionary message: a huge lineup that formed by 8 p.m. and reports of artist censorship that came in days after. Though lineups are de rigeur at Nuit Blanche, in context, this particular stretch along a fenceline undermined the notion that revolution is available and accessible to all; rather, it reinforced the idea that theories, actions and benefits of revolution are only for an elite few. And as for the accusation that city staff may have limited an artist's freedom of expression—well, that also undermined the intended message, to say the least.
More truly revolutionary, perhaps, was Wasauksing artist Maria Hupfield's project Life on Neebahgeezis; A Luminous Engagement—a curated program dispersed around Old City Hall and the financial district.
As a white settler Torontonian who works downtown, I see (and hear) that big, beautiful, bell-shaking and bombastic Old City Hall clock tower all the damn time.
But you know what I had never seen on that tower, until Nuit Blanche? First Nations imagery, such as that projected by Marianne Nicholson for her piece Laxa'ine' gigukwdzikasi' gigukwas Hayałiligase', The Many Large Houses of the Ghosts.
Closer to the base of Old City Hall, on Albert Street, was a less visible but still powerful gesture—the community-based Aanmitaagzi Company inviting passersby to put panels on a small wigwam-style frame. Having never seen this Indigenous architectural form manifested in downtown Toronto, I was moved by what I read as an act of reclaiming not only land, but form, not only place, but place's embedded knowledges.
Three wigwam-informed structures also appeared in Julie Nagam's Manitowapow, speaking to the moon, an installation inside a Bay Street banking tower. Rounded and organic, projected with images of water and forest, and seen against the hard white rectilinears of the bank's interior, this I also read as a powerful, if quiet, act of resistance and reclaiming.
Timelines also collided in Deanna Bowen, Syrus Marcus Ware, Kaia'tanoron Dumoulin Bush and Tannis Neilsen's Won't Back Down piece at Queen's Park, which paid homage to a March 2016 action by Black Lives Matter Toronto. (Joshua Vettivelu also contributed to this project.) Situated directly across from the John A. MacDonald monument at Queen's Park, Won't Back Down posited a DJ platform and projection screen that evinced the liveness and vitality of a movement pushing back against the deadening white supremacist programs put in place by MacDonald, the government he led, and governments existing both prior to and since his reign.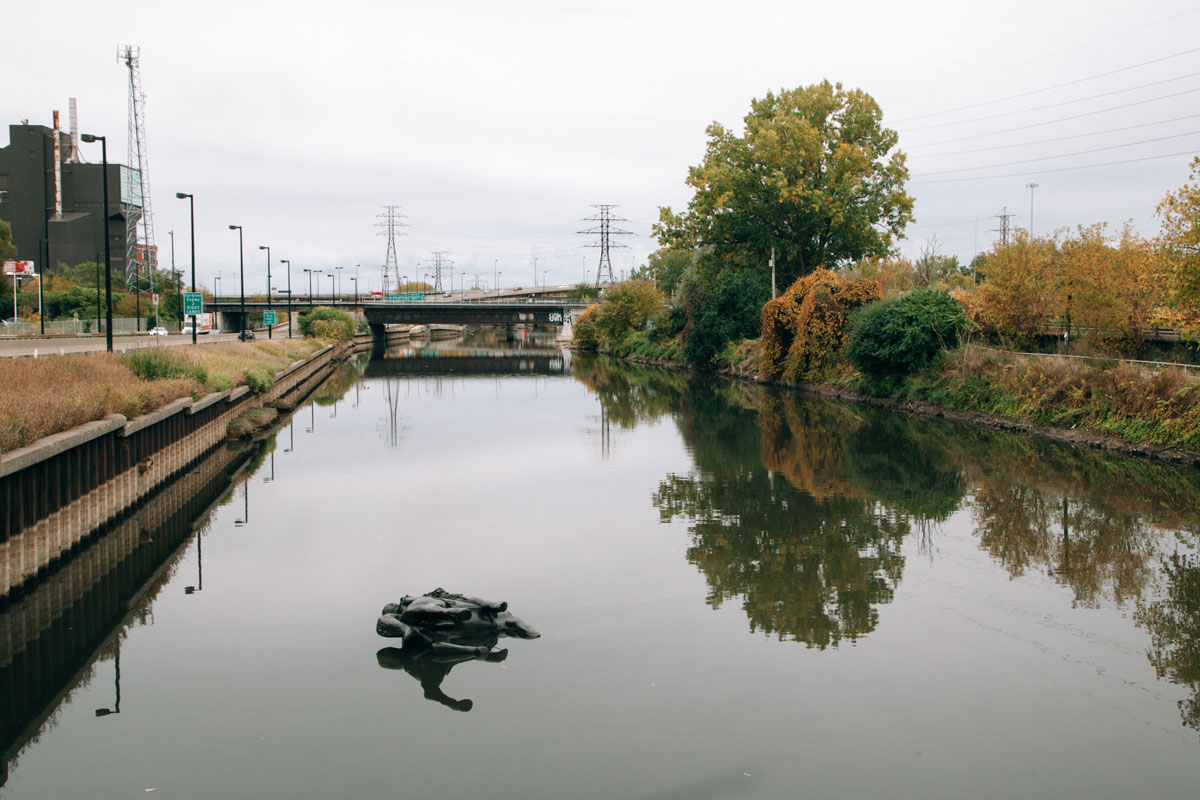 A view of Life of a Craphead's King Edward VII Equestrian Statue Floating Down the Don. Photo: Yuula Benivolski.
Life of a Craphead's King Edward VII Equestrian Statue Floating Down the Don
Monuments, of course, were a key theme in debates around public art and public space this year throughout North America.
Some of those debates crystallized this fall in Life of a Craphead's King Edward VII Equestrian Statue Floating Down the Don. I went to see the performance on the final day of its showing, to see the form of this British monarch, cast in black fiberglass, float down the river's dark, straightened, polluted waters.
Since its inception, Life of a Craphead has been incredibly effective at taking the stuffing out of the art world and its pretensions—I remember one of their early performances at Alleyjaunt in Toronto involved a massive papier-mache volcano. And this duo's strategy of de-pompifying the pompous, of using the absurd to deflate expectations of art and authority, was excellently deployed in this revisioning of a colonial monument that actually still stands at Queen's Park in Toronto.
The Don River site played into the work perfectly, with cars in motion on the Don Valley Parkway belching exhaust into the river's constricted, un-noble environs. Mallard ducks, semi trucks and, um, the monarch moved downstream at different speeds, under varying modes of power and adaptation.
The Don River is—let's face it—a mess, a super-enmeshed overlap of nature and infrastructure, chaos and control. And so no better site exists in Toronto, perhaps, for siting works that also hope to address the mess of colonial legacy. (It is worth noting, too, that this art project and others nearby are part of a concerted effort by local non-profit Evergreen to make the river and its park "become a new hub for art in Toronto"—yet another messy overlap, this one of civic creative-class hoopla, perhaps.)
Accordingly, a few kilometres upstream—viewable from the Bloor subway line as trains cross the viaduct—is Omaskeko Cree artist Duane Linklater's Monsters for Beauty, Permanence and Individuality. This installation groups gargoyle forms, copies of those usually only found high up on Toronto buildings, into extremely grounded, gravity- and valley-bound pieces of public art.
There is a strategy of deflation and refusal I read into Monsters, too, as I glimpse its Stonehenge-like array of elements from high above on my frequent commuting to and from the downtown. It reminds me of my own panoptic view there, which lasts a few seconds, daily, high up in the then-sky, allowing me a brief glimpse of things before re-entering the then-ground—a view of the natural world, of the natural industrialized world, of a bird in flight, of brickworks and graffiti, of dogs and their walkers and, occasionally, of the residences of people who live, precariously, in the valley still. I am, for a few moments, seemingly and foolishly all-seeing, a gargoyle waiting to meet the earth.
In sum, these are a few of the many reasons why, heading into 2018, I hope the art world remembers to—every once in a while—still keep it public.
Leah Sandals is managing editor, online at Canadian Art.
A clarification was added to this article on December 28, 2017, to acknowledge Joshua Vettivelu's contribution to the piece Won't Back Down at Nuit Blanche.