The 17th edition of Art Toronto includes 106 galleries from 14 countries, and it kicks off tonight at the Metro Toronto Convention Centre.
Canadian Art will have a presence at the fair, which runs October 28 to 31, with an artist project by Gareth Long in our booth, a benefit edition, daily fair tours at 12:30 p.m., a panel on Saturday at 2:30 p.m., and a special subscription offer—be sure to drop by.
Here, members of our editorial team offer their best bets on what to see at Canada's largest contemporary and modern art fair.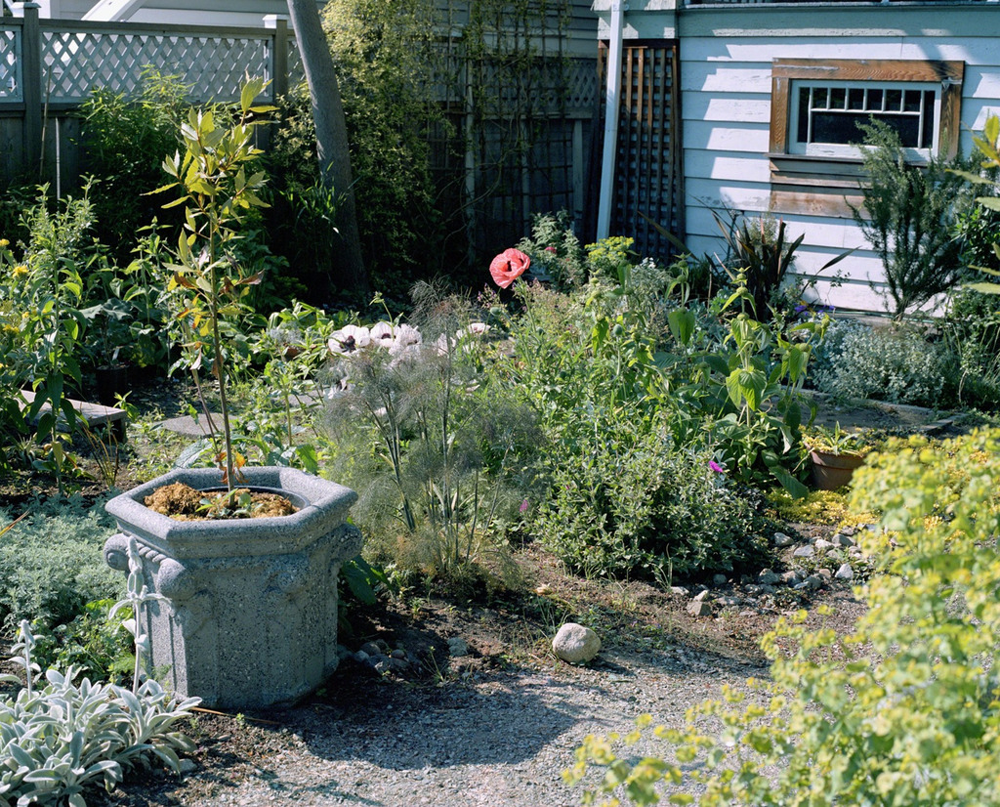 Jeff Wall, Poppies in a garden, 2005. Courtesy Monte Clark Gallery.
Jeff Wall at Monte Clark Gallery
It's a long way from Toronto to Vancouver, and I don't get out there as much as I'd like. So I'm glad to be able to see a few Vancouver galleries at the fair this year—among them Equinox, Wil Aballe, Winsor, Jones, Back Gallery Project and (as my colleague David notes below) Fazakas, all worth seeking out. But Monte Clark's preview advertisement of a few Jeff Walls—including one lightbox, 2005's Poppies in a garden—makes it a gotta-see for me.
Wall has no Canadian dealer (even him jumping from New York's Marian Goodman to LA's Gagosian this summer had the wider art world in a tizz) so it's rare to see any of his works on the Canadian market, and likely to be even rarer in future. That rarity, along with (I'll admit it), the high-roller factor draws me in. Also appealing: an example of watercolourist Tim Gardner's first, newish foray into oils, and examples of Stephen Waddell's large-scale black-and-white photos, which relate to a much-buzzed show of his wrapping up soon at the Vancouver Art Gallery.—Leah Sandals, managing editor, online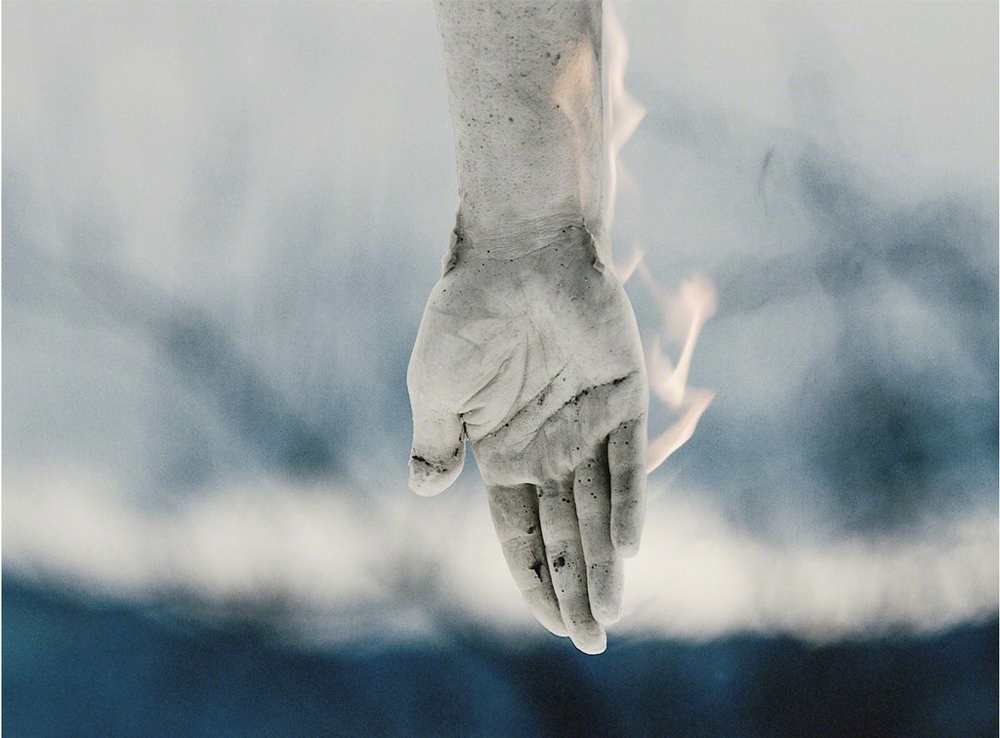 Pascal Grandmaison, Transformation I, 2016. Courtesy Galerie René Blouin.
Visual Sophistication at Galerie René Blouin
Among the many art-world personalities packed into Art Toronto this weekend, you're not likely to find any quite like René Blouin. For more than three decades, Blouin's Montreal gallery—and in many respects, Blouin himself—has been at the centre of the city's art scene. It's a reputation grounded as much in Blouin's own tough visual sophistication as it is in his long-standing disinterest in catering to the latest art trends (indeed, one guesses that mentioning the word will quickly kill any conversation with Blouin).
Instead, Blouin has an uncanny eye for what you might call a conceptually sharp contemporary sublime in the artists he works with, whether in the atmospheric geometries of painters like Pierre Dorion, Anthony Burnham, Marie-Claire Blais or Francine Savard or the existential photographic and moving-image studies of the natural world by Pascal Grandmaison—all of whom will have works at the gallery's booth at the fair. As Blouin once summed up his approach to art and art dealing to me: "I'm not interested in showbiz and I'm not interested in banking. I'm serious about art and the gallery is about that. I play this much closer to the ground and in a more poetic way because that's what makes me happy."—Bryne McLaughlin, senior editor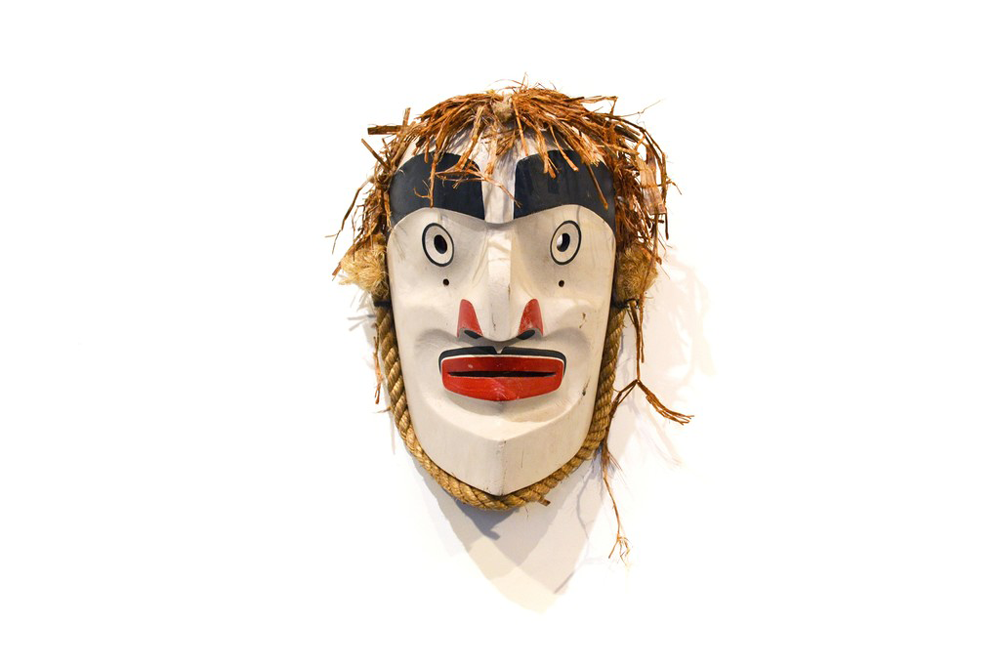 Beau Dick, Atlakim Mask III, 1997. Courtesy Fazakas Gallery.
"Mask" at Fazakas Gallery
Vancouver's Fazakas Gallery—which specializes in Indigenous Northwest Coast art and its contemporary hybrids—is not new to Art Toronto, nor is it a new gallery. This year is a good time to pay close attention its booth, however: the star in the gallery's roster, Beau Dick, is priming for a big year in 2017, as he's participating in Documenta 14 and is the subject of a forthcoming documentary film, Meet Beau Dick: Maker of Monsters. Pivoting on Dick's legacy, the theme of Fazakas's booth is "Mask," with paintings, sculptures, screen prints and photographs by Carlos Colín, Mark Preston, Jeneen Frei Njootli and Carollyne Yardley, who works in the self-described genre of "Squirrealism."—David Balzer, editor-in-chief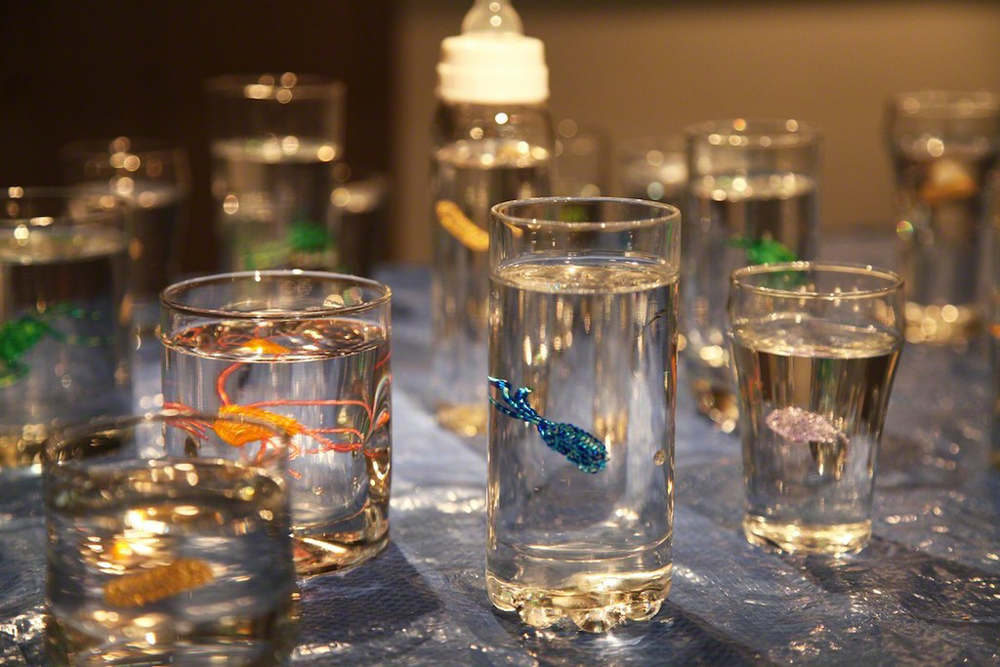 Detail of Ruth Cuthand's Don't Breathe, Don't Drink, presented by dc3 Art Projects.
Ruth Cuthand at dc3 Art Projects
Water has been of particular concern this year, from the toxic levels of lead in Flint, Michigan to the recent hunger strike in protest of the Muskrat Falls Hydro project, which is predicted to result in increased level of methylmercury. The work of Saskatoon-based Ruth Cuthand focuses on the broader implications of the latter, specifically, the history of biological warfare on the Indigenous peoples in Canada. Her most recent installation Don't Breathe, Don't Drink, presented by dc3 Art Projects, positions a series of magnified beaded bacteria and parasites floating in innocuous glasses of water-like resin, resting on a blue tarp emblazoned with enlarged depictions of the black mould found inside homes on the Attawapiskat First Nation.
Cuthand refers to these renditions of microscopic diseases as an "attractive and repellant subject" being "simultaneously beautiful and abhorrent." During a fair emphasizing the strangeness of "Everyday Objects," Cuthand's work confronts us with the persisting everyday issues facing First Nations communities, down to the microbial.—Evan Pavka, editorial intern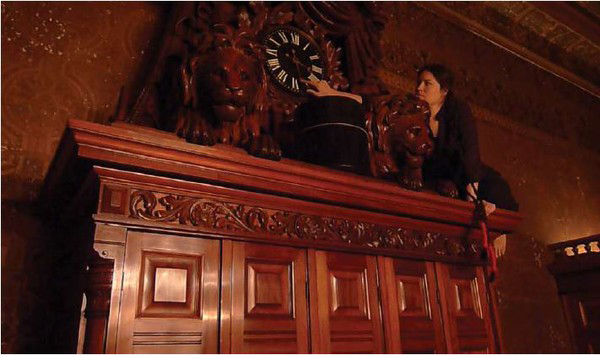 Maria Hupfield and Jason Lujan, Ghost Trophy (still), 2014. Courtesy Galerie Hugues Charbonneau.
Maria Hupfield at Galerie Hugues Charbonneau and the Project Galleries
I can be a terrifically impatient person; this characteristic doesn't constitute a virtue, but it is rewarded with surprising frequency. Take the art of Maria Hupfield: I've been waiting expectantly for her upcoming solo exhibition at the Power Plant, which opens in early 2017, but this weekend I'll get a little preview, as Hupfield's work will be included at Art Toronto.
The Brooklyn-based Anishinaabe artist makes sculptures and videos and performances, and a smattering of everything can be found at the Metro Toronto Convention Centre, from her detailed baskets woven of industrial felt at Galerie Hugues Charbonneau's booth, to a sculpture and video installation in the South Corridor. I'm particularly keen to see the latter, a collaborative work made with Jason Lujan titled Ghost Trophy, which sees Hupfield finding her typically unusual objects in a lavish Manhattan antechamber.—Caoimhe Morgan-Feir, associate editor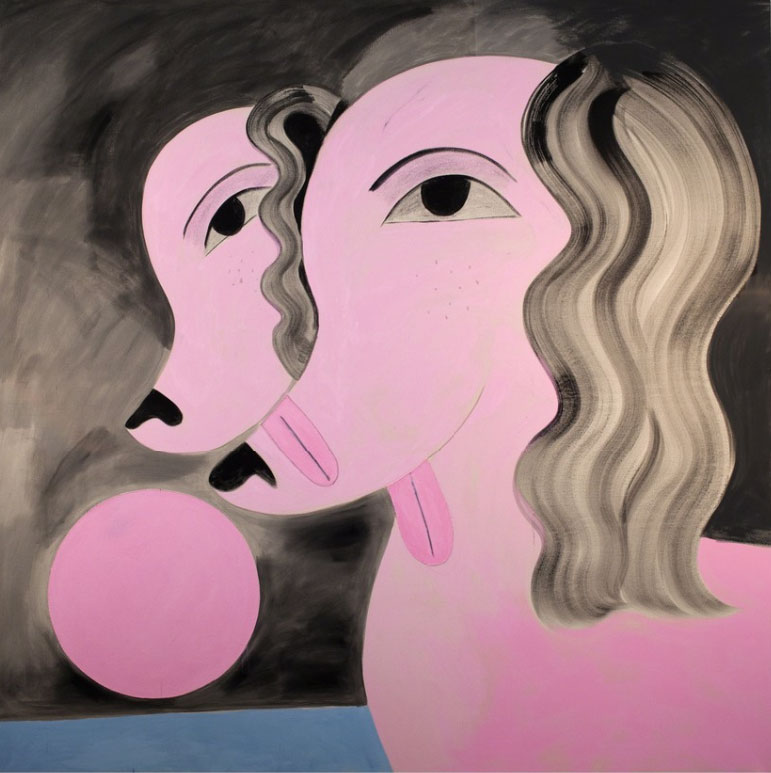 Sojourner Truth Parsons, Why can't you drive us home, 2016. Courtesy Tomorrow Gallery.
Sojourner Truth Parsons and More at Tomorrow Gallery
It's New York–based gallery Tomorrow's first time at Art Toronto, and director Tara Downs has chosen to show three Canadian artists with roving international practices. (Downs is a Canadian transplant herself—she co-founded Tomorrow in Toronto before establishing its current iteration in Manhattan's Lower East Side. She'll be speaking on the subject at our Satellites panel on Saturday at 2:30 p.m.) Aleksander Hardashnakov, another co-founder of Tomorrow who now runs Toronto project space the Loon, has had international success in recent solo exhibitions in Oslo, Berlin and Brussels. His oil-on-panel works are both delicate and dark, as if your metalhead teenage brother was also really into ukiyo-e.
There are delectable new paintings by Los Angeles–based Sojourner Truth Parsons, whose solo show at Tomorrow this spring garnered a glowing critic's pick in Artforum. The new works include abstracted black-hole sunsets embellished with "a little glitter"; romantic rosebuds; and silken-eared, pink-tongued puppies. Hanna Hur, another Los Angeles resident and twice-in-a-row nominee for the last two RBC Canadian Painting Competitions, shows dreamy and subdued scenes drawn on linen with china marker and coloured pencil. If I were to bring home any three works from Art Toronto, I'd take one by each of Tomorrow's artists. —Rosie Prata, managing editor
Photo clipping of John Cage from Radiocorriere-TV, n°7, February 15-21, 1959
Geoffrey Farmer and Life of a Craphead's Sounds of Venice on the Art Toronto Stage
Geoffrey Farmer, due to represent Canada at the 2017 Venice Biennale, picks Toronto duo Life of a Craphead (Amy Lam and Jon McCurley) to perform a work by John Cage titled Sounds of Venice at Art Toronto on Saturday at 6 p.m. Informed in part by the fact that Cage composed the work when he was a cash-strapped contestant on an Italian game show, Farmer has said that the amount paid to Lam and McCurley will be calculated based on Cage's final prize winnings of $8,000, "divided by the amount of compositions Cage performed on the television program, converted in currency and using a purchasing-power calculator." Can't make it to Toronto, or the fair? This performance will be live-streamed.—Leah Sandals, managing editor, online
Art Toronto runs October 28 to 31 at the Metro Toronto Convention Centre.