For the past five years, Vancouver artist Angela Teng has been crocheting paint.
Yes: paint.
"Even after five years, it still feels really new," says Teng, who didn't even know how to crochet when the idea struck. She looked up "how to crochet" on YouTube, and the rest is herstory. "The paintings have the ability to speak to sculpture and painting and feminism—craft, women's work…. And there's still so much within colour, form and gesture that I have to explore."
Yet crocheting paint—though that may be Teng's calling card—is not all she's been doing.
Teng has also been crocheting canvases to paint on more conventionally, in quick gestural dabs and daubs, and she has likewise been crocheting canvases to paint on less conventionally (that is, by pushing paint through the holes in the back of the canvas, so that it extrudes through the surface).
"I'm interested in time with these" crocheted-canvas works, Teng says when I visit her Fraser Street studio in Vancouver. "It takes me 50 to 100 hours to actually make the support with the linen or cotton, then I'm painting super quickly on this precious surface, as a way to challenge the surface a bit, not treat it as so precious."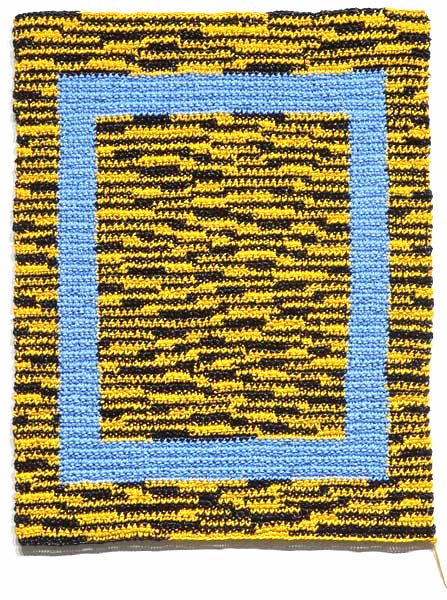 Angela Teng, Lady Boss, 2016. Crocheted acrylic paint on aluminum panel , 21 x 17 inches. Courtesy the artist and Equinox Gallery.
Teng's innovative explorations of material, paint, process and gender continue to multiply. "I have a hard time parting with any material," Teng says. Piles of scrapings and extra "yarn" are neatly piled in old stainless-steel tomato cans in her studio like so much aesthetic foodstuff. "If you are working in the studio, through these processes come new ideas. It feels like I have a lot to investigate."
These investigations of Teng's are gaining increasing, and well-deserved, recognition. In September, Teng's work was on view at the Power Plant in Toronto as part of the RBC Canadian Painting Competition. Three of her newest crocheted paintings just went on exhibit at Vancouver's Equinox Gallery, while this coming weekend, more will be featured at Equinox's booth at Art Toronto. Next week, Teng's work forms a cornerstone of "It's in the Making," a new show about making as a process of thinking that will be opening at the Art Gallery of Greater Victoria. And in December, Teng's art will be in the auspicious first edition of the Vancouver Art Gallery's new triennial, "Vancouver Special: Ambivalent Pleasures."
Teng seems up for the challenge of this busy fall season—even with a new baby, her first, also present in the art/life mix. Before she started studying art formally at Emily Carr University and Camosun College, Teng was a pro mountain bike racer, living up in Whistler and placing well in races nicknamed "Crankworx," "Test of Metal" and "Samurai of Single Track." Clearly, this is an artist who can perform under duress.
"Time is such an issue with having a new baby," Teng admits, but she says this has made her practice "even more focused" than before.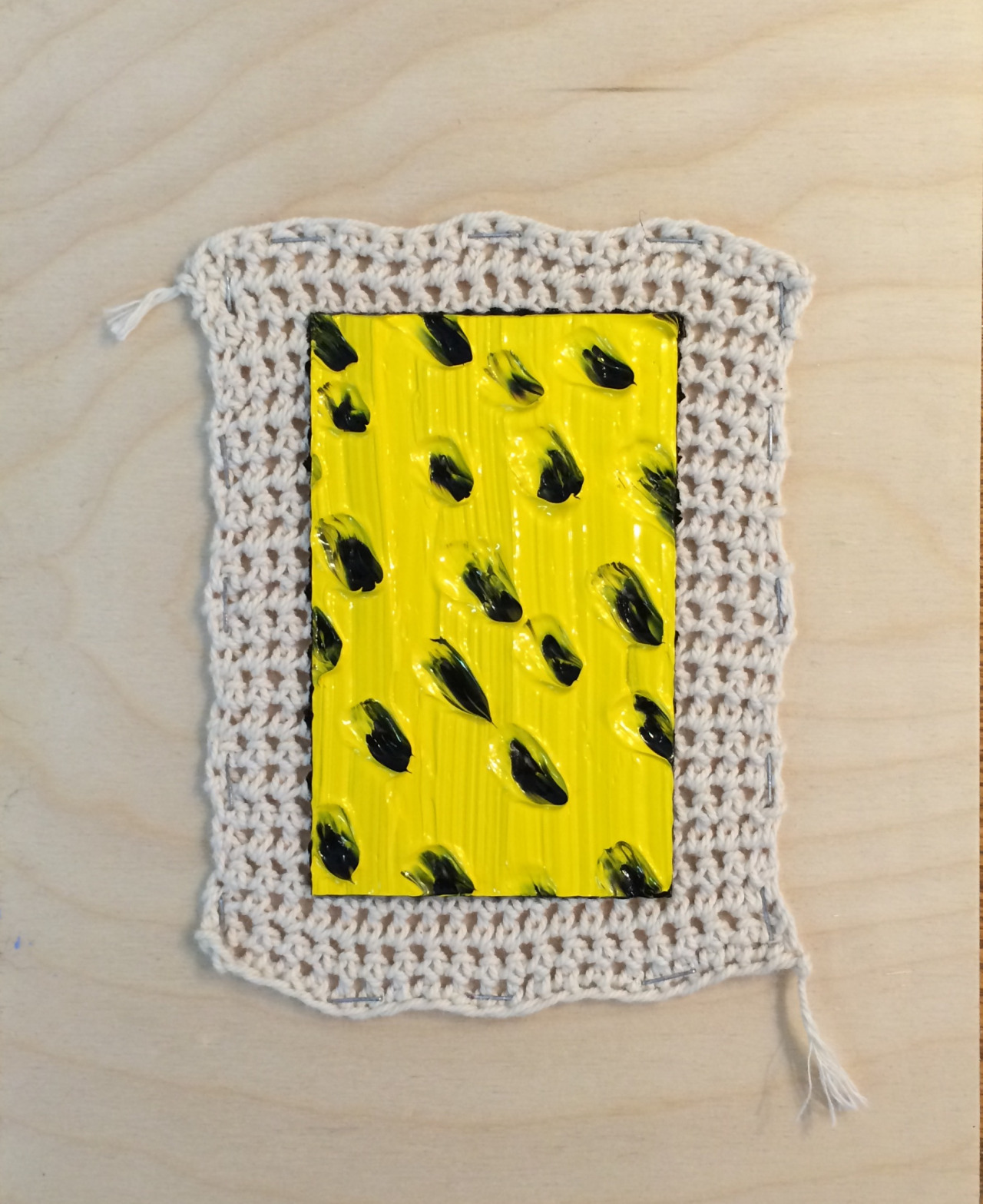 Sometimes, Teng crochets canvases to quickly paint upon. This test square, Study (yellow and black) (2016) is a small example of that process. Photo courtesy the artist.
Physicality doesn't just surface in Teng's past history as a professional athlete. Her approach to painting is strongly connected to physical labour. In order to make acrylic paint into crochetable "yarn," she mixes paint in buckets, funnels it into a squeeze bottle, and spends a good deal of time swinging the bottle to and fro over a plastic sheet on the studio floor, squeezing the paint out into thin, even, 8-foot-long strips to dry.
"It's kind of funny how I hover over the work," Teng says, miming for me her hunched-process posture, her long, swinging arc of arm. "It's quite performative and bodily. If you wanted to, you could talk about a lot of things that way. Like Lynda Benglis's poured corner pieces, and of course, Pollock."
Issues of body, space, gender and flexibility take on a new slant, too, as Teng increases the scale of her work and meditates on its textile-art foundations.
"I am actually making the paintings on my couch, with [the baby] there," Teng notes, explaining that, of late, she has been doing more crocheting at home, after the paint-yarn strips are harvested from her studio. "It is such a bodily experience making them; I sit so intimately with the crocheted work for so long."
Here, then, are paintings that are literally draped across a body as they are built—not just propped on an easel or floor before they go onto a wall.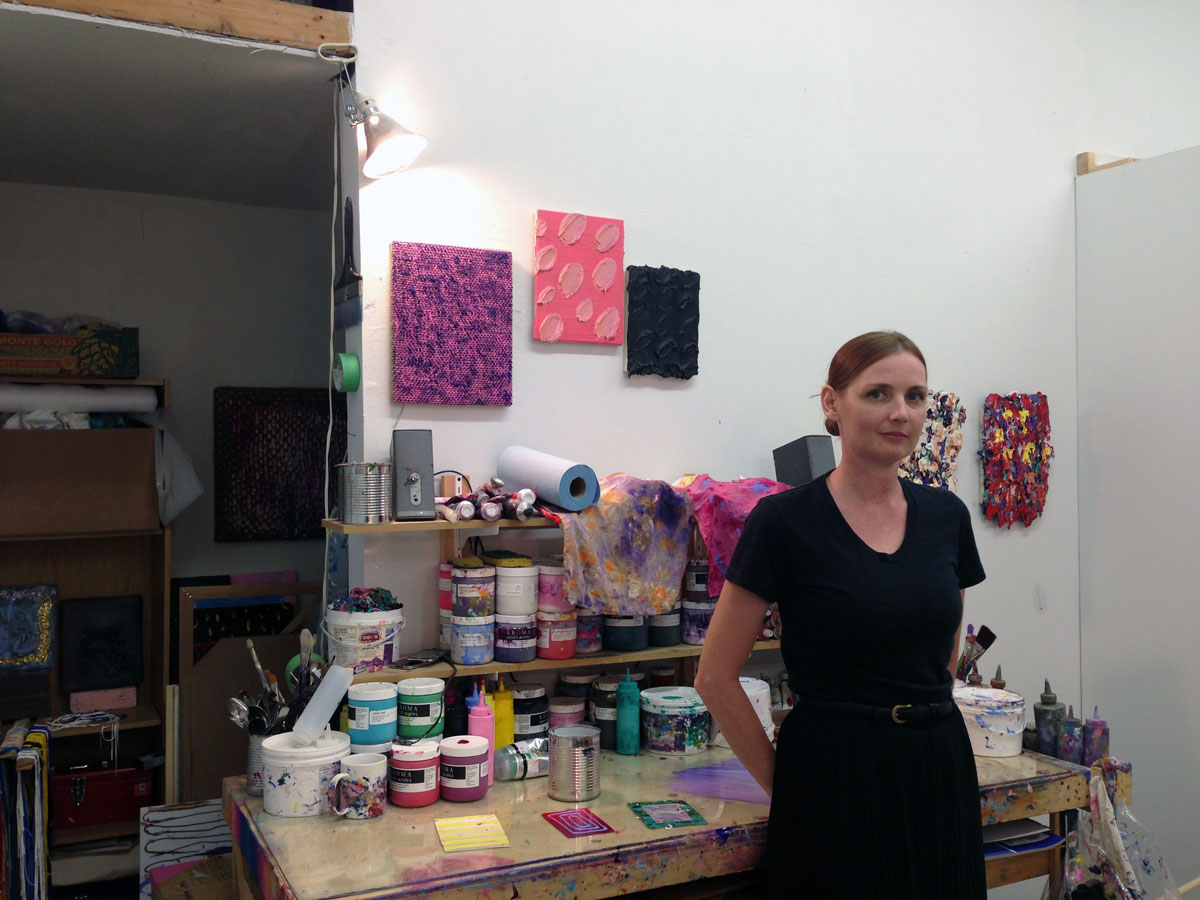 Angela Teng in her studio off Fraser Street in Vancouver, July 2016.
It's at this point that the musings of Teng as an Emily Carr University undergrad come to the mind: a student's wonderings about how to meld three dimensions with two, to knit art theory with studio process.
"I was taking painting and sculpture classes, and I felt like they weren't separate from each other," Teng recalls. "I was working with crocheted afghan blankets, so drawn to them for the way they resemble abstract paintings, like concentric squares in Frank Stella or Bridget Riley…. I was dipping them into hot wax and making them into solid forms. Then I was working with paint skins, kind of treating them as fabric."
From braiding, sewing and weaving paint skins, Teng finally hit on the crochet process—and things have never been the same.
"I like being really sincere in your work," Teng says, after encouraging me to roll one of the tiny scraps of paint yarn between my fingers, to feel its weight and texture. "I think that's what having your own studio is great for: this little confined space where you don't have to be embarrassed to try things, and have things fail—that's where exciting things can happen."
Angela Teng, Malibu, 2016. Crocheted acrylic paint on aluminum panel, 20 x 16 inches. Courtesy the artist and Equinox Gallery.
Angela Teng, Line Dance (pink and black for MH), 2016. Crocheted acrylic paint on aluminum panel, 21 x 17 inches. Courtesy the artist and Equinox Gallery.
Angela Teng, Mud Wrestle II 2016. Crocheted acrylic paint on aluminum panel, 15 x 11 inches. Crocheted acrylic paint on aluminum panel, 21 x 17 inches. Courtesy the artist and Equinox Gallery.
Angela Teng, Love Buzz, 2015. Crocheted acrylic paint on aluminum panel, 24 x 18 1/2 inches. Courtesy the artist and Equinox Gallery.
Angela Teng, In Bloom, 2014. Oil on crocheted cotton, 16 x 20 inches. Courtesy the artist and Equinox Gallery.