A canvas crocheted out of dried paint. A white-cube gallery that morphs into a Twister game. An old-fashioned, oil-painted portrait of a fashionable millennial.
These are just some of the paintings by finalists in this year's RBC Canadian Painting Competition.
This morning, RBC, in collaboration with the Canadian Art Foundation, announced the 15 finalists in this year's competition.
The winner of the 2016 RBC Canadian Painting Competition, to be announced on September 20 at the Power Plant in Toronto, will receive a cash prize of $25,000. Two honourable mentions each receive $15,000, and the remaining 12 finalists receive $2,500 each.
The top three paintings will also be acquired by RBC's corporate art collection, and the finalists will all receive informal mentorship opportunities with jury members and financial skills development with advisors.
Here, in alphabetical order, are the finalists in this year's RBC Canadian Painting Competition: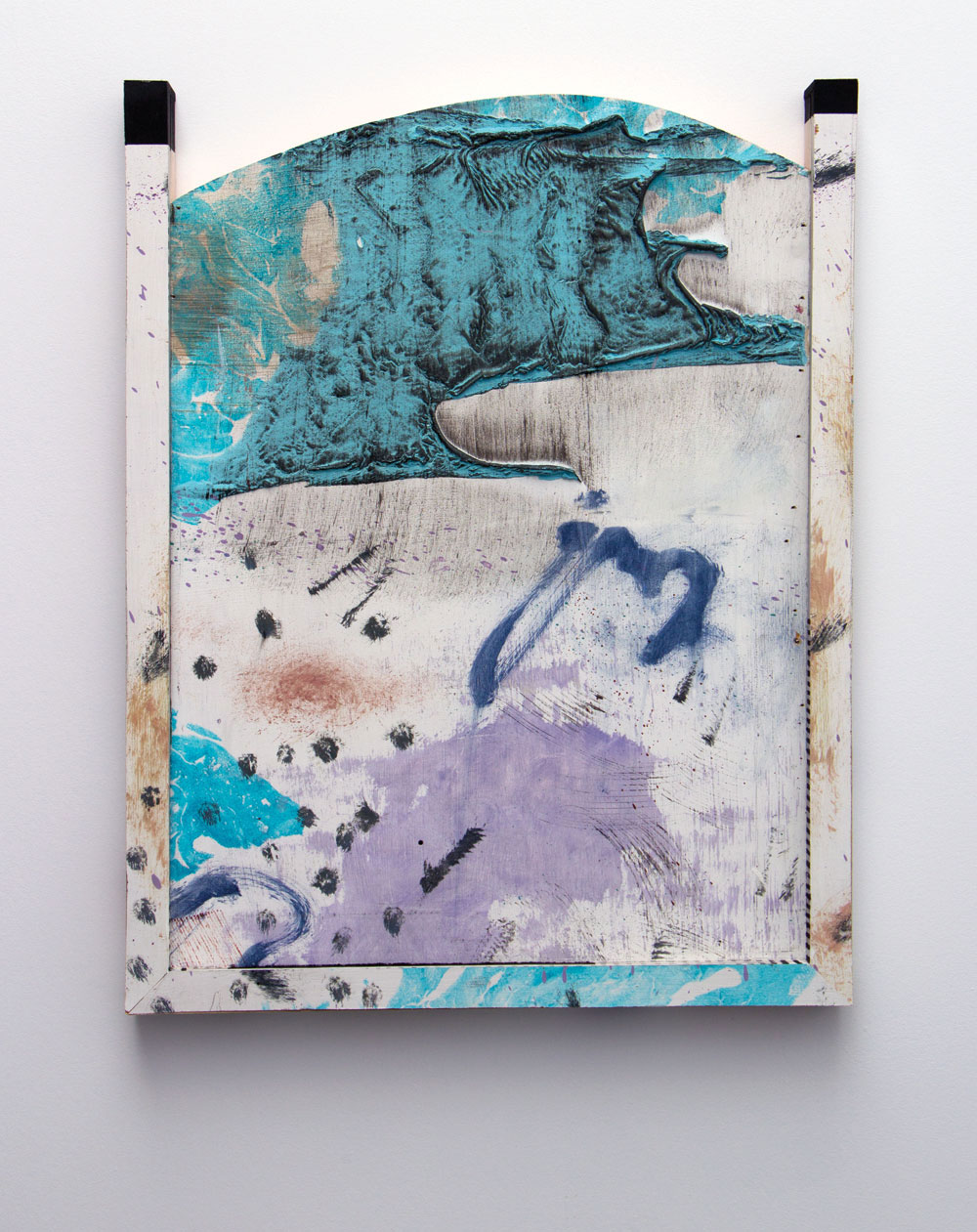 Wallis Cheung, Frame as void, 2016. Oil on wood.
While Toronto-based artist Wallis Cheung maintains her own individual painting practice, she is also a member of the active art collective VSVSVS, which is known for witty installations and performances. Like the rest of the members of VSVSVS, Cheung is a studio-arts graduate of the University of Guelph, where she completed a degree in 2008. Cheung initially thought she would pursue the social sciences, but as Ann Ireland reported in the Summer 2014 issue of Canadian Art, "her path was diverted by a studio course." In that same article, Cheung said, "Colours and textures are what interest me most… I like making mistakes and working with them." Cheung was also a finalist in the 2014 RBC Canadian Painting Competition.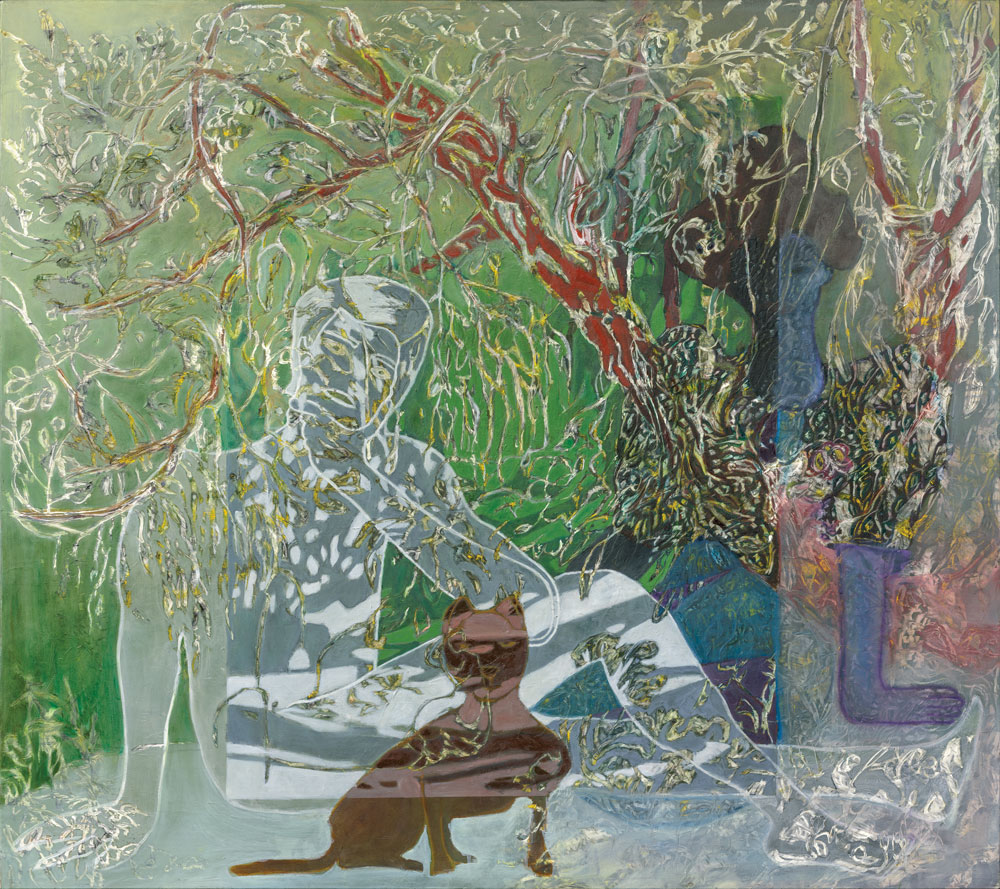 Alex Fischer, Pet, Casper and Hesperi, 2016. Oil and acrylic on canvas, 54 x 48 in.
Toronto-based artist Alex Fischer was born in 1986, and he graduated from York University with a BFA in visual arts in 2010. Since then, his work has been exhibited at Angell Gallery and O'Born Contemporary in Toronto and Art Mur in Montreal, among other venues. "As a visual artist, I work on the frontier of expanded painting….I'm interested in painting specifically, as an object that bears a concrete, almost measurable evidence of labour on its surface," Fischer says on his website. "To develop these ideas, I use advanced digital image editing techniques to map out complex compositions. Essentially, I make images that blur the borders between media, challenge expectations, and let me enter into conversations about our culture and nature."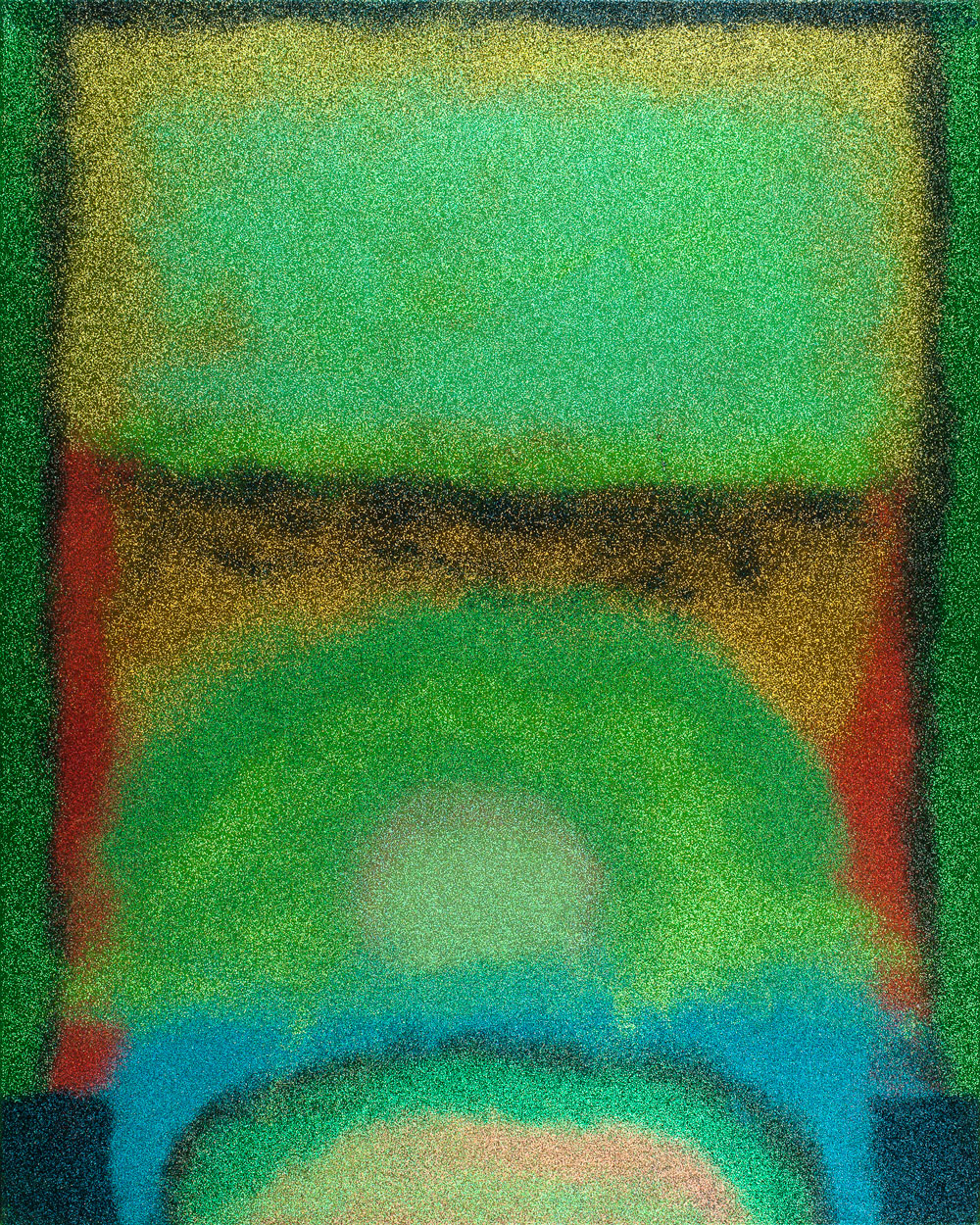 Nika Fontaine, Schnell Schnell 17, 2015. Glitter on canvas.
Born in Montreal in 1985, Nika Fontaine has lived and worked in Berlin since 2008. Fontaine has a diverse background, moving from fashion design and hair-styling studies in the early 2000s to painting and drawing courses at Concordia University in Montreal and Kunsthochschule Berlin in the later 2000s and early 2010s. Fontaine has a multidisciplinary practice including performances, web works and musics as well as paintings—the latter of which are often made with glitter. As reported by Germany's dbartmag in 2014, Fontaine's "great uncle Jean-Paul Jérôme was one of Canada's first geometric painters and became internationally known in the mid-fifties as a member of the artists' group Les Plasticiens. For Fontaine, the glitter so often associated with 'queerness' in today's art establishment is more a formal means: 'At first I worked with acrylic and oil, and always tried to make my colors as intense as possible. But they were never strong enough for me. With the glitter, I get this intensity of color and brilliance, and in addition an interactive aspect, because every movement on the part of the viewer changes the coloration and sense of spatial depth.'"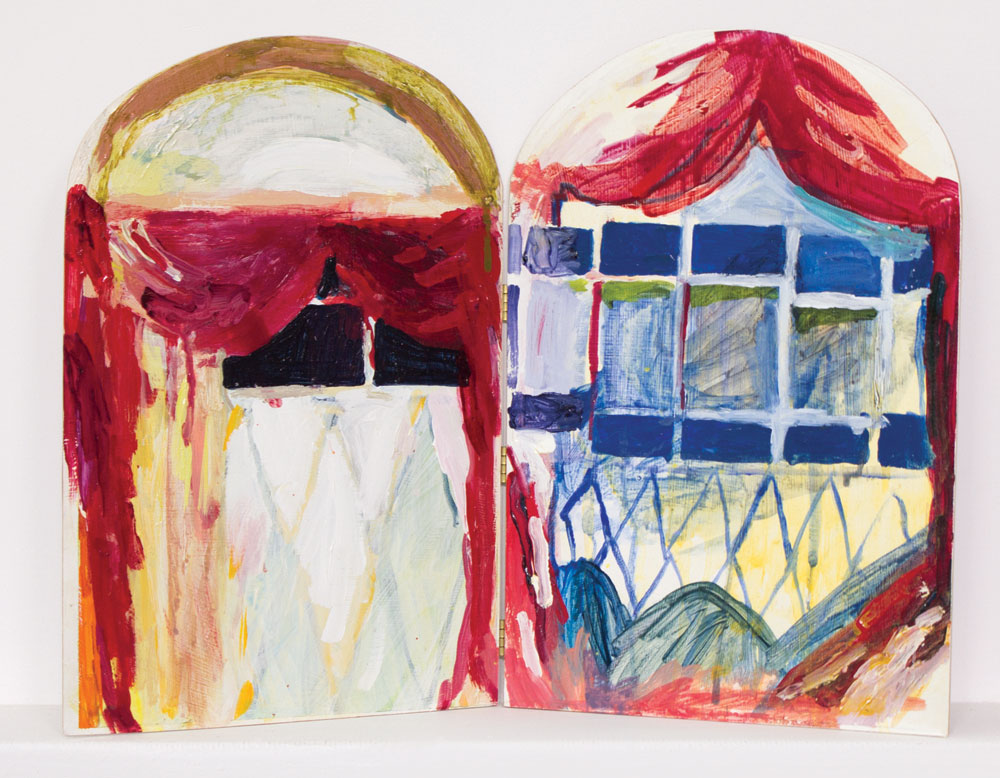 Cameron Forbes, Maritime Plaza Hotel, Window Set 2, 2016. Acrylic on board, 14 x 19 in.
Cam Forbes, originally from Saskatchewan, is currently completing an MFA at Concordia University in Montreal. She holds a BFA from the Nova Scotia College of Art and Design, completed in 2005, and also studied at the Kootenay School of Art and the School of the Art Institute of Chicago. From 2007 to 2013, she lived in Winnipeg, developing urban landscape plein air explorations and community-based art projects; while there, she was the executive director of Art City from 2008 to 2011. "Primarily, I am interested in the landscape we occupy as individuals and as communities," Forbes says on her website. "Canada has a long tradition of landscape painting. Most people are as familiar with viewing paintings of natural landscapes as they are with seeing it with their own eyes. The relationship between these modes of being with the country—as passive and active observer—fascinate me. Landscape/plein air painting has a strong association with the past, memory and idealized beauty; uncomplicated nostalgia. However, the genre is inextricably tied to a history of exploration, exploitation, settlement and colonization. This tension informs much of my practice."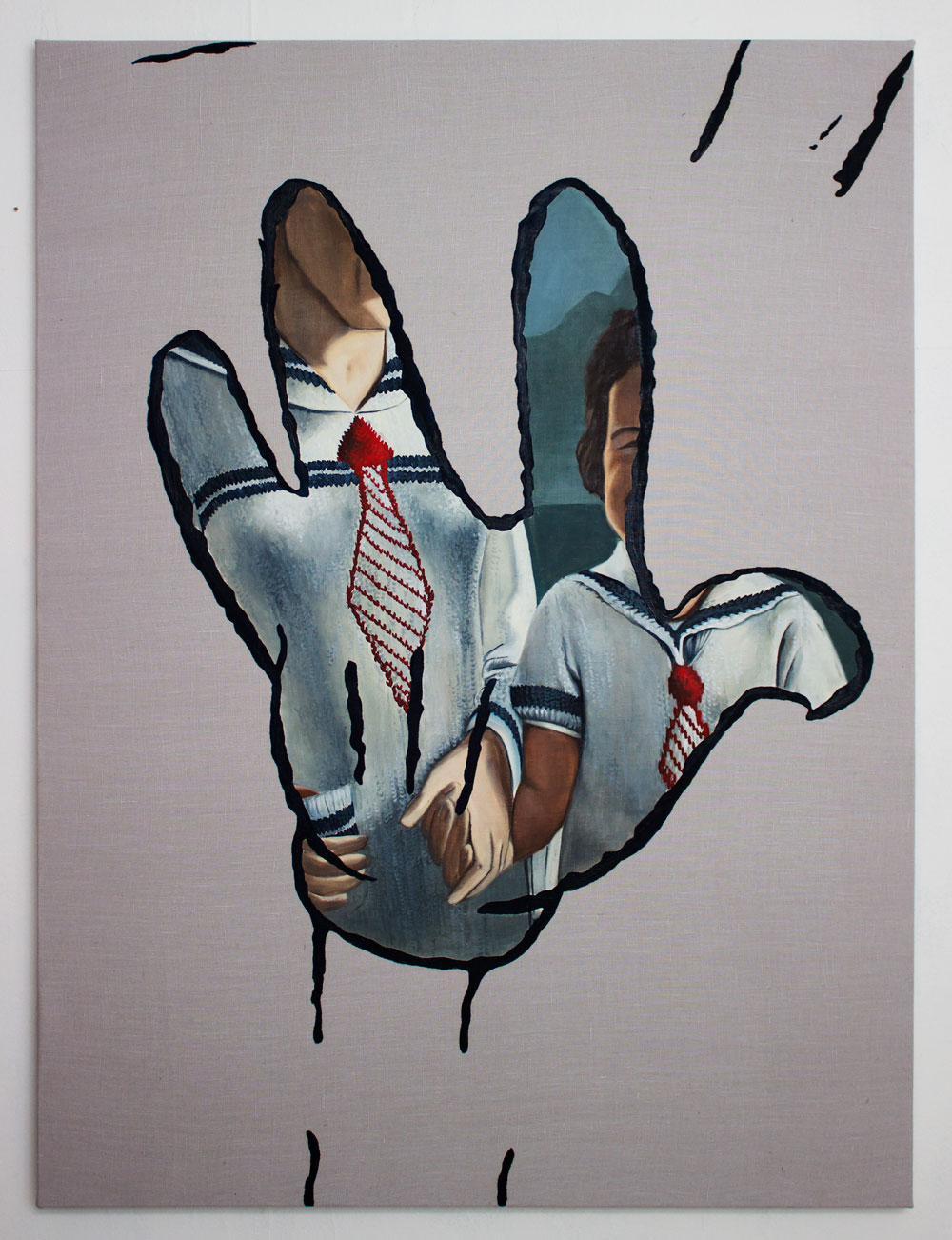 Stephanie Hier, Break like the wind, 2015. Oil on linen, 48 x 36 in.
Born in 1992 in Toronto, Stephanie Hier holds a BFA from OCAD University, from which she graduated in 2014. Hier also holds a certificate from the Academy of Art Canada, which specializes in realist painting. Hier's canvases combine these two streams of training—the deft technique of realist art with the more conceptual juxtapositions of contemporary art practice. Her work has been exhibited at Johannes Vogt Gallery in New York, as well as at Canadian galleries Art Mur (Montreal) and Carrier Arts (Toronto), among other venues.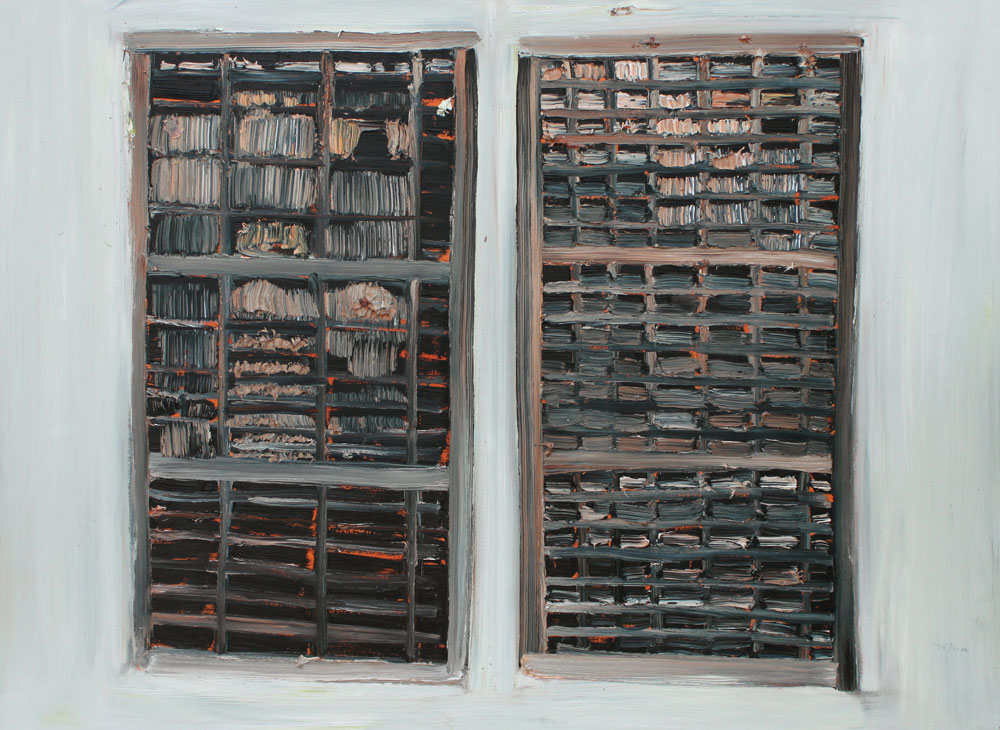 Brian Hunter, Two empty trays mounted vertically, 2015. Oil on wood, 36 x 48 in.
Born in Winnipeg in 1985, Brian Hunter works in projects, sculpture and video as well as in painting. He trained at Concordia University, where he earned a BFA in 2007. For his project Support and Comfort, he painted figures on mattresses, which he then left on the street, according to ION Magazine. For his project You Know Best, he created a hut out of pink air mattresses, and installed a video within. Hunter has exhibited at Platform in Winnipeg, Dupont Projects in Toronto, Art Souterrain in Montreal and other Canadian venues, as well as at sites in South Korea, where he went for a residency in 2012 and 2013.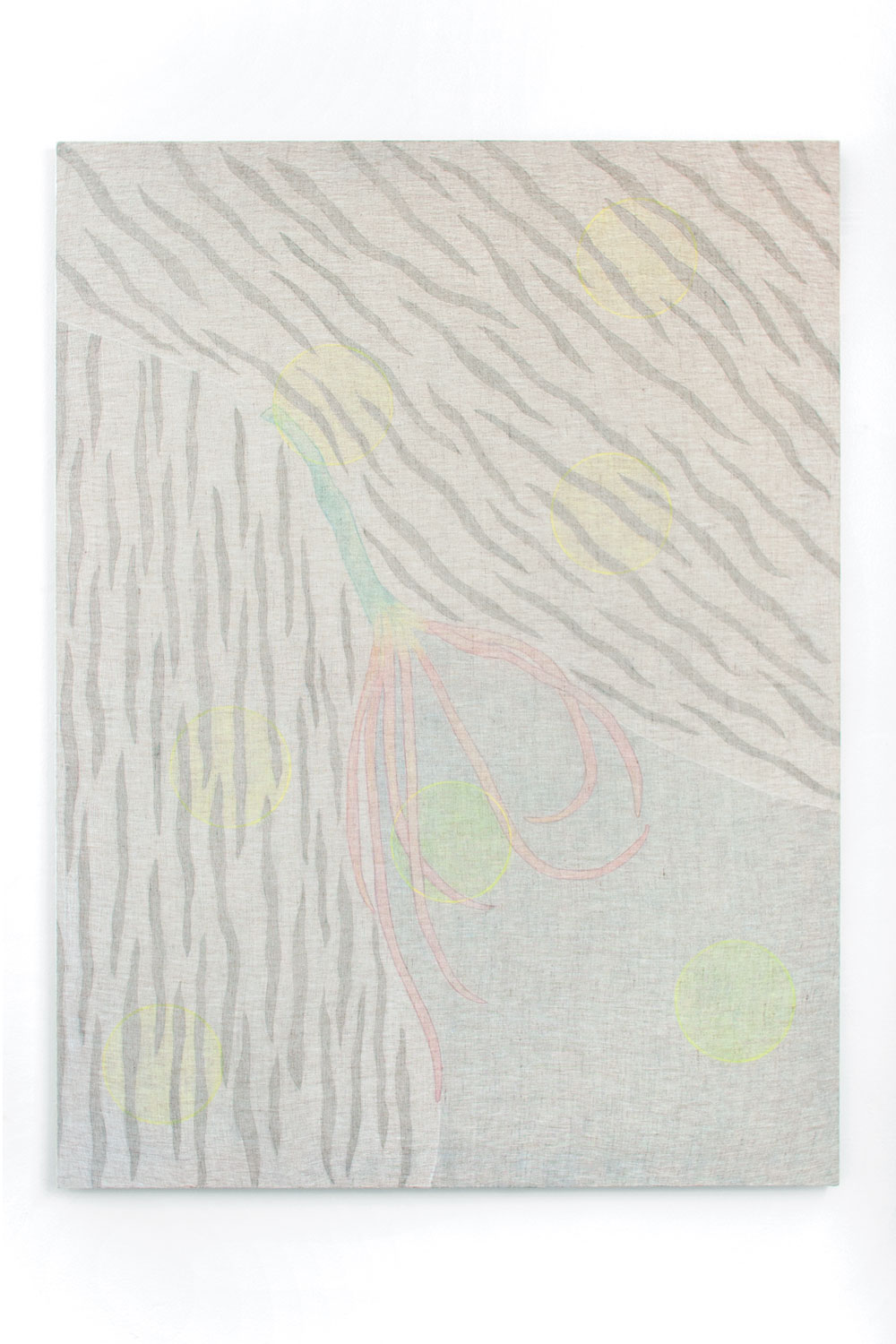 Hanna Hur, The Fool, 2016. China marker and colour pencil on linen, 40 x 30 in.
Born in 1985, Hanna Hur grew up in Toronto and works in Toronto and Los Angeles. Her paintings often address the emotional and the spiritual. Mediums vary from what one usually sees in a painting, with a tendency to use coloured pencil on canvas, rather than oils or acrylics. Hur received her BFA from Concordia University in 2008. Her work has been exhibited at Tomorrow in New York, Shanaynay in Paris, and Daniel Faria Gallery in Toronto, among other venues. Hur was also a finalist for the RBC Canadian Painting Competition in 2015.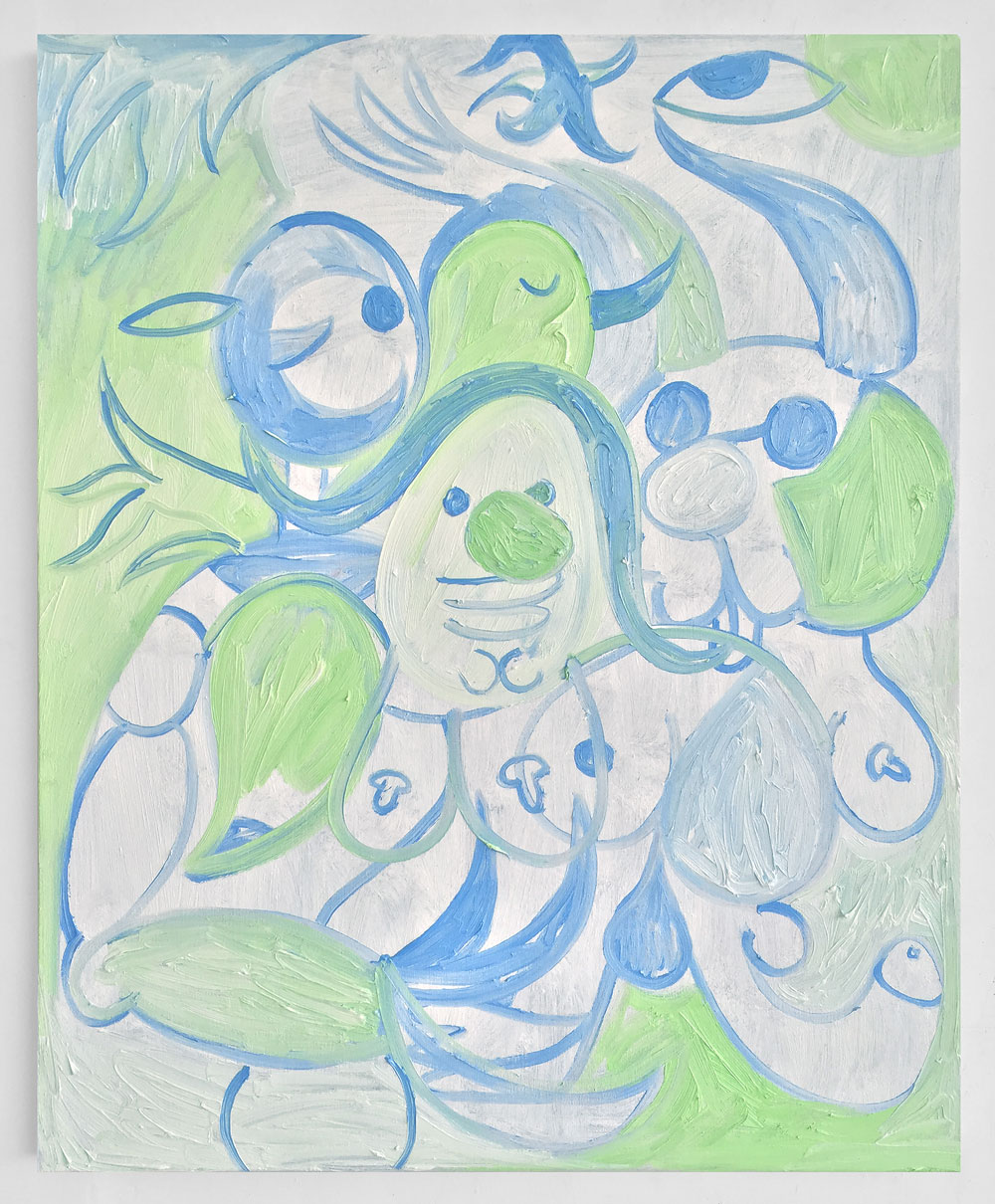 Brian Kokoska, Dancing to the Silence of your Heartbeat, 2015. Oil on canvas, 40 x 33 in.
Born in Vancouver in 1988, and trained at the city's Emily Carr University of Art and Design, Brian Kokoska is based in New York, where he makes sculpture and painting. In a recent interview with Autre, Kokoska described the origins of the faces in his paintings thusly: "They are basically just from my imagination and I guess from my own life experiences. When I begin a painting there is no real clear vision for how it will turn out. So sometimes they go through multiple phases and different layers of faces and symbols are painted over and over until something new happens and then I leave the painting alone." This year, he exhibits at Ashes/Ashes in Los Angeles, East Hampton Shed in New York, and the Pony Club in Antwerp, among other venues.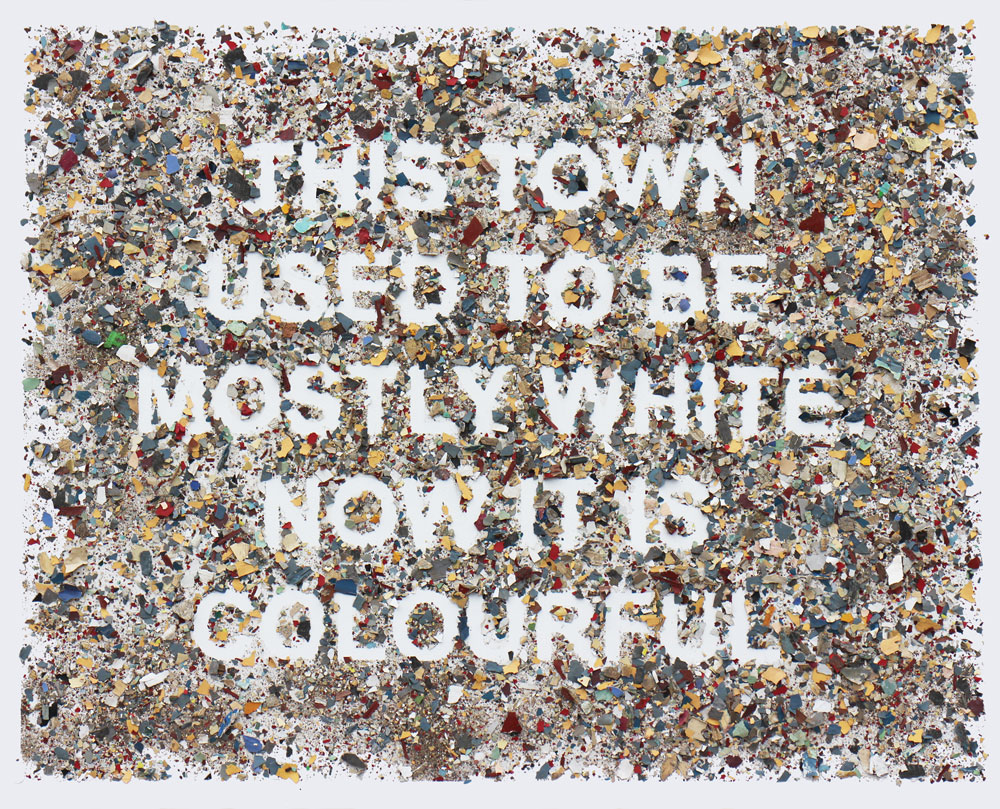 Andrew Maize, THIS TOWN USED TO BE MOSTLY WHITE. NOW IT IS COLOURFUL, 2016. Acrylic paint, acrylic matte medium, varnish and collected house paint flakes from the town of Lunenburg NS on board, 28 x 35 in.
Based in Lunenberg, Andrew Maize is a trans-disciplinary artist whose process oriented approach explores language, movement and patterns of human systems. In his collaborative and individual practices, he states on his website, "the material or performance is a catalyst for larger conversations—the expression a result of connection to space, community and place." Accordingly, as an arts educator and organizer, Maize has been involved in White Rabbit Arts, the Circus of the Normal and the Lunenburg School of the Arts. Also on the community front, his work submitted for the 2016 RBC Canadian Painting Competition is based on paint flakes from various houses in the town of Lunenberg. Maize was also a finalist for the 2015 RBC Painting Competition.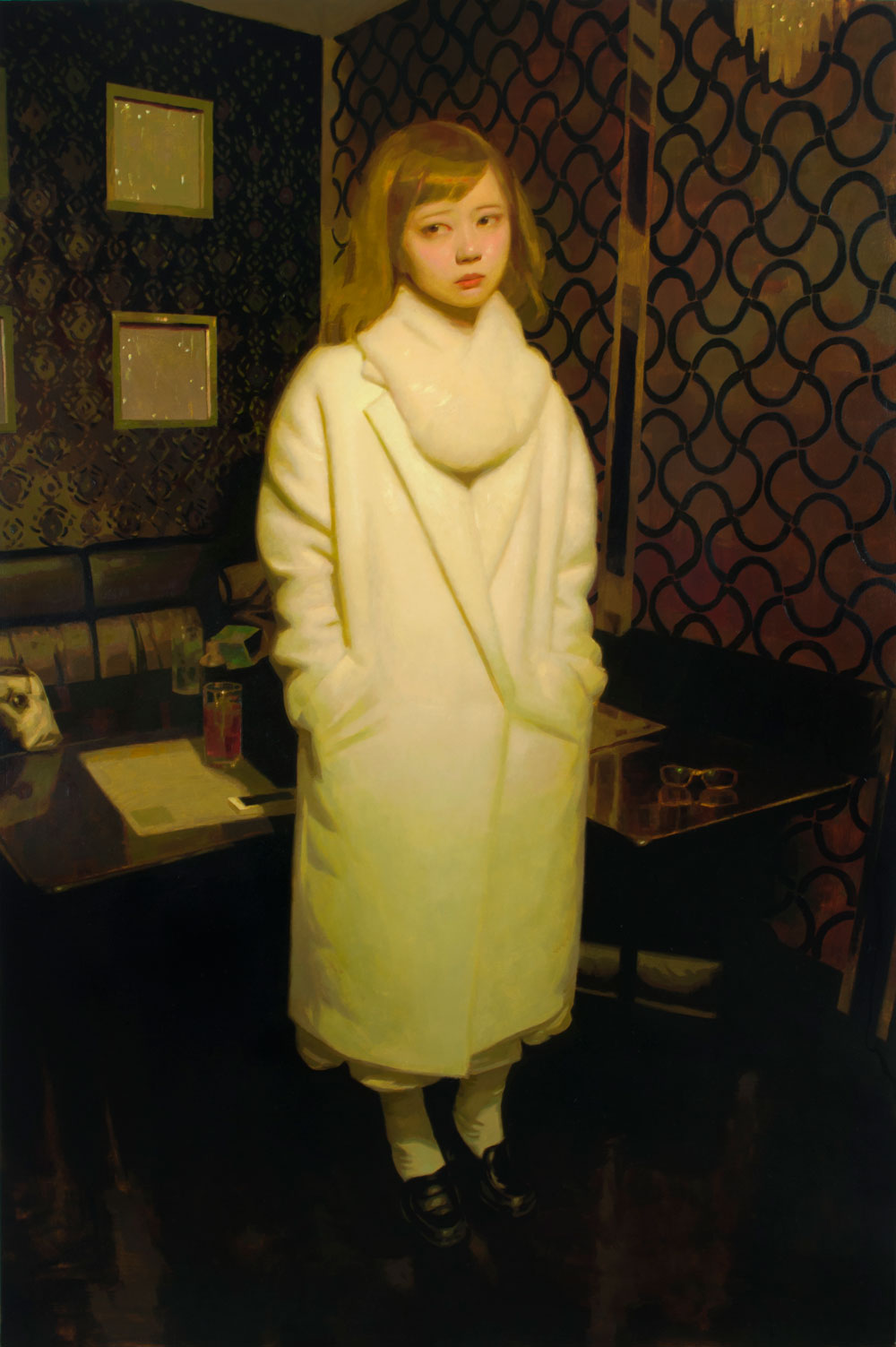 Keita Morimoto, Aya in Tokyo, 2015. Oil on canvas, 72 x 48 in.
Born in 1990 Osaka, Japan, Keita Morimoto currently lives and works in Toronto, where he earned at BFA from OCAD University in 2012. Described as a "new Romantic" painter by Toronto Star critic Murray Whyte, Morimoto creates paintings that blend the look of Old Masters with Millennial subject matter—including, as Whyte notes in the Star, a Self-Portrait After Bacchus that riffs on a work by Caravaggio. Exhibitions include Nicholas Metivier Gallery in Toronto, Thinkspace in Los Angeles and Galerie Youn in Montreal.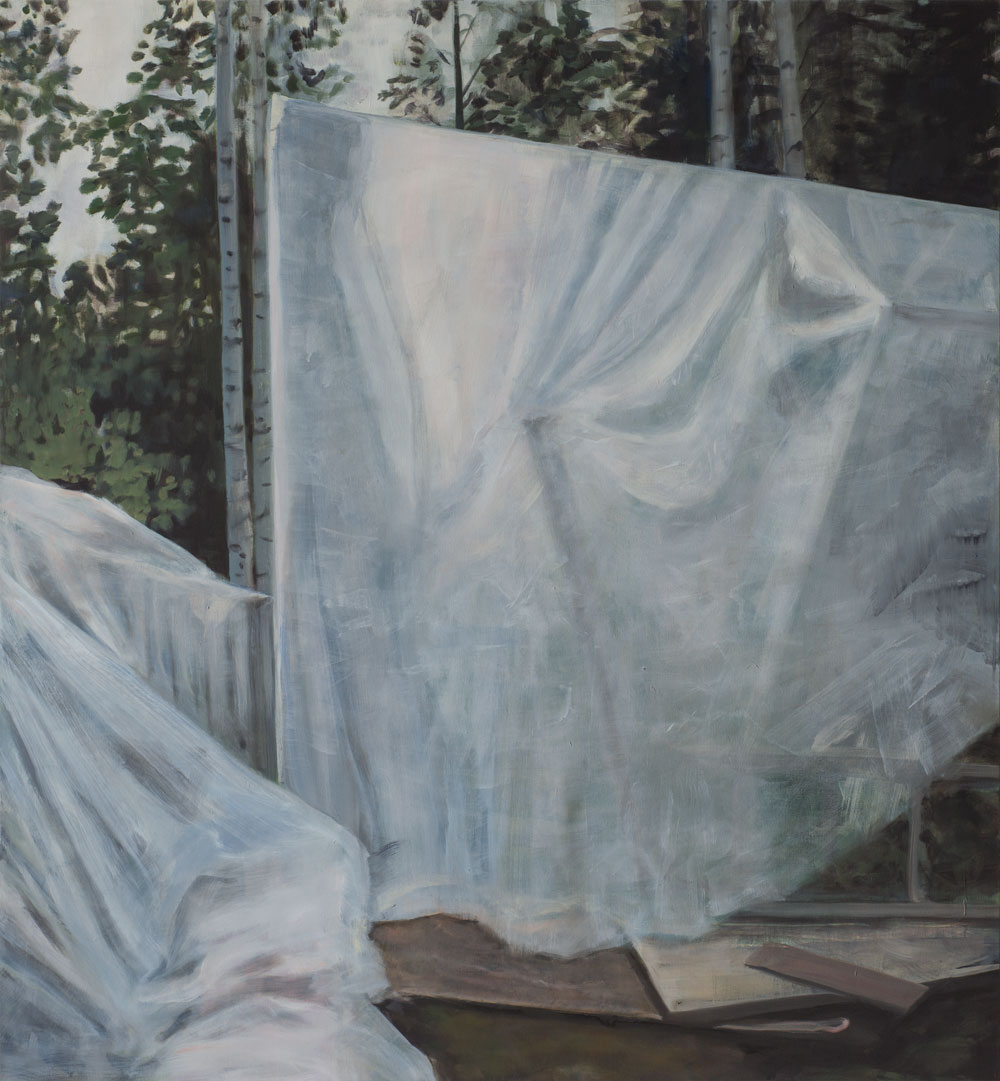 Justine Skahan, Home, 2016. Oil on canvas stretched over wood, 52 x 48 in.
Phenomena from pop culture to urban planning inform the paintings of Montreal-born artist Justine Skahan. Some of her recent works, she told the Fulcrum, are based in places where "natural elements and architecture co-exist, mostly in suburban landscapes." Other recent imagery, however, focuses on the Olsen twins, Ingrid Bergman's hair, and Miami palm trees. Skahan obtained her BFA in studio arts from Concordia University in 2010, and she is currently an MFA candidate at the University of Ottawa. Her work has been exhibited at Lonsdale Gallery in Toronto, and Karsh-Masson Gallery in Ottawa, while her master's thesis exhibition will take place at Central Art Garage in Ottawa in August 2016.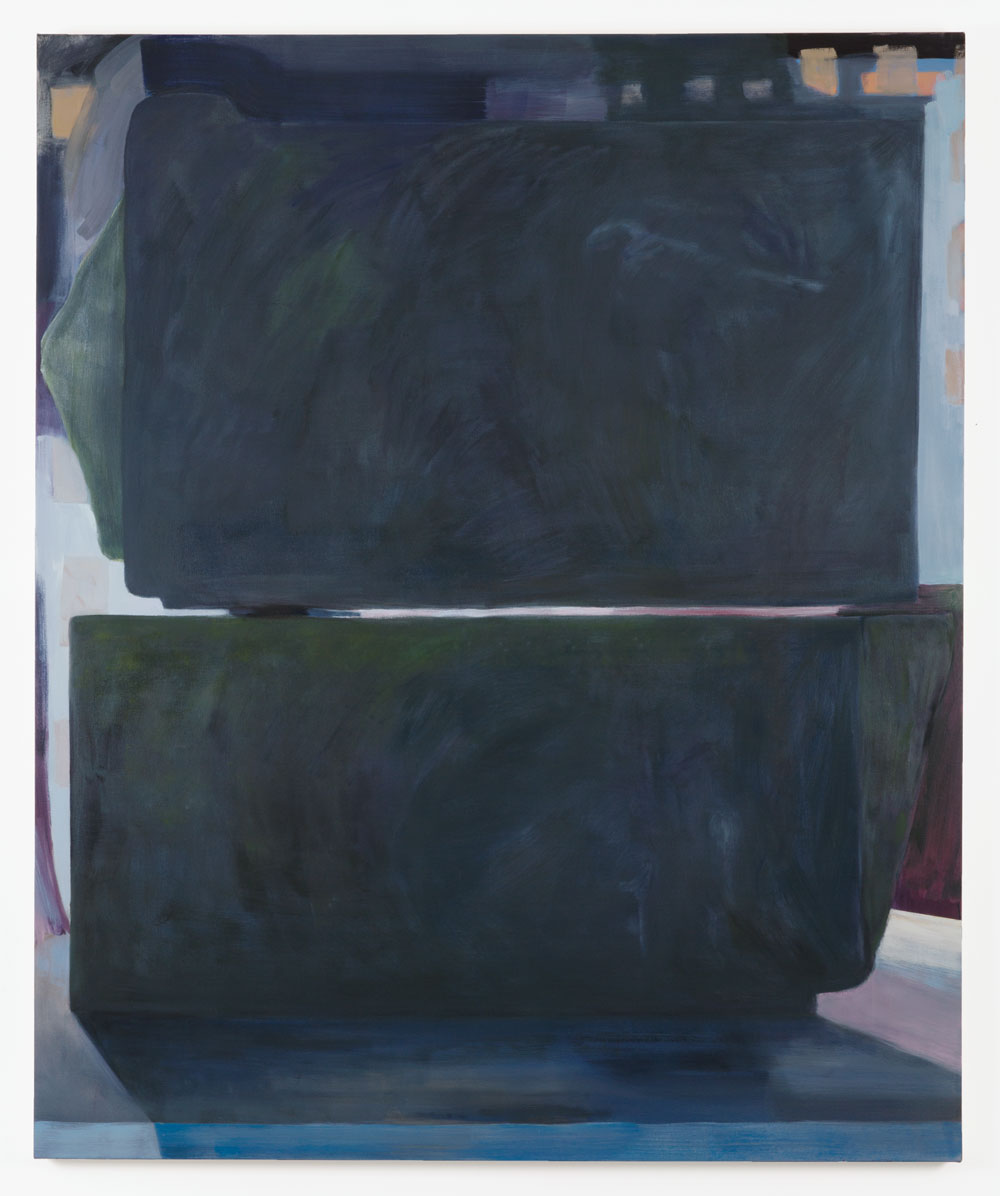 M.E. Sparks, Afterimage, 2016. Oil on canvas, 66 x 54.
M.E. Sparks, born in Kenora, graduated this year with a master of applied arts from Emily Carr University of Art and Design. She also holds a BFA (2013) from NSCAD University. Intersections between the representation and the abstract form the basis for some of her works. Sparks' paintings have been exhibited at the Charles H. Scott Gallery in Vancouver and Point Gallery on Salt Spring Island, while this summer will see her included in the group exhibition "Fresh Paint/New Construction" at Art Mûr in Montreal. Sparks has been an artist in residence at the New Glasgow Studio Residency, and in 2017 will attend the Arteles Creative Residency program in Hämeenkyrö, Finland and Institut für Alles Mögliche in Berlin, Germany.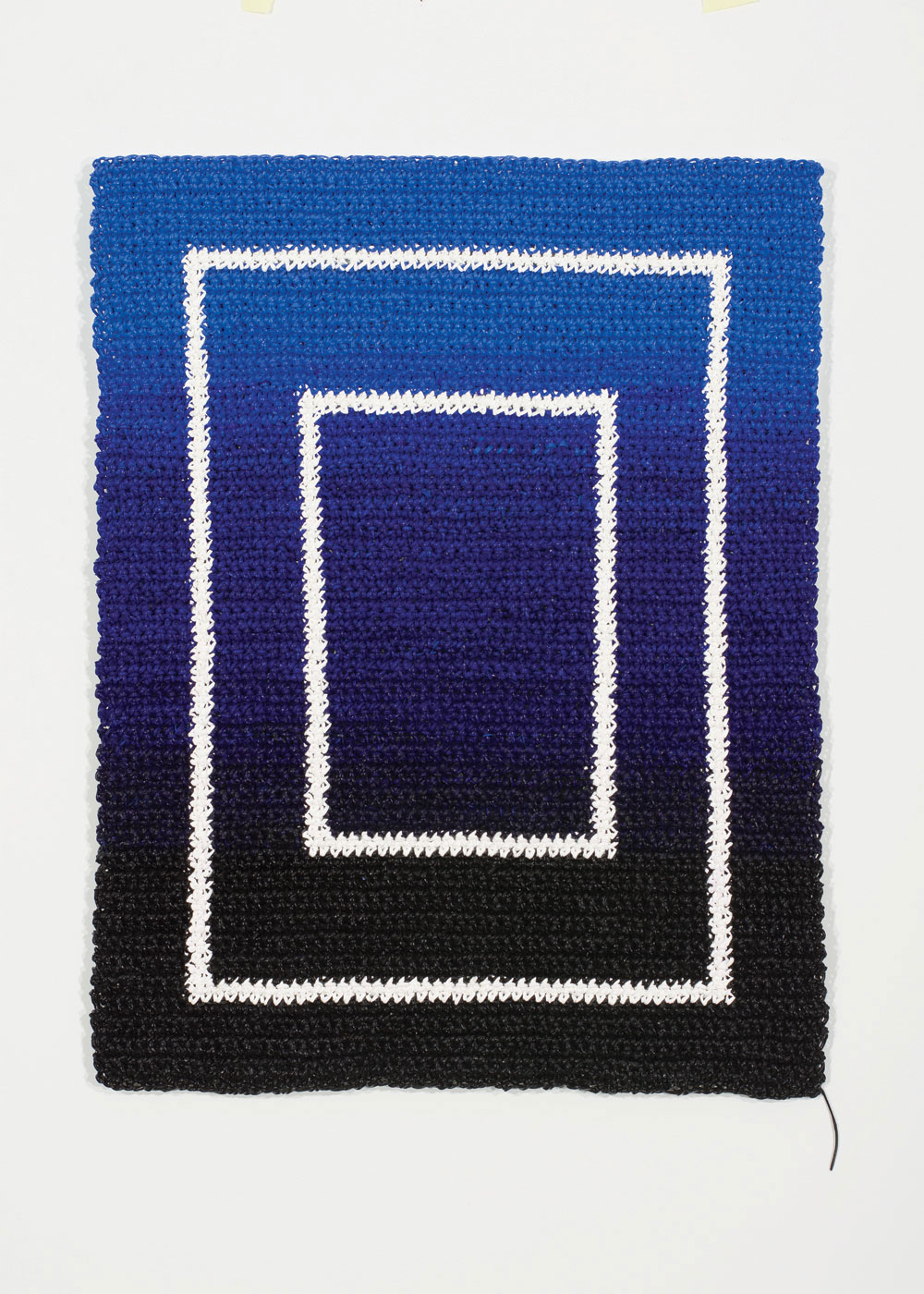 Angela Teng, Jump Shot, 2016. Crocheted acrylic paint on auminum panel, 24 x 18 in.
Angela Teng has gained attention in the Canadian art realm—and should garner yet more—for her unique approach to the materials and practices of painting. Most notably, Teng crochets "canvases" out of strings of dried paint, inverting expectations around fine art and fine craft. Based in Vancouver, Teng was born in Victoria in 1979 and studied art at Camosun College and Emily Carr University, graduating from the latter in 2011. She is due to have a solo show at Vancouver's Equinox Gallery later this year, and she has also exhibited at Mixed Greens in New York and Wil Aballe Art Projects in Vancouver, among other venues.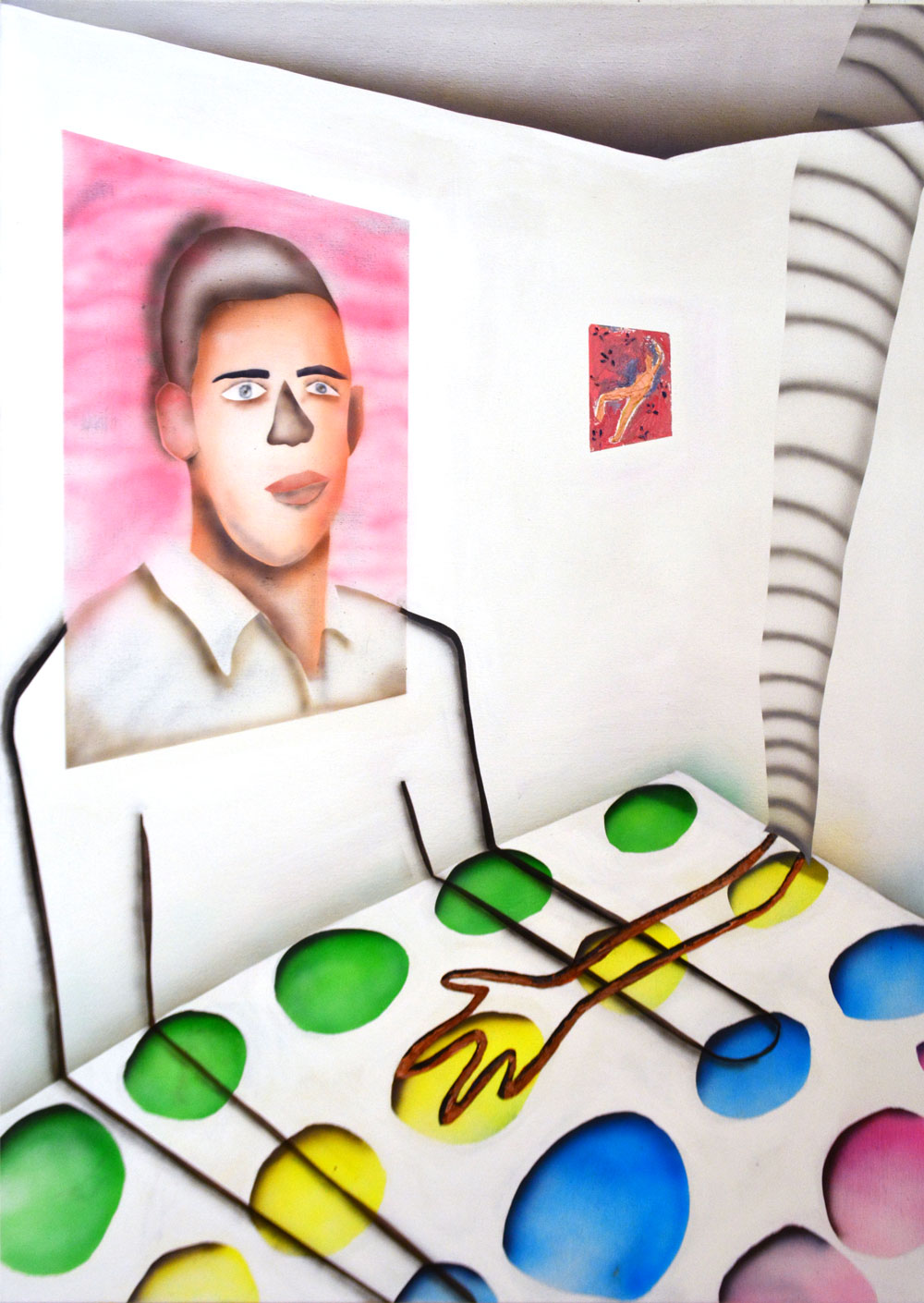 geetha thurairajah, Hotlines, 2016. Acrylic and oil on canvas, 55 x 45 in.
geetha thurairajah is an artist based in Sackville, New Brunswick. She graduated from the Nova Scotia College of Art and Design and Rhode Island School of Design in 2014. In 2015, thurairajah participated in a painting residency at the Banff Centre and the New York Arts Practicum. She is an ArtsNB grant recipient, and was recently commissioned to create digital paintings as a featured artist for multimedia publishing platform NewHive. thurairajah has exhibited at 8-11 in Toronto and Worksound International in Mexico City, among other venues.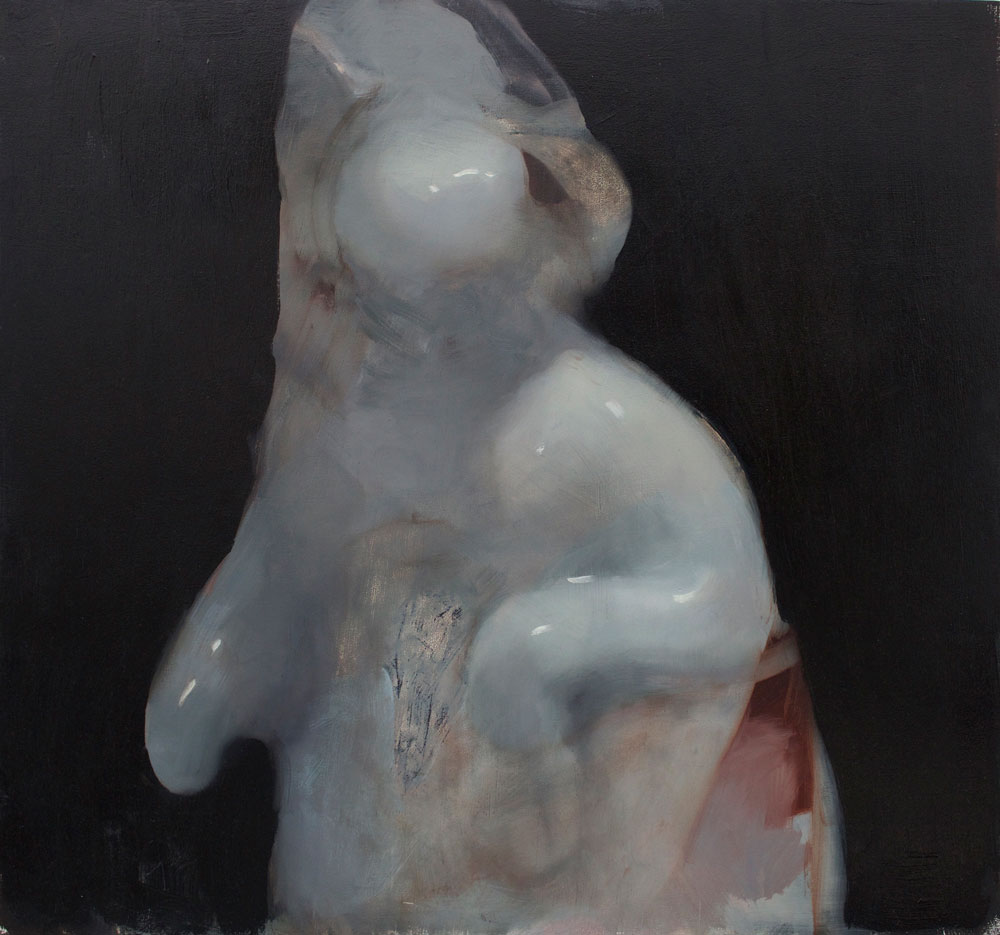 Ambera Wellmann, Wunde, 2015. Oil on wood, 23 x 25 in.
Born in Lunenberg, Ambera Wellmann is currently and MFA candidate at the University of Guelph. She also holds a BFA from the Nova Scotia College of Art and Design and studied at the Cooper Union School of Art in New York. Earlier this year, Wellmann won the Joseph Plaskett Award for graduate-level painters. Her recent works integrate traditions of the still life and the uncanny. Wellmann has exhibited at Page and Strange Gallery in Halifax and Katzmann Contemporary in Toronto, among other venues, and she has a show forthcoming at Dupont Projects in Toronto.