The Jamaica-born, Victoria-based artist has shown at the Brooklyn Museum and Pérez Art Museum Miami—but only recently had his first Vancouver solo show
The Jamaica-born, Victoria-based artist has shown at the Brooklyn Museum and Pérez Art Museum Miami—but only recently had his first Vancouver solo show
In their exhibition "MakeBelieve," the curators Catherine Crowston and Barbara Fischer presented 10 artists "for whom representation is like a magic trick." Operating on the premise that reality in art is a fictive construct—an imagining of the mind—the exhibition recalibrated the concept of the suspension of disbelief.
In the wake of two recent survey exhibitions devoted to the medium of projection, the following words by Victor Burgin, used by Ian Carr-Harris in his 1995 projection piece Rozenstraat 8, seem especially apt: "History has moved around my own work, changing at least one of its meanings…Today such work constitutes a distinct genre, and an item in the available repertoire of stylistic conventions."
Karin Bubaš's most recent solo exhibition features a new photographic series by the Vancouver artist: Studies in Landscape and Wardrobe extends her pursuit of the compositional integration of human form and psychology. The images depict stylishly dressed women in park settings.
Grassroots movements, world-renowned writers, scholars and artists have joined hands in opposing the war in Iraq, pointing to the benefits of dialogue and the dangers of monologue. The war itself has revived discussion of Samuel P. Huntington's morbid theory that civilizations are inherently different and therefore doomed to clash.
In 1977, the exhibition "Skulptur," curated by Klaus Bussmann and Kasper König, opened in Münster amid public debate about the role of art in urban space. Thus began Skulptur Projekte Münster, a once-per-decade city-wide event that König calls "a long-term study" of art and its relationship to the public sphere.
Steven Shearer's exhibition gives an audience insight into a private world realized and documented through the obsessive collecting of images. Shearer's collecting focuses on music, heavy metal in particular—a preference that resonates in the city of Birmingham, birthplace of Black Sabbath and Judas Priest.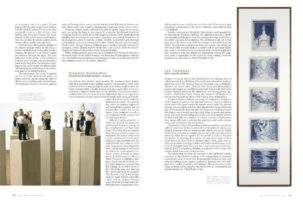 As part of a recent spell of Luc Tuymans fever in Antwerp, Zeno X Gallery presented an exhibition of the artist's new watercolour works on paper. The series The Spiritual Exercises investigates one of Belgium's "ghosts," the Jesuit order.
The natural world is a source of endless delight—if you don't have to go outdoors to enjoy it. Having grown up in rural Canada, I harbour no sentimental feelings toward Mother Nature or her alleged charms.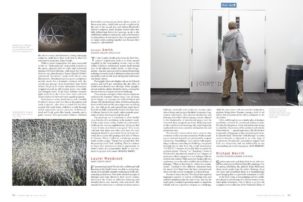 Encountering Laurel Woodcock's walkthrough wall texts at the Banff Centre was akin to seeing fragments of an invisible narrative surfacing from the surrounding architecture. The artist selected excerpts of dialogue and stage direction from movie scripts, fashioned the words in adhesive lettering and installed them onto interior walls and doors.