The Jamaica-born, Victoria-based artist has shown at the Brooklyn Museum and Pérez Art Museum Miami—but only recently had his first Vancouver solo show
The Jamaica-born, Victoria-based artist has shown at the Brooklyn Museum and Pérez Art Museum Miami—but only recently had his first Vancouver solo show
At the back of the darkened room, you see a projection: a drunk, well-dressed man falls down a staircase, hits bottom and then rolls back up to the top again. It is found footage caricaturing Sir Henry Pellatt, the original owner of Toronto's Casa Loma, and its tragicomic spirit fills the room.
The art of Neo Rauch makes you feel at one with your inner spaniel. It makes you tilt your head, cock your ear and think, "I hear what you're saying, but I am at once dumbfounded and elated by the incomprehensibility of your words."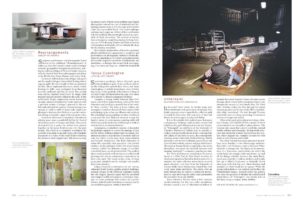 Sculpture, performance and photography found fusion in the exhibition "Rearrangements" at Gallery 44. Katy McCormick's astute curation bridged aesthetic, geographical and generational divides, pairing the wall assemblages of Victoria's Lynda Gammon with the Stacked Hotel Room photographs and videos of the British duo Sonya Hanney and Adam Dade.
Equinox Gallery, Vancouver
The exhibition "Fray" was a mammoth project involving 19 artists working with a vast range of textile-related approaches. The show could have been framed as a survey of current textile-based practice in Canada, but such thinking appeared less important than demonstrating that textile work, now commonplace in contemporary art, is still regularly relegated to the art world's edges.
This exhibition cleverly combines iconic images from the history of photography with contemporary photo-based art and video. Beginning with early examples of staged photography from the 19th century, the exhibition moves rapidly through decades of technical and creative innovation to culminate in the mesmerizing video 89 Seconds at Alcázar (2004), by Eve Sussman.
In the most general sense, I find sound art fun to make but hard to like. It can be densely theoretical and conjure up visions of unmetred noise, percussion or found sound. These aesthetics pervade in this continually experimental medium, often taking cues from musique concrète and John Cage.
"Celebration Park," Pierre Huyghe's first solo exhibition in Britain, might have worked better if it had switched entrance facades with the Kandinsky exhibition that was showing concurrently at Tate Modern.
Bridge (Wooden Arch), by the Vancouver artist Reece Terris, is exactly that—a bridge between the artist's back porch and a neighbour's. The work, sponsored by Presentation House Gallery, spans the gap between Terris the artist and Terris the contractor and defies artificial boundaries: between properties, between "yours" and "mine."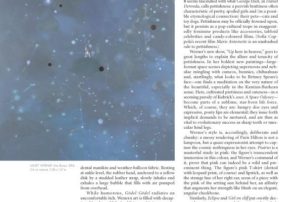 In her well-known portrait paintings, Janet Werner seems fascinated with what George Eliot, in Daniel Deronda, calls pettishness: a peevish brattiness often characteristic of pretty, spoiled girls and (in a possible etymological connection) their pets—cats and toy dogs.