I want Sophie La Rosière to be real. Born in 1867 to middle-class parents in Nogent-sur-Marne, a suburb of Paris, France, La Rosière's biography benefits from the details it lacks. An only child, she found sibling substitutes in the wealthy Smith sisters, until the intensity of her connection with the youngest, Madeleine, worried La Rosière's parents enough that they sequestered her in a convent to complete her schooling. After the death of her parents, La Rosière reignited her friendship with the Smith sisters, struck up a relationship with a much younger artist's model named Florence and focused on her painting. She died alone and unknown in an old-age home established by the Smith sisters at the age of 81.
La Rosière fits into my favourite archetype: the Modernist dame. She's the ideal blend of moxie, sapphic gossip, Boston marriages, money and overlooked genius. Exchange a few minor details and La Rosière could be Gertrude Stein, Jane Bowles, Louisa d'Andelot Carpenter. I would read an anthology of La Rosière's correspondence; I would watch her biopic (preferably starring Juliette Binoche).
Her fictitiousness results, for me, in palpable disappointment.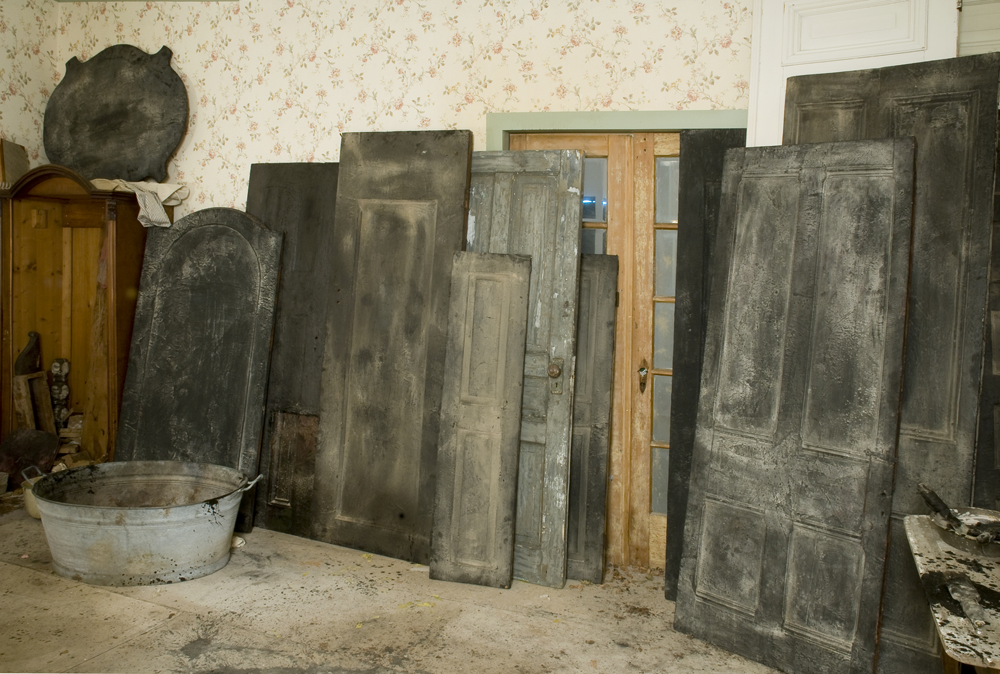 Iris Häussler, The Sophie La Rosière Project, 2016. Courtesy the Art Gallery of York University. Photo: Cheryl O'Brien.
Iris Häussler, the artist who invented La Rosière, has furnished two Toronto galleries with ample evidence of her existence. ("Wonderful to learn about such a fascinating unknown artist," wrote one enthusiastic visitor in the guestbook.) Dividing her exhibition between the Art Gallery of York University and Scrap Metal, Häussler delights in the precision of La Rosière's particulars. A reconstruction of La Rosière's abandoned studio includes Victorian occasional chairs, a fur throw, a copper pot filled with dried rose petals, stacks of doors and odd wooden cut-offs painted over with thick, black encaustic and ashen paint colours: wines, berries, bruised plums and plummy bruises. A series of vitrines display ephemera found in La Rosière's abandoned home: bits of correspondence, saucy postcards, family photographs and abstract vaginal watercolours that would put any Georgia O'Keeffe painting to shame.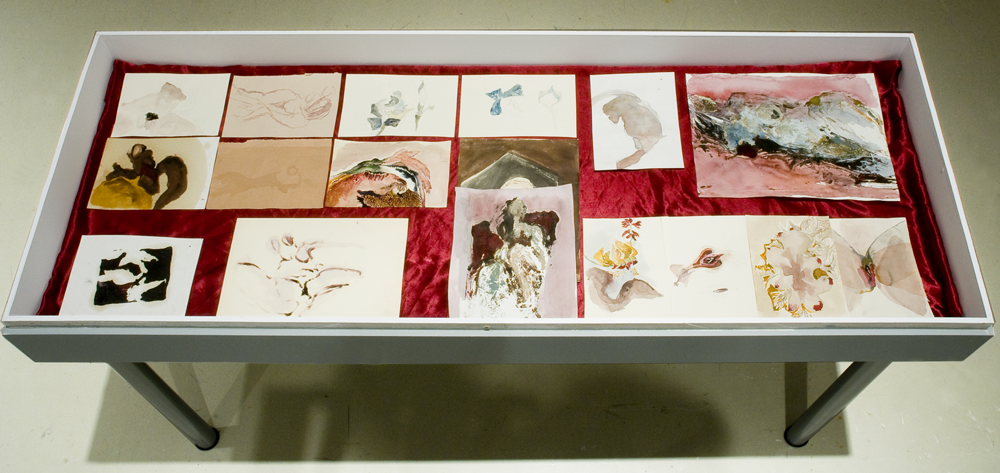 Iris Häussler, The Sophie La Rosière Project, 2016. Courtesy the Art Gallery of York University. Photo: Cheryl O'Brien.
And while these effects combine to create a singular character, Häussler's project, the elaborate construction of a fake artist, is well-trodden territory, and not just within Häussler's oeuvre (which also includes work by Joseph Wagenbach, Mary O'Shea and more). At this point, there are probably almost as many fictional artists as there are real ones.
An element of deception makes sense in 2016. We've become acclimatized to duplicity. Naomi Klein called 2003 the year of the fake, and this declaration registers almost quaintly in retrospect. Now, we don't even expect politicians to aim for veracity—the current US election and the climate of fact-check politics proffers the most nightmarish evidence here. If 2003 marked passage into the year of the fake, 2016 firmly ensconced a post-truth world. The most appropriate artist for these times is an artist who doesn't exist at all.
Artists have been inventing counterparts well before we gave up on truth, though. Marcel Duchamp began signing works as his alter ego, "Rrose Sélavy," during La Rosière's lifetime. Artists flubbing their numbers is such a phenomenon that it falls into a theoretical sub-genre: "parafiction," coined by Carrie Lambert-Beatty. Describing artworks that fabricate some individual or circumstance, Lambert-Beatty distinguishes parafiction from fiction proper as, "It does not perform its procedures in the hygienic clinics of literature, but has one foot in the field of the real."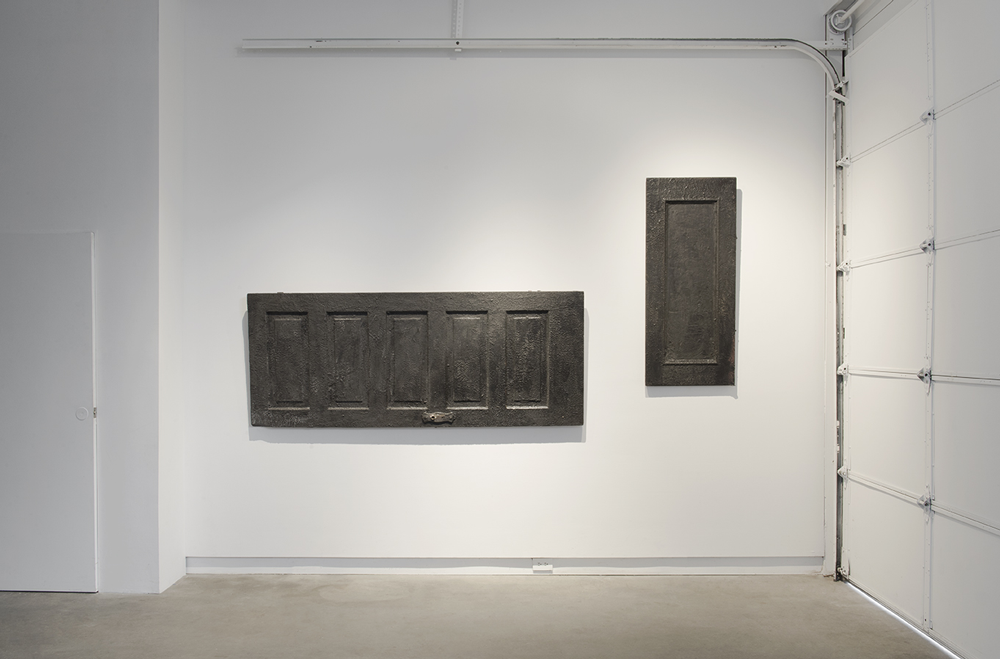 Iris Häussler, The Sophie La Rosière Project, 2016. Courtesy Scrap Metal and Daniel Faria Gallery.
The market clamors for newly discovered artists or freshly uncovered works of art; the academic trend of the "uncovered genius" didn't go amiss in the art world. And late-blooming, or lately discovered, women artists have a niche all their own. Louise Bourgeois didn't garner real recognition until her 70s; Etel Adnan, now 91, only started showing prolifically in the last five years. The market needs objects and personalities, so why not invent more?
And yet, while 2016, and the art world in general, is ripe for deception, expectations of fiction are undergoing reconsideration.
On September 8, Orange Prize–winning author Lionel Shriver took to the stage at the Brisbane Writers Festival and unleashed a screed against the paragon complaint of "political correctness": cultural appropriation. Pointing to recent low-level controversy at Bowdoin College, where two students wearing sombreros at a "tequila party" faced possible impeachment from the student government, Shriver argued that "ideologies recently come into vogue challenge our right to write fiction at all." Shriver herself donned a sombrero. "The moral of the sombrero scandals is clear: you're not supposed to try on other people's hats," she said.
Shriver's talk was the kind of shrill diatribe that primarily reaffirms the beliefs of the already convinced (on both sides of the issue), which is a shame, because the ethical dimensions of fiction deserve nuanced articulation. How does cultural appropriation, or the pejorative sense of appropriation more generally, apply to writing fiction? And how, in turn, do these considerations apply to the visual arts?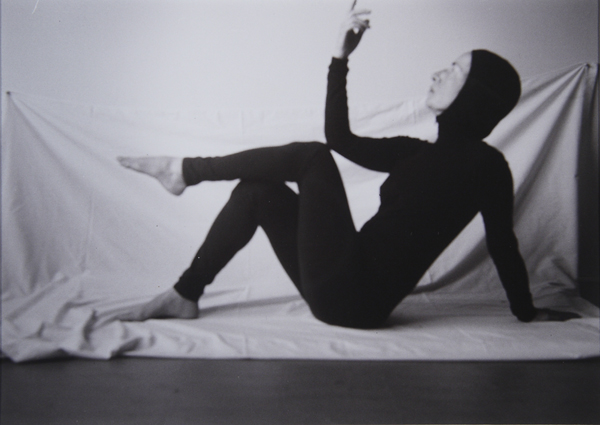 Natalie Brettschneider performs Triangles, ca. 1933. Digital ink-jet print from original negative, 5 x 7 inches.
Some schools of feminist thought would suggest that the fabrication of a woman artist acts as a kind of corrective to the canon. At the Art Gallery of Greater Victoria, Carol Sawyer's "The Natalie Brettschneider Archive" seems to be framed around a fictional artist, but this framing really functions as a kind of Trojan Horse that allows Sawyer to foreground research about existing historic women artists in Vancouver and Victoria during the 1930s and '40s. Though ostensibly focused on Brettschneider, some 50 per cent of the exhibition materials relate to real, and regrettably overlooked, women artists. Fiction, here, acts alongside, and even in service of, fact. "For Sawyer," notes the exhibition text, "the realm of the fictional is a place where the narrative conventions and certainties of the dominant art historical canon can be questioned and challenged."
Toronto artist Maria Flawia Litwin invented Róża Selawiska (whose name nods to Duchamp's Sélavy), a prescient Polish artist, and, after constructing and documenting Selawiska's work, Flawia Litwin began smuggling her catalogues into libraries of prominent art institutions across the world, including the Venice Biennale Library, Istanbul Modern Library and Bibliothéque Public d'Information at Centre Pompidou in Paris.
But while Sawyer and Flawia Litwin explicitly aim to expand, or at least disrupt, the canon, I have difficulty believing that the creation of a woman artist constitutes, by its nature, a feminist act.
Just look at Joe Scanlan's Donelle Woolford project. Beginning in 2000, Scanlan started fictionalizing Woolford after creating a series of abstract wood collages that he thought would be better if "someone else made them." This initial construction took on a life of its own, with Scanlan incorporating performance elements, and hiring various performers (especially Jenn Kidwell and Abigail Ramsay) to play Woolford. After the inclusion of Donelle Woolford in the 2014 Whitney Biennial, Yams Collective, a group of black artists, withdrew their video from the exhibition, amid widespread criticism of Scanlan's project.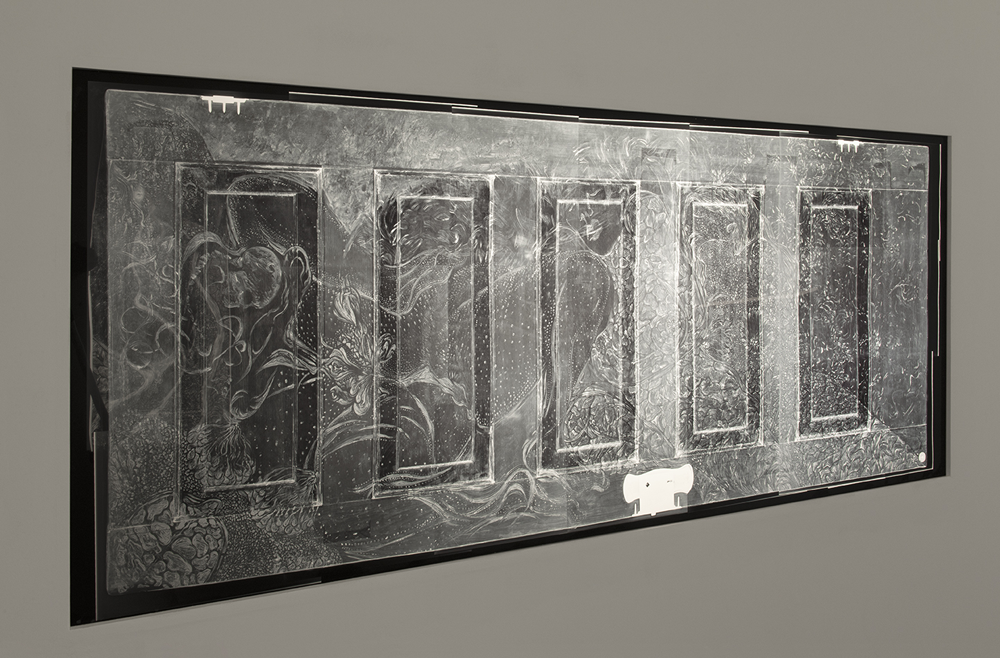 Iris Häussler, The Sophie La Rosière Project, 2016. Courtesy Scrap Metal and Daniel Faria Gallery.
The Scrap Metal instalment of La Rosière's forgoes biographical ephemera and focuses on the scholarship that underpins any act of attribution. Psychoanalysts in a video conjecture about the source of La Rosière's trauma, which caused her to cover her painted door panels in black encaustic. Walls lined with lightboxes that backlight X-rays reveal the apparent under-painting beneath the waxen layers. A researcher from the Centre for Research and Restoration of the Museums of France talks about the process of investigating works. We learn more here about the requisite elements of an artist's provenance than La Rosière herself. Häussler offers an autopsy of hagiography, and shows her hand: a preoccupation with the grounds of artistic authority.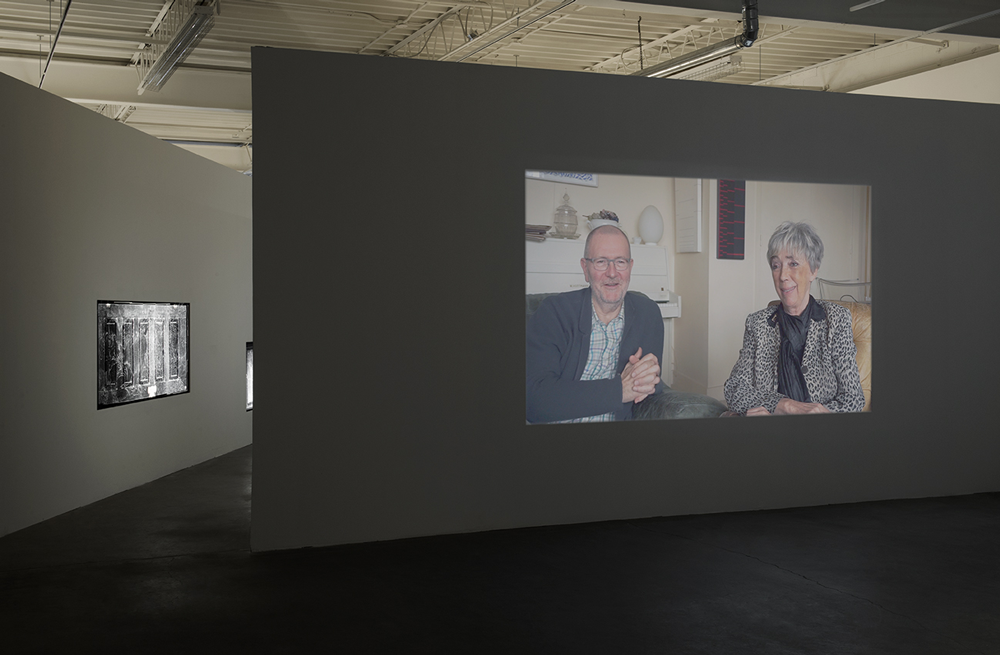 Iris Häussler, The Sophie La Rosière Project, 2016. Courtesy Scrap Metal and Daniel Faria Gallery.
These living artists offer plenty of details about their fictional subjects, but, as the Scrap Metal instalment makes clear, it's often more useful to make a note of the secrets they are telling about themselves. In the process of assuming a part of someone else, fictional or not, you involuntarily give something of yourself. When Scanlan hires living, breathing bodies in service of his own fictional creation, he tells us more about himself than Donelle Woolford. And when he treats the bodies of black women as interchangeable, assuming that viewers either wouldn't notice or wouldn't care that different performers played Woolford, he reveals even more.
This rule extends beyond artists. When the American Republican presidential candidate Donald Trump categorized Mexicans as rapists, he said more about himself than anyone else. "Nobody has more respect for women than I do," Trump announced during a later debate, revealing something else entirely. ("To put it another way," wrote Jia Tolentino, "women aren't going to get more respect from anybody else.") Lately, I'd take a lie over the truth any day.
"Iris Haussler: The Sophie La Rosière Project" continues until December 11 at the Art Gallery of York University, and at Scrap Metal until December 11.