As the sun starts to go down,
From the wild comes the soft wind;
Out from among the tranquil woods,
Begins the cicada to sing.
—Shen Chun U, sixth-century poet, as translated in the 1950 article "Cicadas in Chinese Culture"
Jiangsu-born, Markham-based artist Xiaojing Yan's current exhibition at the Varley Art Gallery, "Out from among the tranquil woods," expresses an environment of cross-cultural hybridity. It's an assembly of works where intricate and vivid references to Chinese heritage are staged within a space that's named after one of the members of Canada's iconic Group of Seven.
The Varley is located in the 18th-century village of Unionville, within the city of Markham. In this community, a deep-set respect for Upper Canada history, and the legacy of artist Frederick Horsman Varley, goes hand in hand with a more recent shift in the city's cultural identity—a burgeoning Chinese population that, according to the 2016 census, makes up more than 45 per cent of Markham residents.
So while the exhibition's title is borrowed from a sixth-century Chinese poem about cicadas, it also carries the meaning, perhaps, that Canadian art has truly emerged from "the tranquil woods."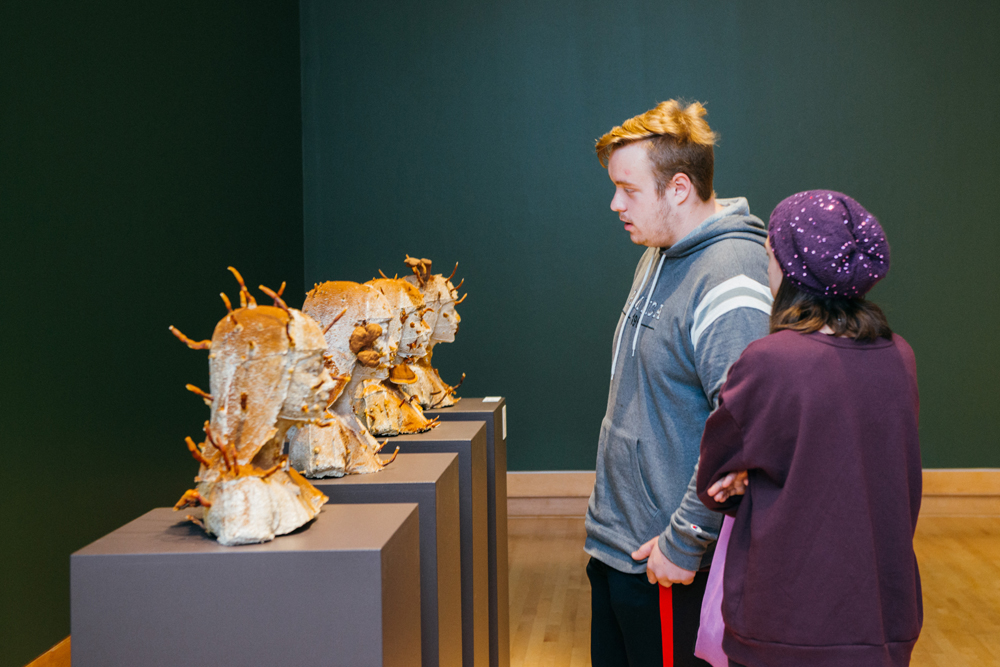 Xiaojing Yan, Lingzhi Girl, 2016–17. Lingzhi mushroom sculptures. Photo: Louis Li.
Yan's sheer inventiveness is matched by monumental and laborious effort, underscored by layers of meaning that connect Chinese herbal practices, mythology, the interplay of human engineering and nature, and the massive powerhouse of production that is China today.
In Yan's Lingzhi Girl (2016–17), several female heads are arranged on a row of plinths, echoing the museological practice of arranging busts from antiquity. Elsewhere in the gallery, Far from where you divined (2017) is another, freestanding group of figures that includes a child, several rabbits and a deer.
At first glance, these sculptural works appear to be created from papier-mâché and dusted with brown pigment. Each one seems to be covered in fungal growths extruding in random patterns. The erosion of classical antiquity comes to mind, as well as the famous terracotta army excavated in Xi'an in 1974.
But these latter historical references fail in comparison to the actual physical nature of this work. The figures are composed of lingzhi, a particularly stable mushroom that Yan has, through lengthy experimentation, encouraged to grow in moulds—and allowed to continue producing spores that create not only extruding fungi but also the brown powder that is slowly engulfing each piece.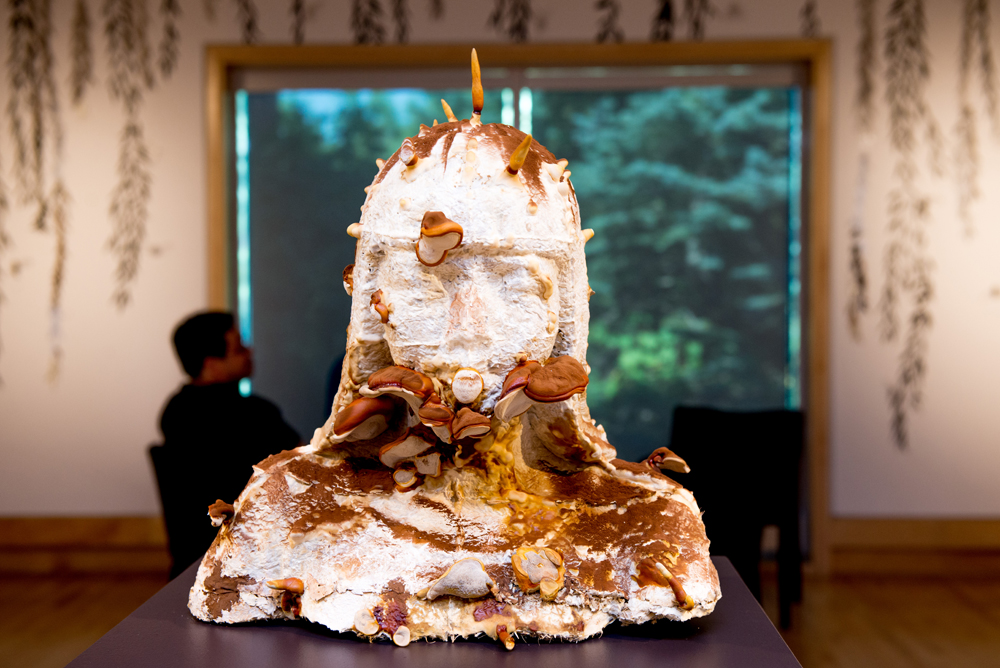 Xiaojing Yan, Lingzhi Girl, 2016–17. Lingzhi mushroom sculpture. Photo: Louis Li.
The development of the moulds holds its own level of interest. While the rabbits and the deer in Far from where you divined (2017) are based on commercially available figures, the Lingzhi Girl (2016–17) is based on a model Yan herself developed. She created the figure in clay and had it casted into plaster, then to fibreglass resin sculpture, then to fibreglass resin mould.
The final extraction from the mould happened while the fungal compound was still damp, causing variations that individualize each object. In part, these figures reference the Eight Immortals of Chinese legend. While revered by the Taoists they are also popular superheroes, each with specific powers. Sometimes these figures are depicted as genies or are ambiguously gendered, but Yan's Lingzhi Girls are distinctly commanding female figures.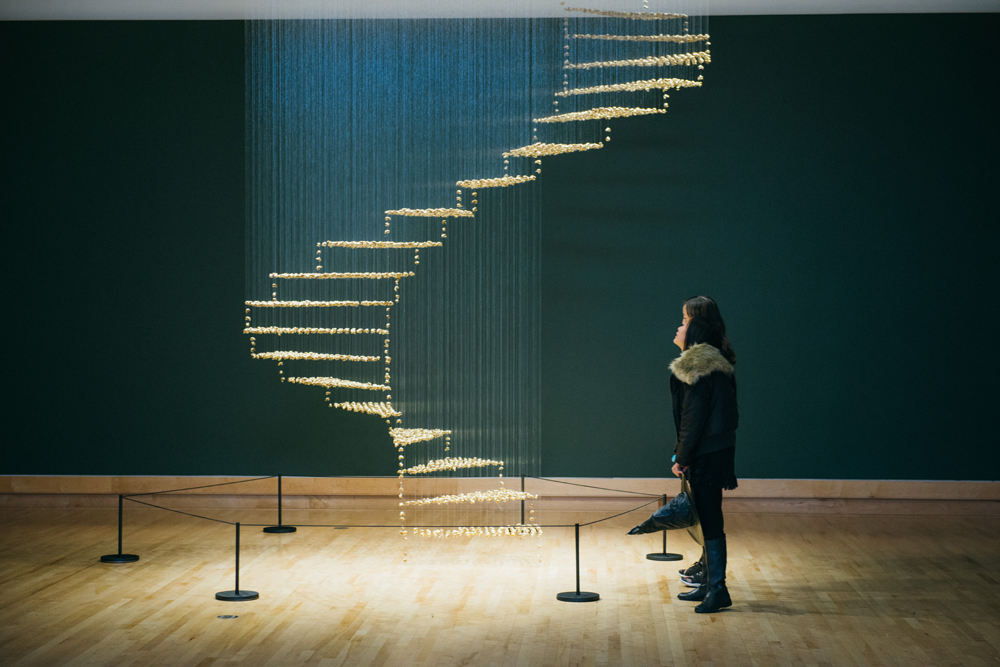 Xiaojing Yan, Song of the Cicada, 2017. Cicada moult and gold pigment with filament. Photo: Louis Li.
The connection between the workings of nature and human intervention link these figurative sculptures to the other installations in the exhibition.
A golden spiral staircase, Song of the Cicada (2017), calls up any number of classic associations, including Edward Burne-Jones's The Golden Stairs (1880), Marcel Duchamp's Nude Descending a Staircase No. 2 (1912), or perhaps even Led Zeppelin's "Stairway to Heaven" (1971). Yan's fragile stairway is created by an intricate suspension of cicada exoskeletons and takes on aspects of Eastern and Western thinking with stunning impact.
Termed cicada moult, this insect covering has curative properties in traditional Chinese medicine, while in Western antiquity the cicada offered divine inspiration in its song. Its underground existence and appearance every seven or so years has been a rich cultural reference with suggestions of resurrection and immortality.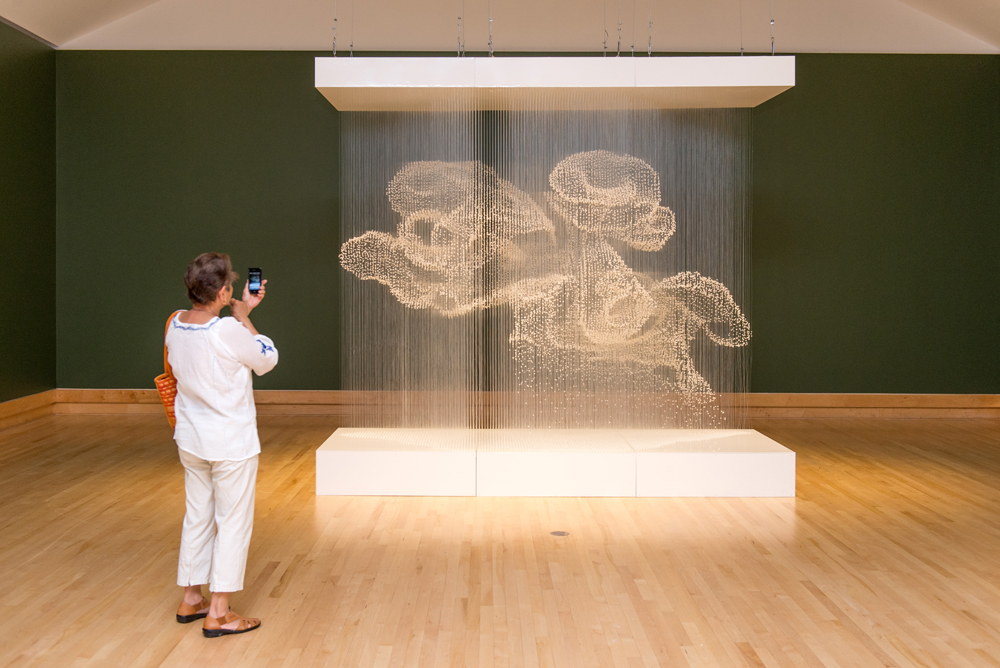 Xiaojing Yan, Spirit Cloud, 2017. Freshwater pearl and filament. Photo: Louis Li.
Similarly, Yan's Spirit Cloud (2017), comprised of freshwater pearls suspended on filament, is an enormous ephemeral object that seems to float between two rectangular structures. The transience and fragility of a cloud is contrasted here with the monolithic prisms between which it hangs. From across the gallery, the filament gives an impression of rain, and the cloud gives off a pearly glow.
As in Song of the Cicada, the thousands of small pieces in Spirit Cloud are "cultured," (i.e., mass-produced for a homeopathic market but also originally derived from the natural world). Here, Yan again creates an intersection of culture and nature. The idea in some Chinese thinking that every living thing is imbued with a spirit speaks here to the way that the artist has co-engineered natural processes, using her artistic practices to commingle ancient and contemporary ideas.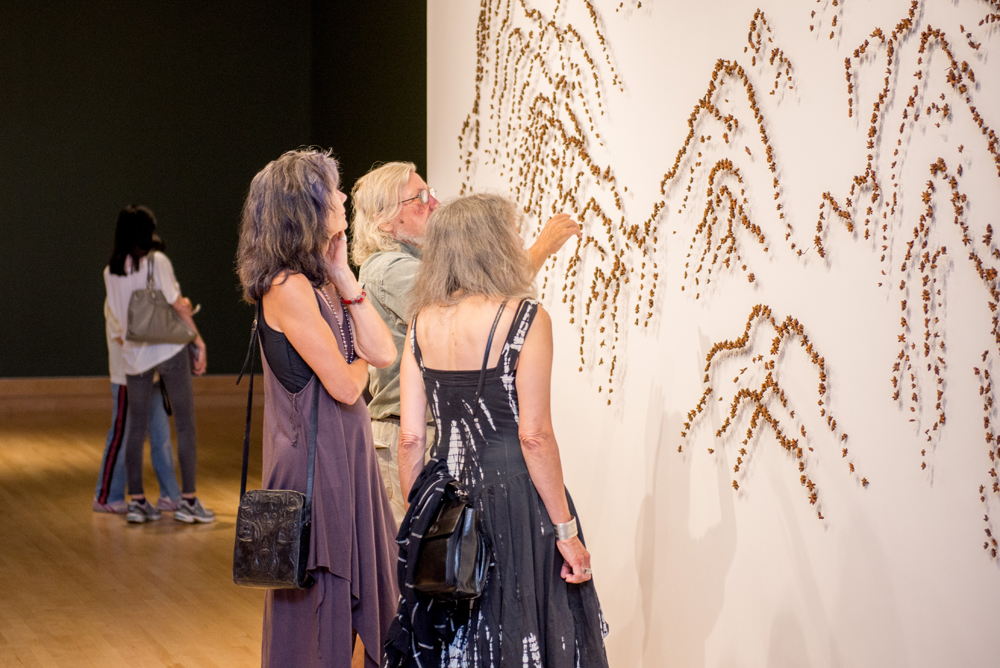 Xiaojing Yan, Star Mountain II, 2017. Star anise installation. Photo: Louis Li.
Similarly, drawings on several of the gallery walls use both manmade and natural materials. At the door of the gallery, Under the Willow Tree (2017) is an engineered tranquil wood where the gallery walls are covered in leafy fronds, among which tiny fairies appear. Each figure is a small human with cicada wings, and the fronds are laser-cut steel and black vinyl. The vinyl is reflected and multiplied on the shiny metal surfaces to create a fascinating sense of depth and motion. Yan chooses willow leaves for their flexibility, suggestive of an ability to bend rather than snap, a necessary attribute for navigating two cultures.
In Star Mountain II (2017), Yan's drawing on three wall-size panels recalls the use of line to delineate mountains as seen in Chinese painting, while also performing as a backdrop for Far from where you divined, the grouping of fungi sculptures of woodland animals surrounding a small child. There is an added level of sensory engagement here: the mountain images are drawn by pinning star anise pods to the walls—everything smells wonderful.
One definition of culture is the growing of biological material, and another is enlightenment and sophistication acquired through education and exposure to the arts. A third is the beliefs, customs, practices and social behavior of a particular nation or people. In "Out from among the tranquil woods," Yan's voice is a "soft wind" that connects all of these meanings.
"Xiaojing Yan: Out from among the tranquil woods" continues at the Varley Art Gallery until January 7, 2018.
Margaret Rodgers is a writer, curator and visual artist and a founder of IRIS Women Artists' Collective. From 1989 to 2005, she was also director/curator at the Visual Arts Centre of Clarington.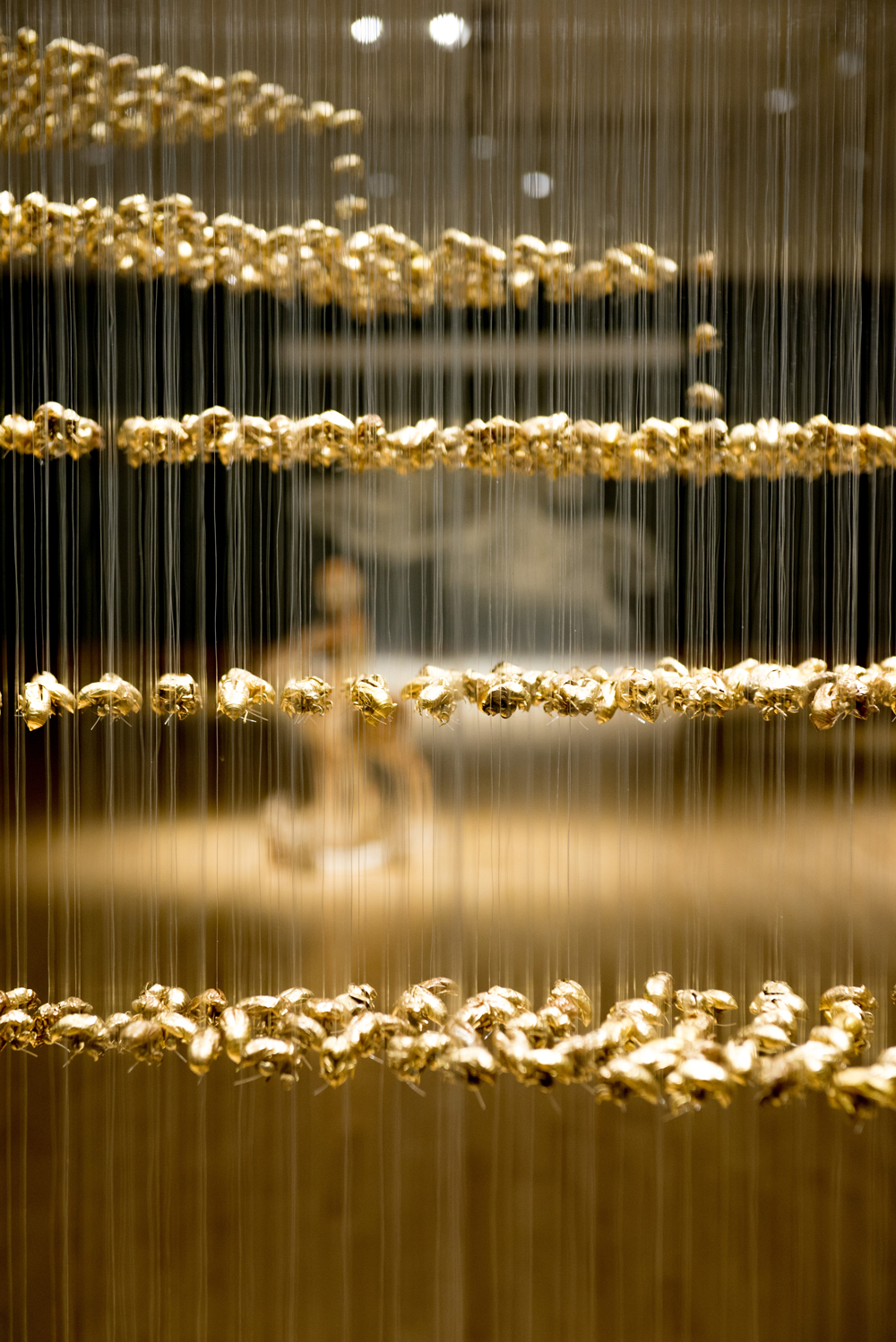 Foreground: Xiaojing Yan, Song of the Cicada (detail), 2017. Cicada moult and gold pigment with filament. Background: Xiaojing Yan, Spirit Cloud, 2017. Freshwater pearl and filament. Photo: Louis Li.