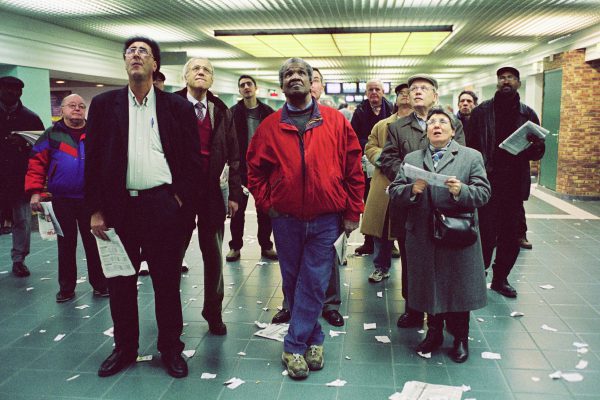 Hermine Bourgadier, Street Fighters/Les Turfistes, 2003.
For Nuit Blanche, which took place in venues across Montreal on the night of March 4, McGill College Avenue was surprisingly deserted. Perhaps it was the cold—temperatures had plummeted to minus-20 degrees Celsius, and it felt even colder with the wind howling around the glass, steel and concrete buildings that compose this "showcase street." McGill College is arguably the heart of Montreal's commercial and retail district, though this too partly explained the noticeable lack of people: the office towers and shopping malls were all closed, and this is all that exists in this part of town.
We weren't entirely there by choice: we had disembarked from the metro too early and found our preferred route to explore Montreal's Underground City had been blocked; several closed malls stood between us and the starting point of Art Souterrain, an exhibition of local contemporary art in an unusual setting. The exhibition's name is something of a pun: broadly speaking, what's on display can be considered underground art, and the exhibition takes place entirely within the aforementioned network of largely subterranean passageways that link most of Montreal's major downtown office complexes, shopping centres and major transit stations.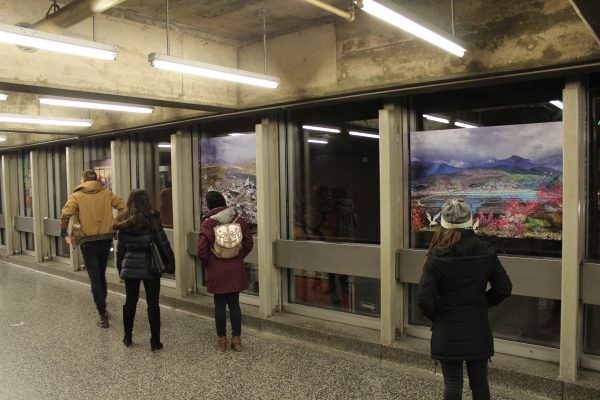 Alice Wielinga, North Korea, a Life between Propaganda and Reality. Photo: Taylor Noakes.
It's an odd sight to see hundreds of people lined up in a massive shopping mall where all the stores are closed. At first, I wondered if this was part of Art Souterrain—perhaps we had happened upon a modern take on P.T. Barnum's "This Way to the Egress" prank, which funnelled unsuspecting 19th-century Manhattanites down endless corridors until they were finally deposited (without refunds) out in the alleyway behind Barnum's famous American Museum.
But it turned out instead to be a two-hour wait for the lookout atop Place Ville-Marie, Montreal's newest attraction, which tonight was open for free. This wasn't the art I was looking for. We pressed on, wandering through a disorienting maze of corridors and hallways, unsure of what was commercial decor and what was contemporary art.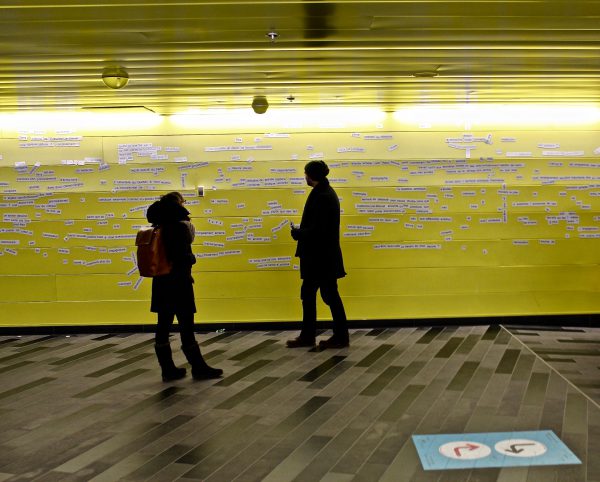 Catherine Lisi-Daoust, Statements (interactive installation). Photo: Taylor Noakes.
The theme of this year's Art Souterrain was play and distraction, and I was curious to see how that would manifest in the Underground City—a vast, clean slate with expansive volumes. Everywhere we turned, we found more empty hallways and corridors. They seemed to go on forever in every direction. We walked slower, felt smaller. The absence of people from a space so obviously intended to serve a large population made the sight of any other person a potential direction toward the beginning of the exhibition. Why else would they be down there? (While it is possible to live in Montreal and never leave the Underground City—assuming you live and work in buildings connected to the network—I've never met anyone who would boast the accomplishment.)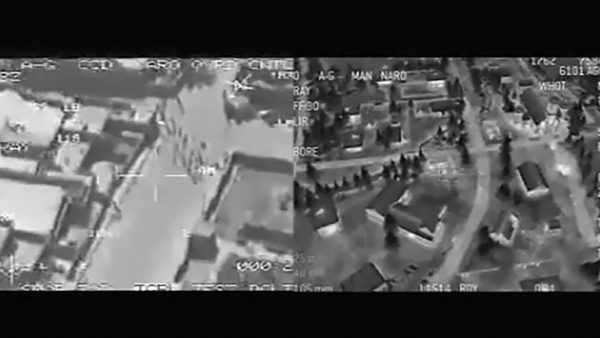 Josh Bricker, Post Newtonianism (video still), 2010.
We wondered if we had gone the wrong way, or if we were allowed to be where we were. Finally, we reached the first installation, a work by Josh Bricker: scenes of combat-camera footage from an attack helicopter over Iraq, accompanied by a recording of a session of someone playing the videogame Call of Duty. It wasn't immediately apparent which was which.
Geneviève Arcand, Façonnez vous une oeuvre d'art. Photo: Taylor Noakes.
A little ways away, we saw a crowd, and what looked like several wooden telephone booths with a stencilled invitation on the side, beckoning us to create our own art. We discovered great green globs of clay sealed off behind glass, and arm-length rubber gloves opening outward and forcing a stooped posture in order to manipulate the clay. It was uncomfortable; under the bright-yellow light, wearing gloves already soggy with other people's fingertip sweat, the process felt suddenly laborious and industrial. Behind the glass and inside the box, I could make out a few primitive human and animal forms, but for the most part was surprised to discover a wide variety of poorly executed, if not imaginative, phalli.
Signs pointed us toward the next installation at the far end of Central Station, and our pace quickened. There was life there, or at least people working, and our eyes were drawn to massive bas-relief friezes running the length of the station's western wall—allegorical, art deco representations of Canada by Charles Comfort. This was the first "public art" we came across in 20 or so minutes of walking, and it wasn't part of the exhibition.
Indeed, for all the public space of the underground, there's not much art outside of the metro stations (and even then, works of art can be difficult to find, and the line between art and decoration is difficult to discern). In part, this is key to Art Souterrain as a concept—bringing art into an unexpected, generally art-less maze of drab corridors and transit stations designed like bomb shelters. Some of the Art Souterrain installations seemed timid when considered within the massive spaces. They raised questions, such as: Why isn't this done more often? Why isn't there more public art on permanent display?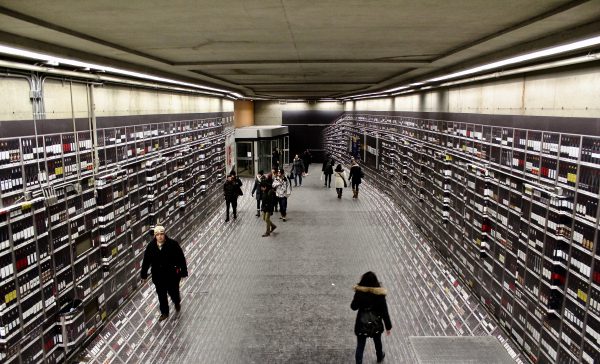 A corridor in the basement of 1000 de la Gauchetière, adorned with advertising by the provincial liquor commission. Photo: Taylor Noakes.
At times, the gaps between installations had much the same effect, reinforcing this nagging question about why more of the space wasn't being used by the exhibition, or otherwise questioning how these pseudo-public spaces are used, and whom they benefit. This was particularly evident as we descended into the basement of 1000 de la Gauchetière, where the provincial liquor commission had wallpapered the entirety of a large concrete corridor (otherwise unadorned) with images of aisles of wine and spirits and their associated barcodes, along with posters insisting to passersby that this was the most high-tech and efficient method for procuring alcohol on-the-go. This surely had nothing to do with Art Souterrain, and yet it was the most complete transformation of an otherwise public space.
Commercialization of this space of convenience seems to know no end, and has a big-picture perspective: in some metro stations, murals and stained-glass tributes to the city's history play second fiddle to plastic-wrapped advertisements for cellphone companies that stand three storeys high. The rule seems to be no adornment without advertising.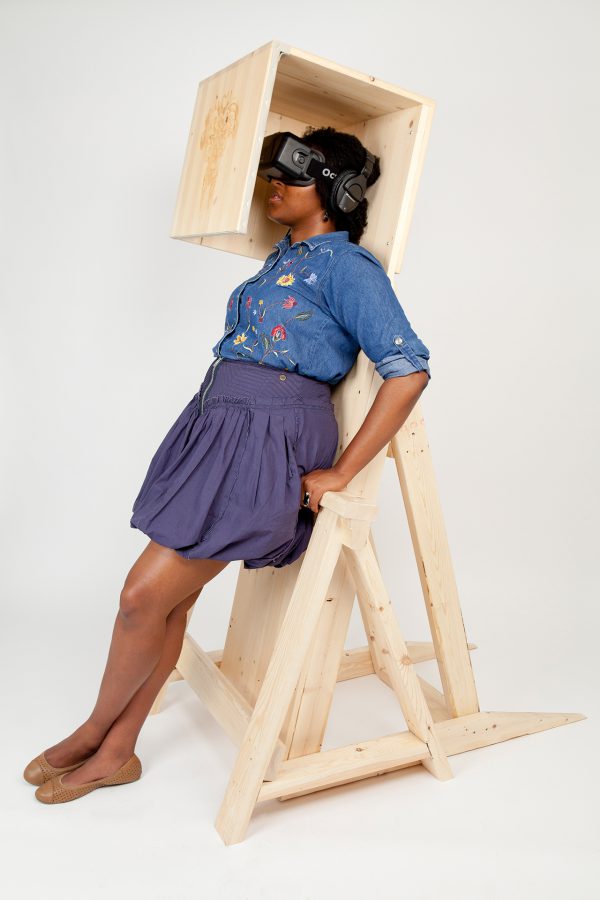 Olivia Mc Gilchrist, Jonkonnu/Gens inconnu, 2015.
There was a missed opportunity to see more art installed in the minimalist midcentury architecture of Bonaventure Station and Place Bonaventure. It would be another 10 minutes of walking through mostly unadorned spaces before we came across another cluster of installations: an Oculus Rift virtual-reality helmet being manipulated by a group, as part of Olivia Mc Gilchrist's Jonkonnu/Gens inconnu; a quartet of pint-sized toy pianos by Myriam El Haïk that played the same jarring tune in unison; a laborious description of artwork to individuals seemingly disinclined to such long-winded explanations; and, tucked away and out of sight in what is essentially a large open empty space, a "silent disco," installed by Jacqueline Van de Geer, where two dozen or so people awkwardly danced and shuffled, occasionally exclaiming lyrics to saccharine '90s pop songs.
Jacqueline Van de Geer, Discothèque Silencieuse
The relative scarcity of art in the spaces we encountered shifted somewhat as we crossed into what the city officially calls the "International Quarter." Here, installations seemed clustered closer together, and hallways and corridors looked more like galleries, with pictures lining the walls, and with people gathered around the pictures. The space behind the International Civil Aviation Organization's headquarters is very nearly a folly—a building without purpose—in that it exists solely so that important buildings can claim an access point on an important city square. Otherwise it's just a big, open, empty space, devoid of ornamentation or art of any kind. That night, it was uncharacteristically filled with people swirling around several interactive installations that seemed like adult-sized versions of playground equipment.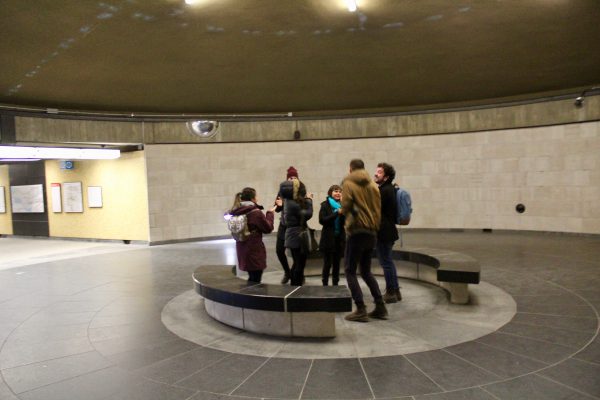 Friends dancing in Square-Victoria. Photo: Taylor Noakes.
Further on in the complicated network of tunnels spiralling out from Square-Victoria metro, 10×10, Tall Buildings, a video installation by John Wood and Paul Harrison, intrigued enough people that it stalled traffic in its corridor entirely. The crowds were thicker here, too, as was the spirit of spontaneous engagement with this artificial construct: in one spot, we encountered a group of friends (oblivious to our presence) in the midst of an exuberant clapping and foot-stomping fit in the middle of a subterranean rotunda. Thanks to the absence of any installation, the acoustics of the dome could be appreciated. This turned Art Souterrain on its head and was closer to what I had been looking for: spontaneous appropriation of non-artistic, artificial and utilitarian spaces; citizens enlivening spaces with their own art. Confused passersby checked out their exhibition maps, wondering if this was part of the show.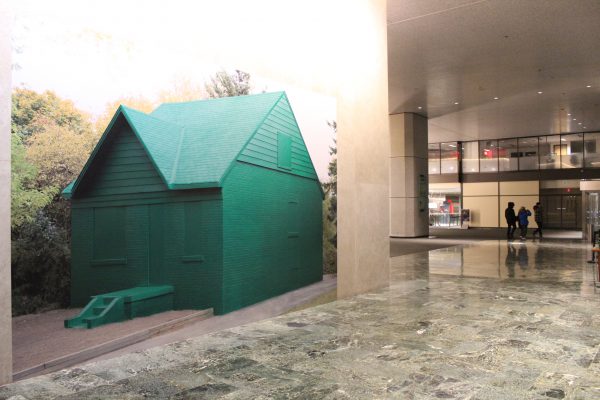 An Te Liu, Title Deed. Photo: Taylor Noakes.
In the desolate food court in the bowels of Place Victoria, one piece in particular left a lasting impression on me: An Te Liu's Title Deed, a large-format photograph of soon-to-be-demolished wartime housing painted to resemble a Monopoly house piece. Its placement here sent a message advocating caution against the speculative "gaming" of the housing market—it is located in the same building as Place Victoria, which houses the Montreal Exchange, a derivatives exchange, and it was the trade in derivatives linked to mortgages that was responsible for the 2008 economic crash. Title Deed also reminded me of an ad campaign currently located in several metro stations for a local bank's new offer of bargain-basement home mortgages and housing insurance—it features the outline of a house in the same shade of green. The ad was likely dreamt up in some boardroom in an effort to make home ownership more fun and appealing to millennials.
Are we so distracted that everything needs to be a game to hold our attention?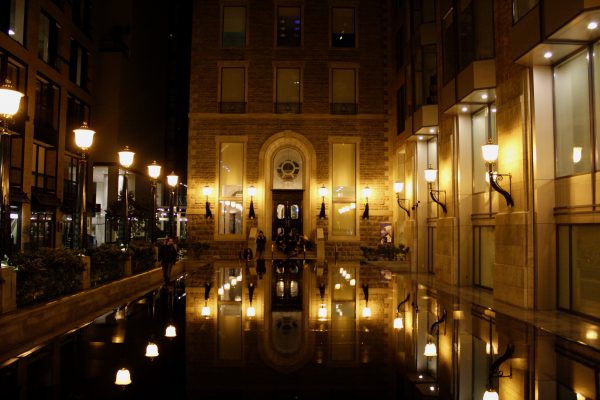 Reflecting pool in the atrium of Montreal's World Trade Centre. Photo: Taylor Noakes.
It was our intent to experience Art Souterrain as a kind of cohesive, coherent visionary artistic experience, and as such we tried our best not to be overly reliant on maps and instead hoped to be pushed and pulled in various directions. A tunnel with varying earth-toned patterns of brickwork pulled us into Montreal's World Trade Centre, revealing a massive atrium, warm golden lighting, a reflecting pool and 17th-century marble fountain. Several in our party had never experienced this building before, and were amazed that this was public space. Seeing others see it for the first time assisted in my newfound appreciation for the event's potential to incite radical reconsiderations in Montrealers of their immediate, urban environment.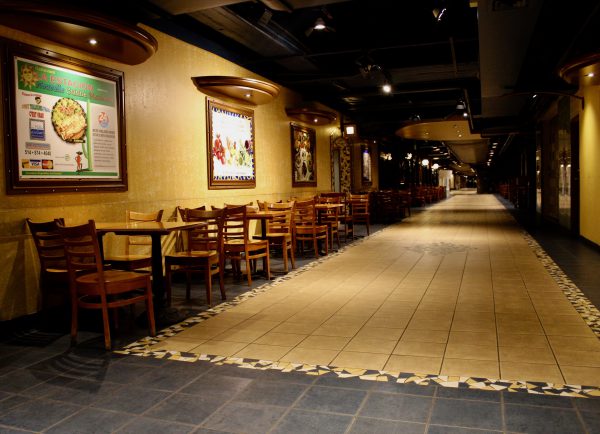 An empty corridor in Central Station. Photo: Taylor Noakes.
At the end of a long, dingy hallway between a convention centre and a government office complex, a cleaning crew was busy locking the doors, cutting our experience of Art Souterrain short, and blocking us from joining the Nuit Blanche festivities and carnival atmosphere of Place des Arts and the Quartier des Spectacles. That said, it was entirely, if counterintuitively, appropriate for an entire segment of the Underground City to be closed early on the night everything else is open late; frankly, it wouldn't be Montreal if everything went off without a hitch.
Camille Rajotte, À deux, c'est mieux!. Photo: Taylor Noakes.
As I took a seat in the convention centre to consider what I had experienced, I was distracted by the interactions of strangers surrounding Camille Rajotte's À deux, c'est mieux!, a seesaw with a twist, constructed such that the two participants face away from each other, requiring an added degree of trust to achieve an enjoyable equilibrium. Strangers enjoyed the company of other strangers, finding optimal matches in the crowd to best use a simple machine, to the apparent delight of everyone else. It was as though we were suddenly all in on a ludicrously simple joke that kept getting funnier with each new participant. It was remarkable to see the object of play melt away the interpersonal boundaries between strangers such that they seemed to instinctively resort back to the open participatory rules of the playground.
The fun wasn't in winning, but in achieving balance and harmony. It was successful, and despite my initial criticism, I could only conclude that on the whole, so too was Art Souterrain.