There's a barley mill in Bowmanville that was built in 1905. In 2019 this dramatic space is home to an inaugural year-long artist installation organized by the Visual Arts Centre of Clarington.
From now through November, London, Ontario, artist Ron Benner's assemblages of corn, maize, and, yes, barley, form minimalist gestures with maximalist impact—raising provocative questions about where food comes from and how it is produced.
"There will be a corn roast in the summer with Benner too," says Sandy Saad, curator of exhibitions and education at the centre. And if that's not up your alley: "Our mill has a fully equipped pottery studio in the basement," says Saad, "and we have an open studio program that has created an avid community of potters."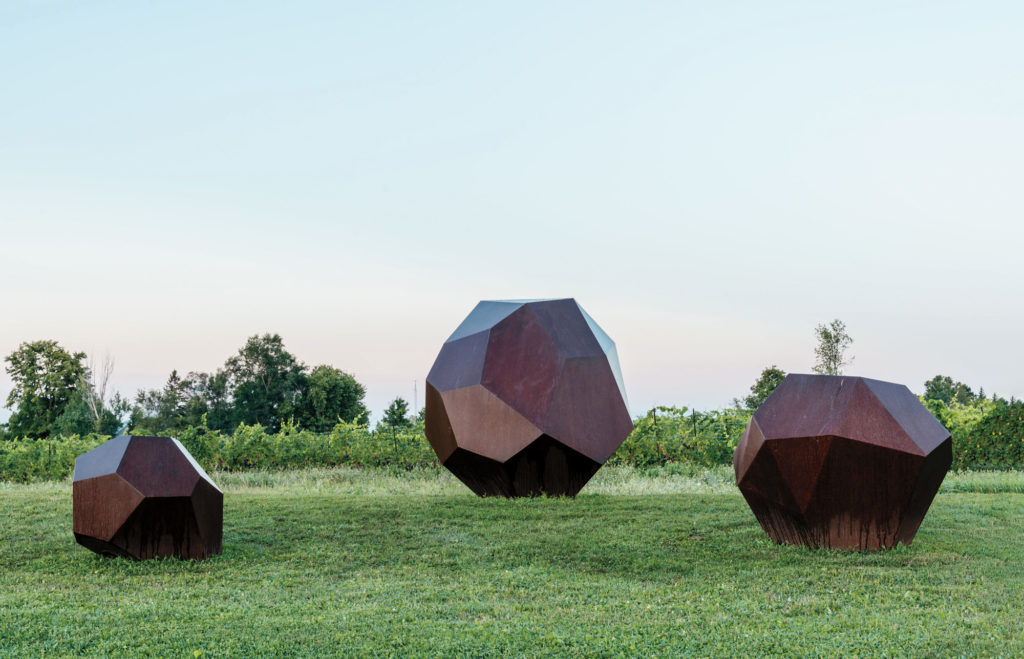 Shayne Dark's
Glacial Series: Drop Stones 1, 2, and 3
(2015) in the sculpture garden at Oeno Gallery in Prince Edward County. Photo: Johnny Lam.
Where Old is Made New
That's just one instance of the growing art scene in Eastern Ontario. Another is the recently formed Prince Edward County Art Dealers Association.
"Over the last 10 years, there's been a dramatic influx of folks coming up here," says David Hatch, director of Hatch Gallery and an association member.
Painter and performance artist Kent Monkman is building a studio on Big Island. Man Booker Prize–longlisted author and video artist Shani Mootoo is in Bloomfield. And Clement Greenberg–praised abstract painter Otto Rogers lived in the county for years.
A range of art is on offer in the local gallery scene too: "You can go up the street in Bloomfield to Oeno Gallery and buy a Maud Lewis, then come to my gallery and buy a Tony Urquart, or go to Blizzmax Gallery and see incredible print works in an old barn."
If you are looking to make prints, plan a whistle stop at Whitby's Station Gallery. Located in a Victorian-era train station, it recently renovated its boxcars as homes for printmaking presses.
"Next year is going to be our 50th anniversary," says Station curator Olex Wlasenko. "And we are the only institution between Kingston and Toronto with a fully equipped print studio."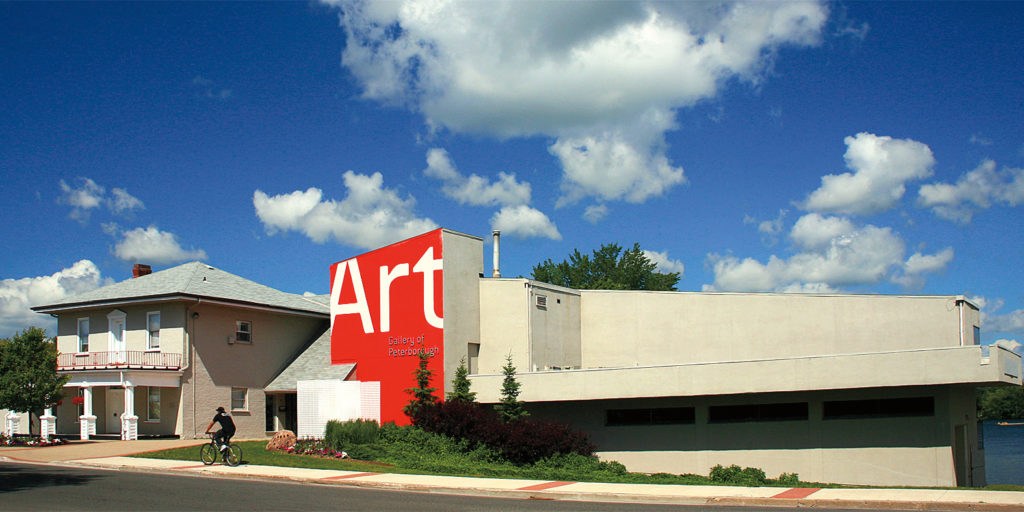 The Art Gallery of Peterborough.
The Electric City
In Peterborough, sometimes called the Electric City, energy for art seems to be self-generating.
"Peterborough punches above its weight," says Art Gallery of Peterborough curator Fynn Leitch. "When Trent University opened here in 1964, a bunch of artists moved to this area—you could get a much larger studio, you could work bigger."
That effect has been intensified in 2019, with rising real-estate prices, and shrinking square footage, in Canada's big cities.
"Not only are people moving here—they are staying here," says Leitch. Textile maker Dorothy Caldwell, painter Alex Bierk and photographer Arnold Zageris are among the local luminaries who are celebrated at monthly First Friday events, when businesses and galleries stay open late.
Leitch and her team also run a yearly art-studio tour every September. "It's a great chance to meet the artists, see their practice, talk to them, and get a sense of what's happening in Peterborough," says Leitch.
In town for a while? "In the summer we recommend the Silver Bean Café—it's only open seasonally, but it is right on the water," says Leitch. "Their tagline is, 'Your waterfront cottage in the city.'"
And make sure to stop in at iconic artist-run centre Artspace at its street-front gallery space in downtown Peterborough, where work by Tia Cavanagh is on view this summer.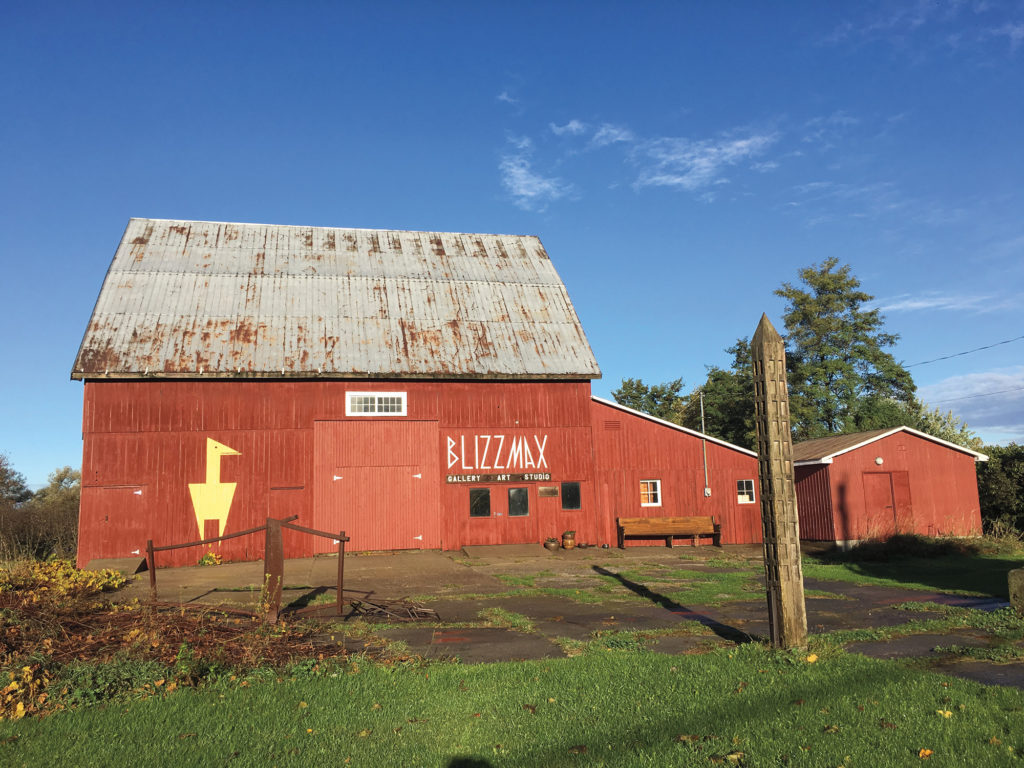 Blizzmax Gallery in Prince Edward County.
More Places to Go
If you're in the Ottawa region, the National Gallery of Canada is a must-see, but there are lotsof other great art spaces to explore too. The newly reopened Ottawa Art Gallery downtown has free admission, and includes a café and restaurant on site. Nearby is SAW Gallery, expanding soon to 15,000 square feet with a Nordic Lab, the Annie Pootoogook Studio and (in its club section) a bar with locally sourced fare.
Other worthy highlights in Eastern Ontario are the Rembrandt-rich Agnes Etherington Art Centre in Kingston, the and artist-run Modern Fuel there too, and the Robert McLaughlin Gallery in Oshawa.
Tasting the Terroir
"The Toasted Walnut makes homemade scones every morning," says Saad of one of her Bowmanville favourites. She also likes locavore Three-Six Kitchen.
Hatch attributes much of the growing art scene in his area the nearby Drake Devonshire, described by the Globe and Mail as being like "a summer camp–themed mess hall and participatory art project."