Many important creations begin on Manitoulin Island.
"In different folklores, Manitoulin is considered the birthplace of, or the start of, Turtle Island—part of the origin story of the world," says Anong Beam, artist and executive director of the Ojibwe Cultural Foundation in M'Chigeeng First Nation.
Beam and her colleagues are dedicated "to nurturing the expression of Anishinaabe culture in all forms, so our art, language, stories, songs and teachings flourish now and remain strong for future generations."
On deck for summer 2019 is an exhibition by Christi Belcourt and Isaac Murdoch. "This is an active public art space that promotes Indigenous art," says Beam. Catalogues are published in Ojibwe, then translated into English. Artists working in the region include Ann Beam, Ursula Hettmann, Oliver Girling and John Hartman.
If you do find yourself in the Manitoulin area, also check out Neon Raven Art Gallery, featuring important works by Ann and Carl Beam.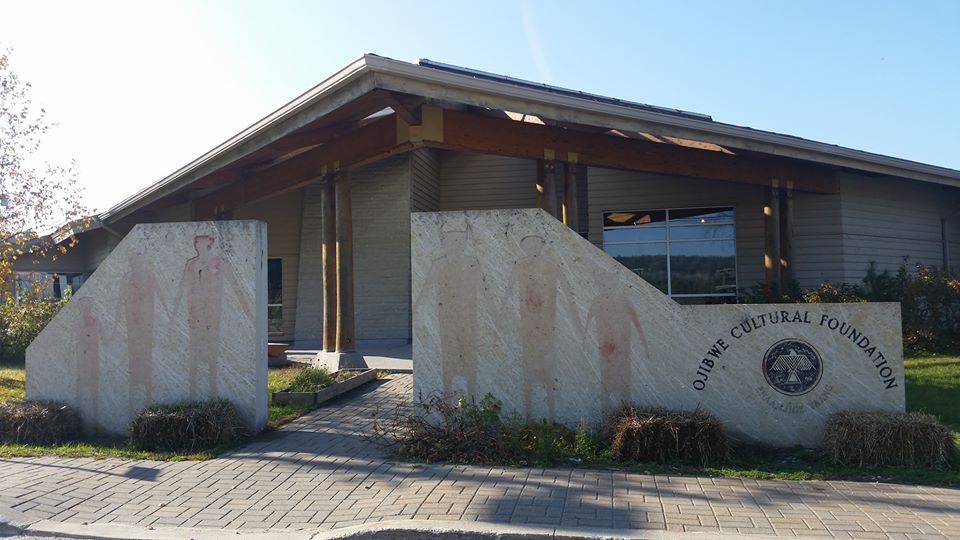 A view of the Ojibwe Cultural Foundation on Manitoulin Island. Photo: Facebook.
Sudbury Rising
A new creative spirit is visible in nearby Sudbury.
"In the past 10 years, there's been a burgeoning film production capacity up here," says Demetra Christakos, director/curator of the Art Gallery of Sudbury. "That has a great spillover effect, because artists of every technical capacity have found a new ability to support themselves."
Though the gallery has an emphasis on historical works—particularly those of Group of Seven member Franklin Carmichael, who had a cabin close by—it also supports contemporary artists.
"Over the past seven years, the urban art and music festival Up Here has produced large murals transforming downtown Sudbury," says Christakos. "Foire d'art alternatif, a project of the Galerie du Nouvel-Ontario, is great too."
Under Construction
Up north, several galleries are renovating or planning for new buildings, including the Thunder Bay Art Gallery and the Galerie du Nouvel-Ontario in Sudbury.
Opening soonest is the new $4.5-million Douglas Family Art Centre in Kenora, which is based on a major donation of Walter J. Phillips works from Toronto collectors Bryce and Nicki Douglas to the Lake of the Woods Museum. (Phillips used to summer in the area, and the Douglases continue to.)
Opening this fall, the new Kenora centre will have their Phillips gift on display to start, as well as works by the Triple K Cooperative and Professional Native Indian Artists Inc.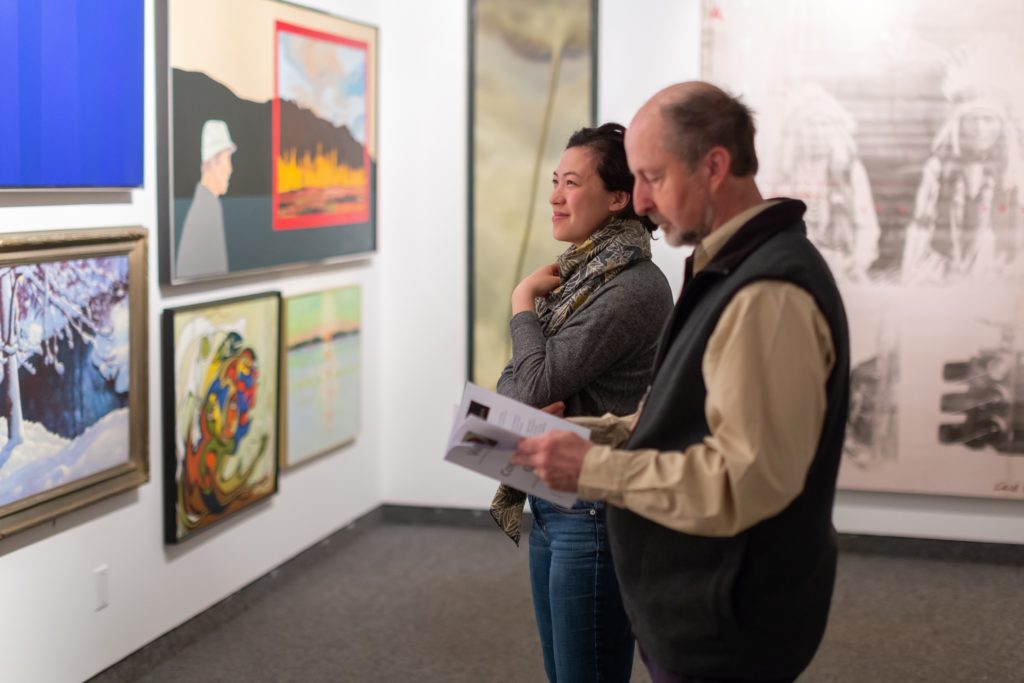 Tom Thomson Art Gallery visitors experiencing "Vault 6: Selections from the Gallery's Collection." Photo: Courtesy John White.
A Legend, Reframed, in Owen Sound
"We were originally established as a memorial to Tom Thomson, and we host one of the biggest collections of his works and personal artifacts," says Tom Thomson Art Gallery curator Heather McLeese.
"We have his mandolin. We have a really large palette that he worked from—that's my favourite. It's neat to see how he mixed his paints."
But this Owen Sound gallery also has 1,200 works by contemporary artists—some of which reframe the local landscape and its icon.
"There's work by really great Indigenous artists like Carl Beam, Norval Morrisseau, Arthur Shilling and Rebecca Belmore. And art by Edward Burtynsky, Diana Thorneycroft…our collection is just stacked."
Visitors can find more local views at the Owen Sound Artists' Co-op.
Some Northern Delights
In Sudbury, "Laughing Buddha has great pizza; we have a partnership with them to show local artists, and in summer they have a nice garden," says Christakos.
In Owen Sound, McLeese recommends the Milk Maid café.
And don't miss a drive through Killarney if you're in the Manitoulin area, Beam says: "I miss it terribly when I travel. It's classic Group of Seven landscape: very Canadian and very beautiful."
On the other side of the province, but also northerly, is the Timmins Museum: National Exhibition Centre, which is hosting an outdoor project on climate change this summer in partnership with National Geographic and the Canadian Science and Technology Museum.
Not to be missed in Barrie is the MacLaren Art Centre, which showcases fantastic art indoors and out—as well as within a quiet, elegant courtyard adjacent to the centre's friendly café.