Los Angeles–based artist Young Joon Kwak's latest exhibition, "THE CAVE," is set against the idyllic backdrop of the Rocky Mountains, glimmering and refracting queerness and questions of identity off disco balls, glitter tulle and bronze casts of hermaphroditic snails. The artist's epic three-channel The Maternal River of No Return (2018) takes Marilyn Monroe's The River of No Return (1954), filmed on location in Banff, and bends it to follow the characters Mommy and Baby Girl—as embodied by Kwak and her collaborator Kim Ye—on an exuberant alpine vacation, equal parts tough and tender. "THE CAVE" also includes works by Marvin Astorga, Shawna Dempsey and Lorri Millan, and Adrian Stimson.
This autumn, concurrent with Kwak's exhibition, a group of art writers, including Erik Benjamins, Ginger Carlson, Tao Fei, Maeve Hanna, Catherine de Montreuil, Ryley O'Byrne and Daniella Sanader, participated in the Banff Centre's Critical Art Writing Ensemble III. Organized by myself with guest faculty Filipa Ramos, the residency explored a variety of expanded forms of art writing. We had the opportunity to exist alongside Young Joon Kwak for the production, opening and duration of her show; we shared an idyllic setting and learned a similar symbolic language. What follows are individual responses to, and dialogues with, "THE CAVE."
—Andrew Berardini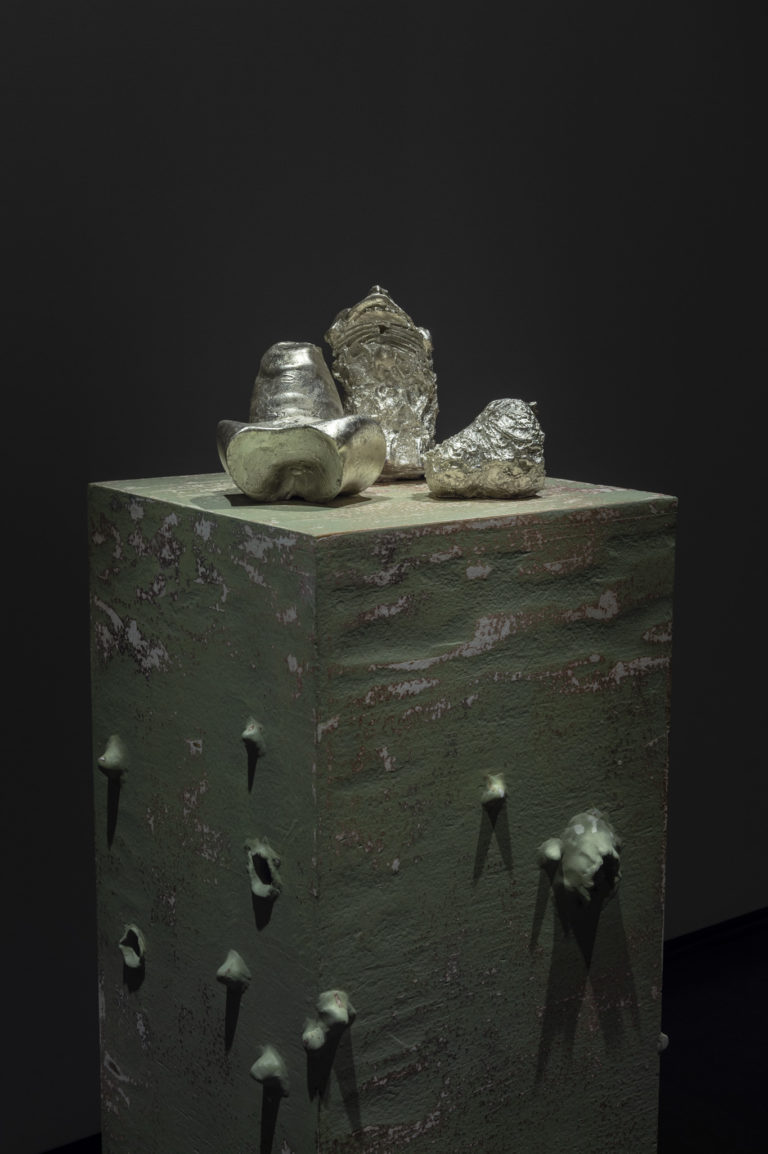 Young Joon Kwak,
Inverted Vaginis Masturbators V, VII,VIII
, 2017–18, with
Plinth II
, 2017. Courtesy the artist and Commonwealth and Council, Los Angeles. Photo: Jessica Wittman.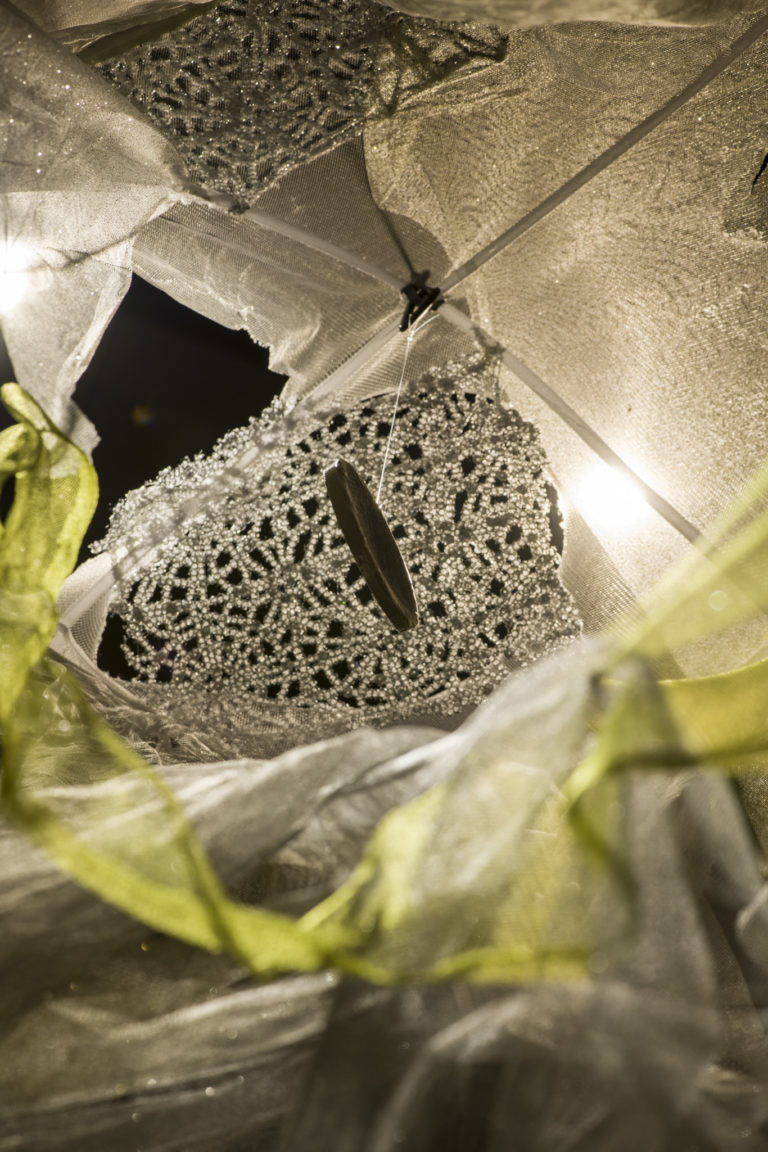 Young Joon Kwak,
Mommy and Baby Girl's Glamping Tent
, 2018. Courtesy the artist and Walter Phillips Gallery, Banff Centre for Arts and Creativity. Photo: Jessica Wittman.
In Glacial Repose
In glacial repose laid two in love. Bathing in a melty, technicolor sherbet of spandex, cotton and makeup, they radiated from the centre channel of the video projection, a soft digital haze, oversaturated, in breathy slow motion. Have you ever moved through a hot, undulating landscape of two resting bodies, caught in cool-down? Eyes opening and closing and gazing—and returning your gaze. What vista! This was a celebration of a fierce partnership aglow and it was one of the most tender things that I had ever seen.
—Erik Benjamins
Protection and Shelter
The sparkling glint directed at my eye is profuse: a gemstone vision of a wilderness fit for Mommy and Baby Girl.
Inventive genitalia, at times with the texture of a Giacometti sculpture, are cave ornamentation; all-seeing vaginas become wall fixtures or fountains. Frozen mid-explosion, a busted disco ball still produces its cheetah-spot reflections—a Mad Max version of the dance party essential.
Have the dual-gendered molluscs castrated these oversized balls from their penile counterpart? I'm not sure. Above, a small nub of the bronze snails hangs together as stalactite.
The cave is entrapment and claustrophobia.
The cave is protection and shelter.
The cave is a glittering, metallurgical transformation in the wild.
—Catherine de Montreuil
Tourist
A cave is a crevice and inside is your notion, a notion, of the feminine. It's a complicated kitsch, queerly constructed. Hair blonde, nails red, lashes long and spindly.
Baby, you have flawless skin, speckled with freckles. At the opening you cry in the bathroom, mascara running down your cheeks. (Tears are a kind of communication). You call me Girl so many times. Girl, you say, Girl. That night the video loses bits of its fiction, begins fusing with the evening and our interactions. Is it a satirization or a documentation of your experience of womanhood?
Mommy asks Baby, why are you so weak? Baby cries, slurps up cup-o-noodles and eats kimchi from the dirt. A fragmented disco ball spins above, a little too slow. (There is an optimum speed for such things, if rotating too fast the reflected light makes dancers dizzy, delirious, but too slow and the atmosphere is dispirited). You make soft fleshlights hard, cast in bronze. Is this what we look like, feel like, from the inside? The sparkling opalescent tent calls to me, like a little oasis, but it also threatens another reality I'm not sure I'm made for. I don't think I live your version of the feminine, but we overlap here and there—sparkles, snails, tongues pushing out of pussies, camping or just camp, the shining star that is Marilyn, and fragile ankles.
I am a tourist in your town, Baby, happy to be here—and then happy to leave.
—Ryley O'Byrne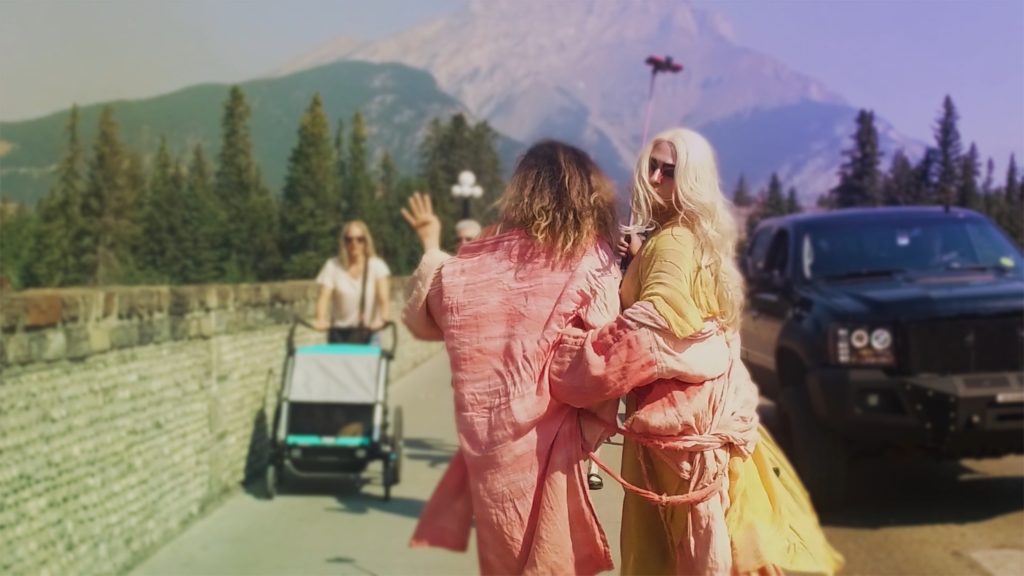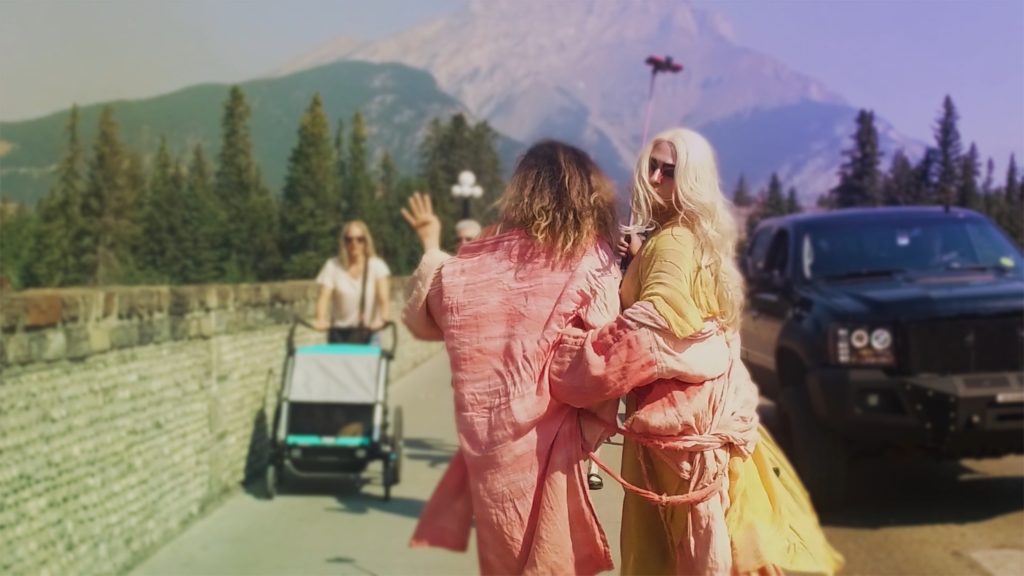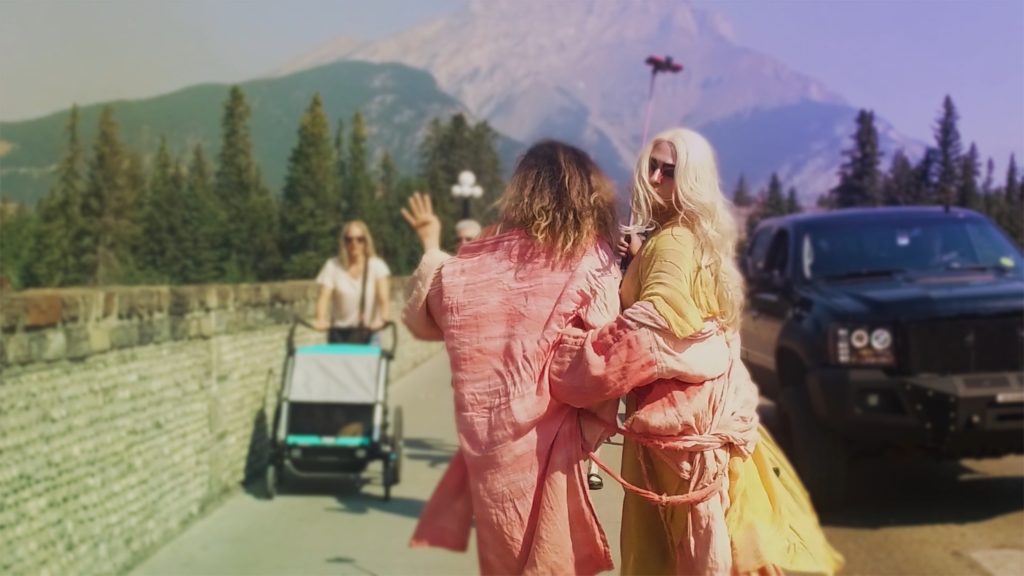 Luv and Kisses Everlasting
Hey gurls,
I wanna say I am so proud of u.
Thank u for picking up my showgirl shoes from off the street.
What on earth took u so long? JK
Oh, how I regret throwing them away like that just to shack up in the country with that drunk. I didn't know any better (plus all that fresh air made me horny tbh).
But I'm looking down now and seeing you both makes me wanna sing again. Snaps!
Baby, u look fabulous in my sweater. The twins are looking per-ky!
I know Mommy's tough on you but she means well. Gosh, I only wish I had a momma bird like that. Just look at that cute af cowgirl outfit she picked out for you. Gagging!
Try to enjoy the scenery hun. And stay away from Mr. Mountie unless Mommy says it's ok.
Mommy, you banjee b!%#*, luv you to bits. That glitter bomb tent you built is giving me LIFE. A heaven on earth! How did you manage to pack all that lace?
Let me tell you, there simply aren't enough pills to make me forget those miserable, dank cabins I had to endure with those boys. Zero. Ambiance.
Daughters, what I wouldn't give right now to be back in those mountains with you, playing dress up all day, running our scenes, being so extra we're our own damn paparazzi. Lol
PS: Luvved the slutty boho effects you were serving down on Banff Ave. Thank gawd someone finally showed that dreary town.
Luv and kisses everlasting,
Marilyn
—Tao Fei
Radical Moves
You hear the sounds of Mommy and Baby Girl throughout the gallery as you sit quietly in their glamping tent. It's an exquisite cacophony of pleasure: ambient sounds cascade and sparkles glitter around you while you marvel at the atmosphere of indulgence. Every part of your body radiates and oozes with delight uncontrolled in "THE CAVE." It's celebratory as much as it's strange and sexual, straddling the worlds of kitsch and queer art. And straddling is apt. The appeal of this exhibition is hot, messy and delicious—luscious, like a jungle of radical moves.
Marvin Astorga's composition plays gentle and tender, waltzing toward your eardrums, twinkling delightfully as you walk, dazzled. Peer into a red orifice and encounter the tiny snail hidden at the core of this joyous measure, a succinct metaphor for the androgynous. Marvel at its left twirl. Be together and rejoice.
Glowing and dewy you sit in this radiant cave, with iridescent pink mermaid tears and gold glowworms shimmering with gold-flecked sheen. Underneath you is Banff soil, grounding you. You're moored by silver dusty casts of dirt and the single shoe a dancing girl might wear, dug deep into the ground. You have never felt more accepted and in your right place.
—Maeve Hanna
Eight Essential Things for a Banff Vacation
1) The acid-wash miniskirt with the crinoline, the one that pairs well with the wide leather belt and the lacy bustier. A baby femme western look that's perfect for walking along pastoral hilltops in blonde pigtails.
2) The crisp white cable-knit sweater with the high neck. You know, the Marilyn-blonde vibe—demure-yet-kinda-slutty, it's good for colder weather.
3) The denim jumpsuit for the "angry mommy" number. Can be worn with elbow-length gloves and the orange jewelled necklace: an upgrade to luxe angry mommy, if the mood strikes.
4) Blue shimmery eye shadow (the formula that smears on teary cheeks).
5) The loose jacket with the long ties. Wrap these around Baby Girl so you can continue to drag her, kicking and screaming, up the goddamn mountain when that little bitch falls out of line.
6) That iridescent sun visor that frames your face in an oil-slick halo.
7) Sheer pantyhose—extra. They'll probably get torn.
8) Dreamy soft-focus robes in pink, orange and yellow. They'll trail behind you, picking up stains from the dirt, asphalt and well-manicured grass, but don't worry: consider this another souvenir of your time together, your leisurely walks down Banff Avenue and those moments when the days bleed together in a hazy, sun-drenched panorama—fingers intertwined on the sidewalk; tinsel-edged slow mornings in the glamping tent; waxy smears of red lipstick and tangled black hair. A family portrait.
—Daniella Sanader
Does It Even Have An Inside Anymore?
Meet me in the town at golden hour, the soft light will frame your eyelashes and hair. A strut, a languid slow walk in stilettos. Sorbetto sweet fabrics float and sink in time with your steps through the slick streets, and wrap tendrils around your neck.
Near the water, perform a portage for two—make it clumsy and light, your bandaged ankle obscuring your glassy pump. Stepping, stumbling, carefully hidden behind your body at times. Marilyn, you fell into the lake and you met a Mountie. He joined you, even though he was not invited.
Find a cave and push it inside out. Cast its ends and its beginnings, its never-ending beginnings, in mercurial metals that move upward. Does it even have an inside anymore? In the gallery, a mirrored fountain points to those eyes that surveil you and bodies like yours; in the film you blur their faces.
—Ginger Carlson