I've just arrived home in Toronto after spending five days in Regina for Performatorium, the prairie city's small but mighty international festival of queer performance. I was invited as a writer-in-residence to reflect on the festival proceedings, yet in the midst of packing, I wondered if this intensive immersion would diminish the presumed criticality of my role. After all, spending five days in a tight-knit group of queers from Saskatchewan, the UK, USA and Mexico—sharing numerous walks, meals, conversations, drinks and karaoke songs—is not the classic equation for intellectually distanced art criticism. As it turns out, my week with Performatorium has reminded me that writing about performance work is already about sorting through messy and conflicting states of attachment, complicity, intimacy and difference. The karaoke is a welcome bonus.
Performatorium is the little-sister festival to Queer City Cinema, a venue for LGBTQ+ short films and experimental video work that's been in operation in Regina for 20 years. Both are curated by executive and artistic director Gary Varro, and this year saw not only a shift in location from the artist-run Neutral Ground to the Dunlop Gallery, but also the re-merging of both programs under one unified festival banner. The theme was EXPOSE, as articulated in Varro's welcome statement: "to lay open to danger, attack harm / to expose oneself to the influence of bad companions / to uncover or bare to the air, cold / to present to view, exhibit, display / to make known, disclose, or reveal." In the interest of space, my focus here is Performatorium, but the details of the film program are available online.
This week, I was exposed to Emilio Rojas's elegy for the victims of the Pulse Nightclub shooting as filtered through Félix González-Torres and Oscar Wilde; Zachari Logan's delicate floral drawings, another commemoration of queer lives lost in Orlando; Francis Marion Moseley Wilson's labour through the visceral, intimate and cartoonish limits of taxidermy; Lechedevirgen Trimegisto's virtuoso display of hyper-masculinity and homophobia; Robert Hardaker's ambitious 13-hour exercise in self-transformation through wool and clay; and lastly, Keijaun Thomas's clarion call for black femme bodies on city streets. (An additional performance from UK artist Kris Canavan, designed as a procession through the streets of Regina, was cancelled due to last-minute health problems that restricted them from travelling.)
This week, I've also been thinking through the politics of mourning in public in the wake of Orlando; the radical power of intimacy; the legacies of the HIV/AIDS epidemic in queer life; the urgencies of black, brown and Indigenous deaths throughout the United States and Canada; the crucial necessities of comfort and pleasure; and the difficult questions of performing for an audience that is not present (while eschewing the one that is).
These are my (messy, conflicted, too close and too distant) notes from Performatorium.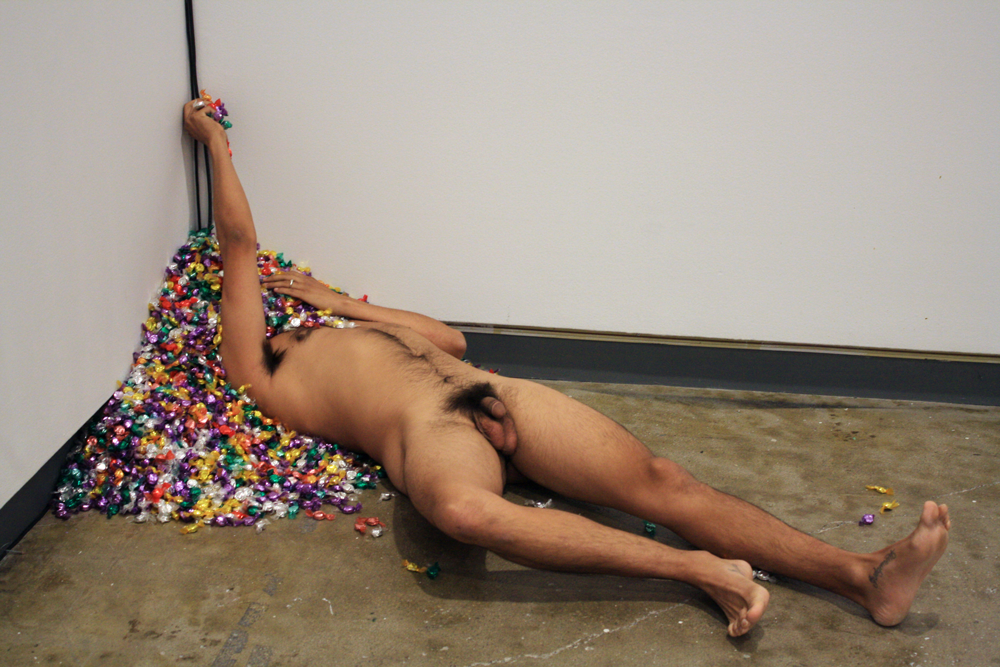 Emilio Rojas, Alien Tears, 2016. Photo: Jason Cawood.
"Take them, that's what they are there for."
The first night, Emilio Rojas (Mexico/USA) and Francis Marion Moseley Wilson (USA) shared the Dunlop. For Alien Tears, Rojas used his naked body to push another body back and forth across the gallery floor: an accumulated pile of multicoloured candies, collected in handfuls from countless trips to the Art Institute of Chicago. It was one of Félix González-Torres's famous portraits of his partner Ross Laycock—lost to an AIDS-related illness in 1991—his ideal body weight rendered in the colourful mass of sugar and cellophane. After an extended stretch of pushing Laycock's body with his, Rojas arranged the candies on the floor, spelling out a line from Oscar Wilde's 1898 poem of exile and incarceration, "Ballad of the Reading Gaol," and read the names of the 49 victims of the Orlando Pulse shooting.
Alongside Rojas, Wilson's Cuddle also considered the displacement and arrangement of bodies we mourn. Trained previously as a taxidermist, the artist cut open and skinned a dead white rabbit, swapping out its insides with those of a Build-a-Bear–brand stuffed teddy (complete with a cartoon heart and plastic voice box repeating "I love you, I love you"). Subsequently, she slept on a small bed on the gallery floor, practically motionless, embracing the newly configured bear.
At first glance, Rojas and Wilson's endeavours couldn't have seemed more opposed—Rojas was naked, his materials colourful and widespread, his work overlaid with audio of spoken reflections and Latino dance music, while Wilson was silent, concentrated, with stained cotton whites and chrome silver scalpels. Yet both presented dense and complex ethics around the bodies we mourn.
In his audio, Rojas recounted his experiences of slowly transferring Laycock's body out of the Art Institute of Chicago, the homophobia and racism levelled at the piece by visitors initially entranced by the candy then belatedly disgusted by its significance, and the repeated explanations of museum security guards ("take them, that's what they are there for"). Yet Rojas's own attempts at removing Laycock piece-by-piece from the museum, alongside Wilson's leaky taxidermy, deftly reveal the all-too-human fallacies of ownership in the face of loss.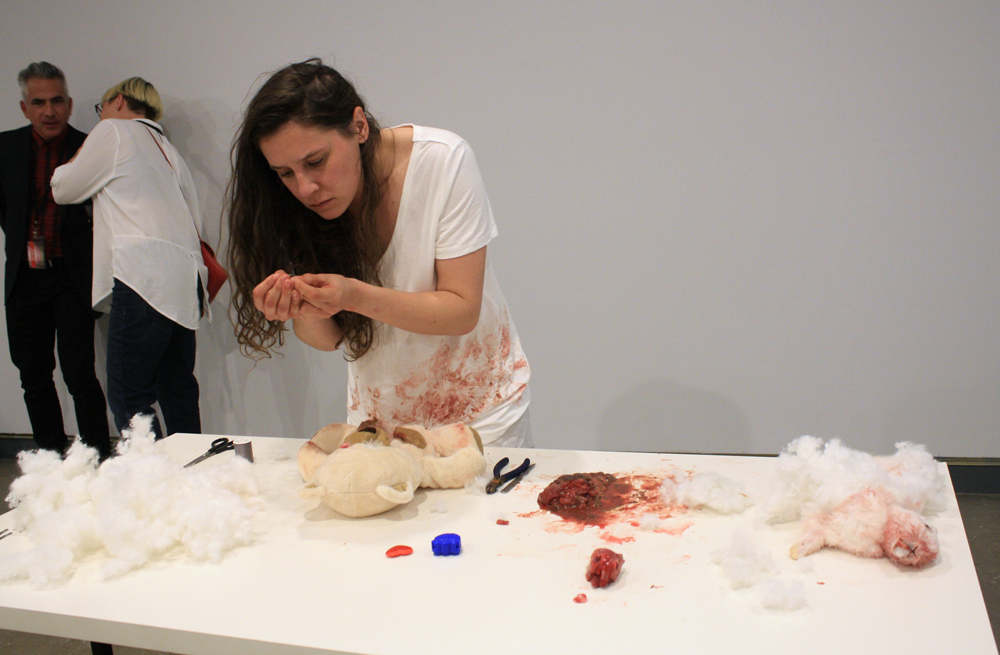 Francis Marion Moseley Wilson, Cuddle, 2016. Photo: Jason Cawood.
Rojas isn't interested in reclaiming Laycock's body, and neither was González-Torres: pieces of candy perpetually tumble away, get lost, eaten, are replaced within the institution. Wilson's newly stuffed teddy bear reeked of viscera, its white fur matted and brown, the preservation tactics of taxidermy turned sour. For Rojas and Wilson, all that was left were small, imperfect moments of shared intimacy: Rojas lying within the mound of candy, pieces digging into his bare skin. Wilson cuddling closer, slowly staining her white sheets and T-shirt strange tones of pink and brown.
In the meantime, Zachari Logan (Regina, SK) was performing a durational drawing project that spanned the course of the entire festival. Stationed in the window vitrine of the Dunlop, individuals met with Logan and selected one of 49 flowers from an overflowing bouquet: like a candy or teddy bear, another symbol of human comfort. For 15 minutes, Logan drew a portrait of the sitter through their chosen flower—each bloom standing in for a victim of the Pulse shooting. I sat with Logan on the second night, and watched him work in his characteristically delicate yet ornate style. Our conversation ambled in a number of directions—the Sigmund Freud Museum in Vienna, the sudden death of Annie Pootoogook, visiting Art Toronto—yet was cut short at the end of the appointment.
The drawings were to be taken to his Regina gallerist to be sold, with 50 per cent of the proceeds going to benefit a Pulse charity—yet I'll admit, I was disappointed to learn that each flower-portrait was priced well beyond my financial capacity. Logan's strategy to leverage the commercial value of his practice to the benefit of Pulse families was a smart choice, to be sure, and our conversation was a reminder of the healing work in simply spending time with each other in the wake of tragedy. Yet within a festival surrounded by such dense and difficult explorations of the memorialization of queer lives, I wonder (politically) about this uneven point of access, and (emotionally) about this shared moment of public mourning, now beyond my reach in a private/commercial realm.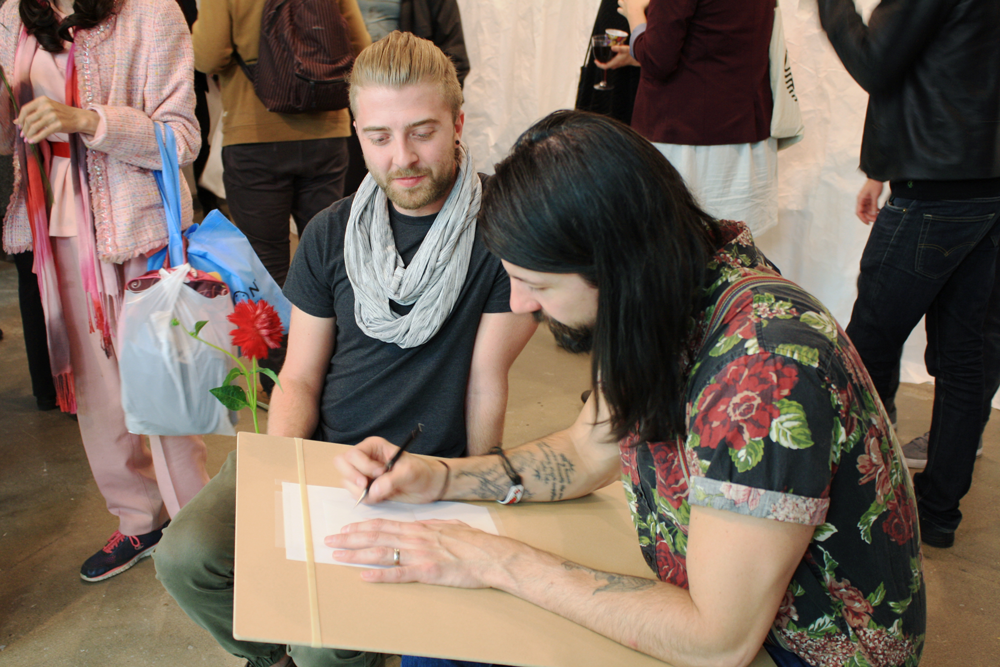 Zachari Logan, 49 Flowers, 2016. Photo: Jason Cawood.
"Our performer has survived, let's give him a round of applause!"
At a festival of queer performance, a theme such as EXPOSE will undoubtedly lead to some nudity. There's a strong legacy for exposing oneself in queer work (and performance art in general) and a uniquely complex web of associations for the naked body on display: empowerment, exploitation, sensationalism, vulnerability, abjection, sexuality, ability. Performatorium's artists spoke at length about vulnerability across the week of the festival: a body vulnerable to the elements, to its audience. Bodies unevenly vulnerable to homophobia and transphobia, police brutality and institutionalized racism. Vulnerability as a state of giving up one's power, or a strategy for reclaiming it.
The second night of Performatorium saw two performances about the toxic limits of masculinity, by two artists who leveraged their exposure in vastly different ways. Lechedevirgen Trimegisto (stage name of Felipe Osornio, of Queretaro, Mexico) presented Inferno Varieté, a bombastic hour of lip-syncing, stripteasing and bloodletting. Trimegisto—framed by the structures of display familiar to rock stars, magicians and the like: dramatic lighting and music, an elevated stage, an MC goading the crowd into fanatic applause—led us through feats designed to champion (and undermine) his own masculinity. He arm-wrestled members of the audience, doused himself in gasoline, spray-painted homophobic words in English and Spanish across his naked body, all with blood pouring liberally down his forehead from piercings made moments before the performance began.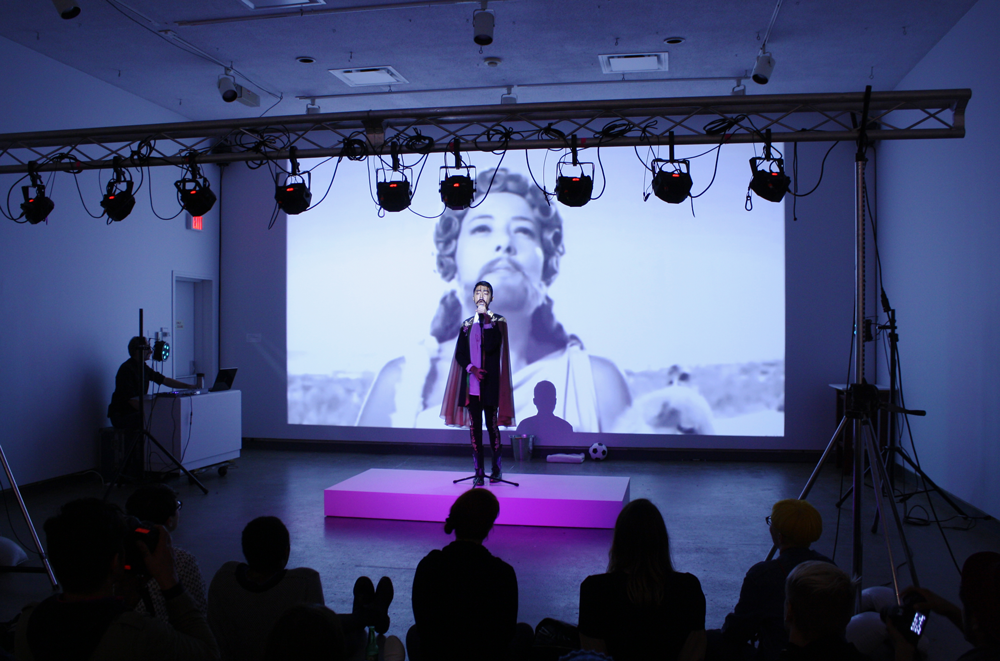 Lechedevirgen Trimegisto, Inferno Varieté, 2016. Photo: Jason Cawood.
Throughout Inferno Varieté, Trimegisto transitioned deftly from bravado to vulnerability, abjection to satire, his MC guiding our participation: "Our performer has survived, let's give him a round of applause!" My personal Performatorium highlight? Watching a blood-soaked Trimegisto carefully replicate poses from classic male nudes (Michelangelo's David, Rodin's Thinker, crucified Christ) with a soccer ball. Two minutes prior, my largest Performatorium wince: Trimegisto dangling two heavy bull testicles on strings tied tightly to his own genitalia, perhaps the ultimate satirical image of a hyper-masculine performance artist seeking self-aggrandizement through pain.
London, UK–based Robert Hardaker's Chant (cleanse) matched Trimegisto's bombastic soundtrack with glacial silence. From sunset to sunrise, the artist paced about the cold and cavernous CanSask Soundstage, an underused production studio near the city's Wascana Lake. I sat with Hardaker for nearly eight hours of their ambitious 13, watching the artist engage with large piles of clay and dirty, just-shorn wool. Hardaker used these materials to push at the limits of their (also naked) body: covering their skin with clay and roughly scrubbing themself clean, wrapping their body in large cocoons of wool, wavering between states of sleep, effort and the occasionally abject (pissing, shitting).
There's something to be said for Hardaker's choice in material—raw, almost alchemical, substances evoking both the mercurial powers of sculpture and a brand of Joseph Beuys–esque mysticism—yet Chant (cleanse) didn't fully meet the urgency of other Performatorium projects. I was left wondering about the economies of endurance in performance work: if an extended length should always readily equate to sublimity, if physical difficulty is always necessarily transformative. Yet, sitting with Hardaker at 3:45 a.m., us both in a sleepy, cold and uncomfortable haze, it was easy to locate an intense intimacy, that connective feeling that makes much queer work so powerful.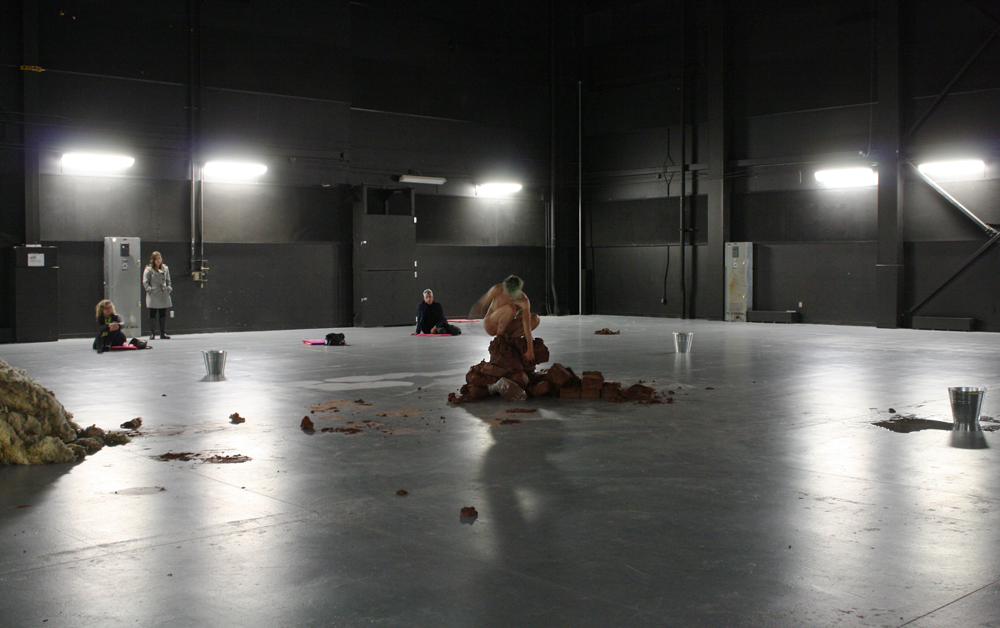 Robert Hardaker, Chant (cleanse), 2016. Photo: Jason Cawood.
"It's always for us, always for us."
Before New York–based Keijaun Thomas's performance on the final night of Performatorium, the artists and I participated in a roundtable discussion. The conversation naturally veered toward questions of exposure and nakedness, and after some back and forth about the empowerment and/or vulnerability of bare flesh, Thomas reminded us that vulnerability can exist as emotional and political states as well. A few hours later, her performance embodied these questions of exposure and display: Distance is Not Separation: She's Hard, She Q unfolded in a complex network of relational acts with between Thomas and her audience, creating the difficult and necessary realization that we don't all exist in relation to her (black, trans, femme) body in the same ways.
Thomas had filled the Dunlop with an arrangement of everyday objects, commodities associated with varying degrees of whiteness: sugar and flour, cups of white glue, Tide detergent and saltine crackers lining the entrance, crunching under our feet. As she moved through the space, Thomas invited audience members to use the objects on her body; we poured white glue on her skin, pressed pieces of cut hair onto her sticky arms and legs, watched her weave through rows of seated spectators. She bound herself in packing tape, pushed a line of white flour along the floor with a wide broom held in her teeth.
Every action was done with deliberate attention to her audience, and it became clear that she wasn't approaching us evenly. As a group of us scrubbed her skin with watery Tide detergent, Thomas recited a text about the crucial solidarity between racialized femmes, and she culminated her performance with a direct dedication to the POC members of her audience—"it's always for us, always for us"—by inference, a reminder to her white viewers that what we're witnessing isn't ours and never will be.
In my mind, one of the most significant moments of Performatorium 2016 was watching Thomas crawl through the audience with a silver serving platter, occasionally stopping next to someone and holding the shiny surface up, angling to catch both their reflections at once. This was evidently a strategy for us to visualize our complicity with her body, obstructed with packing tape and smeared with white glue. Yet I wonder if this was also her attempt to look beyond what we could offer her, to seek out those not present at the Dunlop on this Saturday evening.
Earlier that day, Thomas had spoken about the frequent separation between audiences she is performing in front of and those she is performing for: an imagined network of dedication connecting generations of queers and racialized people across history.
In the vast and varied projects at Performatorium, this idea is a resonant one—who we are present for, whose absences are felt, what stands in for those missing pieces. This is what keeps queer performance work so vital and necessary: it opens up these warm and tight-knit Regina audiences to communities of queers beyond the Prairies, to those across borders both physical and temporal, to those no longer with us and those about to be.
Daniella Sanader is a writer and researcher based in Toronto.