Vancouver-based Vanessa Brown's 2016 body of work The Hand of Camille calls into question the visibility of women and their erasure from art histories and institutions. Brown's exhibition—titled after 19th-century French sculptor Camille Claudel, whose work was largely overshadowed by her lover Auguste Rodin and remained in relative obscurity until the mid-20th century—reflects on the often-invisible labour that comprises art- and exhibition-making through a series of sculptures fabricated primarily in steel. Executed in delicate geometric and figurative forms, the works push their thin armatures to stretch beyond the conventional semiotics of steel—which attribute weight and dimension as indicators of success—and instead evoke the subtleties and tactility of the medium. A simultaneous exploration of form and of the gendered idiosyncrasies involved in working with industrial materials, The Hand of Camille poetically reinserts the female hand that produces as a counter to those other hands that have often appeared more visibly.
The subject of visibility is of considerable relevance to women artists working in sculpture with industrial materials. In some cases, women are highly visible, by virtue of the anxieties of working in mostly male spaces or with mostly male fabricators. In others, they are hardly visible at all. They exist as preparators and artist assistants whose labours and hands fade into the background, or as artists in their own right, whose works are nonetheless unacknowledged or underappreciated. While Brown's practice operates within a unique set of historical, political and social circumstances, her inquiries into material and artistic status also have great bearing on sculptors working in Alberta, where the oil and gas industry has made steel and scrap metals, as well as heavy industrial and metal fabrication technologies, more readily available than in other art centres. In Calgary and Edmonton, two counterpoints in the Prairies catalyzed by access to industrial materials and deeply entrenched Modernist art histories, there have been many important and influential women artists working with these materials who have remained only modestly recognized and appreciated outside of the province.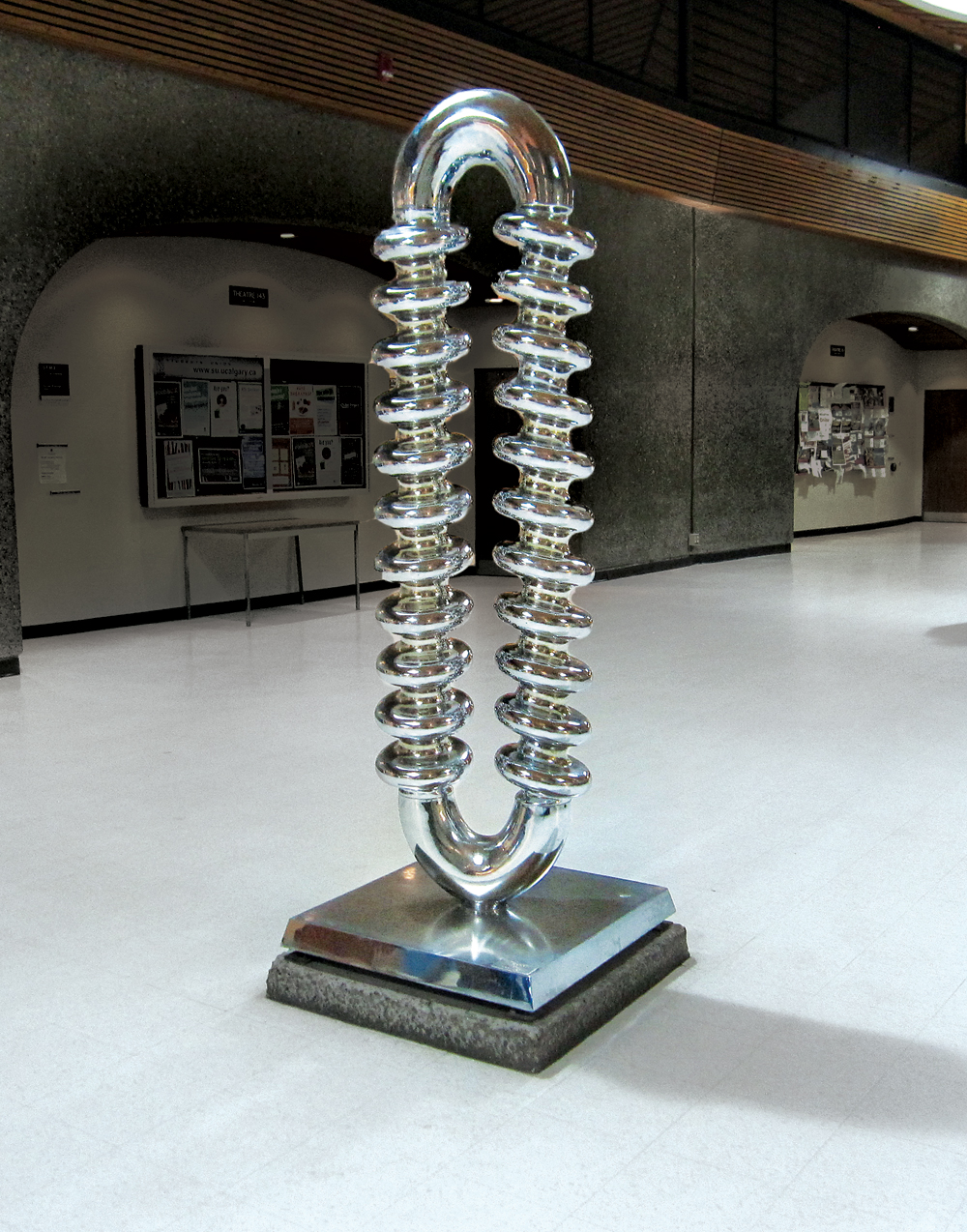 Katie Ohe, Zipper, 1975. Welded steel, chrome, mechanical rotary parts, 2.39 m x 76.2 x 76.2 cm. Photo: Serita Rana.
Katie Ohe was one of the first artists to work in the field of abstract sculpture in Alberta. She has lived and worked in Calgary for the majority of her career since graduating from the Alberta College of Art and Design in 1957. Ohe has established herself as an icon of considerable generosity, while mentoring and teaching at Mount Royal College, the University of Calgary and ACAD over the course of her nearly 60-year career. These practices will continue at the Kiyooka Ohe Arts Centre, a charitable society dedicated to the promotion of contemporary art, which, in addition to housing an art gallery and a sculpture garden, will be a mentoring and research centre, providing studio space, a residency program and access to Ohe and her husband Harry Kiyooka's library and sculpture facilities.
Recognition of Ohe's work came gradually. While she has participated in exhibitions, primarily in Alberta and outside of Canada, and has completed many high-profile public-art commissions, her visibility has not yet reached the level befitting an artist of such regional importance and influence. On the University of Calgary campus, generations of students have touched and rotated her seven-foot-tall steel-and-chrome Zipper (1975) in the hopes that it might render luck and magic. At ACAD, Janet's Crown (2001), a tribute to Alberta artist, educator and mentor Janet Mitchell, overlooks the city and spins gently among a constellation of stainless-steel stars.
Catherine Burgess, Echo, 2012. Steel and granite, 2.03 x 1.6 x 1.88 m overall.
In Edmonton, where abstract formalist steel sculptures have a distinct regional tradition, Catherine Burgess has similarly forged a path into the medium, a generation after Ohe, as one of only a handful of women artists working in steel. While Burgess initially created formalist work in line with her male peers, motherhood acted as a catalyst for reexamining the narrative and subconscious potential of her sculpture. Like Ohe, Burgess was a mentor and teacher to emerging artists, in her case, at the University of Alberta. Burgess's public sculptures wind through the downtown core and into the suburbs, with large-scale projects in Edmonton and suburban Sherwood Park alongside collaborators Sandra Bromley, Walter Jule and Royden Mills. Her most recent public sculpture, Return (2001), located on Jasper Avenue, gracefully twists and turns upwards from its base, three spiralling stacks of 393 individually cast aluminum rings.
Like Brown, Ohe and Burgess perform and unfold their sculptural forms to encompass and expose the matrix of steel's mutability and its potential for intimacy. Ohe's sculptures respond and move with the viewer, inviting touch and participation through tactility and performance. Pushing against the static monumentalism often implicated in large steel sculptures, her works are forged with interaction in mind and invite us to experience the potentiality of form in space, through spinning, rocking and leveraging precise weights toward continuous motion. Burgess's sculptural forms poetically articulate philosophical and psychological concepts, constructing objects where thin steel, bronze and other metal armatures frame a counterweight of voids and spaces. In her exhibition "Absence / Presence" (2012), for example, steel and metals converse with stone while thin planar steel shapes open up the walls and floor space of the Art Gallery of Alberta, like absences that enter into the unknown and invisible.
Ohe and Burgess, alongside other pioneering artists working in sculpture and installation—Bromley, Lyndal Osborne and Isla Burns in Edmonton, Rita McKeough and Shelley Ouellet in Calgary and Kainai-Blood artist Faye HeavyShield, to name a few—have contributed much over the last 40 years to the forging of space and the mining of visibility for women artists working in Alberta. The prevailing theme, here, is of a multiplicity of hands working together toward greater celebration and exposure of diverse practices; the expansion of networks, resource sharing and mentorship; and unsettling dichotomies to make space for new readings, new counter-histories and new systems of equity. They prove that the process of making visible is not a monolith, but a multiplicity. 
Ginger Carlson is a curator and writer based in Calgary, where she is currently the director of Truck Contemporary Art. Carlson was also the winner of the 2016 Canadian Art Writing Prize. 
This post is adapted from an article in the Fall 2017 issue of Canadian Art, themed on "The Idea of History." To get every issue of our magazine delivered to you before it hits newsstands, visit canadianart.ca/subscribe.