Wahkohtowin means everything is related. We are all related and we are home. This is what was running through my mind as I listened to the Métis artists and curators behind "Li Salay" introduce themselves and their work at the symposium marking its opening. It was a homecoming that I, and many other Métis, didn't know was coming—or needed.
"Li Salay" needed to happen, a sentiment echoed by the exhibition's curators, Amy Malbeuf and Jessie Short, and all 13 artists in the exhibition. According to Malbeuf, what prompted them to embark on this endeavour was that "Métis art was rarely curated by other Métis" and she "wanted to see Métis art properly contextualized." "Li Salay" frames Métis contemporary art within Métis methodologies and worldviews, reminding the viewer that Métis art is dynamic and evolving, like all other aspects of Métis culture.
On the first day of the "Li Salay" symposium, many of the artists addressed feeling that they didn't belong and that they felt alone both under the umbrella of Indigenous communities and within settler communities. They felt as if they didn't fit into one or the other, and there was a shared feeling of loneliness and lack of community. Many Métis didn't grow up with traditional Métis symbols; rather, they were disconnected from Métis cultures and art. But that doesn't make them any less Métis.
Amanda Strong, one of the exhibiting artists, noted that through her work she is moving away from the idea that the sash and jigging are the definitive Métis symbols, and she is celebrating the diversity of Métis culture. "Li Salay" created a community the artists had craved through kinships that tied them together. The works in "Li Salay," although ranging across a vast array of mediums from quilting, painting and beadwork to new media and performance, reflect shared loneliness and newfound kinship.
When I first walked into the gallery I felt a presence—an unknown energy resonating throughout the space. This energy emanated from the works and artists, taking up space within the white cube and asserting Métis presence. The curators consciously wrote many of the exhibition's didactics in Michif and allowed the artists to choose the language their didactics were written in, depending on how they felt their works flowed through; this added to the connective energy of the exhibition.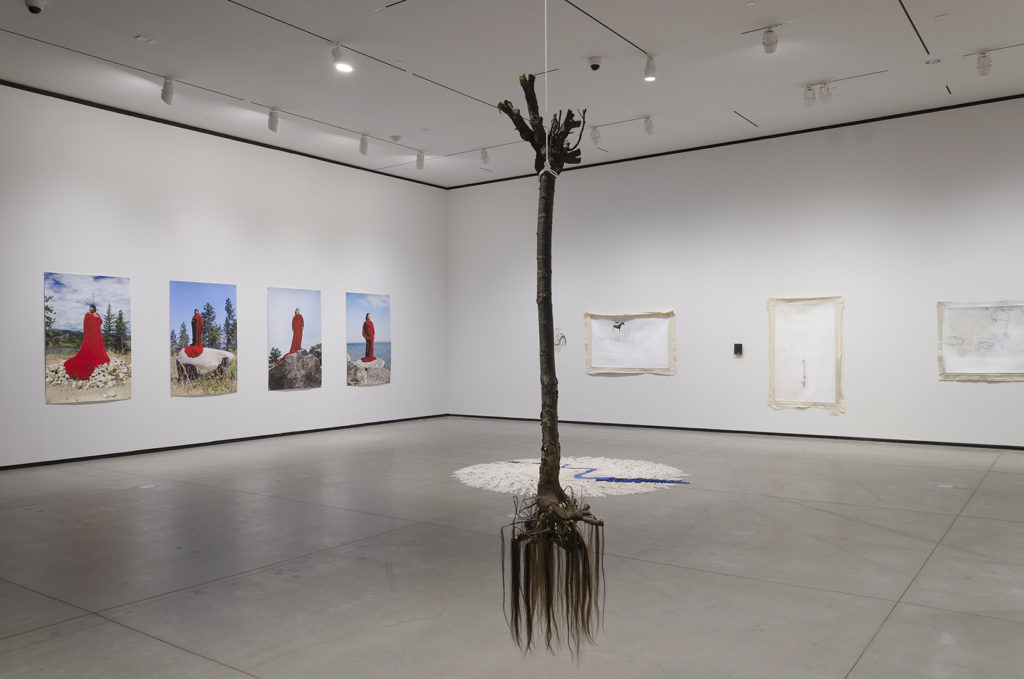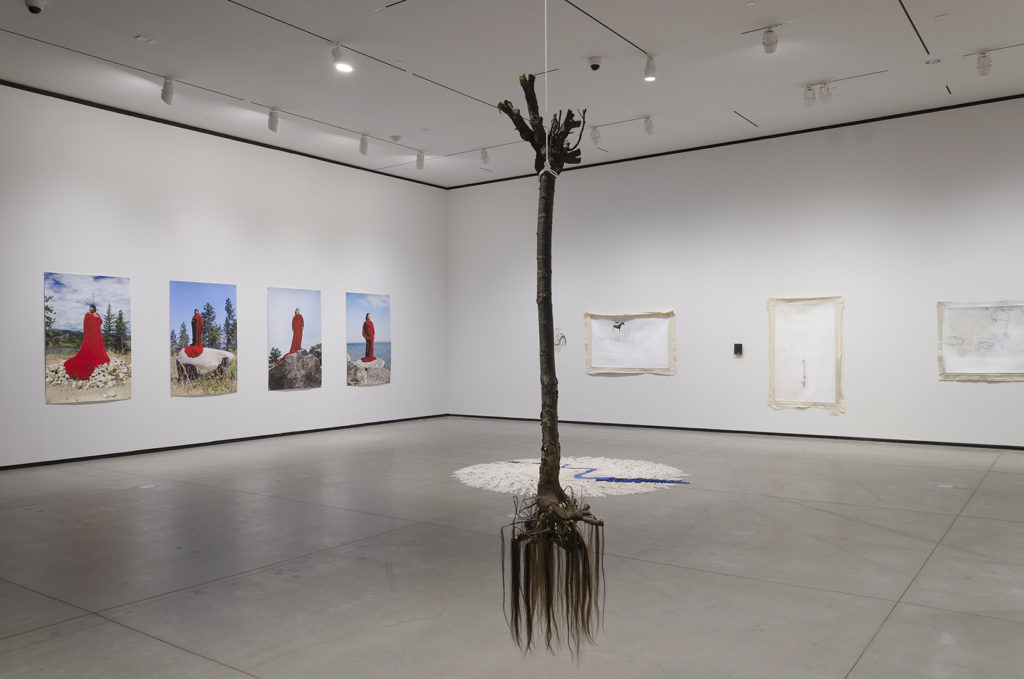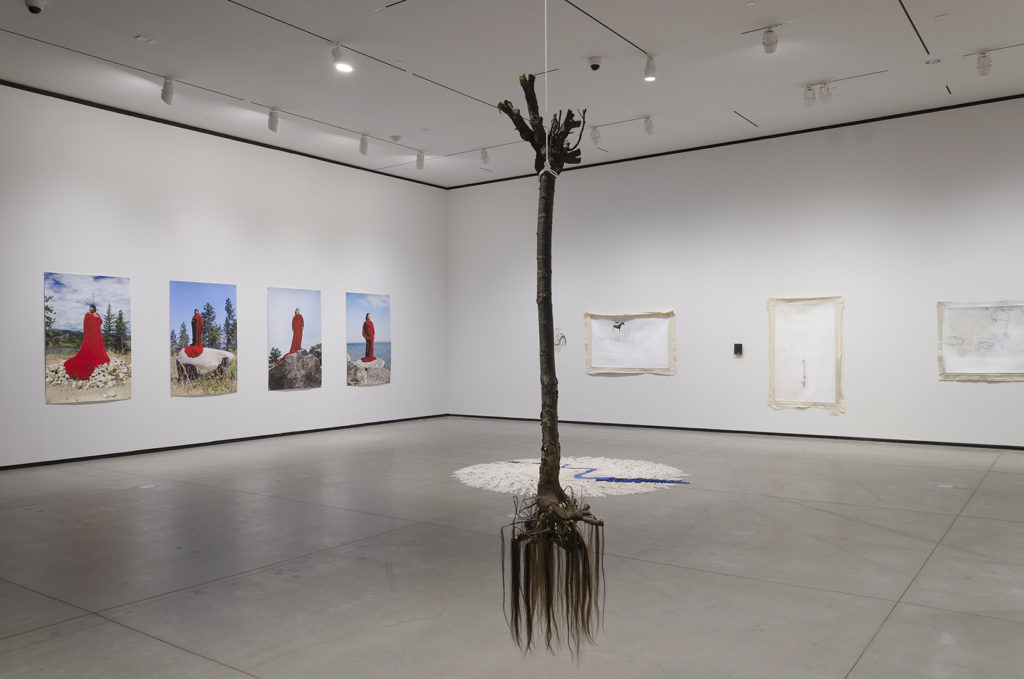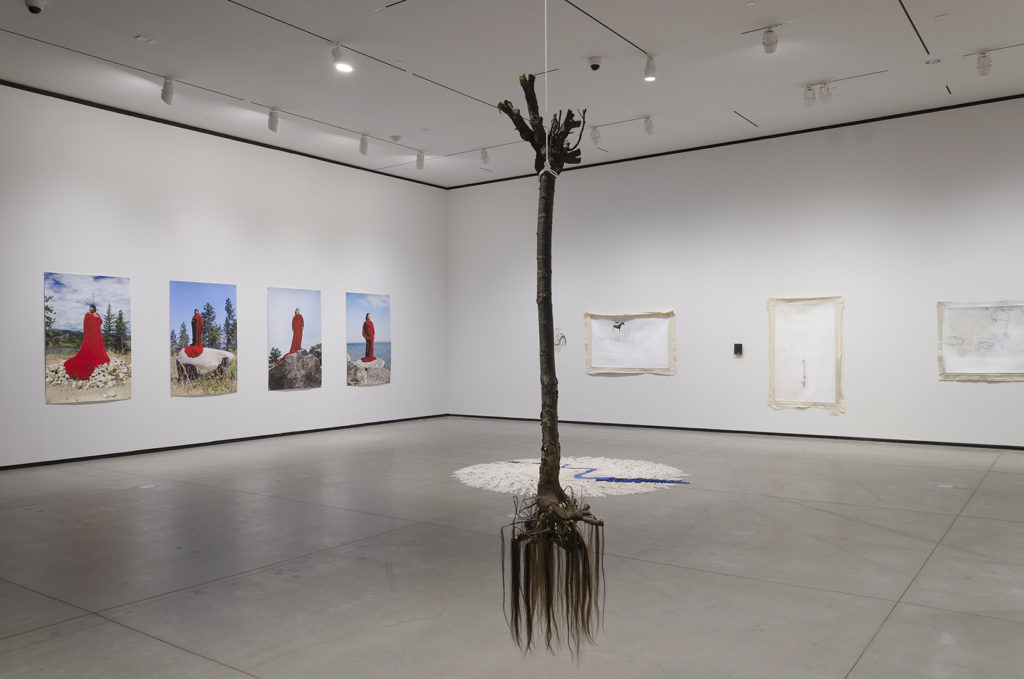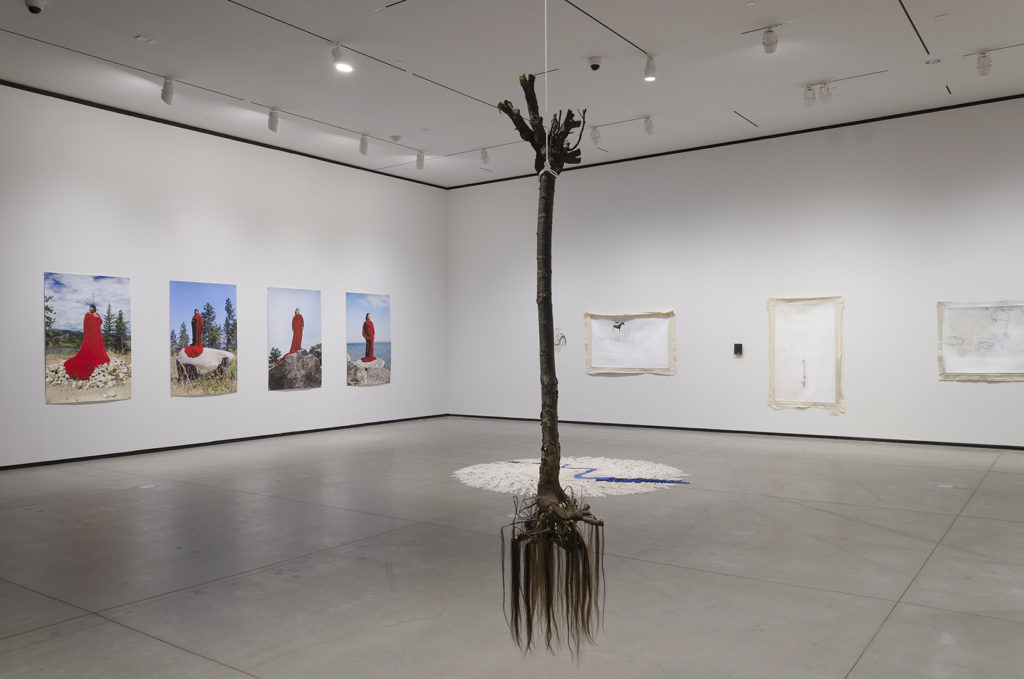 As I entered the exhibition, I was met with Sheri Nault's Entangled Bodies 2, 3, 4 (2017), comprised of assemblages that bind and blur the boundaries of their materials—wood, beeswax and human hair. Entangled Bodies 3 hangs from the ceiling, swaying back and forth, with its hair elements dancing just above the ground. Nault's installation forced me to question the boundaries of identity, and reflect on how being Métis isn't about being part Indigenous and part settler. Being Métis is about both aspects of my identity complementing each other—I am whole.
From another room, I could hear the sounds of Amanda Strong's video Four Faces of the Moon (2016), and it seemed as if Nault's work was dancing to the beat of the audio track of Strong's installation. The beats grew and reverberated, and when I finally entered the room that contained Four Faces of the Moon, I saw Strong's Skull Mountain (2016): a table bearing a thousand delicately and intricately hand-cast and hand-painted bison skulls that watched me as I witnessed the film's tale of survivance unfold. The skulls represent the genocide of bison herds across North America throughout the 19th century and, to a larger extent, the government actively starving First Nations as a form of sanctioned eradication. There is no English on Four Faces of the Moon's audio track, which relies on Indigenous voices and languages, and eerie sounds, to complement its visual story.
As I continued to move throughout the exhibition, the beats of Four Faces of the Moon slowly turned into Dayna Danger's infectious and familiar laughter. Danger's video Bebeschwendaam (2017) depicts tender, at times awkward, moments between Danger and a close friend as they manoeuver moose-antler strap-ons to explore their shared kinship and love. Remnants of this negotiation—the strap-ons—hang on the gallery wall in defiance of its colonially imposed gender roles and intimacies.
In the centre of one of the exhibition rooms, I crouched down to look at the intricate stitching of Katherine Boyer's One Home Folded into Another/How Could You Build A Trunk? (2017). The quilt-like object, draped over two trunks, was a project of "patience, time and acknowledgment" for Boyer. As I got closer, the embedded herbs, sealed in by wax, let out a faint, earthy smell into the air.
My senses were again engaged when viewing Gabrielle L'Hirondelle Hill's Orinoco Note (2016), a flag made by stitching tobacco leaves together. L'Hirondelle Hill's flag danced to the beat of Casey Koyczan's immersive video Naet'a; The Sun Keeps Coming Up (2018), which was housed in an adjacent room. As I moved closer to the flag, the fragrant scent of tobacco it emanates elicited ideas of what has already been, as well as the narrative potentialities of what can be—possibilities that are as endless as the future of the Métis. The energy I felt when I first walked into the gallery, a connective energy that ties the works, the artists, and myself together, is still with me weeks after leaving. It's the energy of community, kinship and a homecoming long awaited.
In addition to the above-named artists, "Li Salay" also features the works of Lori Blondeau, Rosalie Favell, Tim Moore, Audie Murray, Sherry Farrell Racette, Les Ramsay and Jewel Shaw.