Prologue: The Devil and Jerry Ropson
Jerry Ropson points to a small overhang on a distant hill. It's a minute, missable feature, tucked into the immense majesty of the Newfoundland landscape.
"That's the Devil's Resting Notch. The devil rests up there, it's his lookout."
"How do you know that?" I ask. In his rented minivan, we cruise down a long hill and the ocean rises into view. We're in Pollards Point, a remote logging and fishing community numbering just a few hundred people, a spot carved out of the wilderness that also happens to be Ropson's hometown.
"You just know that growing up here. I've known it my whole life."
Homecoming
Ropson has known Pollards Point for his entire 38 years on earth, but he has lived almost half that time elsewhere. After earning his degree in visual arts at Memorial University's Grenfell Campus, Ropson left the island to pursue a career as a professional artist, gaining an MFA in fibre and material arts from Concordia University in 2009. He now works in Sackville as an associate professor at Mount Allison University.
Still, Ropson's acclaimed, narrative-driven practice is without question of a place, populated with connections to and characters of Pollards Point. And yet his self-identity as a Newfoundland artist is summed up by a short text message: "I never REALLY made art in Newfoundland. BFA Corner Brook. St. John's one year. Bangkok one year. St. John's some months. Montreal." Almost all of his work about home has been made while away from it.
In early 2016, that changed: Ropson returned to his tiny town, still filled with his extended family (his immediate family moved to Fort McMurray in 2006). On sabbatical, he bought a snow blower and a skidoo—the local essential form of transportation—set up a studio in the basement and shed of the family home, turned the living room into a production area, and began crafting and creating a story of home, at home.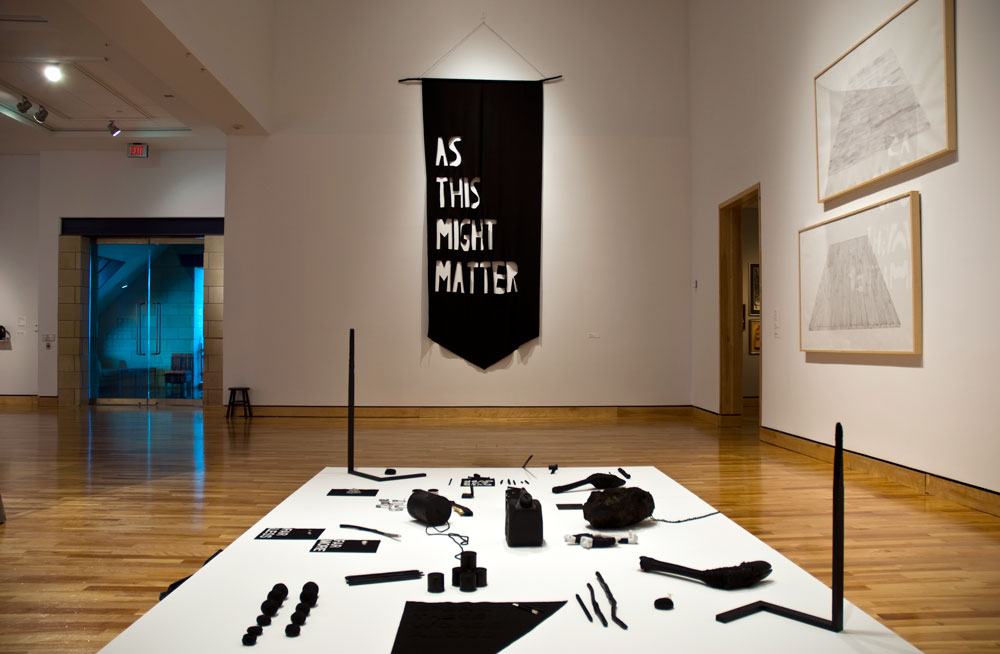 Large felt banners create shifts in scale at Jerry Ropson's exhibition "to kiss a goat between the horns" at the Rooms in St. John's. Photo: The Rooms.
That homecoming now includes "to kiss a goat between the horns," the artist's first major museum solo exhibition, up all summer at the Rooms in St. John's, curated by Mireille Eagan. Plotting a larger course of beginning and endings, the exhibition marks a return for Ropson. Its title, cryptic yet unassuming, borrows an esoteric phrase from Ropson's recently deceased grandfather, Albert, who once described a man, ill and thin, as "skinny enough to kiss a goat between the horns."
A close reading of this expansive, site-specific exhibition reveals that Ropson is endlessly toying with language as an instrument of infinitude—as poem, as prayer, as psalm—and, particularly, possible unknowns and morphologies of culture-bound modes of communication. For any place, but especially in outport Newfoundland ("a culture of death culture," as Ropson has described it) the emotional and physical weight of a life, a place, a memory—an entire culture—hangs in the balance of a single breath, a small string of words, a common object from the shed or kitchen cupboard.
Ropson is not an archivist, anthropologist or ethnographer. He is as an artist, he is a collector, marker, lister and storyteller. He is also a local, a bayman. In a place where (romantic) histories have often been written by people who don't live there, it is worthwhile, then, to pause and consider "to kiss a goat between the horns" as an urgent and sharply hewn reckoning of meaning, matter and place.
Across the Arm
I visited Ropson in Pollards Point during the depths of February. Remote and weather-bound, with no cell service and spotty WiFi that cuts out if you try to download movies. The first night of my visit, clear and starlit, we took his skidoo, with supplies and a shovel strapped on the back, across frozen ocean and forested trails to join family and friends at Uncle Clarence's camp. A Friday night ritual, complete with moose stew.
The next day, a two-day blizzard blanked the world outside. There were several calls to make sure Nan's house was dug out. A regular winter weekend "across the arm." It was just one event in Ropson's year home that filled out the spectrum of social and community life: a death in the family, water bills, ATVs, coming together, isolation, rabbit snares, ghost cats, black foxes, '80s dance parties with his Aunt Audrey and Aunt Lorna, hunting, drinking, Gatorade, packing cod into the freezer, Instagramming.
To leave and come back is the very essence shaping lives and relationships in Newfoundland, especially in rural communities. Philosopher Walter Benjamin reminds us that "he who seeks to approach his own buried past must conduct himself like a man digging. Above all, he must not be afraid to return again and again to the same subject matter."
Digging, specifically for Ropson, is shovelling. And subject matter is out the window or down the road: snowbanks, wood or the always-on TV at his Nan's house. As the snow began to melt, Ropson's non-fictions, ritual processes of making and tradition-bound materials, retreated into, and re-emerged, as a dynamic and cumulative visual matrix of personal geography, memory and mortality. Here is a new story of life and death in present-day Newfoundland.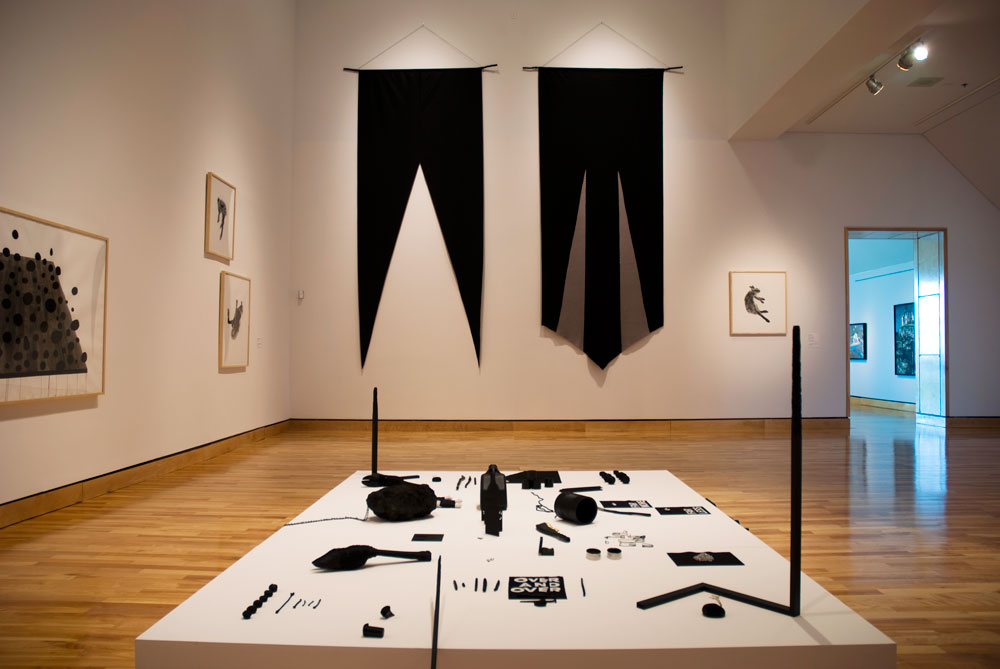 Another view of Jerry Ropson's "to kiss a goat between the horns" at the Rooms, including, at right, a drawing of one of the hares Ropson and his Pollards Point circle regularly snare in traplines during the winter. Photo: The Rooms.
Completism
Back at the Rooms, in June, massive black felt banners, reminiscent of rural-Newfoundland Protestant-church pennants, soar upwards as if carried by a Skid Row guitar solo. The banners' stark formalism is Star Trek–ish, heraldic and boldly indecipherable (one is emblazoned with the words "AS THIS MIGHT MATTER").
On level ground, upon a large plinth, like a shed floor, or low stage, a critical mass of ritualized objects—objects imbued with open-ended meaning by Ropson's making, re-acquiring or treating of them—has been neatly arranged. There's animal bone (moose shank and hoof), stone, paper, metal, dried fruit, plastic, twine and chalk, some altered with paint and flocking.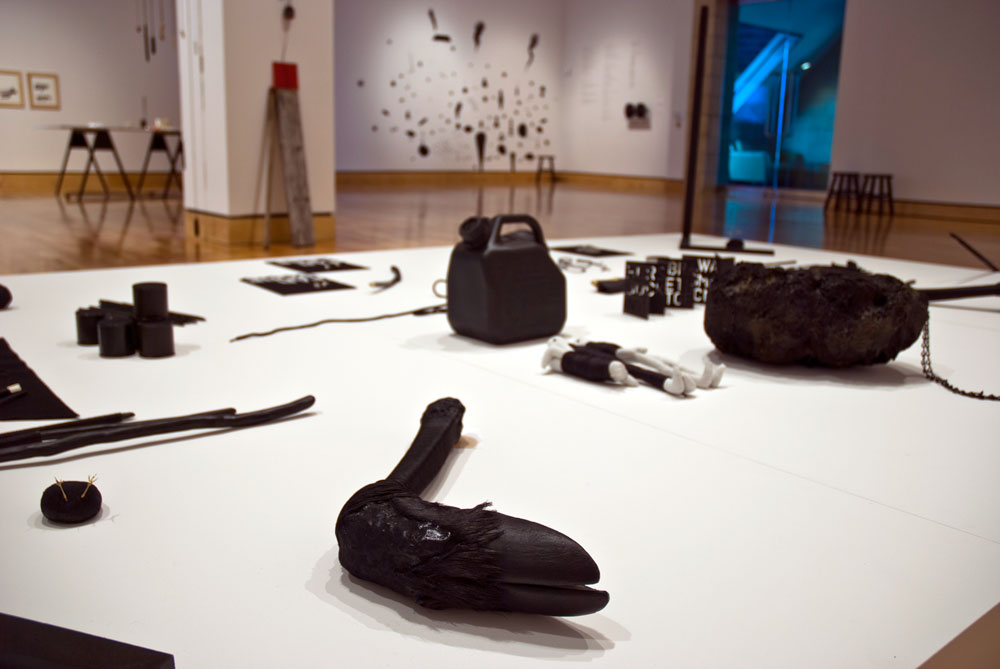 Animal bone (moose shank and hoof), stone, paper, metal, dried fruit, plastic, twine and chalk are all elements in "Jerry Ropson: to kiss a goat between the horns." Photo: The Rooms.
Some of these objects are familiar within Ropson's practice, but there's a new dexterity of scale here; his simultaneous aggrandizing and dwarfing of objects and imagery warps their provenances and, amplifies, or quiets, their meanings.
Elsewhere, there is engrossing spiritual "big talk" (Ropson prefers the word "spiritual" to "magical") and a haunting purpose of will in the artist's gatherings and scatterings of personal mythos. Ropson grew up in a strict Christian tradition that observed the Sabbath. Today, the artist observes a quasi-religious practice of iPhone list-making.
A giant iPhone list, or as Ropson terms it, "list as psalm," materializes as both a handwritten text on the gallery wall and as a proto-Internet audio recording. Through headphones, a female voice (one much less worldly and tech-savvy than Siri) delivers a cryptic, oddly humorous and impersonal sermon including statements such as "we wait" and "the winter has no bottom" from a beyond of grainy, retrograde-sounding recording technology.
Giving himself over to youthful experimentation with low-fi video for the first time in a more than decade, Ropson offers a soundless projection of stark landscapes and near-touristic images that cycle freely, naively. Normally, story structure is bound intimately to material, voice and drawing in Ropson's work. Messages within this new digital narrative, he notes, signal new confrontation, acceptance and releasing of ghosts.
Nowhere does Ropson articulate acknowledgement, or perhaps a spiritual coming of age, better than in his material and compositional shout-outs to conceptualists Joseph Beuys (1921–1986) and Lawrence Weiner (1942–). For both, Ropson is clearly a longtime fan, verging on disciple.
Beyond a grouping of ink drawings of dead hares—a nod to Beuys as well as a throwback to Ropson's own more folkloric, figurative days of drawing and printmaking—there are several winks to Beuys via survival-kit material sensibilities, and intermissions with nature. There's heavy use of felt, of course, and other organic matter (tar-twinned moose shanks, boiled down in the process of preserving the bone), and also a pair of work gloves (his grandfather's) with the palms illuminated by a spare light bulb. This is clever, B-list horror Beuys.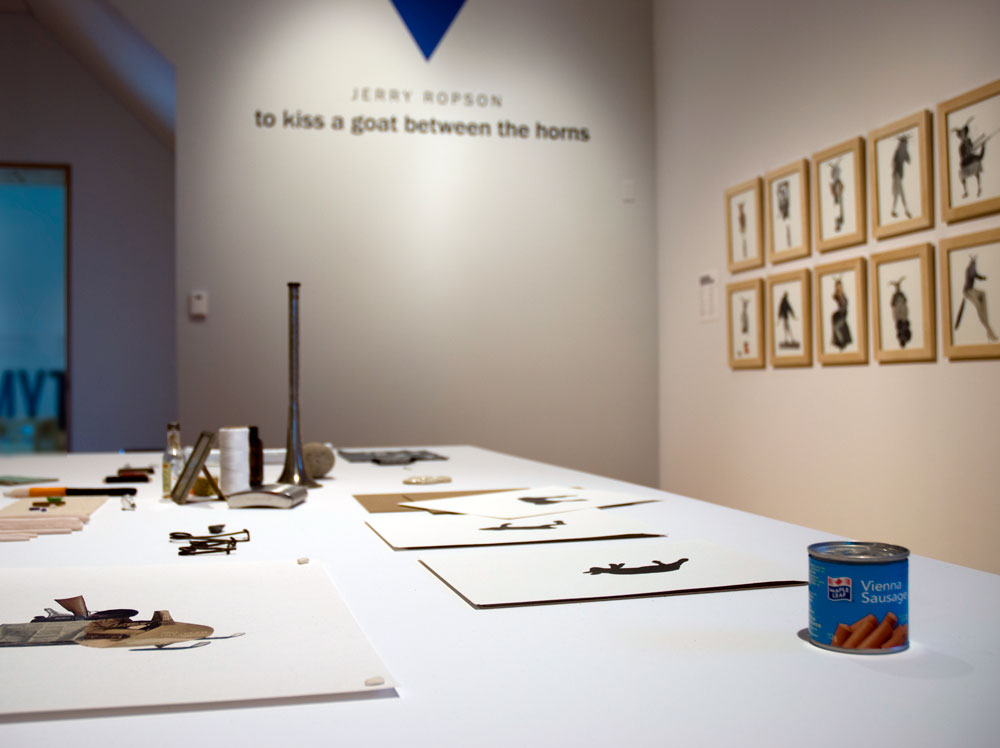 A can of Vienna sausages makes an appearance among collages and other objects in Jerry Ropson's exhibition "to kiss a goat between the horns" at the Rooms in St. John's. Photo: The Rooms.
Ropson calls out Lawrence Weiner by name (or by title) in what is set upon the table, sits upon the table (stone) (2017). A Sabbath/sawhorse table is spread with objects deriving from Ropson's "childhood of Sabbaths and an adulthood of replacing religious observance with art practice." Everything on the table has its place, and is coded, but is not closed-off—Ropson is not holding a visitation ceremony in the gallery. Objects and their meaning are in flux: the can of Vienna sausages, for example, is not dead and static.
"It's what Weiner says about the artist coming down the mountain," Ropson offers, referring to the film about Weiner by Hillman Curtis, in which Weiner, cigarette in hand, says there's no such thing as making art in a vacuum, no matter how faraway the town or isolated an idea or experience.
"I thought that an artist went off and worked and worked and then every once and awhile came down the mountain with their pack on their back and laid out what they'd done," Weiner says in Hillman's film. "But it don't work that way…you are in the stream of life whether you like it or not."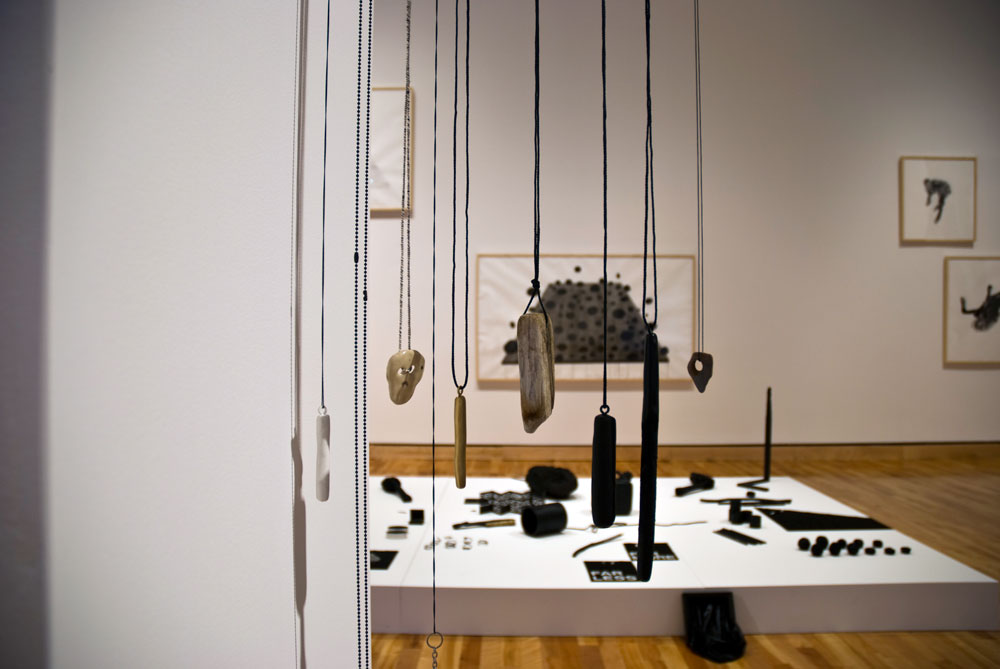 Another view of some of the objects collected in "Jerry Ropson: to kiss a goat between the horns." Photo: The Rooms.
Still, there is a bit of a laying out of the pack here: amassment and completion are directives, unsettling obsessions, of artist-as-collector. In one of his "essays near knowing" titled "On Completism," American poet Brian Blanchfield states that the desire to have and to hold everything of a set, to possess all the bits that make a whole, has to do "with death or the death drive."
In the shadow of his banners, Ropson has laid out his pack and—in beguiling filters of remove—it could be argued that in all that is gathered here, drawings, objects, text, images, collage, video, there is one of everything from Pollards Point, from his past, present and future. Ropson's astounding new shifts of scale have something else to do with Blanchfield's "completism," too. Sliding planes and sightlines create narrative foreshadowing through what Blanchfield terms "comprehensive perspective" or "a panorama of the miniature"; these concepts can certainly be applied to Ropson's carefully organized compendium of objects, text and images.
"The completist is someone who can see all at once the entirety of [his collection] and so has looked upon his own death," Blanchfield observes. Following similar arcs of culmination and re-combination, "to kiss the goat between the horns" gestures towards an embrace of death, darkness and letting go, if not towards allowing Ropson himself to dance a few steps with the devil.
Denouement: Leviathan
To celebrate his exhibition's opening in late May, Ropson holds a bonfire on the beach at Middle Cove. It's only five degrees Celsius on the Avalon Peninsula. About 30 people—many of whom are the artist's oldest friends, and their families, from Newfoundland—are bundled up in hats, mittens and parkas.
Ropson and some friends have built a four-metre-high structure of wooden shipping pallets. The gasoline-soaked wood, when set aflame, is a lowering pyre, a haphazard watchtower, a memorial. Burning shit on the beach may be the unofficial opening reception for "to kiss a goat between the horns," but it is also, more officially, a welcome-home party for the artist. The kids throw up their arms and scream as the leviathan burns.
Waves and wind and crackling wood lap up the voices and laughter. A crescent moon moves off the cliffs as the flames reach higher, as people celebrate homecomings that are almost always accompanied by goings. Soon, all that will remain of the evening are scattered embers, bits of cellulose left for dead on the beach's stones. How better could anyone ever mark a return?
Penelope Smart is a curator and writer based in St. John's. "Jerry Ropson: to kiss a goat between the horns" runs until September 24 at the Rooms.