The notion of speed has been on my mind lately. In his novel Slowness (1995), Milan Kundera wrote that "speed is the form of ecstasy the technical revolution has bestowed on man." I understand why so much writing about speed is enthusiastic about technological progress; on the surface, it makes life a whole lot more convenient. But there's also a cost, particularly as the enormous availability of products, amenities and information becomes less thrilling and more overwhelming. When life is necessarily put on hold, as it is now, there is a unique opportunity to think about what it means to slow down.
In its 33rd year, faced with the same challenge of a pandemic as other art institutions and festivals worldwide, Images Festival made the decision to move its "On Screen" program entirely online. In about a month's time, the festival team built an apparatus of hardware, software and backups to stream on their website; and informed distributors and artists of the change for permissions and prioritized paying proper artist fees (the Independent Media Arts Alliance currently offers no standard fee schedule for one-time streaming of artists' work online)—an experimental solution for an experimental film festival. While speed and technology were the immediate answer, it also presented a chance to consider the larger interrelation of speed and time, and how video art as a medium can lend itself nicely to a time when life is necessarily slowed.
In museums and galleries, video art comes up against the practical problem of compacted space and time—trying to move through everything, quickly, and the impact of this on perceiving and processing images. Even among the most enthusiastic art lovers, fully experiencing video work is affected by duration, type of seating and crowds. To have a festival's video art programs available at home, during a time when there is not much to do elsewhere, is a testing ground for how we experience the work on its own terms. We now have a way to compare our questions of what a video installation is or should be, and how its dependence on an institution affects the viewer.
Ben Rivers,
Now, At Last!
(still), 2018. Courtesy Images Festival.
The video program "Good Look Now" features works that enact a deliberate examination of time, civilization and the natural world. Both Dawn George's Anthology for Fruits and Vegetables (2019) and Isiah Medina and Philip Hoffman's Ending (2017) present a very uncanny, unruly portrait of nature. George's unreal colours and a droning, electronic soundtrack, and Medina and Hoffman's rapidly flashing, overlaid images exemplify an industrial mood as they breach the natural. Conversely, Ben Rivers's Now, At Last! (2019) follows Cherry the rescued sloth for 40 minutes, mostly while she hangs from a tree branch, napping. This slow nature, on nonhuman time, feels whimsical and unfamiliar. In between the poles of speed and slowness is Bead Game (1977), by Ishu Patel, a stop-motion animation of cycles of death and rebirth in which small organisms consume each other and evolve into larger creatures. As primates and humans develop, there is more violence, as well as the creation of technological weapons, which culminate toward an explosion that starts creation anew. It is a protracted image of long, unobservable time, like that of evolution and technological progress. 
The works in the "Slippery Study" program follow this thread from Patel to home in on more human dimensions of social relations in technological society. Three works in particular—Anocha Suwichakornpong's Black Mirror (2008); seth cardinal dodginghorse's  Nisguya Chu (Underneath/Near the Ground) (2020); and Simon Liu's Signal 8 (2019)—share a certain sensibility across distinct cultural settings. Depicting Thailand, Tsuut'ina Nation and Hong Kong, respectively, the films' spliced scenes of driving on country roads, protests, sleeping animals, children playing on ancestral land, fish markets, stock-market tickers and crowded escalators represent a waking dream of the industrial world. They bring each location together through the spectral elements of landscape and life in globalized streams, questioning where there might be a stable point of observation.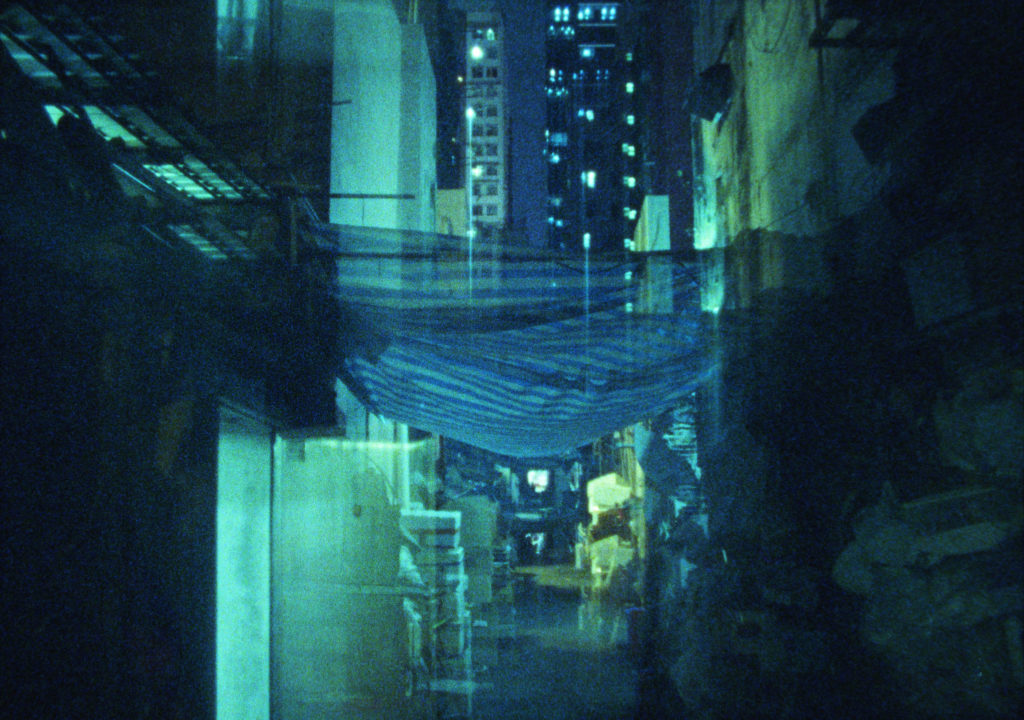 Simon Liu,
Signal 8
(still), 2019. Courtesy Images Festival.
This year's Canadian Spotlight is Skawennati, whose TimeTraveller™ (2008–13) series highlights how pieces of historical events are mirrored in the present and the future. The inter-temporal narrative of Indigenous life that revisits significant historical figures and events resonates with a certain familiarity. After being stationed with Mohawk land defenders during the Siege of Kanehsatà:ke and Kahnawake in 1990, Hunter, the Time Traveller, states his biggest lesson learned in episode three: "If letter-writing, lawsuits, land claims and the democratic process in general don't work, try messing with people's morning commute." This sentiment feels apt given the protests of Wet'suwet'en land defenders earlier this year and their use of rail blockades as land conflicts with the Canadian government persist. Jumping back and forth between past, present and future, Skawennati's story suggests that even a nonlinear experience of time bears shades of being that are only an inch away from what we already know.
Our contemporary moment is mostly characterized by simultaneity; it's a meeting place of multiple histories and, as Mark Fisher once explained, of all the failed futures promised by the 20th century. The technologist's proclivity for speed alters our sensory perceptions; in that state, the world mostly occurs to us photographically—detailed, but distant. The origins and durations of overlapping events and interactions create the feeling of an uncanny present. Removing the exclusivity of location this year meant anyone, anywhere was able to attend Images Festival and think about the pleasures of watching at home without worrying about blocking someone else's view. The slow approach to the virtual realm as part of the real allows us to see how video art sets co-present worlds in relation to one another rather than flattening them together.