Erin Gee's "To The Sooe" reflects on the valences of emotional life in a post-internet world, gesturing to the many resonances between humans and machines in a time when the humanity of algorithms, data and screens might seem at odds with the complexities of feeling. Having visited the exhibition just weeks before the gallery's temporary closure due to COVID-19 physical distancing measures, I am now struck by how prescient the work is in this moment of quarantine and self-isolation, when, for most of us, our primary means of communication, intimacy, and connection with others is through technology.
In her first solo exhibition at a major institution, presented in her home city of Regina, artist, performer, conductor and composer Erin Gee fleshes out a realm that might seem cold to some—the world of robotics, algorithms and post-internet technologies—through sound and the voice, effectively warming them through thoughtful, embodied work and revealing them to not be very cold at all. I found it warming to walk through the space and spend time with this work.
Gee co-mingles the worlds of performance, text, robotics and music composition to create an exhibition that takes up the relationships between humans and machines.With Emily Brontë's Wuthering Heights serving as a motif, there are many scores for different bodies that play out across the exhibition, with interactive and collaborative moments for visitors.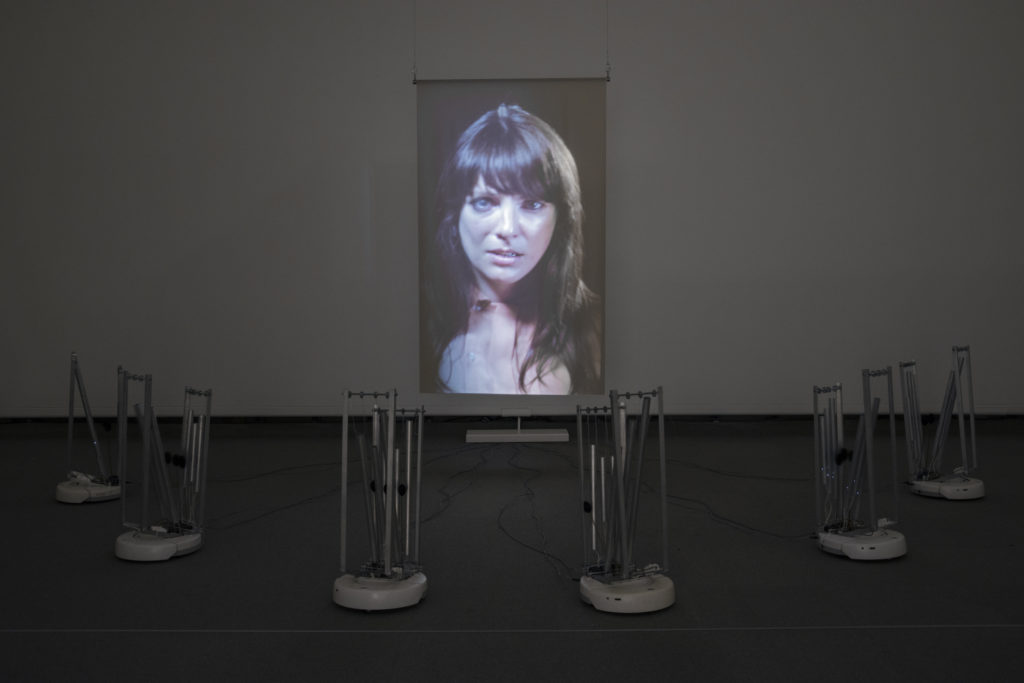 Erin Gee,
Swarming Emotional Pianos
, 2012–2020. Aluminum tubes, servo motors, custom mallets, Arduino-based electronics, iCreate platforms, and video, 20 minutes. Installation view at "Erin Gee: To the Sooe," MacKenzie Art Gallery. Photo: Don Hall.
In the back room, the gallery has been turned into a makeshift theatre where Gee's video Machine Unlearning (2018–20) plays as a projection on the wall: viewers sit in chairs in rows in the darkened and acoustically cushioned space as Gee gives her first ASMR performance as a "neural therapist," in which she extends ASMR's tingles to something intellectual and sexy, self-aware. Gee teases out the erotics of ASMR's tingly, staged interactivity: she continually checks in with the listener, asking how they feel, even though she cannot hear their response. The work prompts reflection on the desire for intimacy, comfort and the pleasure of haptic sensations that drives such high traffic to ASMR channels on YouTube, while continuing in good faith the promises of ASMR as an internet practice with art-historical ties to performance for the camera. The performance is strong: she is a committed facilitator, really there for the viewer.
The visuals of the video are rich and textured, looking curiously both vintage and contemporary. At one point Gee speaks into a microphone, fondling a bright pink copy of Wuthering Heights with her long, translucent-pink fingernails. I feel a bit like a voyeur, with what is typically a solo activity—viewing ASMR in my room—rendered by Gee into something social and shared.
As I watch and listen, other sounds from adjacent spaces bleed in—chimes sounding from Swarming Emotional Pianos (2012–20), operatic voices singing from Larynx Series (2014), and live participants engaging with Pinch and Soothe (2019)—a cushioned cacophony that precludes the containment felt while listening to a video on headphones.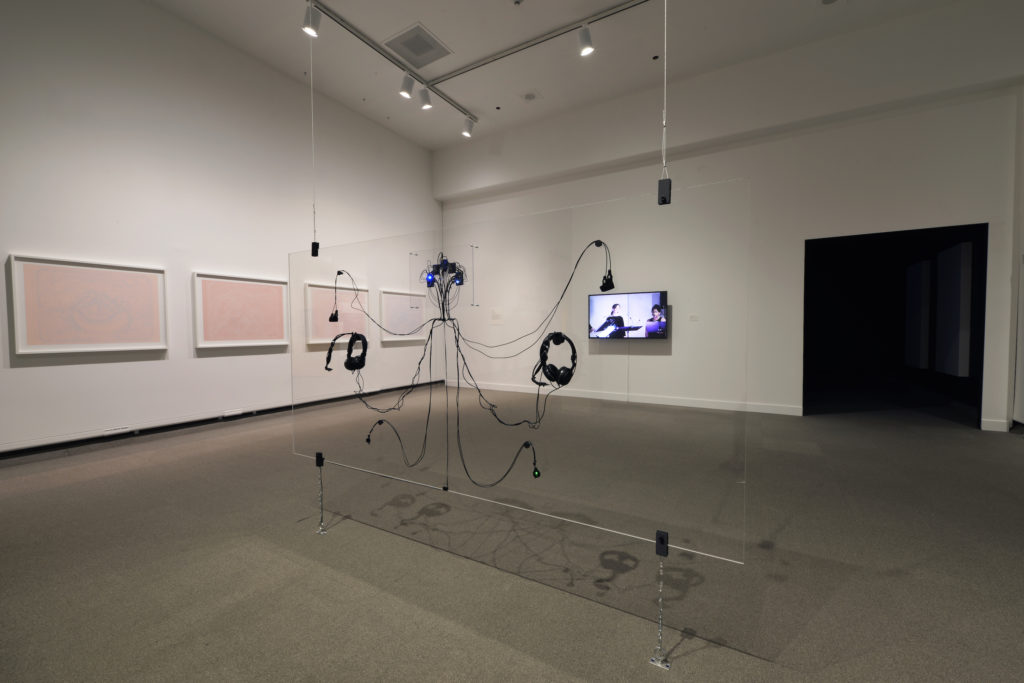 Foreground: Erin Gee,
Pinch and Soothe
, 2019. 3-D printed sensors, laser-cut acrylic, custom circuitry. Installation view from "Erin Gee: To the Sooe" at the MacKenzie Art Gallery. Photo: Don Hall.
In the adjacent room, Pinch and Soothe features 3D-printed sensors, laser-cut acrylic and custom circuitry that two participants can hook themselves up to by affixing physiological sensors to their bodies. They can then follow Gee's Fluxus script for pinching and soothing their partner, with the bodily responses—frequencies of a sort—of the two different participants to these sensations generating sounds. A social instrument, the work is conceptually and literally interdependent: if there is a circuit issue in one sensor device, both go out. Indeed, the artist has considered the electrical wiring of the show throughout the exhibition, from the micro decisions around custom circuitry to the macro structuring around the two human bodies that close each metaphorical circuit, effectively "completing" the loop that makes the work possible.
Gee's work offers a subtle feminist critique of tech-world/Silicon Valley assumptions that we can measure the body and understand "emotion" in any generalized or definable way. What feels like anger or sadness or desire to me feels different for you, and the way it is expressed through our bodies is different too. Instead of understanding emotional patterns like a programmer, Gee puts the complicated physiology of human emotion on display through the very channels and languages of said programming—using the master's tools, as it were, to deconstruct his house.
In works like Larynx Series (2014), which uses endoscopic images of the human larynx as its source material, the artist moves from body, to data/imaging, to body, to imaging and back: a feedback loop of contemporary life. She transmutes the data into notation, and then leads a choir in singing the resulting four-part score.
When I exit the gallery, it strikes me that there is a pink-blue palette across the exhibition, and I wonder how this first went unnoticed. These colours beautifully extend Gee's conceptual bridging of "warm" emotionality and "cool" robotics to the formal realm of tone. And reflecting on this work today, as I spend a lot more screen time trying to stay connected to community, Gee's conceptual and material experiments with "To The Sooe" bring an energy and hope around what kinds of engagement and meaning such technological mediations can bring.