Multidisciplinary artist Brontez Purnell was scheduled to perform at the late-April closing of "Orlando," a photography exhibition at San Francisco's McEvoy Foundation for the Arts inspired by Virginia Woolf's 1928 novel of the same name. Of course, due to COVID-19, the performance had to be cancelled (coincidentally, a filmic interpretation of Orlando was also an inspiration behind this year's Met Gala, also cancelled). Purnell's originally scheduled performance was a direct response to the exhibition. Rather than transpose this site-specific work to a digital presentation, Purnell opted to perform Brontez Purnell: In Progress, a new piece with a title suited to the snap adjustments galleries have had to make to their recent programming. (His presentation was part of McEvoy Arts at Home, a new initiative of Zoom talks and performances in collaboration with University of California, Berkley.) I've been a longtime admirer of Purnell's work, but I've never been able to see him live, so when I saw the event advertised online, I jumped at the chance to watch him perform without having to travel to San Francisco, or even leave my bed. As a fixture in Oakland's queer underground, Purnell wears many hats: he's a writer, arthouse film director, co-founder of the Brontez Purnell Dance Company and front man of the punk band The Younger Lovers. He's no stranger to performing in a variety of contexts, but how would his work translate to Zoom?
Purnell split the performance into four acts. In Act One, he sat at his desk and read a passage from his forthcoming novel 100 Boyfriends. Alternating perspectives between two lovers, the excerpt outlined their vows of commitment. In Act Two, Purnell transitioned to the bed, his camera suspended overhead to give the audience an aerial view. The artist lay naked on his stomach, a bouquet of fake flowers resting on his back. As Purnell stretched along the bed, the bouquet slid up and down his body. He added more bouquets while shifting from his stomach to his back. It was a delicate balancing act, reminiscent of the grace required to walk with a book on one's head. Watching Purnell on his bed from the comfort of my own created an intimacy that would've been lost in person, with the precarity of the bouquets serving as a reminder of the fragile link between lovers, or perhaps between audience and performer. Act Three moved us to the bathroom, where Purnell stood under a running shower. He wore a black hoodie, and was naked from the waist down, with the waterlogged hoodie clinging to his chest like a second skin. Purnell lathered himself like there was no inconvenience, even as the sweater began to sag and constrict his movement. The humour of the scene was cut with pathos: watching him struggle, I was made aware of my own voyeuristic presence. For the final act, Purnell returned to his desk to read another excerpt from 100 Boyfriends. This passage recounted the unravelling of the relationship described in Act One, creating a bittersweet bookend on which he concluded.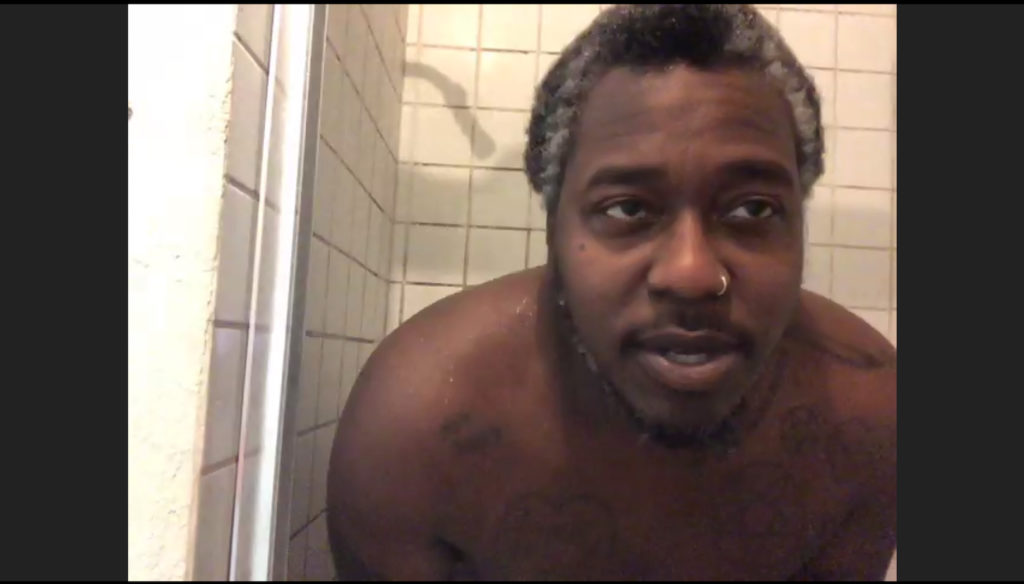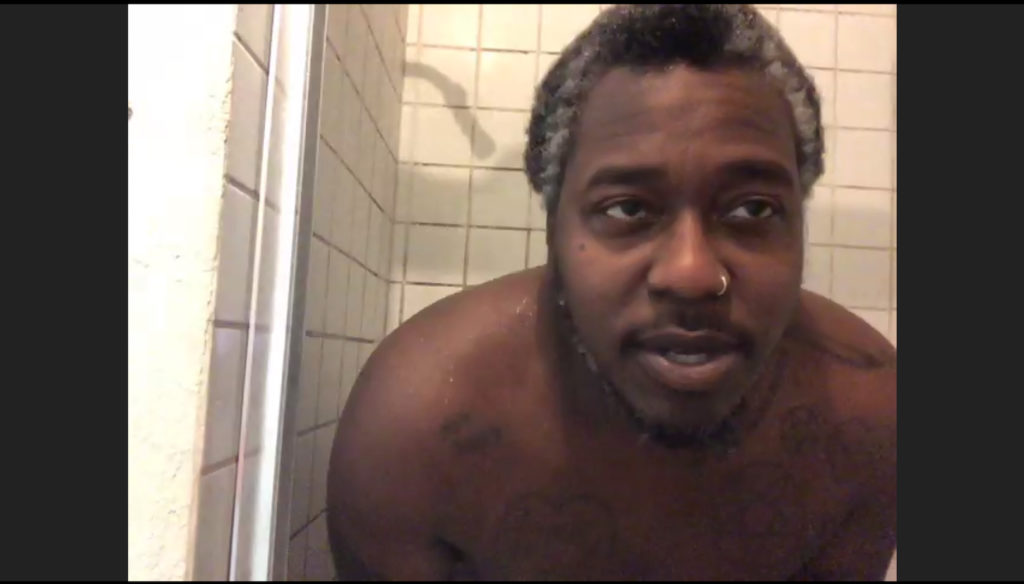 Leapfrogging across mediums, Purnell's work often requires the artist to lay himself bare in order to stage candid, complex and occasionally dissonant portrayals of Black gay subjectivity, fostering a level of intimacy with his audience that is no easy task. In Progress cleverly folded the digital into the equation by examining the limits of the medium while hinting at its potential for connection. It was a timely gesture given the uncertainty of when we may gather together again, as gallery patrons or as lovers. And, as promised by the performance's title, there may be more explorations to come.