Far too often, work created on Vancouver Island, and in British Columbia's smaller communities generally, gets lost in the Canadian conversation because Vancouver's art scene so dominates perceptions of the West Coast. The Victoria artist-run centre Open Space offered a counterpoint to this tendency in April with "Awakening Memory," a show that brought together the work of three Indigenous artists, Marianne Nicolson, Sonny Assu and lessLIE. It was the culminating exhibition by Aboriginal curator-in-residence, France Trépanier, and, over the course of a month, the exhibition presented the physical products of two years of praxis-driven dialogue between the curator, artists and their home communities.
"Awakening Memory" offered a clear reminder that smaller communities, whether Victoria, Alert Bay or Thunder Bay, generate some of the most pressing conversations about the role of the arts within community. The few works presented in the relatively small, open exhibition space in Victoria hinted at artist-driven community engagement that happens elsewhere, whether it's in other museum spaces; in collaborative, curatorial conversations; or in hometowns.
Assu, Nicolson and lessLIE centred community in their multi-year process of exploration and creation. Nicolson and lessLIE spent time in their home communities of Alert Bay and the Cowichan Valley, respectively, where they considered the value of their art practices for and within those spaces. Assu, an artist from both Indigenous and non-Indigenous parentage, grew up a self-described "suburban white kid." His creative process puzzled through some of the identity politics of growing up away from his community by creating an adoptive society at his alma mater, the Emily Carr University of Art and Design in Vancouver. By the end of the curatorial project, Assu had moved to the home territory of his We Wai Kai nation in Campbell River.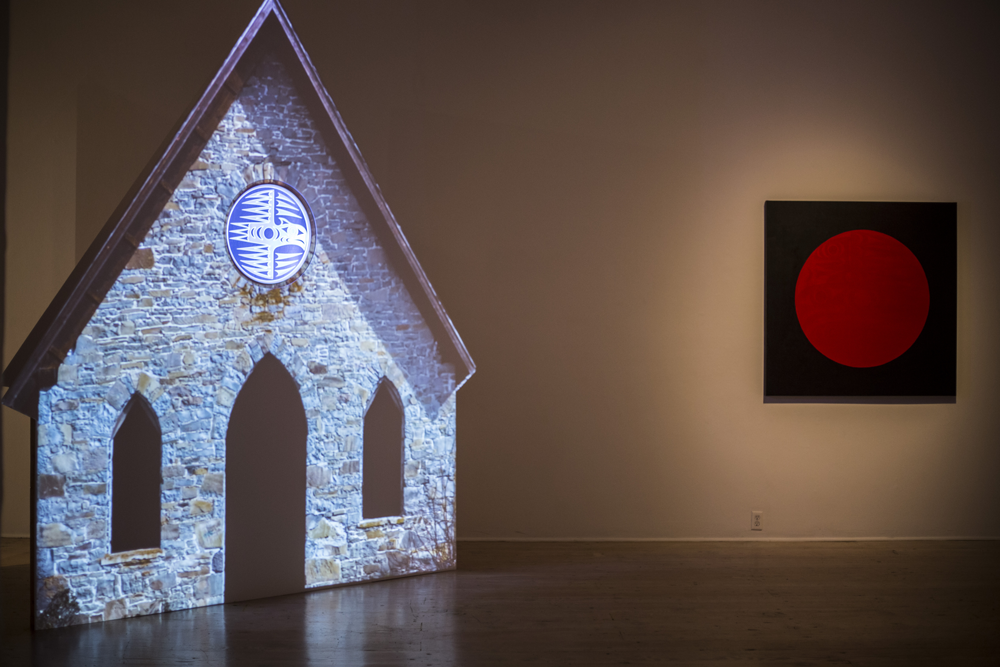 Left: lessLIE, Transformation, 2017. Sandblasted glass, wood, foam core, projection. Created in collaboration with France Trépanier, Miles Giesbrecht and Kirk Schwartz. Right: lessLIE, Salmon Worldview, 2017. Photo: Kirk Schwartz.
Each artist invoked a multi-layered concept of place that encouraged audiences to view the gallery as the periphery to a central space occupied by ideas of home, territory and nationhood. lessLIE works primarily in the colonizer's most elitist medium, paint on canvas, to re-script the visual history of Coast Salish peoples, but for Transformation, arguably his most dynamic work to date, he ventured into installation. lessLIE projected looped footage of an abandoned stone church and audio of grasses blowing on the hilltop where the building had been settled. In lieu of the typical stained-glass rose window within the church, there rests a backlit, glass spindle whorl that references both a historic spindle held in the Royal BC Museum's collection and a Thunderbird motif that lessLIE often revisits in two-dimensional media. Viewers become implicated in the haunting scene as their shadows appear on the projection when they stand before the piece. The image of the church, foreign to both the gallery and Salish territory, sits opposite two canvases that reflect lessLIE's larger oeuvre and graphically replicate other historic spindle whorls. Fleetingly caught between frames of colonization in architecture and media, audiences are forced to consider their occupation of the gallery space. Where is the place for lessLIE's canvases back home?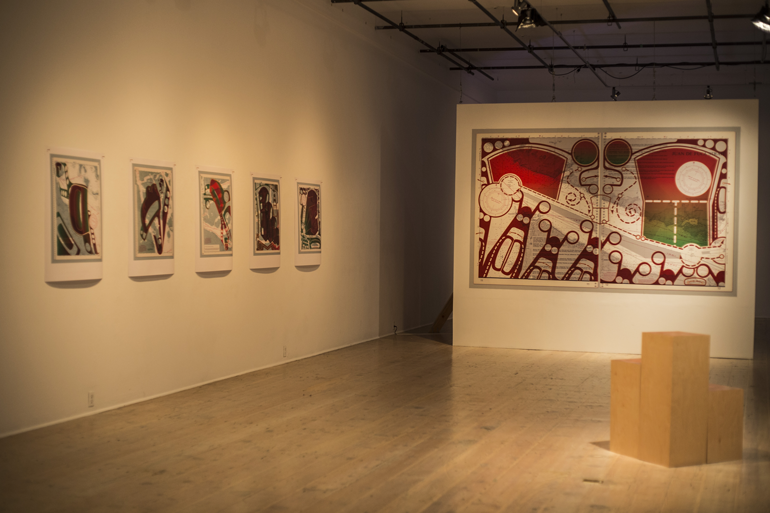 Installation view of Sonny Assu's The Paradise Syndrome series (2016); The Paradise Syndrome, Voyage #11-12 (2017); and The Value of What Goes On Top (2017). Photo: Kirk Schwartz.
Assu reprised the juxtaposition between colonial and Kwakwaka'wakw symbols from his recent exhibition at the Vancouver Art Gallery in Paradise Syndrome. The series floats ovoids, coppers and abstractions over nautical maps that chart the seas between Vancouver Island and the Mainland. These waterways connect Indigenous nations from Ozette to Kingcome and far beyond, while the maps hallmark colonial claiming strategies practiced by Captains Vancouver, Cook and the relatively anonymous geographers that charted and drew Assu's appropriated reproductions. First shown at Malaspina Printmakers in conjunction with Assu's place-making research at Emily Carr, these works continue the artist's musings on claiming colonial territory within colonial institutions. His other work, The Value of What Goes on Top, revisions plinths in traditional Canadian and Northwest Coast materials like maple and copper. Copper is a symbol of great wealth for the Kwakwaka'wakw, and Assu binds his dual identities, as an Indigenous person and an artist, through their systems of valuation.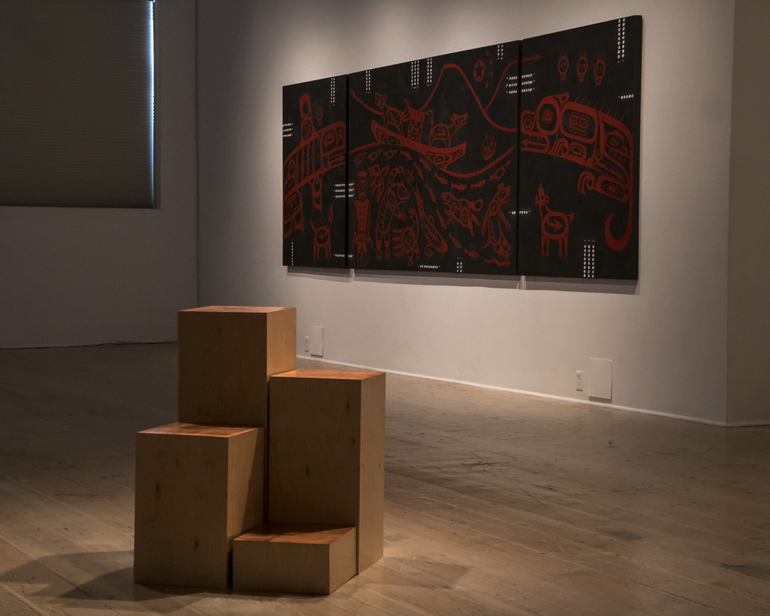 Left: Sonny Assu, The Value of What Goes On Top, 2017. Right: Marianne Nicolson, La'am'lawisuxw yaxaxsans 'nalax, (Then the deluge of our world came…), 2017. Photo: Kirk Schwartz.
Nicolson contributed a sizable triptych in paint on board with button accents, La'am'lawisuxw yaxaxsans 'nalax, (Then the deluge of our world came…), that appears to narrate a Kwakwaka'wakw origin story. Supernatural ancestors Killer Whale and Wolf flank a flood scene with animals—sometimes told in histories as transformed Kwakwaka'wakw ancestors—churning through a current. A colonial sailor figure and a crown sit across from each other on the central canvas, unaffected by the waters, and hint at the double entendre in the title. The deluge of "our" world speaks to two community histories, the first from the time of beginnings and the second from the time of colonialism.
In materiality and content, the painting refers to Nicolson's homeland and its history, which she also presents in a 12-minute video, Catamaran. The opening shot pans across a village of single-family homes, before moving through Musgmagw Dzawada'enuwx waterways, beaches and truly majestic mountains. The audio is a pastiche of sounds from nature and fragments from speeches. Between lapping and roaring waves breeze utterances like "respect," "house," "talking about our shore," and slightly longer phrases: "This is really a brief history of what this place means to us," and "our territories are showing in our bones."
Affirming place through territory remains a vital part of articulating Indigenous sovereignty, and has therefore become foundational to the lexicon of Indigenous art. But the cultural mystique of urbanism in the arts often sets up a false perception of place within Canadian art. We tend to think that art comes from the tumultuous cultural mixing that happens in city centres, but we return physically or psychologically to our homes, in small towns and on reserves, to tell our stories. These spaces—with our families, cultural centres and artist-run spaces like Open Space—are the first to nurture our sense of the arts, and they often offer greater opportunity to generate conversations within community than large public institutions.
As Trépanier observes, "It's very deliberate that I located my practice here [at Open Space] – the space that is allowed here, and the willingness of people to try things…I think these spaces everywhere in the country are playing a critical role in holding a place for these [complex, Indigenous sovereignty] conversations." "Awakening Memory" allows artists to share parts of their histories and their homes with the Victoria community. It also encourages viewers to look beyond the surface of the exhibition, and to begin a conversation about the Indigenous histories, and the layers of knowledge, that can be held in one space.
India Rael Young is a writer, curator and art historian working between the Pacific Northwest and the American Southwest.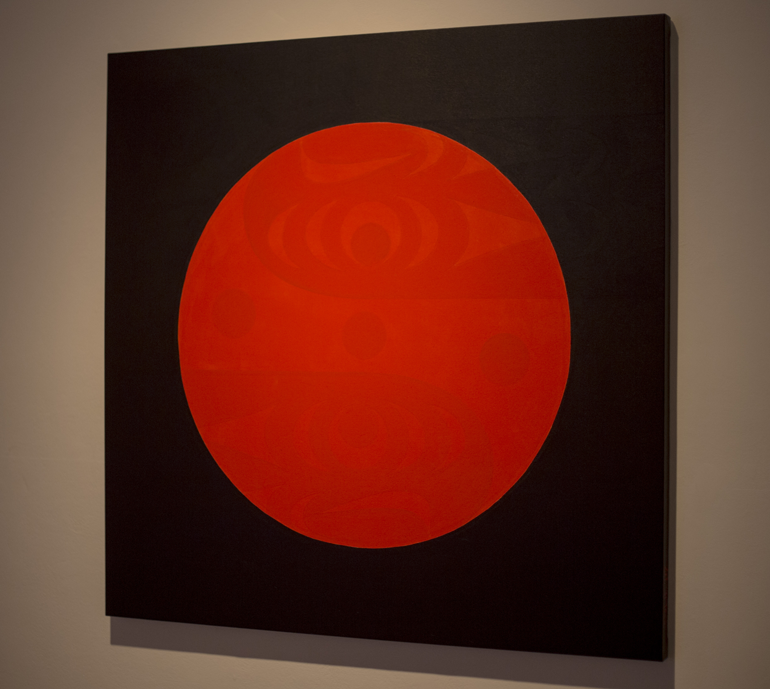 lessLIE, Thunderbird Worldview, 2017. Courtesy Open Space. Photo: Kirk Schwartz.