Art galleries, I've always assumed, were never made for me. I'm a 30-year-old mixed nehiyaw-English-Irish iskwew from Treaty 8 Territory who reads and writes and has never had a visual art practice. And even though I spent nearly half of my life living in urban centres, I don't think I stepped foot in an art gallery until my mid-twenties. I think the last time I did, I might have been on a date. I think that date might have been trying to be impressive, because liking and attending art galleries is a sign of status, a sign of "culture," and, a lot of the time, a sign of wealth, which are all inextricably and intentionally tied to the overwhelming whiteness of galleries and who they privilege to occupy the space. I likened galleries to museums, full of smarmy white voyeurs wearing nice pants and peeping at art I could never afford in sterile institutions I'm afraid to fart in. So stepping into an art gallery, the few times I've done it, has always felt much like going to a fancy party I was never invited to, where people speak a language I don't understand, and the less I "get" the artwork, the better I assume it is (because I'm not "cultured," you see, what do I know about it?).
But the exhibition "Transits and Returns" at the Vancouver Art Gallery, collaboratively curated by Tarah Hogue, Sarah Biscarra Dilley, Freja Carmichael, Léuli Eshrāghi and Lana Lopesi, wasn't this experience. The nature of the curatorial direction, as well as the differentiation of Indigenous representation, felt different. Yes, it was still full of white voyeurs, and still in a colonial institution where I felt like perhaps I should have worn nicer pants. But I felt like I spoke the language, that I actually got it. It was more like going to a party with my cousins, and even if I don't know the other people there, I still belonged. I still knew them all, in a way.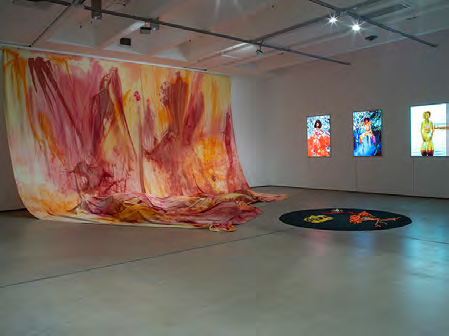 Hannah Brontë,
FUTCHA ANCIENT
, 2018. Lightboxes, hand dyed textiles, shell necklaces, black sand. Courtesy of the artist. Photo: Carl Warner.
This is actually the third iteration of the exhibition. The first project, "The Commute," took place at the Institute of Modern Art in Brisbane in the fall of 2018, followed by the second project, "Layover," which took place this spring at Artspace Aotearoa in Tāmaki Makaurau Auckland. "Transits and Returns" is the final iteration, and while each installation has changed, they've all featured Indigenous artists from so-called North America, Australia and New Zealand. This exhibition is Indigenous world-building, which is a concept I've been thinking through a lot lately, and influenced further by a workshop I attended held by Leanne Betasamosake Simpson, where she spoke about world-building, caretaking (of ourselves and our kin) and the labour of learning how to rebuild communities of care while facing ongoing colonial destruction. Indigenous world-building centres creative sovereignty, deliberate care and kinship that is predicated on both interconnected and differing experiences.
One of the ways I felt more like I "got it" was after speaking to Tarah Hogue, the Vancouver Art Gallery's senior curatorial fellow, Indigenous art, about the project's curatorial process: I felt like it came from a worldview I understand. Hogue explained that instead of giving the artists a theme to work from, the curators instead asked, "What would you like to create and how can we support you?" Hogue's approach allowed the creative sovereignty of each artists' work to resonate as they envisioned it. This was relieving to hear, especially as I'm more accustomed to witnessing people in positions of power encourage competition over ethical practice (the literary publishing world has just as dark an underbelly as the rest of Canada, I assure you). But this deep network of care with the exhibition's curation is reminiscent, instead, of a successful treaty relationship. Every iteration has been slightly different, has changed depending on the land and territories on which the exhibition has taken place. The curation, therefore, necessitates revisitation with the project, creates an ongoing conversation about ethical practices and continues relationships with the Indigenous artists, curators and hosts involved. In this way, the project refuses an opportunity for the transactional, and works instead within a treaty framework, which in its very nature allows opportunity for growth, movement, change—and a real development of artistic kinship.
How do we ethically create on territories that are not our own? What future, exactly, are we longing for?
This project of movement and mapping between places was especially poignant in Inuvialuk artist Maureen Gruben's piece We all have to go someday. Do the best you can. Love one another. (2019), which featured deer hide stretched by colourful embroidery thread across a metallic frame. On the left side of the hide, lines of embroidery and steel grommets mirror a series of small holes on the right. The pattern is based on an X-ray of the blood vessels in the artist's father's (Eddie Gruben's) heart. It also represents Eddie's drawn patterns of caribou migration patterns, the hide itself looking like a storied map. The hide maps both the body and the land and follows blood vessels from kin and animal trails, speaking to worldviews that see the body as inseparable from land and land as inherently tied to the body. This is the electrifying and complex work that shows how interconnected the worlds of ourselves, our kin and the land are.
Gruben's piece seemed to be in conversation with Marianne Nicolson's (Dzawada̱'enux̱w, Scottish) installation Oh, How I Long for Home (2016). Opposite Gruben's hide is the Kwak'wala phrase "Wa'lasa̱n x̱wa̱lsa ḵa̱n ne'nakwe" in bright red neon lights, which translates in English to the title of the work and also references the dawn. The bright red neon is indicative of urban life, a common sight for many urban Indigenous people. And, like Gruben's deer hide, the work maps a story of home, when home sometimes means a cityscape. This story tells us our land doesn't disappear just because there's concrete on it—it, too, means home. It also raises some common questions many Indigenous peoples who have been displaced from their territory have. They are questions that I, a Cree person from Treaty 8 living on stolen, unceded lands, share: How do we ethically create on territories that are not our own? How do we make and hold space in these places, while also presencing ourselves and where we come from? What do we see when we think about home? What future, exactly, are we longing for?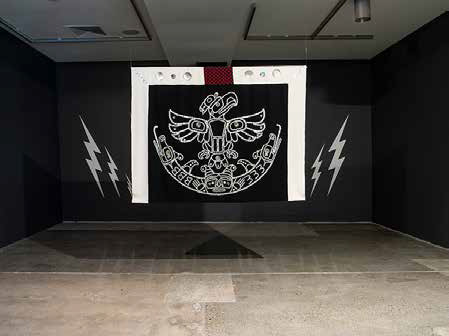 Bracken Hanuse Corlett,
Qvùtix
, 2018. Akoya, abalone and mussel shell buttons, wool, digital animation. Courtesy the artist. Photo: Carl Warner.
A defining aspect of this exhibition is that it honours kinship between blood and chosen family. In particular, Bracken Hanuse Corlett's (Wuikinuxv, Klahoose) piece Qvùtix (2018) features a dance blanket with abalone and mussel-shell buttons made by Rose Hanuse, the artist's aunt. The blanket features a Thunderbird with its wings outstretched and talons clutching Sisiutl, the double-headed sea serpent, a design the artist created as part of a request from his uncle Dennis Hanuse to re-create their family's crest. The back of the blanket doubles as a projection screen featuring a short digital animation by Spotted Fawn Productions (from animation director Amanda Strong and lead animator Natty Boonsmasiri) that shows the metamorphosis of a human into the Thunderbird. This generational family collaboration was also represented in the installation's ideas of time: a story is being told by the crest design on one side of the traditional dance blanket and by a contemporary digital animation on its flipside. It at first appears to be a juxtaposition: the opposite of the past or "tradition" is a digital future. But it wasn't two ideas in opposition, a binary delineating ideas of time as forwards and backwards. These understandings of time, instead, collapse. It is the past, future and present, all at once.
For Indigenous folks, chosen family can often be just as significant as the one you're born into: you become related in the Native way, that is, by choice. Lisa Hilli's (Gunantuna) piece Sisterhood Lifeline (2018) is an installation in the form of an office cubicle, and it gives visibility to this type of kinship. In this piece, photographs hang on the cubicle, giving gallery goers the point of view of the voyeur: we see a photo of shoes and feet under a desk, the top of a head above a cubicle wall. Behind the cubicle in the gallery is a photo of two First Nations vavine (a word used in this installation to describe the people in the photos as beyond binary gender constructions) sitting with their backs to us, their arms gently around each other. As I walk behind the cubicle, the optics shift: I'm no longer on the outside looking in; I become the watched. An audio recording on the office telephone recounts real-life situations experienced by the artist's friends and colleagues in the workplace, recountings of anti-Indigenous rhetoric and microaggressions. This piece is indicative of the danger, both emotional and physical, of surveillance of visibly racialized Indigenous bodies, a surveillance that occurs everywhere, from public streets to their own workplaces. And it's often Indigenous women, Two Spirit and Indigiqueer kin who cling to kinship for their survival.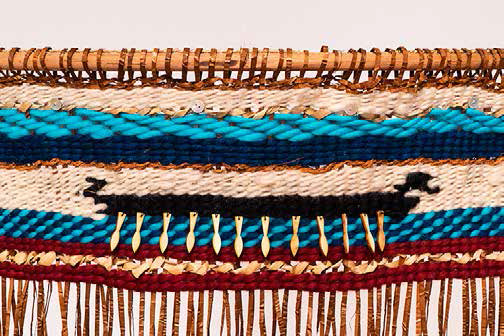 T'uy't'tanat Cease Wyss,
Shḵwen̓ Wéw̓ shḵem Nexw7iy̓ay̓ulh (To Explore, To Travel by Canoe)
(detail), 2018. Lau hala, coconut hull fibre, seagrass, red cedar bark, wool, abalone shell, mother of pearl buttons. Courtesy of the artist. Photo: Louis Lim.
The curators approached "Transits and Returns" with an intentional ethic of community, made clear by the visual presencing of matriarch artists from two of the host nations: Debra Sparrow (Musqueam), who presented weavings and the work Chief's Blanket (2013), and T'uy't'tanat-Cease Wyss (Squamish, Stó:lō, Kanaka Maoli, Irish-Métis and Swiss) whose Shḵwen̓ Wéw̓ shḵem Nexw7iy̓ay̓ulh (To Explore, To Travel by Canoe) (2018) comprised a ceremonial cape, photographs and materials used by makers from the Sḵwx̱wú7mesh and Hawaiian territories. Both Debra Sparrow's and T'uy't'tanat-Cease Wyss's work are at the literal centre of the exhibition, around which all the other artists weave. The curators note that movement was an important aspect of this exhibition, both in the fact that "Transits and Returns" is the third iteration and that the development of these projects has necessitated movement across the globe. This is indicative in the exhibition itself, as Debra Sparrow's work moves offsite and into the Canada Line Vancouver City Centre Station with a mural. Sparrow embraces the power of street art and reaches outside the gallery walls. But world-building within our art, collaborating with our kin and embracing kinship practices and connections more broadly—this is what Indigenous art always does anyway.
Each of the Indigenous artists, regardless of where they come from, features artwork that speaks to movement, territory, kinship and/or representation. In this collective exhibition, they refuse pan-indigeneity, and speak instead to their own communities and experience. But they also acknowledge a deep ancestral interconnectivity, an idea we share more than just colonial trauma, that we have shared kinship and relationship values too. Through kinship and creative sovereignty, these artists show that Indigenous world-building is not only possible but happening.
Kisȃkihitin is a Cree phrase meaning "you are loved by me." The phrase places the "you" first; it presences that which is loved. It approaches the world as these curators and artists have approached this project: by thoughtfully considering its own relationship to the loved; it centres the artists, the relationships; it sees the "you" first. When I think of world-building, I think of this kind of care, kinship and consent that starts at the core, the very first building blocks, and work its way out. It's about seeing one another first for who we are, and cherishing that in a deep way. It's about creating a world where a 30-year-old nehiyaw iskwew from Treaty 8 can walk into an art gallery and see things she understands, because it's built from a worldview she understands, and she doesn't have to pretend. She can just like the art for what it is and feel like it might have been made for her.