Free admission. Open every night until 9 p.m. A barrier-free environment. Gender-neutral washrooms. Haptic tours for people with vision loss. And free childcare during opening receptions, as well as from 4 to 7 p.m. every Wednesday.
For some galleries about to debut a major renovation or expansion, the architecture is the main attraction.
But the Ottawa Art Gallery—whose new KPMB-designed cube, opening to the public April 28, is home to all of the above features—is touting accessibility just as much as its soaring ceilings and dramatic staircases.
"We very much scaled the Ottawa Art Gallery [business] plans so that it was sustainable," says Ottawa Art Gallery director and CEO Alexandra Badzak in a phone interview. The plans were "even perhaps modest in scale, so that we could make it as accessible as possible."
Badzak notes that false projections around admission income "is probably one of the biggest risk factors for a lot of galleries" when coming out of an expansion, renovation, or building project—whether because of inflated attendance projections or otherwise.
Yes, the OAG needs revenue, but it will be looking to a shop, a café and space rentals as income streams—although again with "purposefully modest" projections of revenue, Badzak says, so that "we would be sustainable."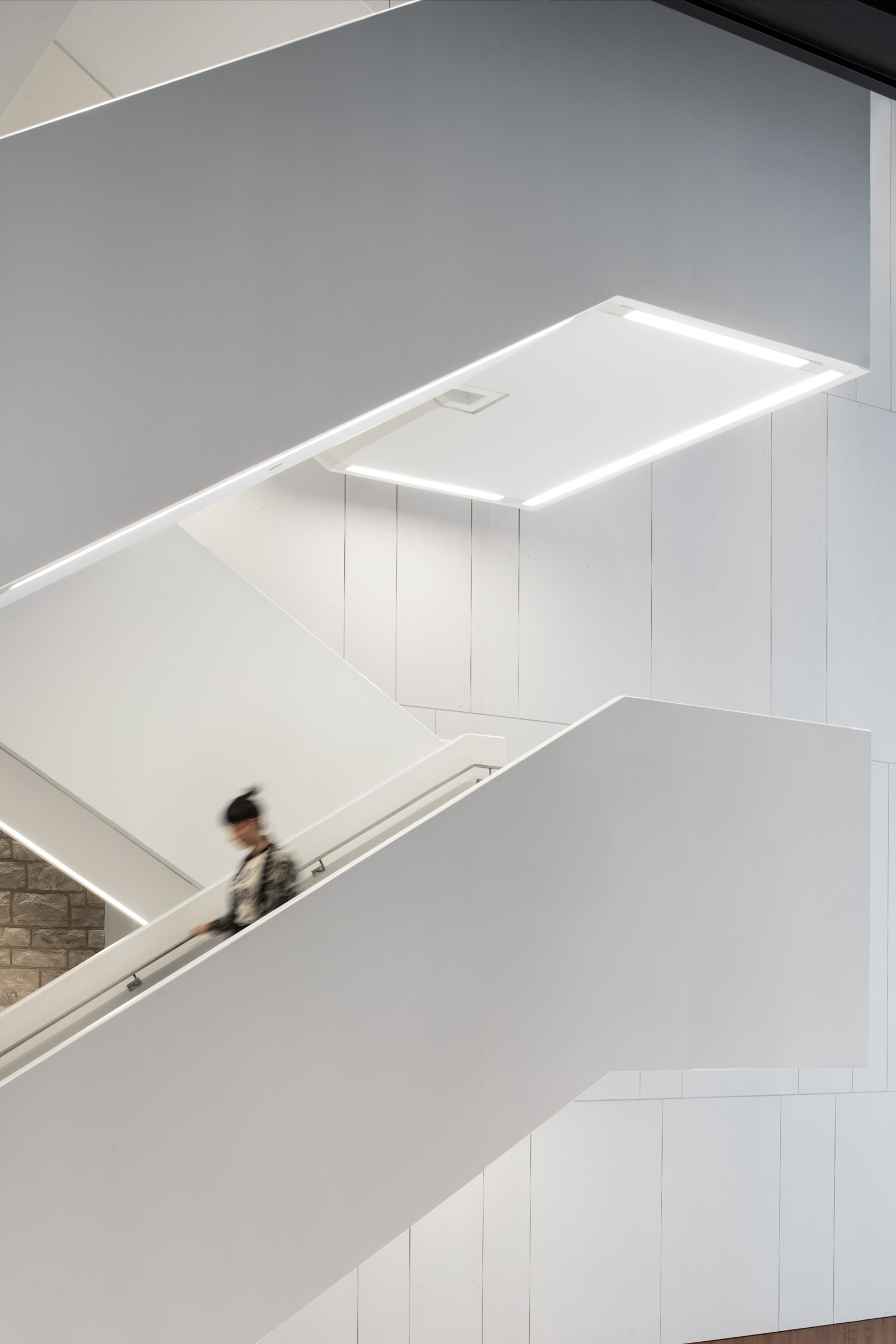 The stairs leading to the contemporary and changing galleries, the multipurpose room and the project galleries of the new OAG. Photo: Adrien Williams.
It's not just a commitment to access that makes the new Ottawa Art Gallery distinctive: at more than 50,000 square feet of space spread out over five floors, it is also charting its own path when it comes to curation and program strategy.
Rather than opening with an international blockbuster or a marquee, headliner exhibition, the new OAG is launching with "Àdisòkàmagan / Nous connaître un peu nous-mêmes / We'll all become stories"—a survey of 6,500 years of making in the region, with more than more than 190 artworks and 180 artists featured.
"Because we are in the same town as eight national museums, the need to distinguish ourselves and the role we need to play in the community is very important," Badzak says.
The gallery was founded in 1988 by artists and community leaders in the area, and that history plays a defining role moving forward.
"We were a gallery that wasn't, perhaps, driven so much by donors or the municipality—it was really a grassroots movement by the artists here," says Badzak. "So we felt strongly that the inaugural show had to be about this region."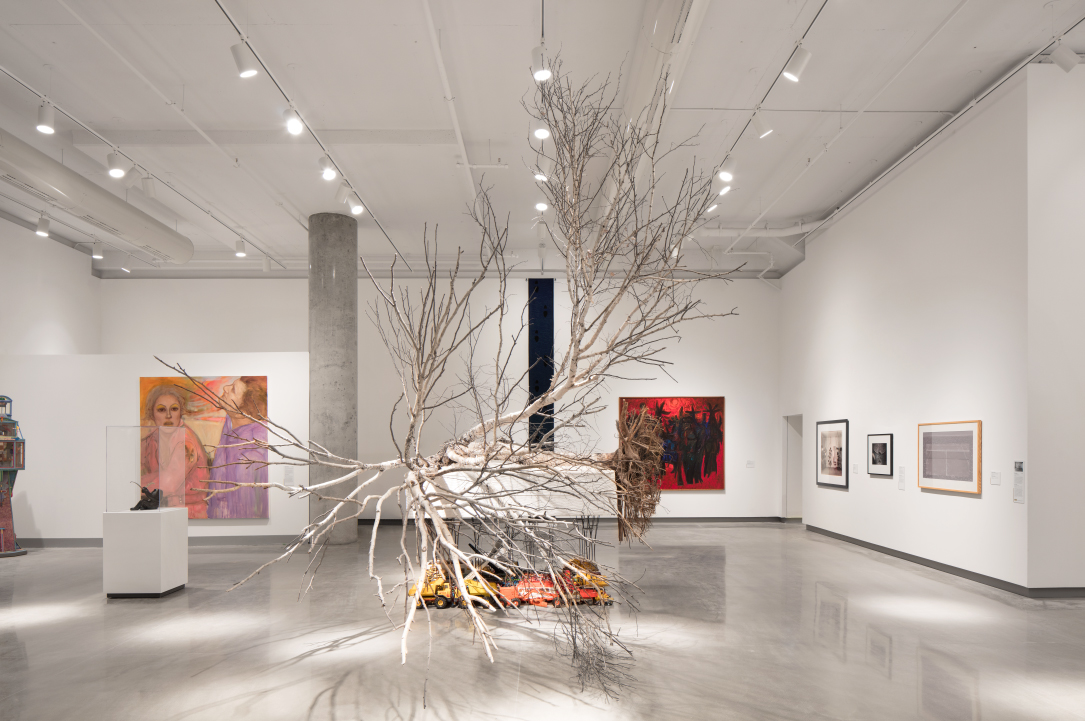 View of the OAG's inaugural exhibition "Àdisòkàmagan / Nous connaître un peu nous-mêmes / We'll all become stories" in the Spencerville Gallery. In the foreground is Max Dean's Waiting for the Tooth Fairy (2009). Photo: Adrien Williams.
Eleven new commissions are also on view in the OAG's debut exhibition. In one of these, artist and A Tribe Called Red member Bear Witness turns the lens on his father, photographer Jeff Thomas, who made Bear a muse of his own pictures when Bear was younger. In another commission, Leslie Reid, best known as a painter, has created a large photomontage on metal dealing with her father's past in the army, and the army's presence in the north. Shelley Niro was also commissioned to create a film featuring a performance of Barry Ace's A Reparative Act (2010) in Paris.
Other artists in the exhibition range from classic, such as David Milne, to contemporary, such as Jinny Yu and Greg Hill. The overall artist list—emphasizing those with some kind of tie to the region—is massive. It also includes Lorraine Gilbert, Annie Pootoogook, Lynne Cohen, Okpik Pitseolak, Pegi Nicol MacLeod, Frank Shebageget, Marlene Creates, Howie Tsui, Eliza Griffiths, A.Y. Jackson, Melanie Authier, Meryl McMaster, Carol Wainio, Barry Pottle, Rosalie Favell and more.
The curators—Rebecca Basciano, Jim Burant, Michelle Gewurtz and Catherine Sinclair—visited with Algonquin elders in Quebec and Ontario to discuss the exhibition as it was in development. "The time has come where Ottawa has to have the ability to tell its own stories and support its own artists," Badzak says. "I think cities like Winnipeg have done a great job telling their [art] story, but we have never been able to do that."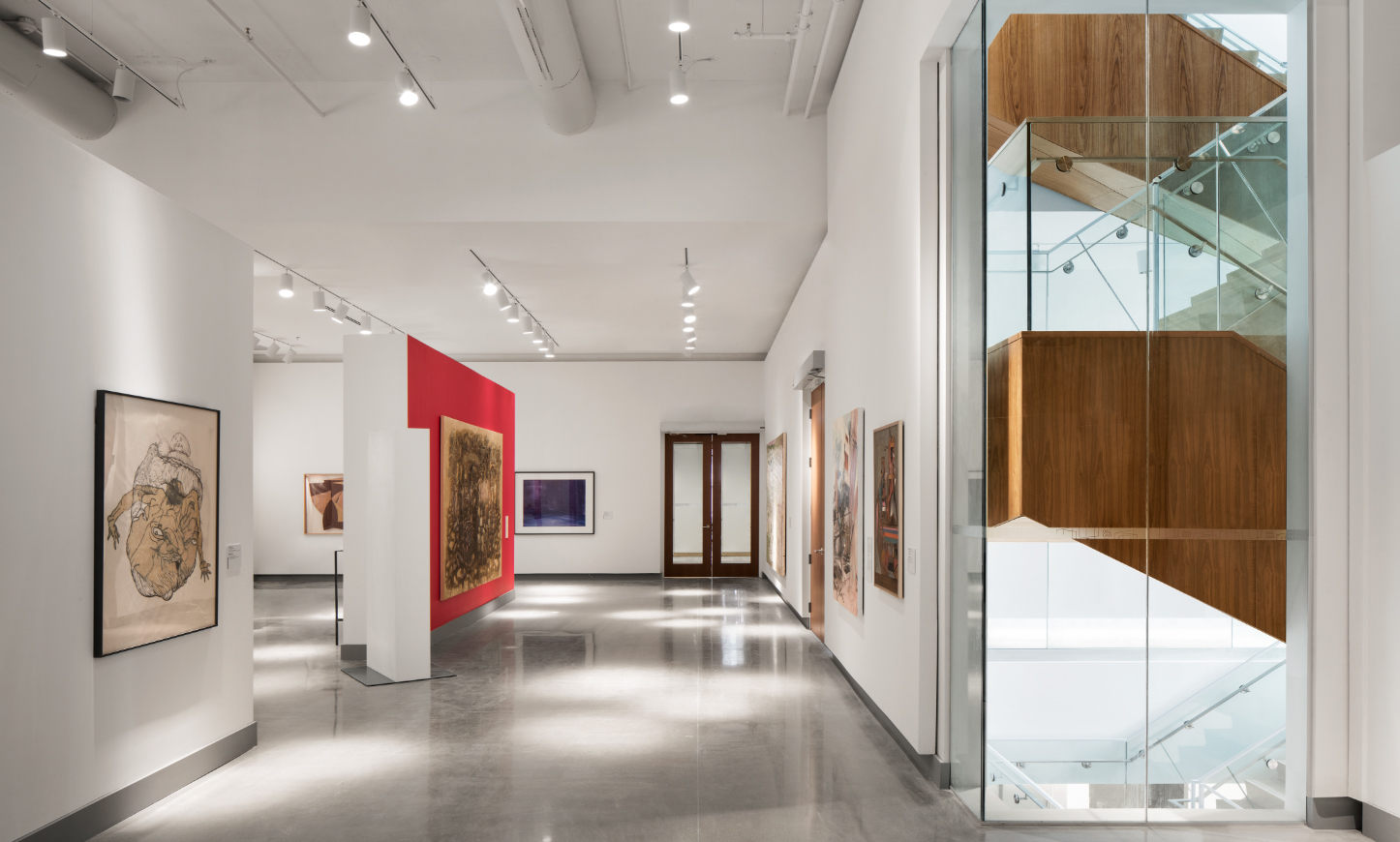 View of the OAG's inaugural exhibition "Àdisòkàmagan / Nous connaître un peu nous-mêmes / We'll all become stories" in the Spencerville Gallery.
Local artists have had a voice not just in the gallery's initial exhibition, but in the structure and programming of the gallery itself. Consultations with the community, for instance, showed that the gallery needed project spaces—"not just large and voluminous spaces, but smaller spaces for solo or two-person shows or residencies or experimental work," Badzak says. So the new space reflects that.
Also on the artist wish list, and coming in a few years: a triennial for the region. "We are looking at a triennial that will cover this whole Eastern Ontario and Western Quebec area," says Badzak, "with 2020 to start." The triennial would bring in an international curator to work with local curators and artists.
"It was one of those things that emerged from our conversations with our artists—they wanted that," says Badzak.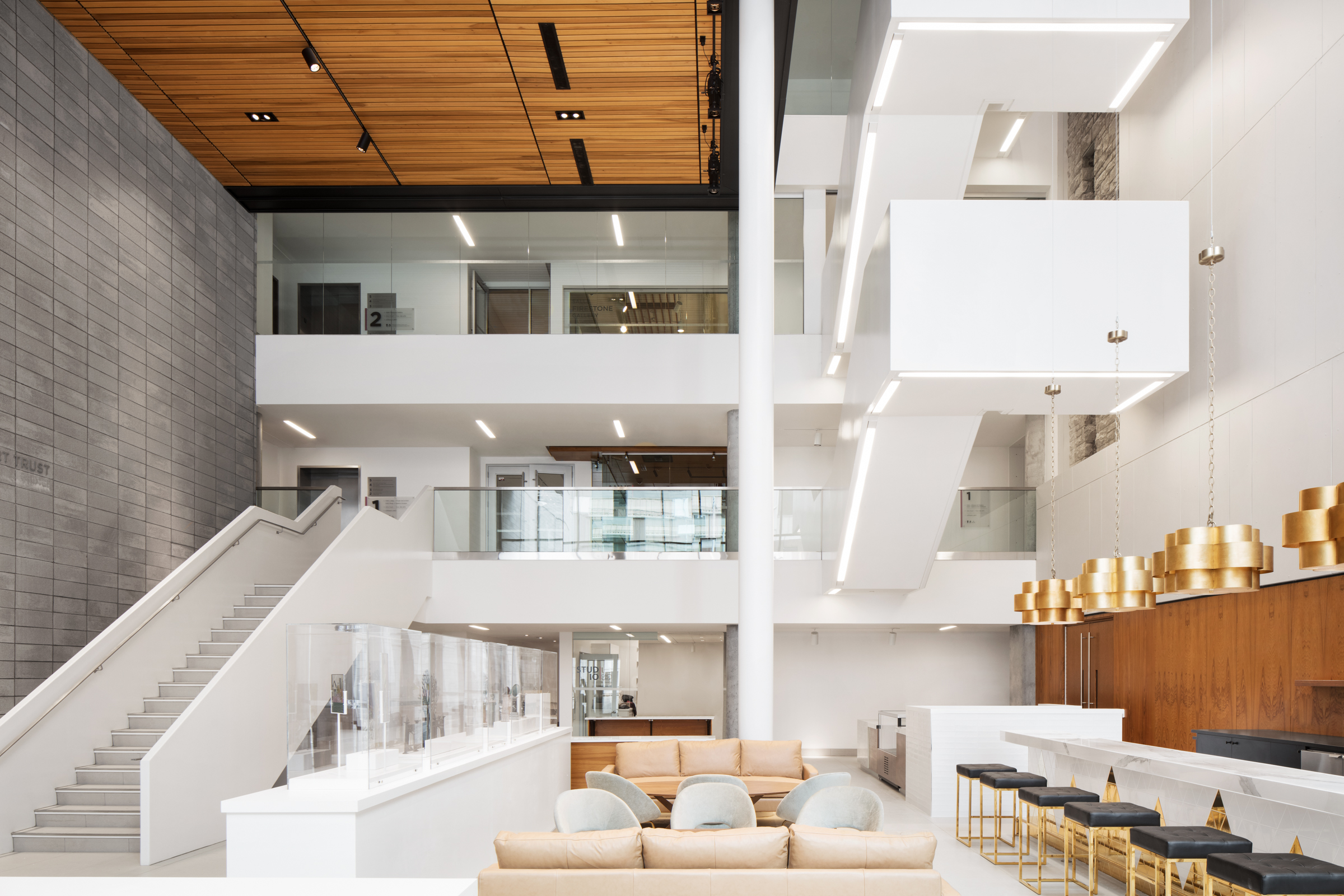 The new OAG Daly Avenue lobby, Jackson café and stairs leading to exhibition spaces such as the Firestone Gallery.
Though the basic design of the gallery is cubelike, it has many different sub-spaces: a dedicated gallery for the Firestone Collection of Canadian Art, a permanent-collection gallery, changing galleries for exhibitions, two rooftop terraces (one with a view of the Peace Tower), a multipurpose room, an art studio and a café. Different timelines converge in the architecture. O.J. and Isobel Firestone, who lived in Ottawa's Rockcliffe Park, donated their collection of Canadian art to the Ontario Heritage Foundation in 1973. In 1992, the collection was transferred to the people of Ottawa and eventually the OAG. The Firestone family home was demolished in 2007, but the grand brass and marble staircase from their old house is part of the new gallery.
Likewise, multiple partners were key to making the new gallery happen. The new OAG is part of a $100-million public-private partnership that includes a condo development and a boutique hotel. The OAG is hoping to leverage this for audience and engagement: each initial condo purchaser gets a one-year OAG membership, while the hotel hosts a satellite gallery space the OAG is programming. And the wider community helped: the OAG fundraised $5 million—more than twice its goal—for its building capital campaign.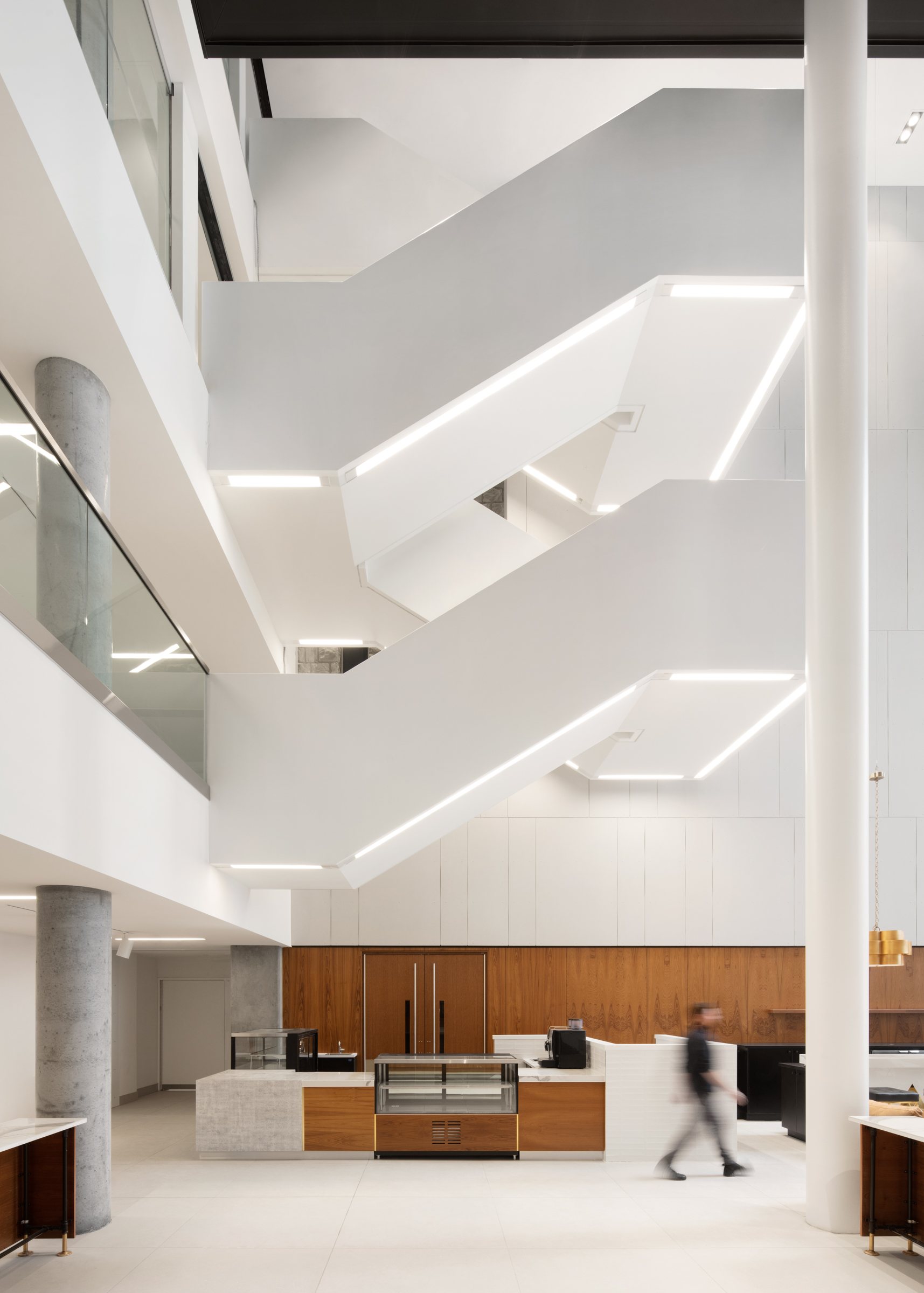 The new OAG lobby and Jackson café take-out area, on Daly Avenue. Photo: Adrien Williams.
The multiplicity of the city's arts community is also woven into the building: the new OAG is still physically connected to the Arts Court structure where it once was, with SAW Gallery and other artist-runs now expanding into the gallery's old space. The University of Ottawa has a theatre facility that is also connected.
"There is a flow between spaces," Badzak says. "You can imagine when we are hosing the animation festival or similar events, the entire block will be bustling."
The overall effect the gallery is going for, according to a release?
"A space that evokes a personal sense of awe without being an elitist experience."
This post was corrected on May 1, 2018. The original copy included the outdated and inappropriate phrase "the visually impaired" in referring to people with vision loss. The terminology has now been corrected. We deeply regret the error.