With recent conferences like Cripping the Arts at Harbourfront Centre in Toronto and exhibitions like "Access+Ability" at the Cooper Hewitt in New York, the public profile of disability arts is gaining ground.
But there is still much more to be done. And the ongoing Ottawa program Disruptions: Dialogues in Disability Arts aims to advance the discourse, too.
"A couple of years ago we started thinking abut this space and about our exhibition programs, and that, as an art gallery, as this cultural institution, we have a legacy of being an ableist space," says Fiona Wright, Carleton University Art Gallery's coordinator of student and public programs. "The kinds of artists we showed in our space and that we had in our collection was really narrow. So we wanted to embark on a process of reflecting on that and responding to it and disrupting it."
Wright reached out to Michael Orsini, a University of Ottawa professor who researches critical disability studies, to develop such a response. Together, Orsini and Wright launched Disruptions at the Carleton University Art Gallery in Spring 2018.
"We kicked off with a wonderful performance by Danielle Peers, a theorist and dancer who has a lot of experience in disability communities, and Lindsay Eales, who was just finishing up her PhD at University of Alberta," says Orsini. "What was really great about their presentation was it brought together some of the discussion around madness and disability."
The second presentation in the Disruptions series, in fall 2018, was with New York scholar and activist Kevin Gotkin.
"Imagining what disability nightlife would look like" was part of Gotkin's project at the gallery, says Wright. "He did a DJ set in the art gallery, and pumped up the music so that people could come and put their hands on the speakers," for example.
On April 2, 2019, the next event in the Disruptions series will take place. It will welcome Chicago-based creator Sky Cubacub, author of the manifesto Radical Visibility: A QueerCrip Dress Reform Movement Manifesto.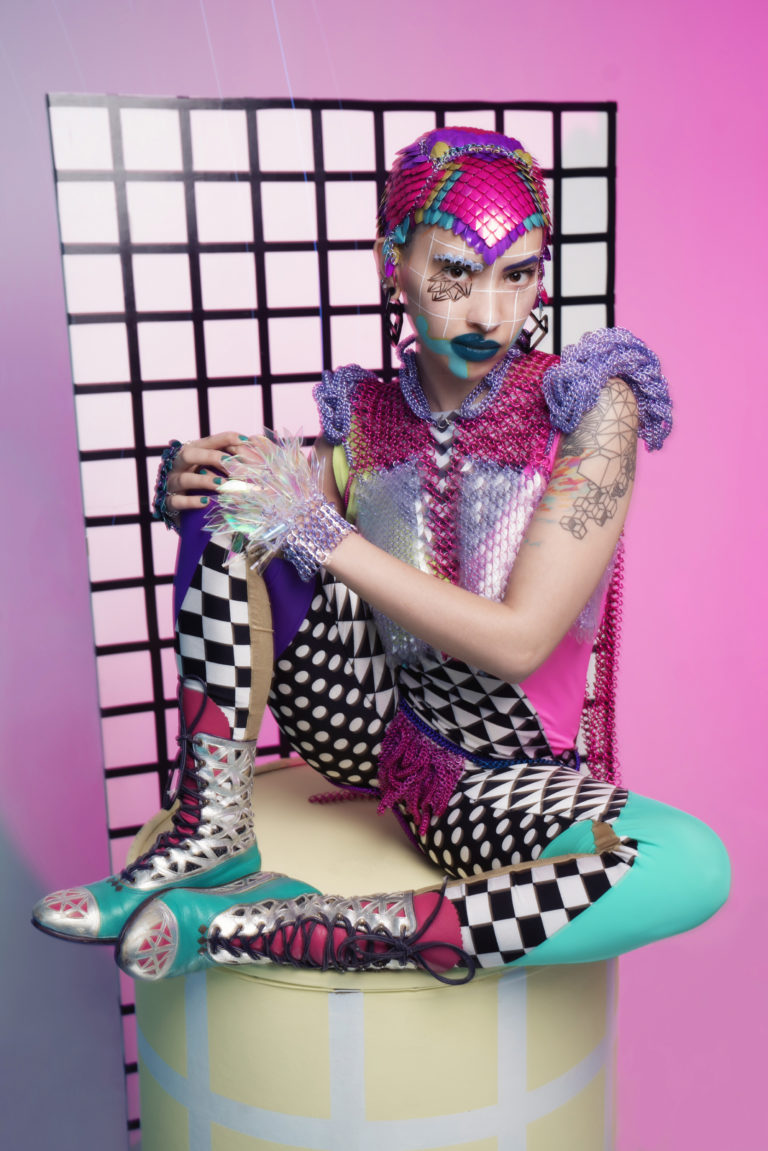 Sky Cubacub is the next speaker in the Disruptions: Dialogues on Disability Arts series in Ottawa. Credit: Ryan Burke for POSTURE X PAPER CELEBRATES THE GENDER-FLUID FUTURE. Set Designer: Mo Pepin
Cubacub is also the force behind Rebirth Garments, which, as Cubacub has put it, is "a line of wearables for the full spectrum of gender, race and ability." They were recently named Chicagoan of the Year and have also presented at the Whitney Museum in New York.
"I think the thing that unites a lot of the folks that work in disability arts is that they wear so many different hats," says Michael Orsini. "You can't just call them disability artists or theorists or scholars—and that is kind of disruptive in an environment in which we are hyper-specialized and can only ever talk about x or y."
As a series, Disruptions also aims to bring together different institutions in the capital region. The April event with Cubacub will take place at the Ottawa Art Gallery, and involve discussion onstage with Kelly Fritsch, assistant professor in the Department of Sociology and Anthropology at Carleton University.
"Ottawa isn't a big art centre—it's not Berlin, it's not LA," says Orsini. "But I think we can imagine, and we should imagine, that we can have these kinds of conversations among folks who have an interest in building something significant as far as what it means to engage with disability arts, what it means to engage with contemporary art, and what it means to think about difference."