In 2018, after a decade of increasing collaboration between the Montana First Nation, Louis Bull Tribe, Ermineskin Cree Nation and Samson Cree Nation, the Maskwacîs Education Schools Commission (MESC) took over operations at 11 schools on behalf of its four nations. A major part of the commission was the Cree concept of wahkohtowin, which translates to kinship, or relationships. Wahkohtowin is best understood as a philosophical concept about relationships, seeing the world as animate, full of spirit and interconnectedness; what flows from this understanding of relatedness is a set of principles and laws about how to maintain good relationships. And that's an approach artist and experimental filmmaker Conor McNally uses in all his work, particularly now as some of his portraits are being used in campaigns to stop the spread of coronavirus. Here, he speaks with the MESC's previous communications director, Matthew Wildcat, about blending a practice in experimental film with corporate communications.
Matthew Wildcat: This is what I remember. The Maskwacîs Education Schools Commission was just picking up steam. Our first pamphlet went out and someone said, "We should do videos!" I thought, sure, I could look into that. I had been hanging out with Emily Riddle in Vancouver and she had told me to look you up when I moved back to Edmonton. So I was dropping in on your office at Native Studies…
Conor McNally: … in the basement at Pembina Hall.
MW: Yeah, and for some reason you sent me a link to your short film McDavid (2015).
CM: All I remember is that you had an Oilers shirt on. I think I must've sent you a link because I don't think I would have just shown it to you.
MW: It's a totally strange film. Under normal circumstances, a communications director for a major project is not going to make the leap from watching an art-house film about a hockey player to, "Oh, this guy could do corporate videos for us." I had never been involved with video production, but I knew I wanted an Indigenous filmmaker. You had the technical ability to make films and Emily had vouched for you as a person so I figured you were as good as anybody [laughs].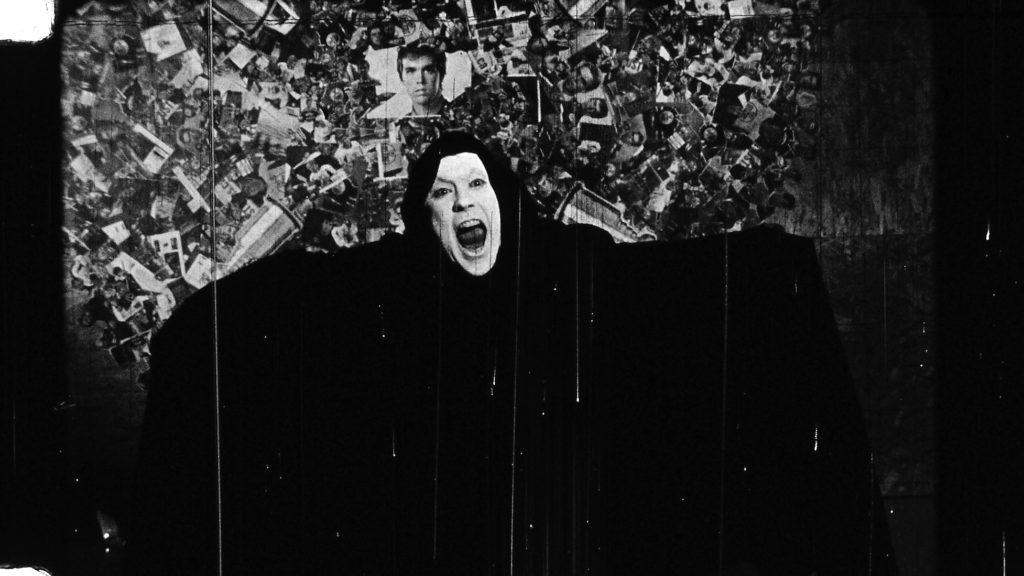 Conor McNally,
McDavid
(still), 2015. 16mm film, stereo, colour and black and white. 9 minutes 20 seconds. Courtesy the artist.
CM: When you approached me I was like, "I don't do corporate video, I just want to do art-house, experimental!" And you were like, "No, no, no. I need a clean-cut video because we're running a commission."
MW: Absolutely. I remember showing you a video that was super hype and my main direction was that I was looking for something inspiring and motivational. The videos needed to be something the community could feel proud of, and needed to reflect the level of excellence and quality that the entire commission was striving for. By that point we were starting to put together an impressive team and gather around these core ideas of wahkohtowin, unity, doing what's right for children.
The videos became so impactful and powerful; they made a splash on the consciousness of the community. When we showed one for the first time at a board meeting, most of the room was teary-eyed. Chief Rabbit spoke up and he was really emotional because one of his grandsons was in the first video.
CM: I didn't know that.
MW: His grandson has disabilities and attends one of the schools, and there was something about seeing his grandson portrayed in this video with a message of hope—it was so impactful for him. In a way, I think those videos played a role in allowing people in Maskwacîs to convince ourselves that we're capable of making big decisions that move the community in a good direction.
CM: I think that kind of makes me think, and you've told me about this before, of this magic of the rez. There are lots of close relationships in the community. After the first video, Jenn Nepoose asked me to take pictures for print and online, and now many of the portraits I've done have ended up on billboards in Maskwacîs. A portrait of Sadie Buffalo, one of the Elders in the school, was recently featured in the "Keep our Elders Safe" billboard, a campaign around preventing the spread of coronavirus. As part of my work out there I've also started working with Sadie's grandchild Maria Buffalo. I did the cinematography and editing for the music video for the song "tommaso" by nêhiyawak. Maria is the director and her kokum, Sadie, is in the music video! When I talked to Maria, she said that Sadie says she is not really into the billboard, but, is also, like, secretly really into it [laughs].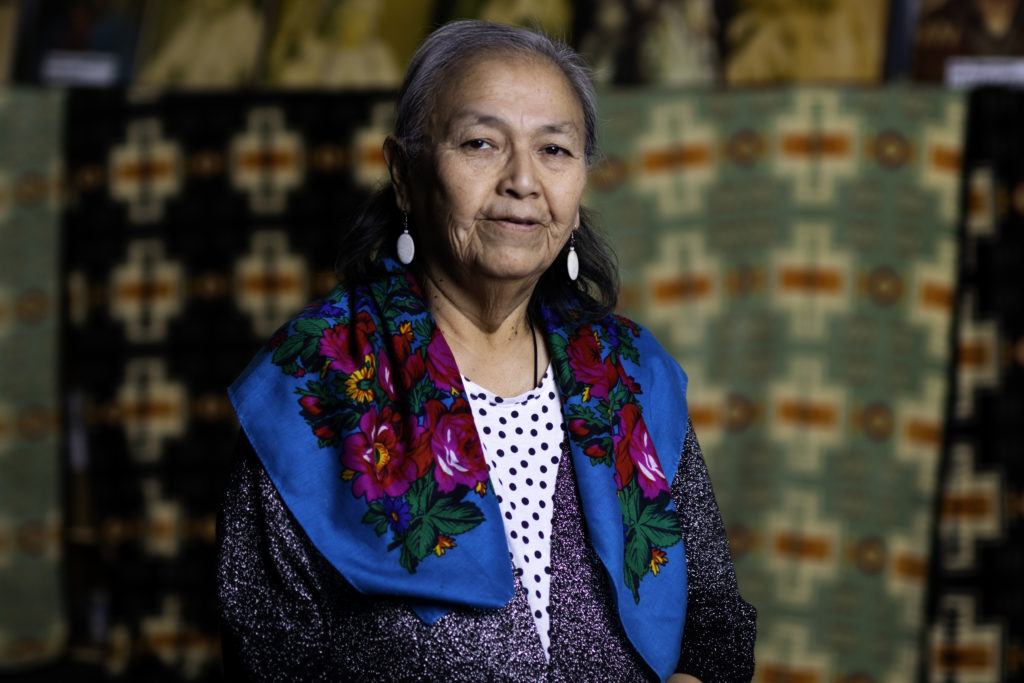 Conor McNally,
Portrait of Sadie Buffalo
, 2020. Courtesy the artist.
CM: Verna Littlepoplar is another Elder whose portrait I took for another MESC billboard. The billboards run along the main highway through the community so everyone sees them. One day, I got a missed call from MESC and then an email saying, "Verna Littlepoplar wants you to call her." First thing in my head, I'm hoping Verna's not calling to give me heck! Turns out, Verna wanted to thank me for taking the photograph because everyone in the community was now coming up to her and talking to her like she was a celebrity! Then she basically said to me, "You're part of my family now." Obviously, when I'm taking the photo or doing the videos, I want the people in it to be happy with the outcome. But you never think that when you take a photograph, that a form of kinship will flow from it. So whenever I go out there, I go see Verna, get a hug and talk to her. It's been almost four years of working in Maskwacîs.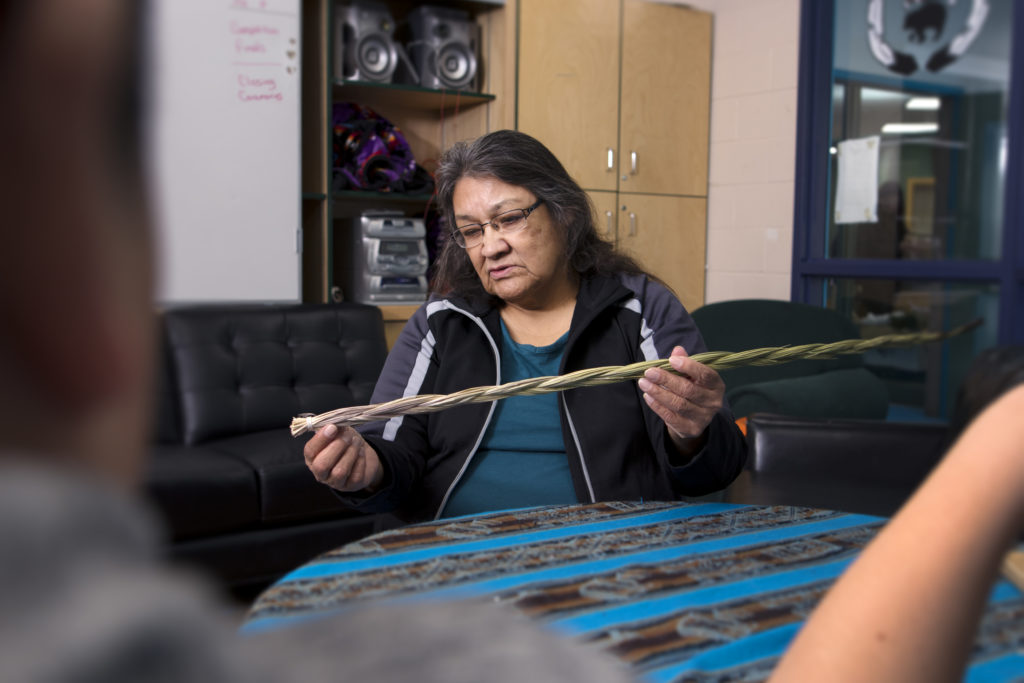 Conor McNally,
Verna Littlepoplar
, 2018. Courtesy the artist.
MW: How do you think of the videos and the photos for the community? They're in a bit of a weird spot; I think they're artistic, but they were also done for an organization and for a purpose. How do you navigate that tension between thinking of yourself as an artist, and then also thinking of yourself as a someone for hire?
CM: Let me put it this way, if I could make enough money with just art films, like ôtênaw, McDavid or my new film IIKAAKIIMAAT, and shoot 16 mm film all the time, that would be great! But the fact that I do have to work as a freelance videographer as well is kind of a blessing. I've gotten to know people in the community better than I ever would've otherwise. I'm getting paid to do it and I think people value it. Hopefully the videos and the photographs will be looked at down the road as a moment in time in the community's history. The interesting thing is that  although, yes, it is "corporate" video work, I've always had complete editorial control. I don't think there's ever been a time when I've been asked to drastically change anything.
One of the main differences between doing this kind of work and more arty stuff is the aesthetic considerations. For instance, it would be a disservice to the community if I went and tried to make these videos in an experimental way, you know? I've never wanted them to be pretentious or, you know, highfalutin—they're going to be shown on Facebook, they're going to be shown on YouTube, they're going to be shown at Indigenous education conferences. I wanted them to be as accessible as possible. But also, they adhere to a certain style. If I went and tried to make some kind of art film, I think very few people in the community would be stoked on that.
MW: No, no, not at all. We would have only made one video, and that would've been it!
CM: That's not to say I'm not proud of how the videos look. Maybe initially I thought, "I'm a fine artist, I don't want to associate myself with these kinds of conventional-looking videos." But now I've come to a point, maybe just through maturity, where I'm excited to do both.
Conor McNally,
ôtênaw
(still), 2017. 16mm film, stereo, colour and black and white, 40 minutes 58 seconds. Courtesy the artist.
Within Indigenous communities we have been impacted by colonialism in these awful ways, but through MESC I came to really appreciate how much people understood and still practice this concept of wahkohtowin. I think that part of your success was your ability to become part of the community's web of relationships
MW: In the four years we've known each other, there has been a transition for you, from someone dabbling in film to being a full-time filmmaker. But I'm interested in the connection between these two roles you have as artist and freelancer. If you just needed to make money you could go do whatever job and then do your art on the side, right? And you could also really go start to market yourself.
CM: And have a website.
MW: Yeah, you don't even have a website! How common do you think it is for people to walk this line between doing artistic work and freelance work? And, what is that like for you, that journey of navigating these kinds of dual roles?
CM: I kind of touched on this earlier, but it really comes down to necessity and having to pay the bills, pay my student loan debt, etc. But experimental cinema is also fun because I can take more creative liberties with that kind of stuff. But to actually make a video look really "professional" and adhere to certain industry standards, that takes a different skillset. The work with MESC, and then branching out to work for other non-profits or schools, has forced me to up my game with style and professionalism.
I'm fortunate that so much of my freelance work is based on good relationships with these organizations and with the folks connected to them. It helps having lots of friends! I like to think that I'm easy to collaborate with even though sometimes I can be a bit of a film snob.
MW: Just to wrap up, what advice do you have for people who are trying to build their careers so they can fully focus on their craft, and are navigating how they split their time between art and freelancing? What has helped you find that balance?
CM: You know what? One of the biggest things I realized is to communicate to the client that you want to have a lot of creative control. Because then when I take the footage I've shot or the project I'm doing for someone, I don't resent having to do the work because I realize, wait a sec, this is mine. I have ownership over it. I care more about it.
MW: Maybe part of that was about finding clients who are willing to give you that creative license as well?
CM: For sure. When you're working for an Indigenous client you don't want to let your cousin down, you know? [laughs] You want to give something or do something for the community to make them look really good.
MW: I guess at some level it all kind of comes back to the wahkohtowin way, especially with your story of Verna Littlepoplar: "You're part of my family now." You know, for me a big part of the process was learning so much about wahkohtowin. Within Indigenous communities we have been impacted by colonialism in these awful ways, but through MESC I came to really appreciate how much people understood and still practice this concept of wahkohtowin. People really live out these relational philosophies. I think that part of your success was your ability to become part of the community's web of relationships, and now you're part of the community in a way.
CM: Yeah, how time flies though, because it feels like I've been going out to Maskwacîs for way longer. Right now, I'm working on a new film about the painter George Littlechild, who is from Maskwacîs and lives on Vancouver Island. He's done a lot of work with the schools, with painting and art programs. When he was last in town, we went out to Maskwacîs and went to his aunty's house and some other places. You know, it felt like I knew just as many people there as he did. In fact, we went to visit his cousin who works for MESC, and she's the person who writes my paycheques! And this film with George is not an MESC film. It's my own art documentary, but there is still a strong connection to Maskwacîs.
MW: Yeah. You know, I never thought of it, but that is actually a perfect example of how it's not accurate to think of your art and freelancing as being entirely separate.
CM: Yeah, when George and I go out to the community and drive around, my car is taking a beating, but I know the roads.