Jayne Wilkinson: We're speaking during the second wave of the coronavirus pandemic, and both of us are currently living under lockdown conditions. What has life been like for you lately?
Chrysanne Stathacos: Actually, you know, I feel very fortunate in many ways. I was in New York briefly last March, and luckily I came back early. I am so happy to have been in Canada since then. There have been difficult things—not seeing my 90-year-old mother for the past year, for example—and one of my closest friends in New York, Amy Lipton, passed away in December. So the personal, that's been very hard. Making art during the pandemic, though—it's been a weirdly creative time period. I think I've managed quite well, although I'm certainly tired of Zoom.
JW: Has it changed how you're thinking about your work? Spirituality, loss, friendship, solidarity—these are themes that already come up quite a bit in your practice.
CS: Amy was a gallerist and a curator, and we did a lot of projects together, so her passing brought up a lot of memories. My first major group show on spirituality was at her gallery in New York in 1990: "Reconciling the Unverified: The New Metaphysical Art," curated by G. Roger Denson. That was before I practised Buddhism, but I've always loved metaphysical activities, eco-feminism, Carl Jung and art. Part of it has to do with my exploration of Greek mythology, the Greek plays, the Oracle at Delphi. You see so many artists now who are looking into ancient Greece—the myths and the plays of Aristophanes and Euripides still have such resonance. It's actually incredible.
In 1995, after the significant losses of Jorge Zontal, Felix Partz, Robert Flack, David Buchan and many friends, I ended up going to India with AA Bronson, and that trip has been pivotal in my work. I started thinking about the idea of "wishing trees," which are popular all over the world, but especially in India. Wishing is a vehicle for hope. My research into wishing later became The Wish Machine project (1997–2021). I began working with Peter Nagy, who founded Nature Morte in New Delhi. I also did workshops at the Tibetan Children's Village School in Dharamshala, which evolved into a program with students from the Lower East Side and the Tibetan students where they exchanged letters and photographs. They developed a deep understanding of each other, beyond their cultures. That became an important revelation for me: how we're interdependent, how we're interconnected. You see all these divisions in the world—and now with the pandemic all of the sudden everything's blown apart again—but we're all interconnected, we can't say we're not. We can all get this virus; it doesn't have boundaries of state, city or country no matter how many lockdowns we have.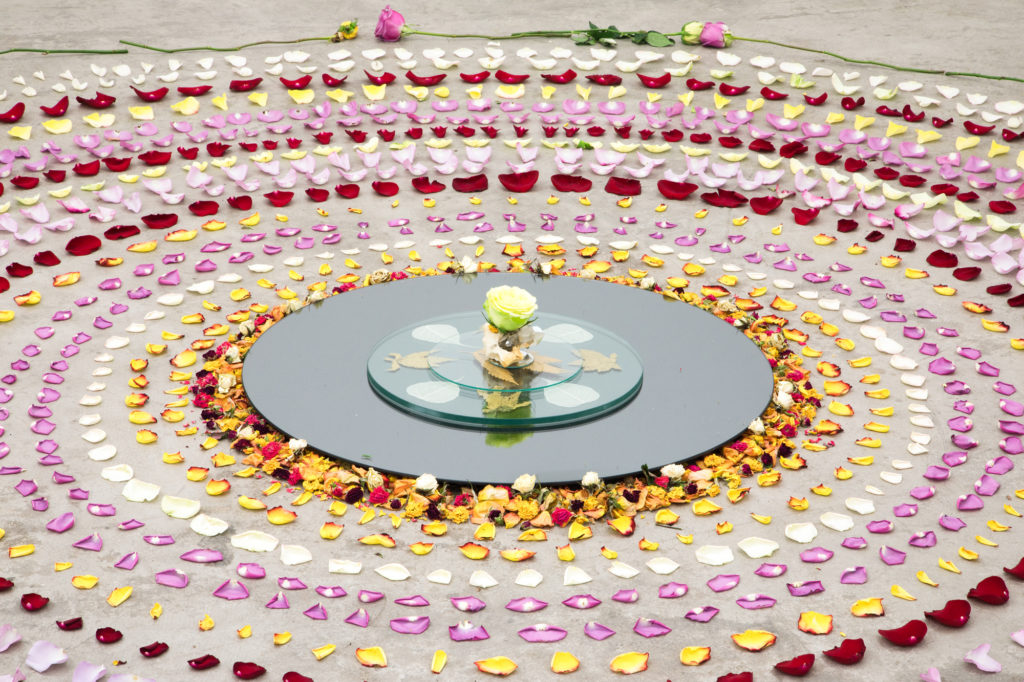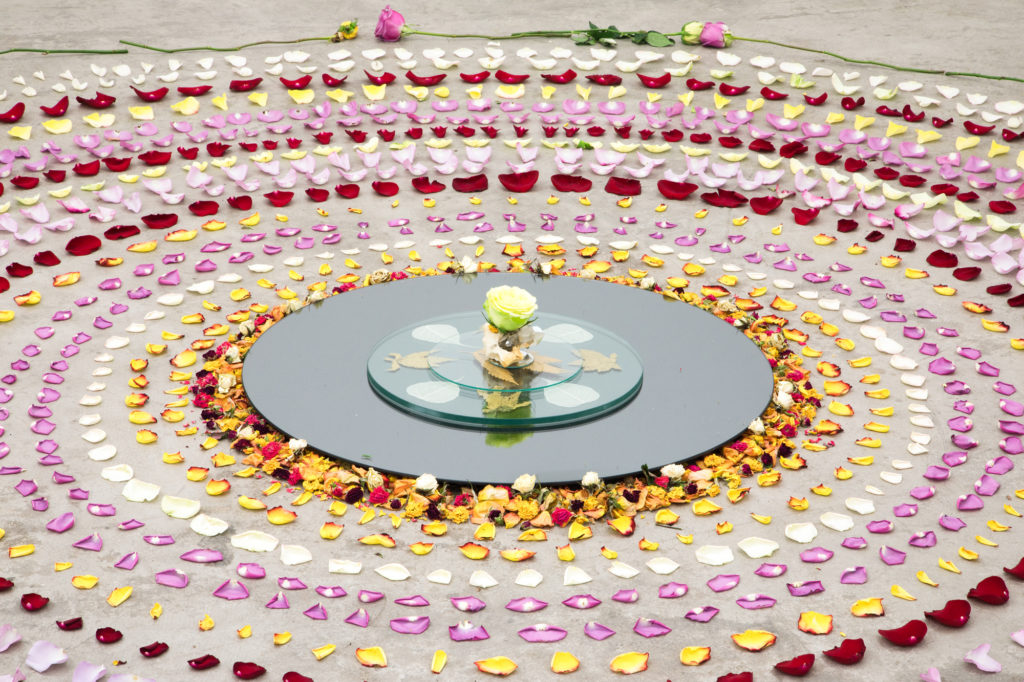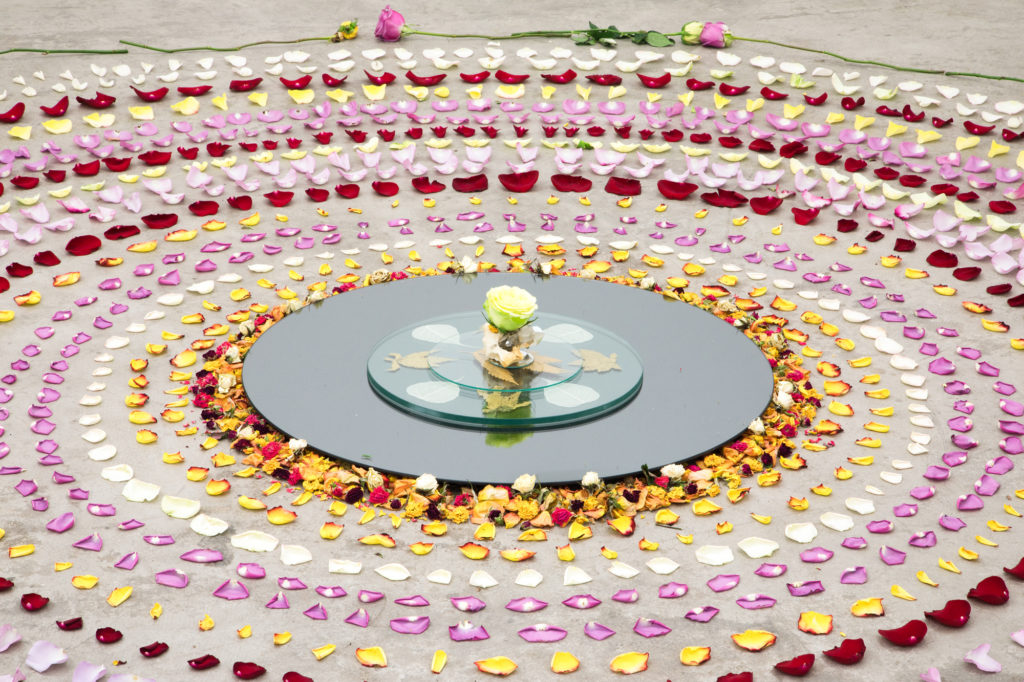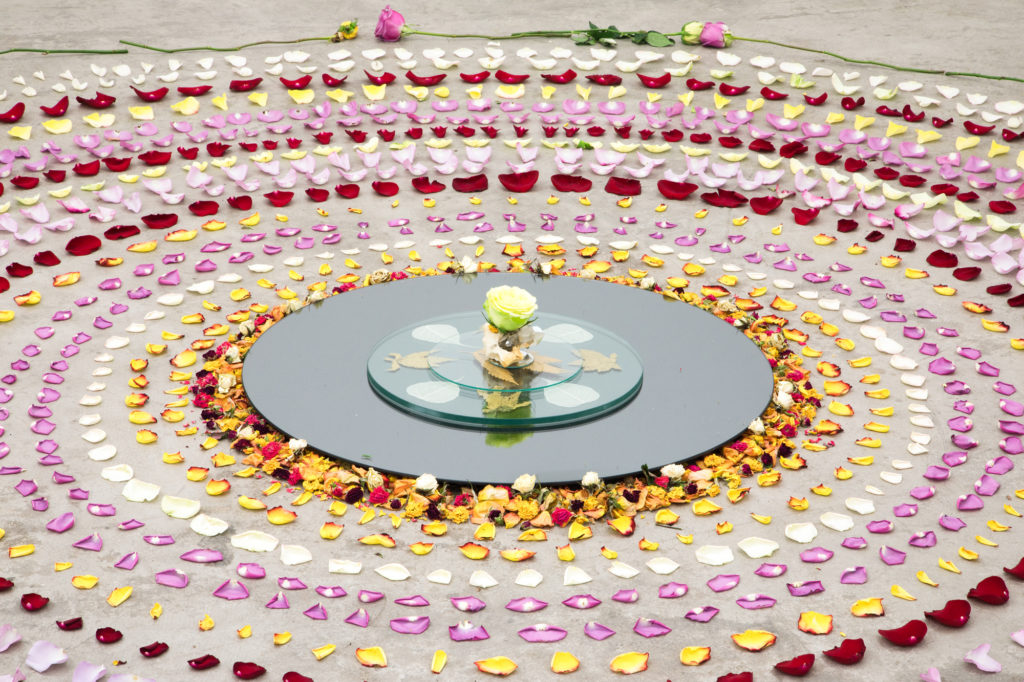 JW: How do you bring Buddhism and spirituality into your work as an artist? Are they mutually influential, these aesthetic and spiritual practices?
CS: I have always been fascinated by spiritual things and the otherworldly. A lot of my recent work, the Rose Mandala installations, has references in Buddhist mandalas but also in the circular mandala floors that you find in ancient Greece or Rome—they often would have used an image of Medusa or other Gorgons in the centre. One of my favourites is the mosaic floor showing Medusa at the National Archeological Museum in Athens. For most of the rose mandalas I make, I use a mirror in the centre: it's infinity, a way of looking beyond, into emptiness or the celestial. Normally when I install them, I'll arrive in the city, go to a flower market, come back with lots of roses and sit on the gallery floor to lay them out, one at a time. There's something not exactly improvisational about it, as I pick each petal and give it a place. The installation is done without a diagram, only by eye and mindfulness, and often with a silent mantra or song.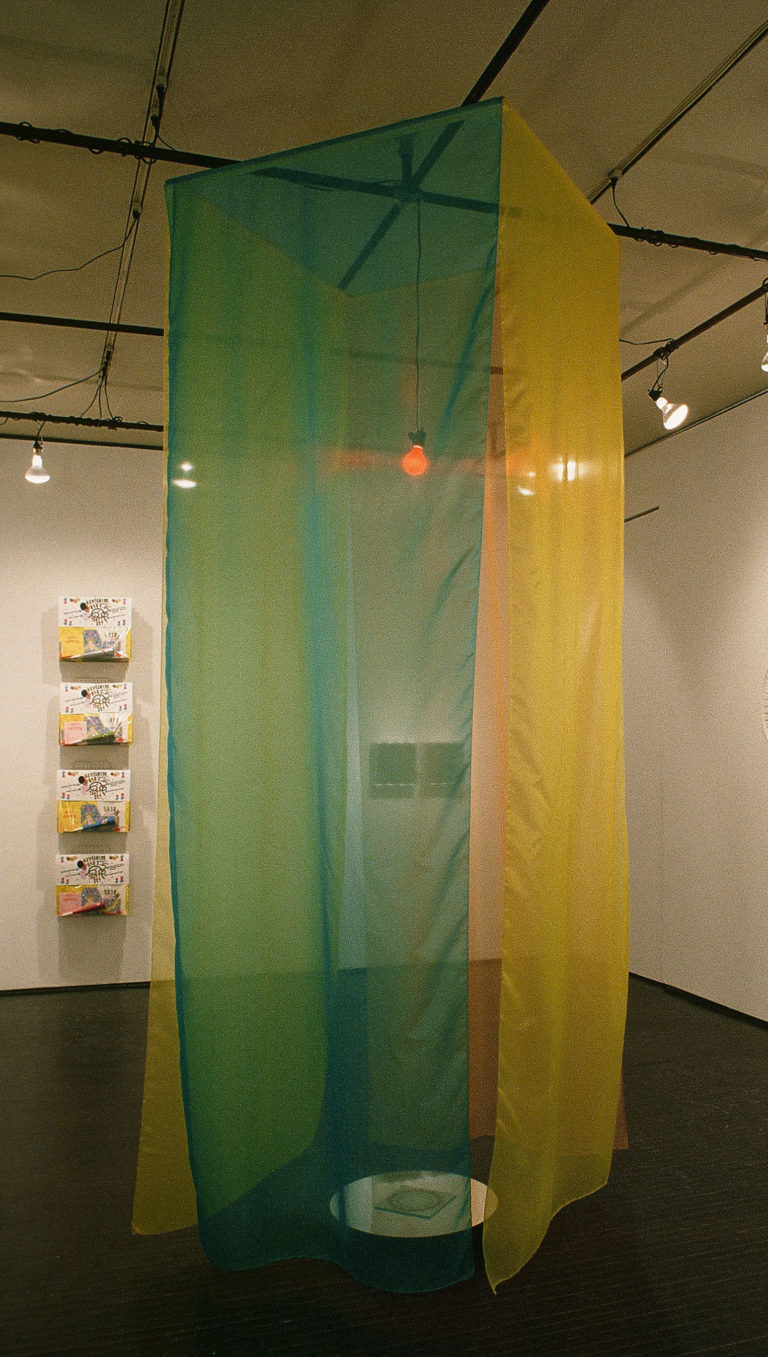 Chrysanne Stathacos,
Dancing Tent for Rob
, 1994. Installation at "Rob-O-Rama Radiating Circles of Everlasting Love Magic" at YYZ Artists' Outlet, Toronto. Photo: Peter MacCallum
JW: I'm interested in the aspect of impermanence in the mandalas, and how you're working with materials that are both living and dying, that are in a process of change. A mandala is a meditative tool, a symbol and structure that encourages a state of meditation or self-reflection. How do you see these works in terms of physicality, in how they engage with the body?
CS: Well, it's interesting. When I was alone in the house this year, during the pandemic, I was looking back at my first mirror work. It was for the group show "Rob-O-Rama Radiating Circles of Everlasting Love Magic," in honour of Robert Flack, which took place at YYZ Artists' Outlet in 1994, the year following his death. It was a circular mirror with Day-Glo chiffon hanging around it, for dancing. You could go in it, and there were four panels and a light bulb hanging down. We had been given some images of Rob's that I put on acetate, which were on the mirror. It was very moving to me that the Rose Mandala installations and use of the circular mirrors, which are so important in my work now, started with Rob. He and I did all sorts of rituals together, and I used his tarot deck, The Tantric Dakini Oracle, this past spring for 1-900 Mirror Mirror at Cooper Cole.
The Rose Mandala installations and performances reflect ephemeral processes of change, age, decay, emptiness and the inherent impermanence of even the beautiful. The mandalas are left to dry as the petals are reduced to a quarter of their original size. At the end, the mandala is dismantled in a final performance—swept up, gathered and thrown to the winds, or blown away by human breath. For the past decade, AA Bronson has included my rose mandala installations and performances in his exhibitions, most recently in "AA Bronson's Garten der Lüste" at KW Institute for Contemporary Art in Berlin in 2018. AA and I share a personal history and friendship—the loss of many friends to AIDS along with interests in shamanistic healing, Tibetan Buddhism, oracles and much more.
JW: I think that's one of the reasons 1-900 Mirror Mirror seems so resonant now—it's a work all about interconnection and communication at a time when we're distant from one another. The installation itself is a kind of psychic portal, where viewers can ask about what the future holds by connecting with you through videophone. What was it like showing it last spring, compared to when you first made it?
CS: I originally did 1-900 Mirror Mirror at Andrea Rosen Gallery in 1993—it was created during the height of the AIDS pandemic and it travelled to Art Metropole in 1996. It then mostly slept in storage for many years, only to reappear active during another pandemic in Toronto again. So, presenting it now has brought back a lot memories of AIDS, loss and the world of that time.
The interesting thing about 1-900 Mirror Mirror is that the piece itself foretold the future; it was a kind of an oracle. When we first made it, there was no Zoom, no one was on the computer, no one had a cell phone for talking to each other. I had managed to get these videophones—although they never really went anywhere as a technology or "hot" item then—so I was able to be at home and communicate with the people in the gallery, asking, "Do you have a question for the future?" at which point I would pull a tarot card. Last March we brought it to Toronto for "There are more than four," a group exhibition at Cooper Cole, curated by Jacob Korczynski. There was no opening. I was home in lockdown so it was done over Zoom—only the curator would be there and one of the gallery staff. There were a number of art people we had as virtual guests who were knowledgeable in tarot, and we'd do the readings together once a week during the show.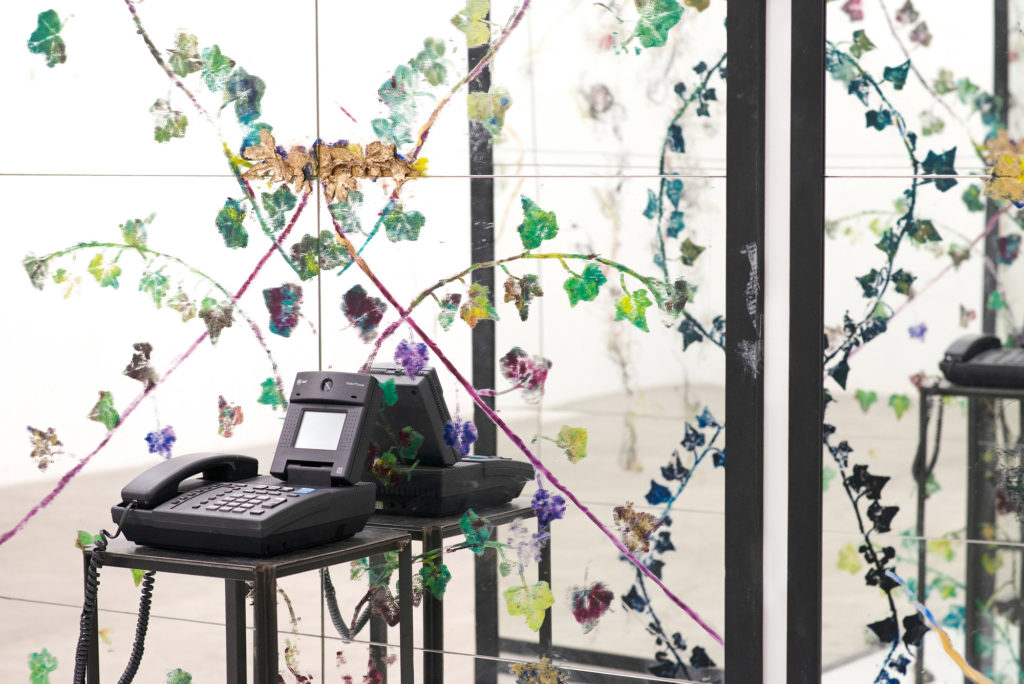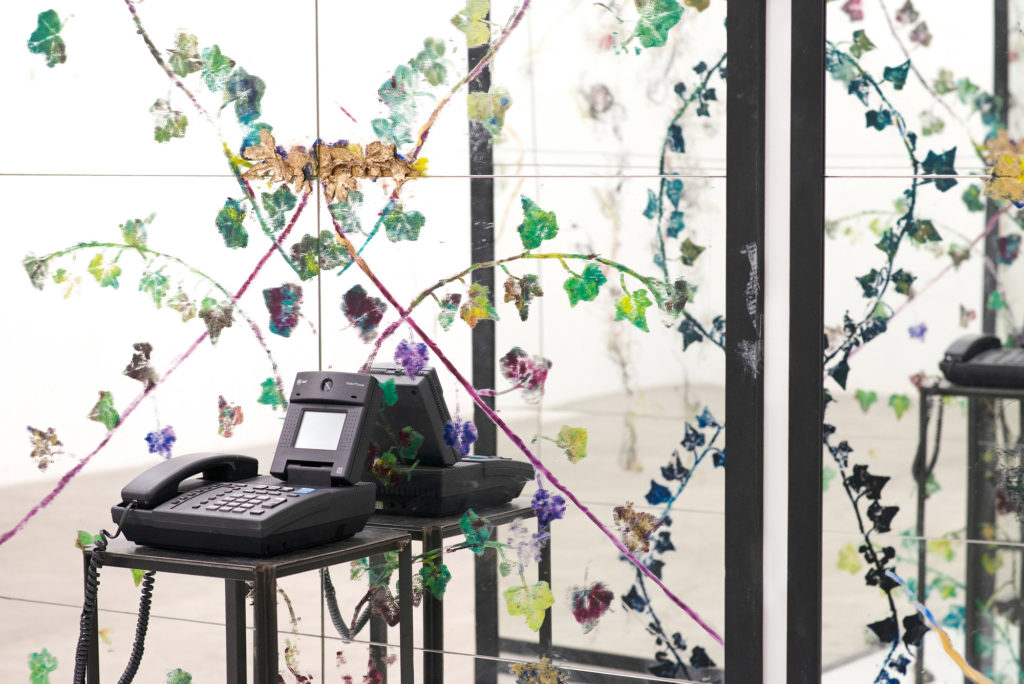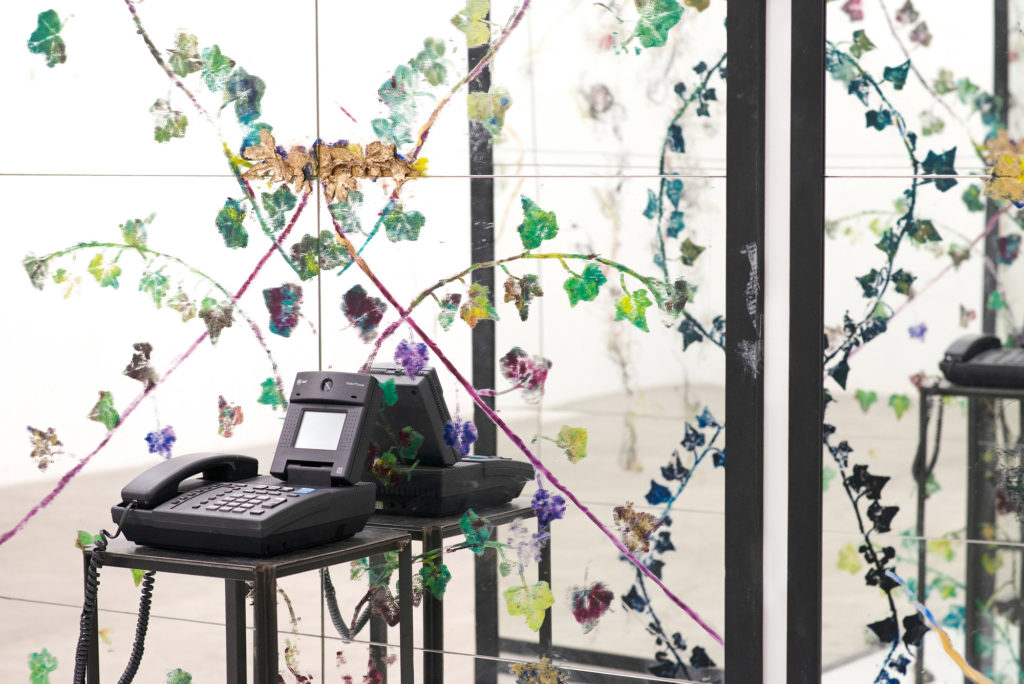 JW: And visitors would call you from the videophone inside the booth…
CS: The idea was to use an infinity room as a phone booth—I wasn't aware of Yayoi Kusama's work with mirrors then, but I knew Lucas Samaras's because I grew up in Buffalo and I always loved his Mirrored Room (1966). The premise of 1-900 Mirror Mirror was to break open the phone booth. The architect I worked with, Ken Saylor, said, "let's open it up." Now we are in a situation in the world where the phone booth is always open.
JW: Phone booths made the city quiet; they were like miniature private spaces, in public. With the ubiquity of smartphones, we can form our own private spaces any time by simply tuning out, so there's also something prescient about the phone booth as a site that is both open and contained: you are by yourself but connected to an elsewhere.
CS: Yes, exactly. When you're in it, you have an endless reflection of yourself. With mirrors, and this applies to work by Kusama or any artists who deal with mirrors in their work, it's also about Narcissus looking into his reflection in the water. I work with the Breeder Gallery in Athens, and when we brought 1-900 Mirror Mirror to Frieze in 2017, it was incredible the amount of people who would come and look at themselves, put their lipstick on. But the use of mirrors can also be very elevating, that goes beyond space—like seeing reflections in a mountain lake, the endless sky—or it can be completely narcissistic, where you're not really seeing the sky that's reflected, you're only seeing yourself.
JW: The mirror is both a metaphor and a kind of invitation to action or to self-reflection—how are you using mirrors in your commission for the 13th Gwangju Biennale?
CS: The work for Gwangju is called The Three Dakini Mirrors (of the body speech and mind). It evolved out of The Five Mirrors of the World (2018), which was curated by Peter Nagy for the Sculpture Park at Madhavendra Palace in Jaipur. That was the first time I used a construction with hand-printed cloths of hair, flowers and mirrors on a plywood base. At Gwangju, the work will be in the Gwangju National Museum for one section of the exhibition "Minds Rising, Spirits Tuning," curated by Defne Ayas and Natasha Ginwala, which unveils dialogues between the conceptions of death and the afterlife, corporeal limits of the body, acts of mourning. There are three mandalas with coloured mirrors, all made to appear like they're floating, so people will be able to circumambulate around them.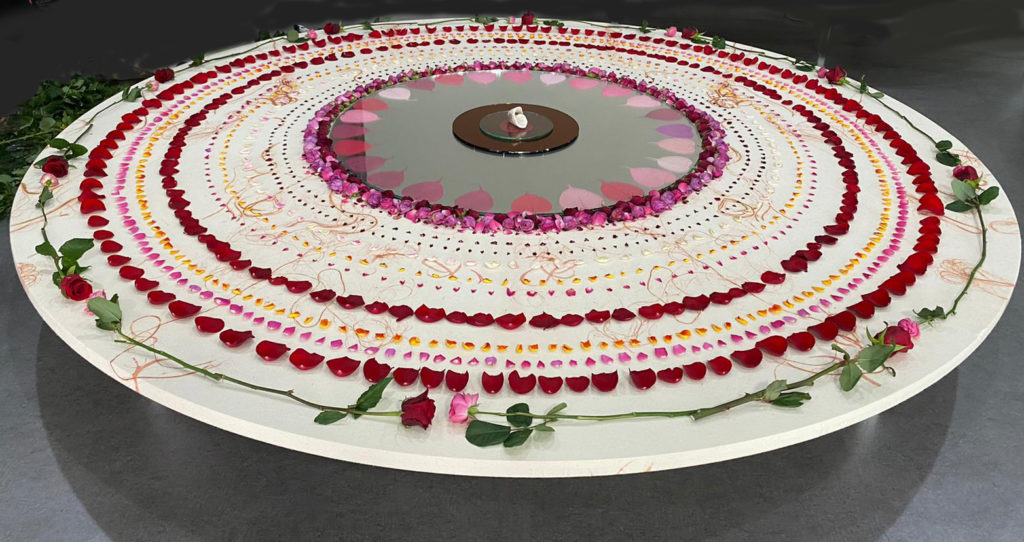 Chrysanne Stathacos,
The Three Dakini Mirrors (of the body speech and mind)
, red mandala, 2021. Installation at the Gwangju National Museum, part of the 13th Gwangju Biennale. Photo: Subin Cho.
JW: Can you explain the title a little bit—what are dakinis?
CS: Dakinis symbolize energetic beings in female form, evocative of the movement of energy in space and sky. The three coloured mirrors refer to three energies: the blue energy of body, the source of all action; the red energy of speech, the source of expression; and the golden energy of mind, the source of all thought. But there are also references to the Delphic oracles and myths within this too.
The well-known Vietnamese Buddhist teacher Thích Nhất Hạnh said the greatest way to reduce suffering, in our lives and others, is to take care of our bodies, along with our speech and our thoughts. So, it came to me that the biggest problems we have are: What do we think? How do we think? What do we say, and how do we say it? How do we take care of ourselves and others?
JW: Do you think this work will unfold differently than others, since you're installing it remotely? Will that change your relationship to it?
CS: I sent very detailed plans because it is quite complex in terms of the construction. I made three large handprinted cloths with hair to place on the platforms, where the large mirrors sit with coloured Bodhi leaves on top, and, under glass, rose petals surround them in a circular formation. During the installation, I worked with the wonderful biennial team in real time over WhatsApp. I am thrilled with the outcome. We did a Zoom talk with bhikṣuṇī Jetsunma Tenzin Palmo, an author, teacher and the founder of the Dongyu Gatsal Ling Nunnery in India, and the biennial team, a recording of which will be available after the opening in April.
I haven't travelled, haven't even taken the bus or anything, outside of my Toronto neighbourhood since last March. Part of it is because I'm going to be 70 years old soon, so with the pandemic I just can't be there in person. I keep hoping something will change and that I will be able to go. But we will find other ways to communicate.
Chrysanne Stathacos,
The Three Dakini Mirrors (of the body speech and mind)
, golden mandala, 2021. Installation at the Gwangju National Museum, part of the 13th Gwangju Biennale. Photo: Subin Cho.