I spoke with artist and cultural theorist Jeanne Randolph on the occasion of the (virtual) opening of her exhibition "Prairie Modernist Noir: The Disappearance of the Manitoba Telephone Booth." I called her from my place in Regina, she was in Winnipeg, and we discussed her series of photographs documenting the last remaining telephone booths—which she calls "small, modernist buildings"—in Manitoba. We shared our views on being in the Prairies during the pandemic, mourning visual modernism and making "boring" images.
Lauren Fournier: I've been looking through your new body of work, and these images look so familiar (being in Saskatchewan, where I'm also taking photographs with my cellphone) but also unfamiliar (because I don't know Manitoba very well)—it's like the Prairies uncanny. There seems to be a kind of melancholy for the telephone booth, this technology on the verge of extinction. Is it also a melancholy for modernism?
Jeanne Randolph: Modernism was important to me—at least visual modernism, not the ethos of modernism, which was too close to the Technological Ethos. The rebellious modernism of its early days had guts, but also supreme elegance, a deep aesthetic resonance. How displaced that little modernist building (the telephone booth) looked when I took the very first photograph in this series, which isn't in this exhibition. I happened upon a phone booth in a forest and I thought, "Holy moly! This is not going to last."
LF: Whereabouts?
JR: We'd take road trips between Toronto and the West Coast all the time, and we'd stop to have a cup of tea or a picnic, and I wouldn't even know where we were. I thought, "Geez, that's a modernist building, but it's miniature." And then I comprehended what was being supplanted by the smartphone. So, I decided I'd document that upheaval in Manitoba.
LF: And some phone booths were gone by the time you got there, and with others you made it just in time to take a photograph?
JR: It was a combination of treasure hunt and detective story (or murder mystery?)—on the road, with the map and with the crossroads written on a little scrap of paper. It was quite poignant when I found one, to spy a booth in its habitat. Dan, my contact at Bell MTS, who had helped me with the location scouting, would call me up and ask if I got there in time.
All the same, I can be very calculating once the moment comes to photograph a particular booth. My subjective, stubborn sense of balance, colour, composition—maybe professional photography doesn't come to mind when you look at these—but I got pretty stern. It's like the phone booth is the equivalent of Jesus's face in the Shroud of Turin; it's a relic.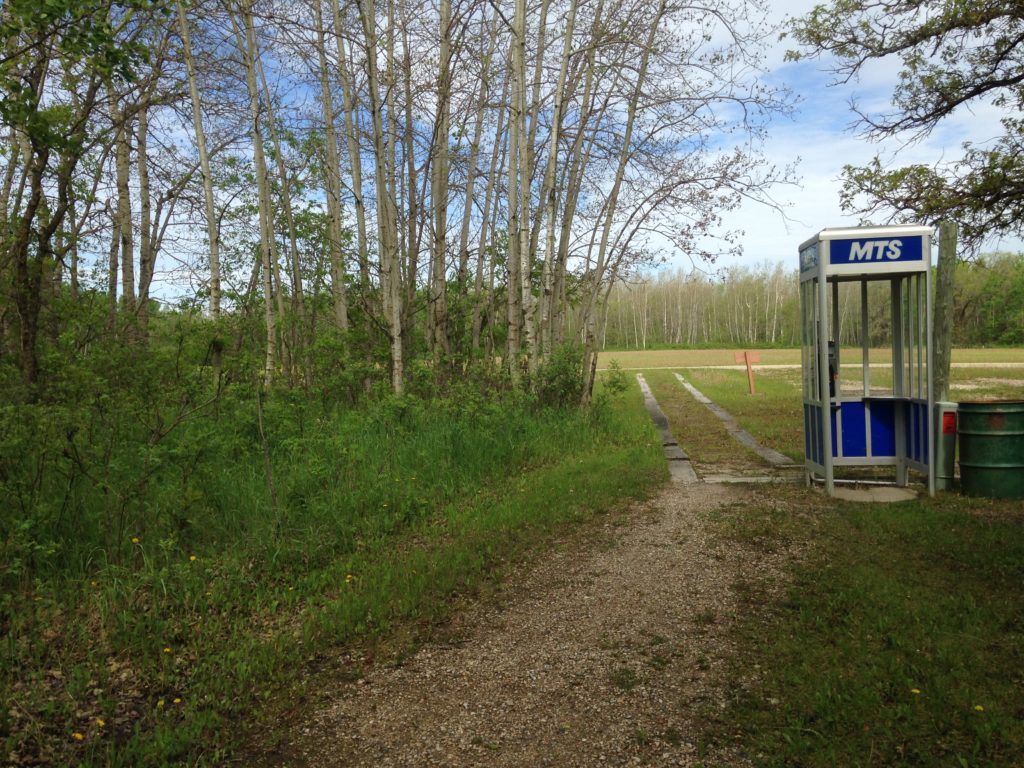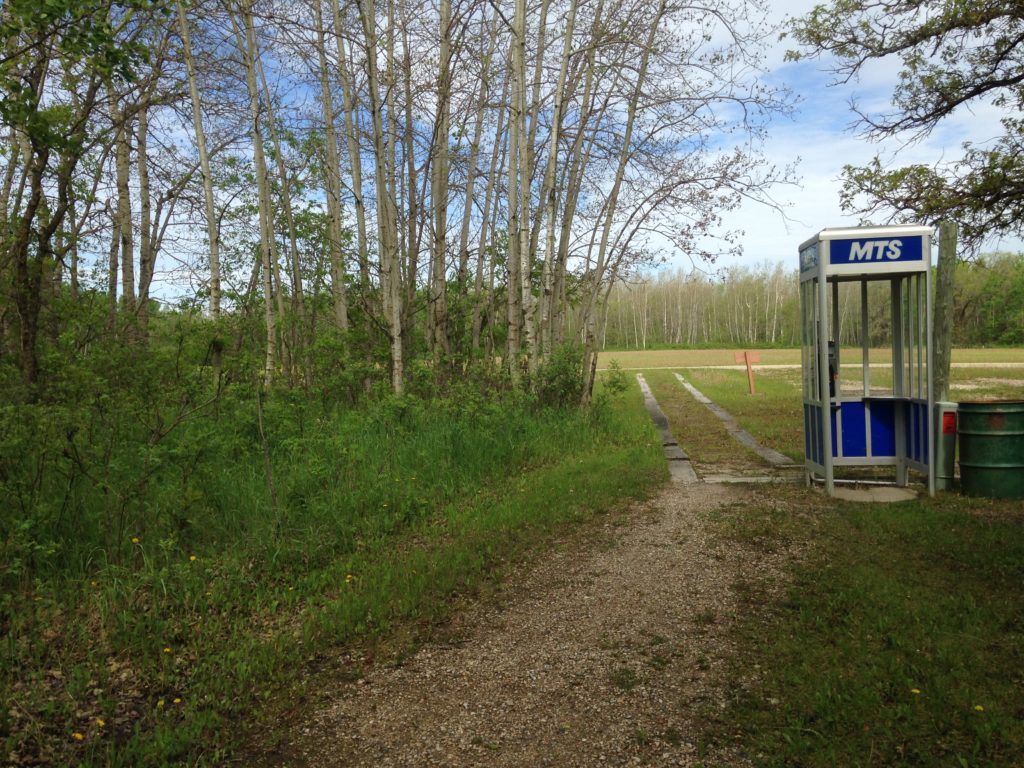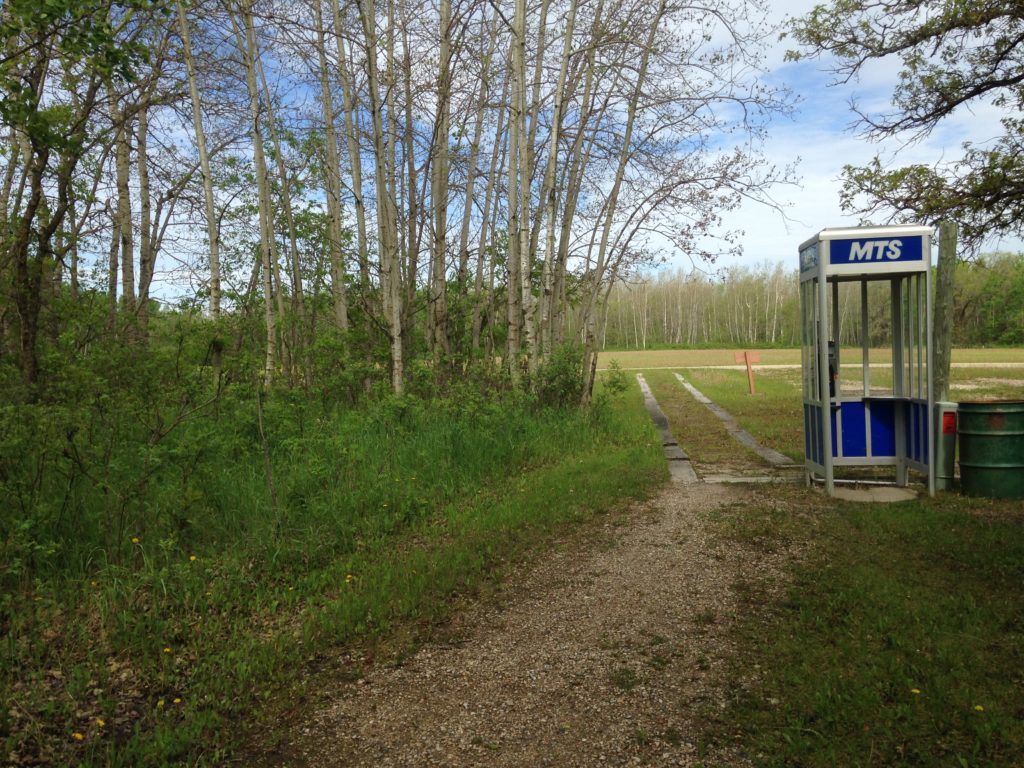 LF: The way you've documented the booths situated in the landscapes—to me they don't actually seem out of place, spatially or temporally. Maybe it's because of the way modernism haunts Prairie cities and spaces, one of many loyal ghosts. There are modernist buildings all over Regina, and in a way it's the most classically "aesthetic" part of the city. There's so little preservation—the city is so quick to demolish old buildings—but the modernist buildings still stand.
JR: Telephone booths have been around our whole lives, so it's hard to see them as alien or out of place. Whatever the abnormal quality in this series is (although I think in my imagination I exaggerate it—like in the one where the phone booth is "waiting for a bus"), I'm trying to find a way to evoke the future as a riddle.
It might be melancholic but it's not nostalgia. I don't think I did anything remarkable in a phone booth in my life—I don't remember. But it is a melancholy for "the unmistakable look" of modernism, which isn't very well integrated with the brash, hyperreal colours and forms of 21st-century culture. The booths, these modest transparent structures, are basically dissolving. With horror, I liken their obsolescence to outhouses.
LF: At their most cynical, I think, art, academia, feminism can look at what came before as easily discarded, disregarded, with the assumption that history is teleological—that things are necessarily moving toward a better, more progressive future. I don't think that's always true. This is something that drives my interest in fermentation—the simultaneity of preservation and transformation, how some things are preserved and others transformed in new contexts.
JR: I hope I am evoking the experience of "abandoned" rather than saying that what is left behind is somehow more valuable or authentic than what is au courant. Nostalgia is teleology in reverse. I hoped to represent the process of witnessing loss without sentimentality. No whining for an object to stay around forever. The only exception to that is the bicycle: bike or die!
LF: Yes, and cyclists in the Prairies have that kind of hardcore sensibility! And here, we're looking at these landscapes of a sort: I imagine you with your pipe, a Prairie film noir heroine, snapping these photos on your iPhone.
JR: I fully embrace that role. I'm ready for my close-up! Espied from the superficial lens of my iPhone, the residue of murder, theft, blood and mourning does not emerge from the mud and frost. I couldn't peel away shadows to reveal a glare of genocide. It's coronavirus time now, and the modernist booths could be interpreted as emblems of virulent racism, as seeds of techno-genocide disguised as "user friendly."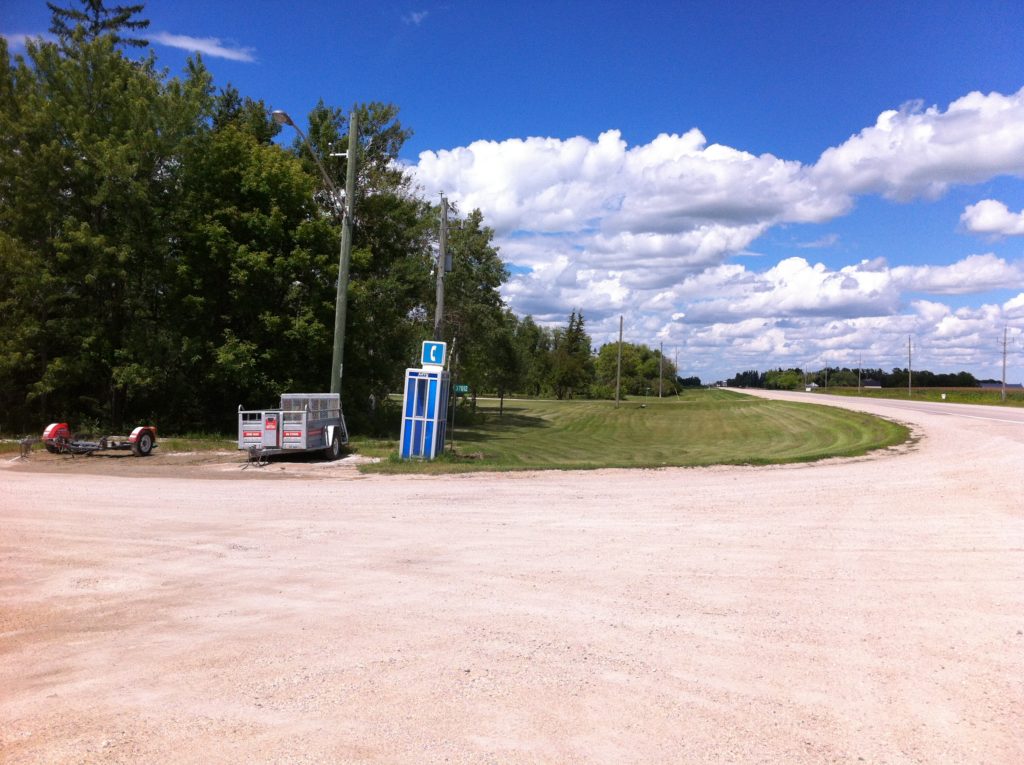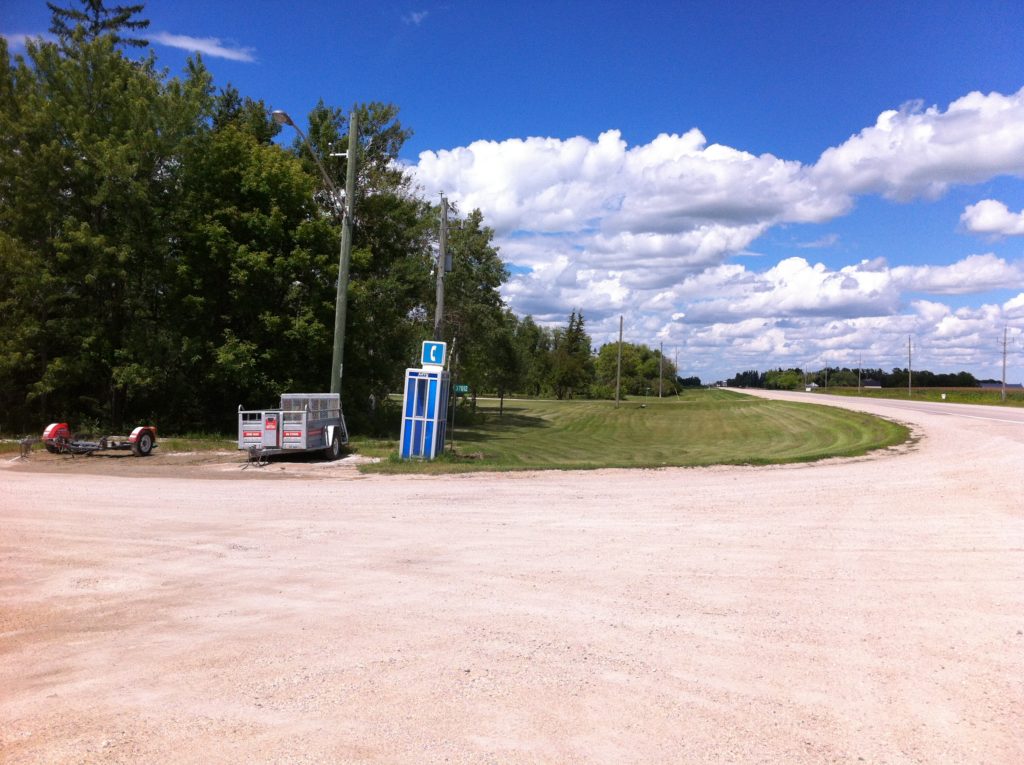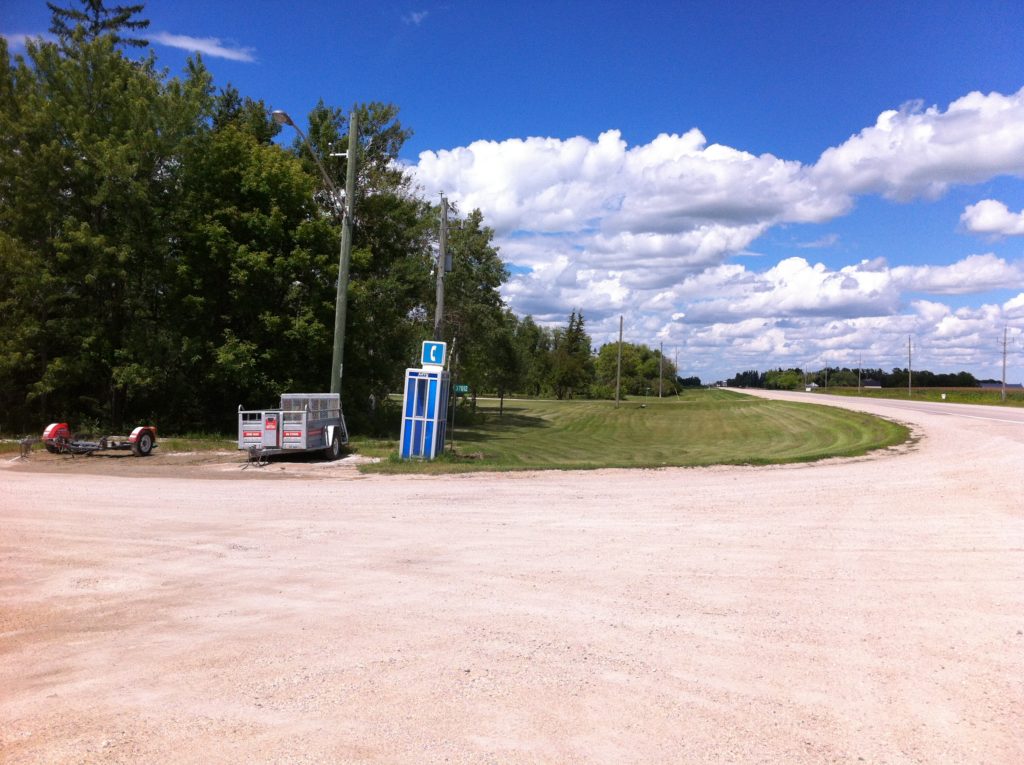 The booths are architectural fossils embedded in predicaments that themselves have their own histories of optimism, vulnerability, decline—and rigid refusal.
LF: I'm always cognizant of the genocidal histories of these lands, and how omnipresent that structural racism feels when I'm back in the Prairies—like, it's more visible, just as almost everything is more visible, with the expansive openness of the land, and the sunlit, revealing skies.
I'm also cognizant that there's an oversimplifying narrative that creates a binary between the supposedly "woke, progressive, future-minded, big-city person" and the "behind-the-times, conservative rural folk," which is constantly reinscribed in pop culture and the news, as well as in art and academia, and doesn't leave much room for the nuance of life here. And to reduce this work of yours to a simple modernism-versus-postmodernism binary isn't exactly it, either.
JR: You are certainly perceptive, thank goodness. It's an invasive species, that binary. These clichés can be stamped upon the images, even while the complexity of each setting is in plain view. The booths are architectural fossils embedded in predicaments that themselves have their own histories of optimism, vulnerability, decline—and rigid refusal.
I think this is the closest I've come to invoking the city-versus-rural cliché in my work. The photographs tempt people who are in a hurry to breeze past the details, and who do not care, really, that the images can be read in many ways. I think this is the least ambiguous project I've ever fabricated.
LF: We have so much visual stimuli that I've actually found seemingly boring images to be very compelling lately. There is an aesthetic drive behind the decision to frame something as worthy of reflection—and this isn't just about the cheeky act of saying "this is art," as the early modernist avant-gardists did. There is an earnest curiosity driving the inquiry and the framing of that as art right now—as worthy of sustained attention, considered reflection. Boring images warrant a different kind of attention.
JR: There's no way you can see it as cheeky, because by now cheeky is mannerist. It's been done already. I greatly respect Sheila Ayearst's work. The care and sly wit with which she paints a concrete barrier, a worn cement sidewalk. It is beyond mere grit. These urban materializations are so ubiquitously lowly we never consciously look at them, until our subconscious intimacy becomes present in her paintings.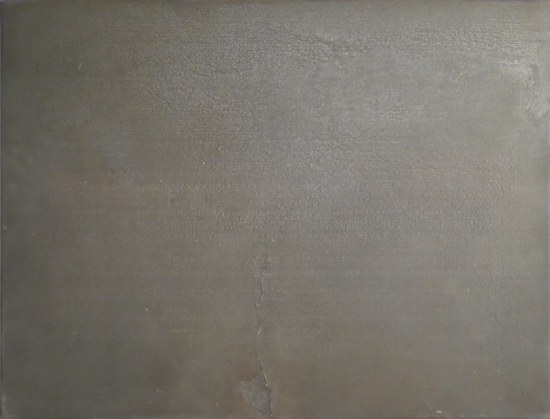 Sheila Ayearst,
Dundas West Concrete
, 2012. Acrylic on canvas, 46 x 61 cm. Courtesy the artist.
LF: What you're saying totally resonates with my sensory experience of Regina too. Kitsch isn't exactly the right word to describe the rather funny images of Walmart that conclude the series, but taste does come into it. You're gesturing to the politics of so-called bad taste, without irony.  It brings up my own experience of the Prairies as a child of the lower-middle-class suburbs. As a teen I would compulsively take photographs on a little pink camera, and I'd take the film rolls in to get developed at Walmart. I wasn't exposed to art until university. It's strange to think that Walmart was the closest thing I had to an art studio. It was a matter of expediency, and access.
JR: That is touching, that in your first forays with your camera you found your way into the belly of the beast, which serves your creative practice. A version of Jonah and the whale.
LF: And then opening up that sticky envelope of photographs and leafing through them as I sat in the driver's seat of my car in the parking lot. There are so many parking lots in the photographs I take of Regina; my point of view is always from an endless parking lot, even when I'm a pedestrian. The parking lot crops up in some of your images too, along with highways.
JR: The parking lot phenomenon awaits you! Talk about something that is ignored because it's totally utilitarian—the evil dream of techno-tyrants! Pure anti-aesthetic when built, and perhaps on the periphery of attention a distant salient structure or object, familiar hedge or streetlight askew. Parking lots are like the surface of the moon, waiting for connotations. Imagine all the noir incidents that take place in the parking lot; some you don't want to talk about and that's why you talk about them. Parking lots are an open book, yet nobody has read them yet. I promise you I will steal this photographic project if you don't claim it now. Please advise.
LF: Ha! Maybe this is a chance to collaborate? Parking lots make me think of the car culture here, and then the buses. The poor, lost provincial buses.  Saskatchewan got rid of all of the STC buses a few summers ago, a move by the conservative government ("Sask Party"). But while you got to document the loss of the telephone booths, no one had the chance to document the loss of the buses—which, for many, especially those living in rural communities, including many Indigenous people, were an essential service. The buses were utilitarian; people needed them to get around.
JR: They still do. And that's why those telephone booths are at Walmart. Walmart is preserving the booths in museum-quality condition. There is no vandalism. Many people who shop there don't have a car and don't have a cellphone. Yet they must call a taxi or a friend.
LF: I know this exhibition just went up but I'm curious what comes next for you. What are you working on now?
JR: I have a vast bottle cap collection. And I want to write a book of indeterminate length called Bottlecaps on Parade, where I'll continue offering photographic images with extended text captions. I want to transform the perception of my bottle caps such that their political, or historical, or phantasmagorical evocations come to the fore, rather than the commodity value of their logos; it's yet another of my rituals to upend consumerism. An image that is supposed to evoke a particular alcoholic beverage will instead become a psychoanalytic and philosophical absurdity.
LF: By summoning narratives from these objects—the bottle caps, the booths—you show there is a life beyond what they've been determined to be. That's the power, I think, of your practice as an artist who writes, and as a writer who makes art: the playful parafiction you engage across sites. It makes space for stories that aren't so easily reducible to those more reductive, ossifying ways of thinking about the world around us. It makes space for imagining things differently.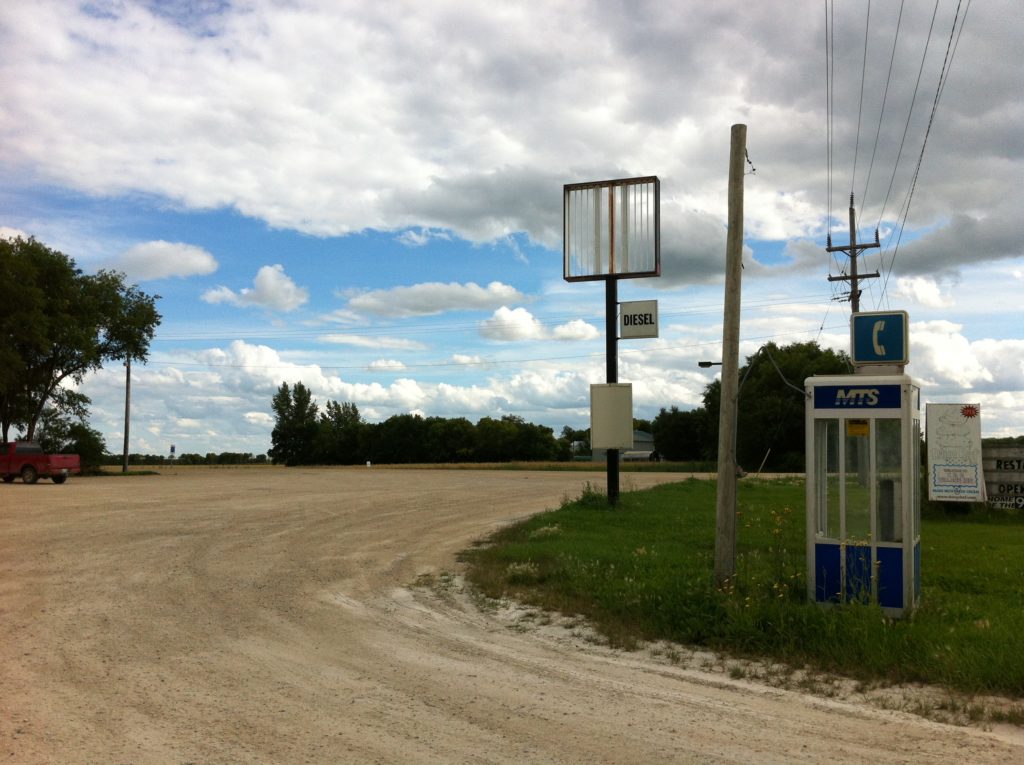 Jeanne Randolph,
Here it is from another view. I wanted to document this sort of view as often as I could—the forsaken telephone booth among its injured friends. As you can see, in a way, it's in its own forlorn community.
2018. Archival inkjet print, 21.5 x 27.9 cm. Courtesy the artist and Paul Petro Contemporary Art.
This interview was edited and condensed.
Jeanne Randolph's "Prairie Modernist Noir: The Disappearance of the Manitoba Telephone Booth" is on view at Paul Petro Contemporary Art, Toronto, until May 30, 2020.