For the past few years, curator Kari Cwynar has been developing a program of temporary and ephemeral public art in an often-overlooked part of Toronto: the narrow band of green space along the banks of the Lower Don Valley. Eschewing more conventional, and permanent, forms of public art, she's been working with artists to produce performances, text-based installations, choreography, workshops and even a collaboration with a donkey sanctuary, asking audiences in an increasingly populous city to re-consider their own diverse histories.
Curating public art in the river valley and ravine that runs alongside one of the busiest highways in the country presents unique challenges. But it also offers opportunities for care and sensitivity, helping to transform how we think about the different ecologies of a city, and the different publics that build collective memory through culture. This is a condensed version of our conversation on artists' performances and interventions into the changing spaces of the city.
Jayne Wilkinson: First, I'm curious about Gareth Long's project with the donkeys … can you talk about how that came about? It's unusual to see live animals in contemporary art, and certainly unexpected for the regular users of the Don Valley trail to see donkeys and a donkey shed. How did people respond, was there a lot of engagement with the project?
Kari Cwynar: It was great. We often think that unusual projects like this will be too challenging but I think that's not giving viewers enough credit. I like to think that for regular users of the Lower Don Trail it made the valley temporarily strange, or new. For the project [Travels with Two Donkeys in the Valley], Gareth Long created not so much a performance but a situation, a catalyst for conversation in public space. He initiated the partnership with the Donkey Sanctuary of Canada and facilitated communal walks with two donkeys every Saturday this past June. In developing the work, he wanted to respond to the site; so he was thinking about how the valley around the Don River has been continuously altered, excavated and neglected, and combined that narrative of transformation with the commonly-held perspective of donkeys as beasts of burden, as animals valued primarily for labour, and often neglected.
It is, as you know, an unusual thing to encounter two donkeys walking in downtown Toronto with a group of humans. And I think it's a challenging proposition as art, but it worked. Most visitors and passers-by really understood it for what it was: a way of creating conversation, of creating a pause, creating moments of care and quietness—especially in a part of the city that, adjacent to the parkway, is most often used as a thoroughfare.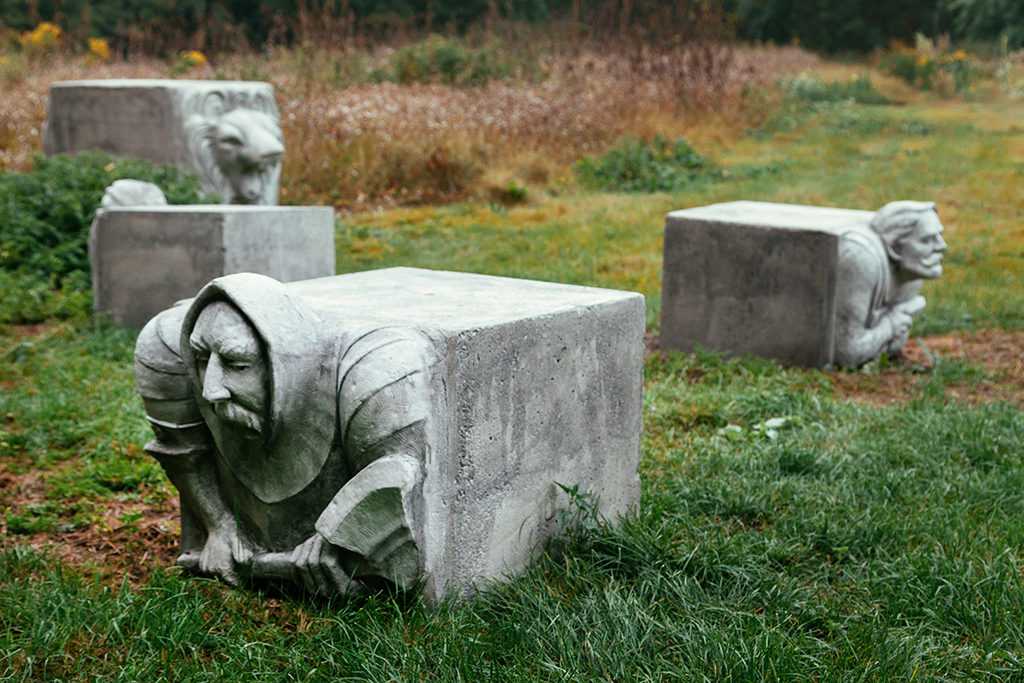 Duane Linklater,
Monsters for Beauty, Permanence and Individuality
(detail), 2017, 14 cast concrete sculptures. Installation as part of Evergreen's Don River Valley Park Art Program. Photo: Yuula Benivolski.
JW: Are the various uses of the Don Valley important to the way you're thinking about the overall program of public art? There's transportation as you mentioned, but it's also been used for recreation, communication infrastructure, mining, construction, etc.— and now there is support from the city to promote its ecological revitalization and recreational uses (again). Where does contemporary art fit in this mix?
KC: Evergreen's public art program is part of the new Don River Valley Park, which, in partnership with the City of Toronto and the Toronto Region Conservation Authority, involves focusing attention and resources on the Lower Don Valley to improve access and ecology in the area. Incorporating art into the park is a way for us to look closely at the landscape, and to engage members of the public. When I started developing the art program and its structure three and a half years ago, the first step for me, before approaching artists, was researching the Don's overlapping histories and constituents, and the existing narratives that surround it—considering the river's role in the formation of Toronto, who has used it, who uses it currently and who doesn't, how it fits in the imaginary of the city. I fast learned of the importance of the Don in Toronto's cultural history.
JW: Do you think the Lower Don's official designation as the Don River Valley Park will change that?
KC: I'm not sure. I mean, despite the use of the name "park," the Don Valley is still first and foremost a ravine, and ravines in Toronto are protected as "wild" spaces. It's a subtle but important distinction. It will never be manicured or maintained the way a typical urban park is. And compared to other ravines in the city, the Don's industrial past still very much colours what it is now. In the early colonial and industrial history of the city, the Don Valley was developed for resource extraction, with various mills and factories along its banks, and it quickly became a dumping ground. Part of the reason it was channelized in the 19th century was to expedite the flow of industrial waste directly into Lake Ontario. Of course, this backfired and by the 1950s it was one of the most polluted rivers in Ontario. It's been remediated somewhat but traces of this industrial history are still very much present.
JW: Right, so there is a shift from industry to preservation, but not through the familiar model of a typical park-preservation mode. It seems there are a lot of potential histories to unpack across the various sites along the river.
KC: Definitely, it's a unique type of public space. When I started, I thought the art program would occupy an intersection between art and ecology but it quickly became clear that I couldn't think about ecology only in the biological or environmental sense; the Don is an ecology that also includes Indigenous histories, industrial histories, cultural histories, neighborhood uses, recreational uses, the material remains of city-building, long-standing communities of regular inhabitants—all those things have come to make the Don what it is now. And the artists we've been working with are all very excited to think through these diverse uses and contexts.
JW: That's very different from installing artwork at the base of condo towers or new buildings across the city, spaces which, because of percent-for-art legislation, see a lot of new public art. How does your work fit in this existing landscape of public art?
KC: We are taking a somewhat different approach, which is due in part to the particularities of the Don, and wanting to be respectful of the ravine, but it also comes from a desire to create alternative models for public art in Toronto. Most of what we think of as public art is commissioned through municipal channels and legislation that requires developers allot a percentage of their budgets to culture and community. It's a great initiative, but the reality of the application and jury process is that it favours a fairly narrow cross section of contemporary art. It's almost always permanent, sculptural and slotted into corners of semi-public space around new developments scattered across the city. The requirements don't really allow for a diversity of artistic media, for performance-based projects, for proposals from artists without the budgets or support to develop fulsome technical plans before they've been awarded the commission. This process, to my mind at least, means we have a division between "public art artists" and just artists, which I think is why public art often so feels disconnected from the diversity of Toronto's broader artistic landscape. To say that the DRVP art program can tackle this problem is far too lofty, but it is the background against which I've been working.
Our partnership with the City of Toronto's Parks, Forestry and Recreation Department stipulates that our projects must be temporary (which for us means up to 10 years) and this is something that I'm running with, commissioning works in range of media, each with their own timelines. It's important to me that we provide ongoing curatorial support, so that artists don't need pre-existing experience navigating public art bureaucracy.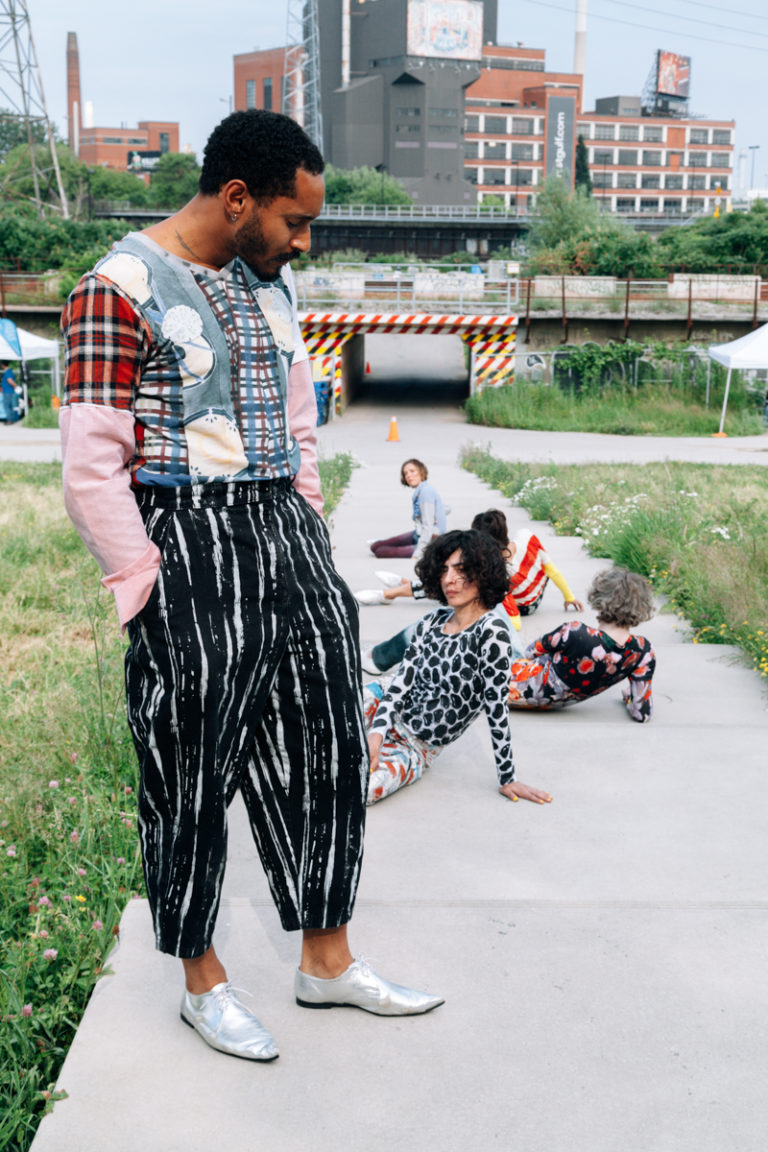 Maria Hassabi,
STAGING – undressed
, 2017. Performance for Evergreen's Don River Valley Park Art Program, Toronto; July 7–8, 2017. Performers: Jessie Gold, Hristoula Harakas, Maria Hassabi, Niall Jones, Mickey Mahar, Paige Martin, Oisín Monaghan. Photo: Yuula Benivolski
JW: That disconnection from community seems pretty common in public art. Casual viewers definitely have more of a right, or an expectation, of engagement when the work is outdoors rather than in conventional galleries and museums. Do you think that temporary public art avoids some of the alienation that people might experience with contemporary art in general?
KC: It's hard to answer that definitively, but art in public space inevitably reaches a much wider range of people, including those who may not already seek out art. And I like that when art is presented in public space, everyone has an opinion. It's a more direct line of engagement between audiences and artworks, because it's right there in front of you.
The very first project we commissioned was Maria Hassabi's performance Staging – undressed, which was a very, very slow-moving durational dance performance staged at the bottom of the Don River, featuring Hassabi and six other dancers. It was a co-production with documenta 14, Kunsthal Aarhus and the Walker Art Center. For the Don we created an entirely different experience—a pared down, "undressed" version with the city as backdrop. I like that we initiated the program with the dancing body, which is such a universal form and language.
In public, any experience with art enables different audiences, unexpected ones, where someone might stumble upon the work while walking their dog. Ultimately that means our projects have to be accessible, but that doesn't mean they have to be simple. To me it means ensuring that each artwork has a common, recognizable visual language, an entry point or hook, and then a deeper meaning or subjective interpretation can unfold from there. Maria's project really foregrounded slowness and stillness—with the dancers dancing so slowly that Maria has even used the term "living sculpture." For me, the deeper meaning in that project came, in part, from undoing what we call sculpture, in relation to public art especially.
JW: Even though performance often does happen in public, we don't usually think of it as public art. How do performances or ephemeral projects become "public art"? Does this distinction matter to you?
KC: For me, the mental leap to thinking about performance as public art wasn't that hard. I wanted to start from a very open position that any form of culture in public space can be considered public art. Not just monumental and permanent sculpture. Art and culture exist, have long existed, on the street, outside of institutional walls, without official designations as "public art." I'm interested in artists whose work can translate to public space, but who aren't "public art" artists per se.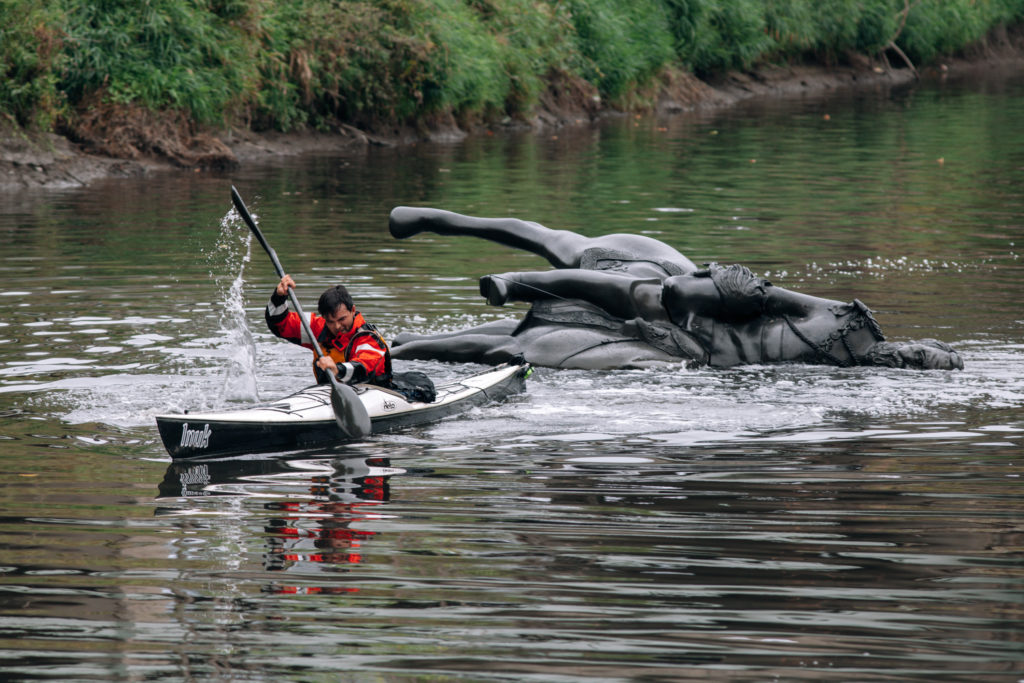 Life of a Craphead,
King Edward VII Equestrian Statue Floating Down the Don
, 2017. Performance as part of Evergreen's Don River Valley Park Art Program. Photo: Yuula Benivolski
JW: The project you did with the artist duo Life Of A Craphead involved a series of performative gestures to "de-monumentalize" an existing colonial statue—replicating the Queen's Park equestrian statue of King Edward VII, turning it horizontal and floating it down the river. Do you think a performance can absorb a term a like "monument," or does performance as a temporary experience run counter to ideas of monument?
KC: It's interesting you bring up that project, in terms of performance absorbing or performance becoming monument. I've always valued subtlety in art, but working in public art is definitely not subtle; its nature is to be spectacular and glossy and yes, monumental. But I want to push the distinction between monument and public art. Monuments almost always have to do with historicization, and they almost always commemorate the winners of a dominant history—the man on a horse, elevated on a pedestal. In the case of Life of a Craphead's project, the King Edward VII statue leads us to questions about the decisions that shape our cities as we know them: who has the authority, and power, to erect a monument to the British monarchy like that, in a public park, and whose interests does it serve? Even if contemporary public art doesn't have to have the same kind of historical weight as a figurehead statue, the same expectations of authority are often implied. Traditional, permanent forms of public art are also often dominated by the same types of artists, who conform to expectations around the production of dominant, often white, settler histories. But something short-lived, like a performance, can also capture collective imagination in much more radical, and still monumental, ways.
JW: How then can artists engage the histories of the sites they're working on, without forcing the authority and privilege of their positions?
KC: Artists can definitely expand the Eurocentric, relatively narrow purview of what monument actually is, particularly as it's been codified in western culture; it shouldn't always mean steel and bronze. For example, this month we're installing a text work by Will Kwan on the industrial retaining wall along the channelized part of the Don River. Called A park for all, the text attempts to address all the different constituents of a public space, and includes phrases like:
…
A park for insiders
A park for outsiders
A park for the 99%
A park for the 1%
A park for the Left
A park for the Right
A park for the employed
A park for the unemployed
A park for the underemployed
A park for the leashed
A park for the unleashed
…
The text continues, and it's somewhat utopian, because it names opposing factions, so that everyone could, potentially, see themselves reflected in the labels. But it also asks you to think about the power in naming a park, about who gets to use the park, about gentrification and the development of public space. It troubles the assumption that public space is neutral ground.
JW: I would hope that, rather than just contribute to gentrification, experiences of art might help us think about and be critical of the changes the city is undergoing. It sometimes feels so rapid and out of control, like there's nothing we can do about it.
KC: I like to think some of these projects can offer new lenses, new ways of focusing in on some of these changes. I don't think the permanent, million-dollar public art project is often the one to prompt new thinking. There is a lot of pressure for large-scale projects to represent everything and everyone, but what if public art could slowly become part of a city's conversations—could slowly embed itself into the fabric of the city, reflecting the city back to itself in ways that might be organic, changing or unpredictable?
JW: Slowness isn't something that contemporary art usually does that well.
KC: True, but temporary public art can be slow, without being permanent; it can be responsive without having to name or claim a specific moment in perpetuity. Artworks that excavate histories, that look at layers of history, can inform where we are now in a way that is valuable for both the immediate present and the long-term. Doing these kinds of projects throughout the Don Valley, over the course of many years, I think has real potential to see how narratives can emerge—however slow the process might be.