Sometimes you meet artists who are better known internationally than they are at home. Vancouver artist Andrew Dadson is one of these.
Though Dadson's early career was launched in 2001 at such small-scale, artist-run Vancouver venues as the Helen Pitt Gallery and Western Front, his work quickly began to circulate internationally. That started with a show at Chisenhale Gallery in London in 2003 and continues today with regular exhibitions at Galleria Franco Noero in Turin and David Kordansky Gallery in Los Angeles. (While Dadson continues to be based in Canada, he does not have a Canadian dealer.)
Interestingly, Dadson's work, while circulating internationally, is strongly linked to his Vancouver home base. Early in his career, he became known for painting local lawns and greenery in washable black paint and photographing the scene. From there, he has put paint-covered tropical plants under grow lights to comment on site histories, mixed area soils into black paint pigment, and more.
This fall, Canadians will get a chance to see more of Andrew Dadson's current work. A solo exhibition at the Contemporary Art Gallery in Vancouver is due to open in October. It's a show that (perhaps not uncharacteristically) actually had an international lead-up this summer with an installation at wings+horns in New York.
In this interview, Andrew Dadson gives a preview of the work for his upcoming Vancouver show, and he discusses its oft-overlooked roots in skateboarding, still life, performance art and urban development in BC's Lower Mainland.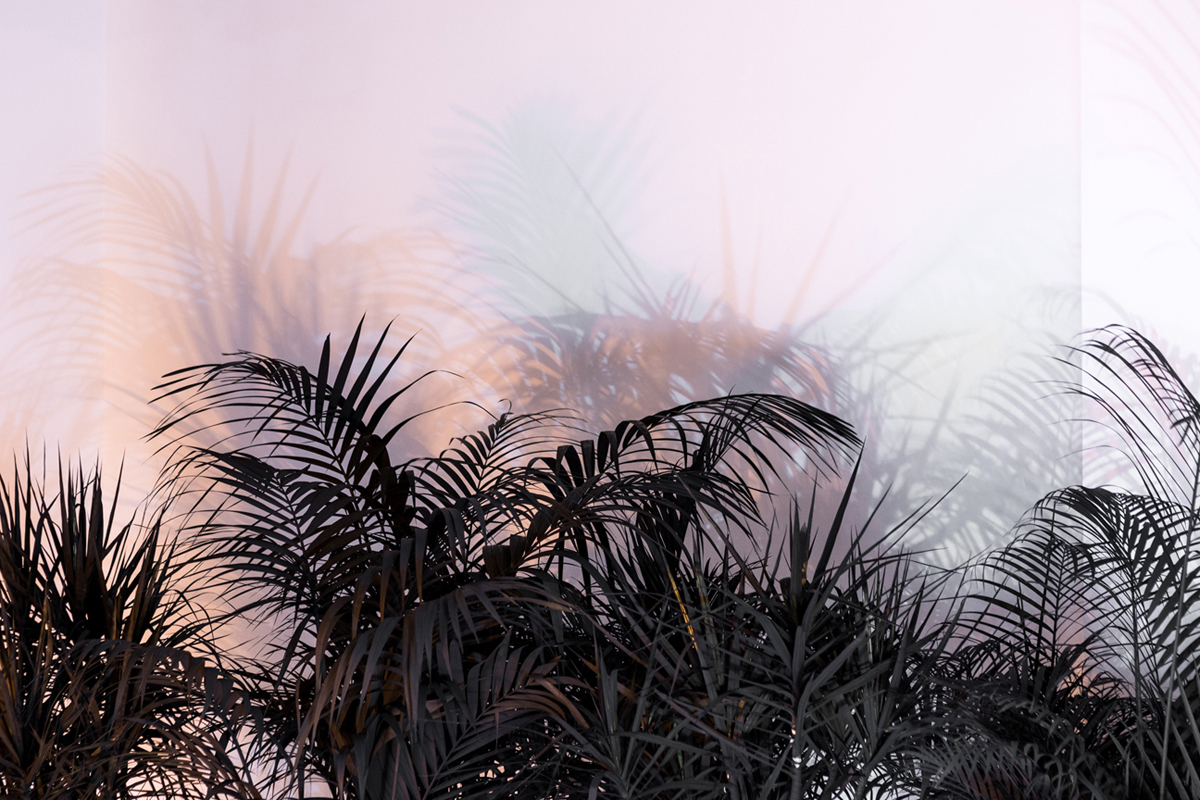 Andrew Dadson, Black Plants (installation view), 2017. In partnership with wings + horns. Courtesy the artist. Photo: Harrison Boyce.
Leah Sandals: For a recent project in New York, you coated plants with black paint and placed them under grow lights. As the plants grew, the paint cracked. Why paint plant matter in this way? Is it an interest in critiquing the idea of the "still life"? Or something else?
Andrew Dadson: I'm pretty interested in the way that we sort of abstract our own environment.
For me, painting the plants is a time-based intervention. I think about how, in order to build the gallery, we already destroyed all the plants that were there before in a natural landscape.
Then I bring plants back into the gallery—but plants which have their own histories from tropical places. And then the gallery has to take care of the plants so they can "grow the painting away."
Andrew Dadson, Black Hill, 2014. Inkjet print, 73 ½ x 59 inches.
LS: For some of your past works, you have taken another spin on this theme, using children's paint to cover suburban lawns all black as well, and then photographing those interventions. Can you talk a bit about that practice?
AD: I like painting landscape in a way that highlights how it will keep changing—with or without me.
Usually I paint forgotten areas on the edge of town, or places where there has already been some sort of change happening, like development. I usually paint to highlight that this is happening in and amongst these other surroundings. The city is going to come in and change these paintings on its own.
And I'm really interested in the sense of abstraction as time abstracting itself over and over and over again. My book Visible Heavens highlights a changing time-based abstraction. [The book contains multiple photocopies of an old map of the sky, transitioning gradually, through Xerox degradation, from light to dark.]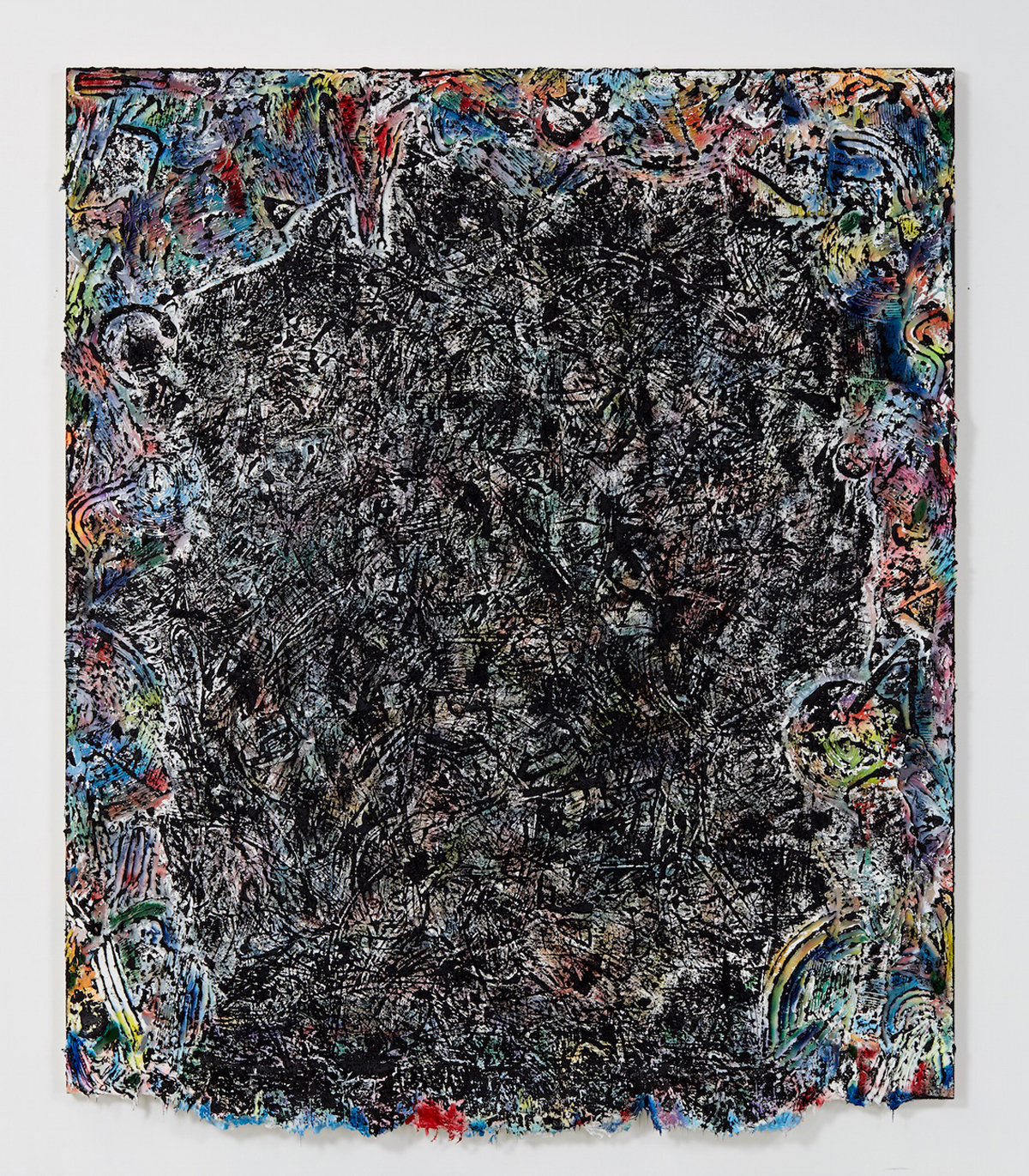 Andrew Dadson, Partially Painted, 2015. Oil on canvas, 101 x 84 inches. Courtesy the artist.
LS: In terms of abstraction, you are also known for abstract paintings of the type more conventionally seen in white-cube art environments. What inspires an abstract painting on canvas rather than an installation, book or film?
AD: When I am making paintings on canvas, I'm trying to deal with them in the same way I'm thinking about the other work—it's just that the other work becomes, I think, a little more overtly sociopolitical.
Usually, I'm trying to build up the paintings on canvas in a layered way—in a way that follows histories of markmaking and accumulations of time.
It's a bit like a slow cementing process for me, or a slow sculpting with the paint. You start off with the very fluid, drippy, sticky attributes of paint until it starts to harden and take shape in a different kind of way.
I don't do as many outside interventions as I do other paintings, because it is sort of about finding the right place.
LS: Is it hard, in particular, to find a "forgotten edge of town" in Vancouver to intervene in these days? With all the real-estate escalation, it would seem there is not much unused land around.
AD: In some ways, I think that transformation is what I am seeking or looking for. I think in any city, probably, it's pretty common; everywhere has its sorts of edges and boundaries.
With Vancouver, we already have all these boundaries—the mountains and the ocean. I think real estate is definitely becoming another boundary, in a sense. And I've always been interested in those types of areas where boundaries meet.
I am doing a new photograph for the opening of the Polygon Gallery in North Vancouver in November; it's a painted landscape photo, but it takes place in a logged area in the mountains. So it sort of speaks to a different history of a changing landscape, instead of the downtown development that some of my other photos have talked about in the past.
Primarily, I'm a painter. I'm interested in abstraction based around the fact that things change and our own views of things change and are constantly in flux. We are constantly blurring the past or abstracting the past or changing our ideas of the past.
In the paintings, I am interested in that residue of the past—I like to let those drips and scrapes and underlayers show the whole build-up over time. And I guess in the city, too, you often see this sort of layered, built-up environment.
Even the vocabulary, like in painting, how the word ground represents the gesso or base layer—I'm really interested in that idea of the ground in painting as the starting point.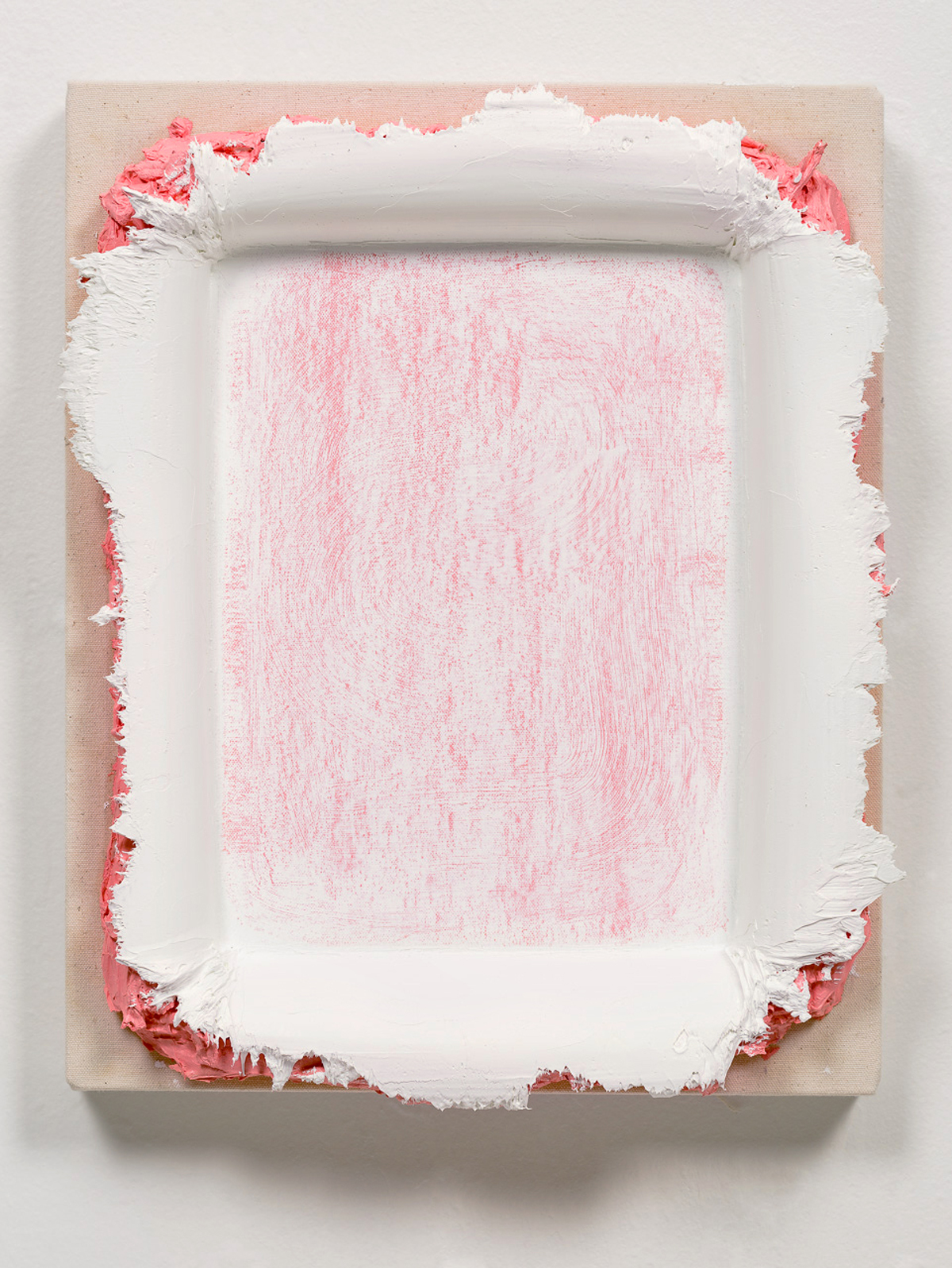 Andrew Dadson, Pink White Restretch, 2016. Oil on canvas, 21 x 13 inches. Courtesy the artist.
LS: In your early work, there was a kind of clear connection to skateboarding culture and bravado—I'm thinking in particular of the 2004 video work Roof Jump (Vancouver Special) that featured a figure leaping from rooftop to rooftop in a Vancouver neighbourhood. What of those early days—of skate culture or skate culture learnings—remains with you in your work?
AD: I did use a skateboard yesterday, though it's more and more rare. I have a six-year-old who uses a skateboard much more than me these days.
But I think for a lot of people skateboarding and learning about a dérive or Situationist interaction with the city or land art just kind of makes sense.
I didn't study painting in art school; I studied like performance art, and that's where a lot of my interest lies in terms of what I like to look at and am inspired by. And I think I'm just kind of using my own painting practice to talk about those things.
In terms of skateboarding, I guess, you are already attuned to different land uses, and how they might be used in ways other than what they were purposed for. So that kind of fits in with how I think about the landscape in general, and about the actions of people onto the landscape, and about how we are constantly changing it.
LS: What specific performance art pieces or artists do you remember studying or being inspired by in art school?
AD: One would be Paul McCarthy. He did a thing called Face Painting where he dragged his head along the ground in paint. And I think that maybe human interaction with paint and the environment is sort of what I'm most interested. I started off doing the painted landscape interventions long before I did any paintings on canvas.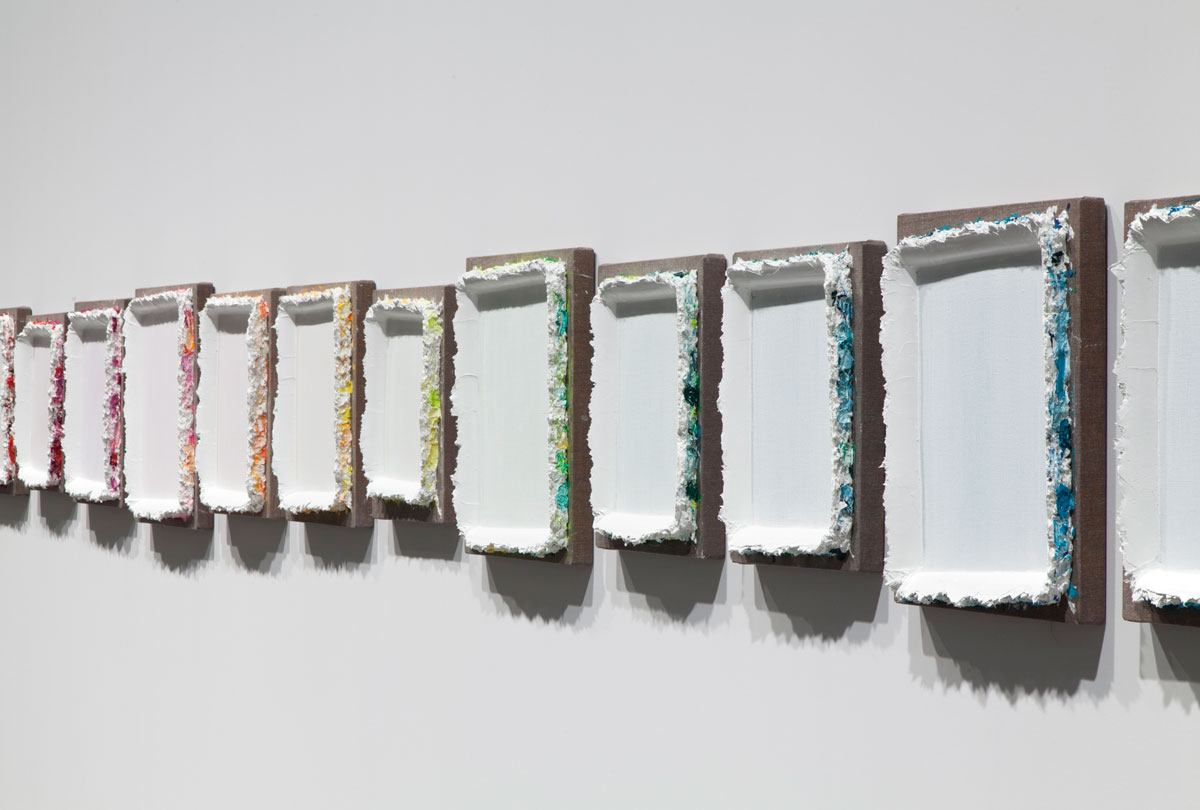 Andrew Dadson, Re-stretched and Re-framed (detail), 2014. Courtesy the artist, Galleria Franco Noero and David Kordansky Gallery.
LS: So why did you transition to painting on canvas?
AD: I wanted to use my hands. It kind of sounds silly: I had a practice that involved making interventions and taking photographs of them—but I really wanted to be at the studio making in another kind of way.
You know, once you are out of school you lose access to materials and shops and classes and those kinds of things. And I have a real desire to be busy with my hands. I think that's how my painting practice evolved: a painting practice that requires constant layering and drying, that suits coming to the studio and reapplying a new layer each day. That just kind of suits my personality and lifestyle.
The paintings started off with making up my own set of rules; I kind of attacked the canvas in that way, whether it was putting paint hanging off the bottom or exploding off the edges. Now they are a lot more sculptural.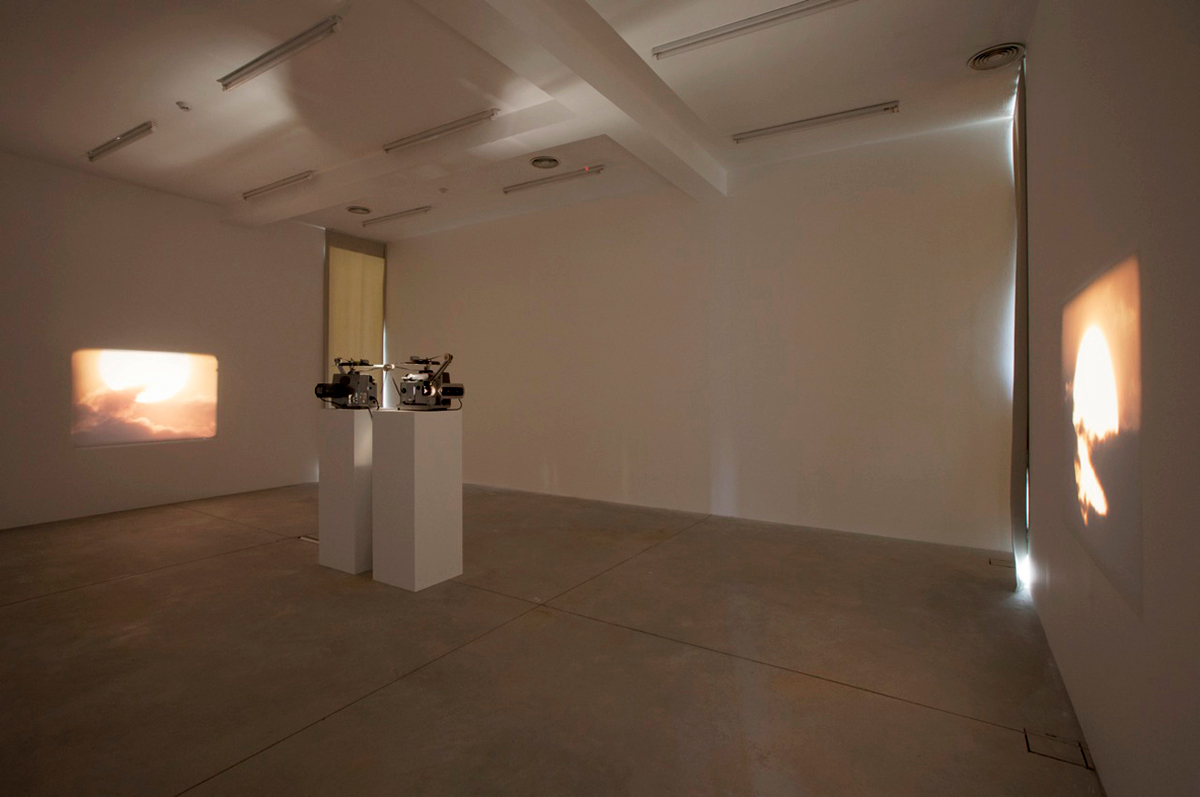 Andrew Dadson, Sunrise/Sunset, 2015. Double-synced 16-mm film projection. Dimensions variable.
LS: Just a few years ago, you had a major show at the Vancouver Art Gallery. What can people expect to see that is new in the upcoming show this fall at the Contemporary Art Gallery in Vancouver?
AD: What I have been working on for the CAG is a bit different. When the VAG show happened, it happened very quickly; we ended up borrowing work.
Instead, the work for the CAG will all be new and sort of planned accordingly to be cohesive. It is all coming directly out of my studio.
There are two major bookends to the CAG exhibition.
One is like a version of these painted plants that are going to be grown in the gallery, with the intent to grow the paintings away. Those paintings will be in white—one of the ideas is that the plants create their own abstraction. Each of the grow lights—or fake suns—will have their own shade of UV, so it creates these coloured shadows.
The other bookend is going to be a two-channel 16-mm projection of a sunset. It's basically a super-zoomed-in abstracted film and one projector is played in reverse, while the other one is playing forward. At one point the suns meet up, and there will be the sounds of the projectors and of the films going around and around and around, so it gives you this sense of this constantly abstracting time.
Also mixed in will be some newer paintings that actually have the landscape incorporated into them—so instead of a traditional pigment, the pigment is the soil or the earth.
So it will be kind of like a bridging. I'm finding you always have these ideas that come at different times—this will be the first time the landscape has actually ended up in one of my paintings on canvas.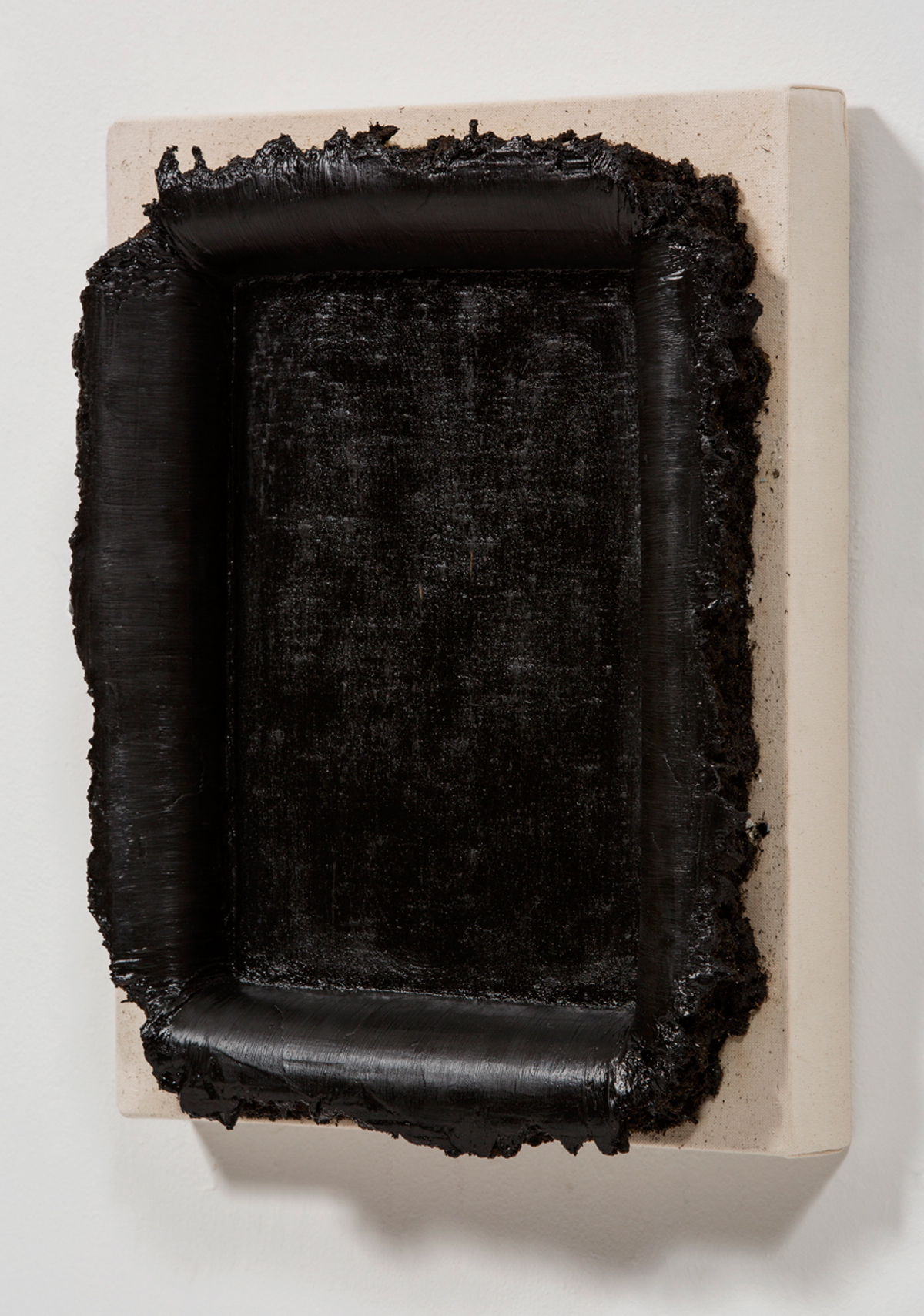 Andrew Dadson, Dirt Black Restretch, 2017. Oil and dirt on canvas, 21 x 13 inches. Courtesy the artist.