daphne is Tiohtià:ke/Mooniyang/Montreal's first Indigenous contemporary artist-run exhibition centre. The name, daphne, recognizes and aligns the centre with the visionary Odawa-Potawatomi-Anishinaabe artist Daphne Odjig (1919-2016). Co-founded by Indigenous artists and arts advocates Hannah Claus, Nadia Myre, Skawennati and Caroline Monnet, daphne's mission is to serve the needs of emerging, mid-career and established Indigenous artists. Through exhibitions and associated programming, they strive to encourage critical and respectful exchange with and between our Indigenous and non-Indigenous peers and audiences.
Alexandra Nordstrom: How would you describe your vision for the centre?
Lori Beavis: We see the centre as being a place where people gather. We want daphne to be a place that creates community—it will be a space for First Nations, Métis and Inuit artists to exhibit their work and a gallery where Indigenous and non-Indigenous people can see contemporary Indigenous art. daphne will also be a space with rich programming that widens people's knowledge of contemporary Indigenous art. We want to create a space where people can engage, ask questions and start new conversations.
AN: Would you be able to speak to the different kinds of programming that you have planned once the centre opens, or programming that daphne has on right now?
LB: In our 2021 programming, we have solo exhibitions of four Indigenous Quebec-based artists. They are Teharihulen Michel Savard—a Wendat artist from Wendake; Catherine Boivin—an Atikamekw artist from Wemotaci; Sonia Robertson—an Innu artist from Mashteuiatsh; and Kaia'tanó:ron Dumoulin Bush—a Kanien'kehá/French-Canadian mixed-media artist from Montreal. Our first year of exhibitions has been created to build relationships between artists, curators and our audience.  Initially, we are concentrating on Quebec-based Indigenous artists. The reason for this is Quebec-based artists, both French- and English-speaking, are often left out of the conversations that are taking place within Indigenous art communities—provincially, nationally and internationally.
We are eager to safely open our space for exhibitions in late spring this year. In the meantime,  we are planning programming that will include regular community gatherings such as beading circles, reading groups, film screenings, artist and curatorial talks, and feasts.  As all of these are a means of strengthening our artistic community through orality, practice and process. These occasions to gather will allow us to engage in critical discussions framed within an Indigenous world view.
At this moment, on Thursday nights, we have our online beading circle. It is called "daphne beads: perler/parler" (bead/talk). We started with a beading circle because, in the early stages of daphne coming together, Skawennati, Hannah Claus and Nadia Myre, and then later Caroline Monnet, were getting together in the evening maybe once a month to bead and talk about what they were reading, and about artists and art practices they had learned of. That was also like a starting point for the co-founders to begin to formulate or return to long-standing ideas of creating an Indigenous artist-run centre.
AN: And that's been on Zoom?
LB: Yes, we've done it on Zoom. We launched it in the middle of December because we were eager to get something happening, and it's been wonderful. It fulfilled our idea of creating with community because people have gathered with us on Thursday nights from all across the country and into the United States. Some weeks "daphne beads: perler/ parler" is simply a convivial gathering of beading and talking; on other evenings we have been taught a new beading "technique," and recently we had our first artist talk as part of the beading circle.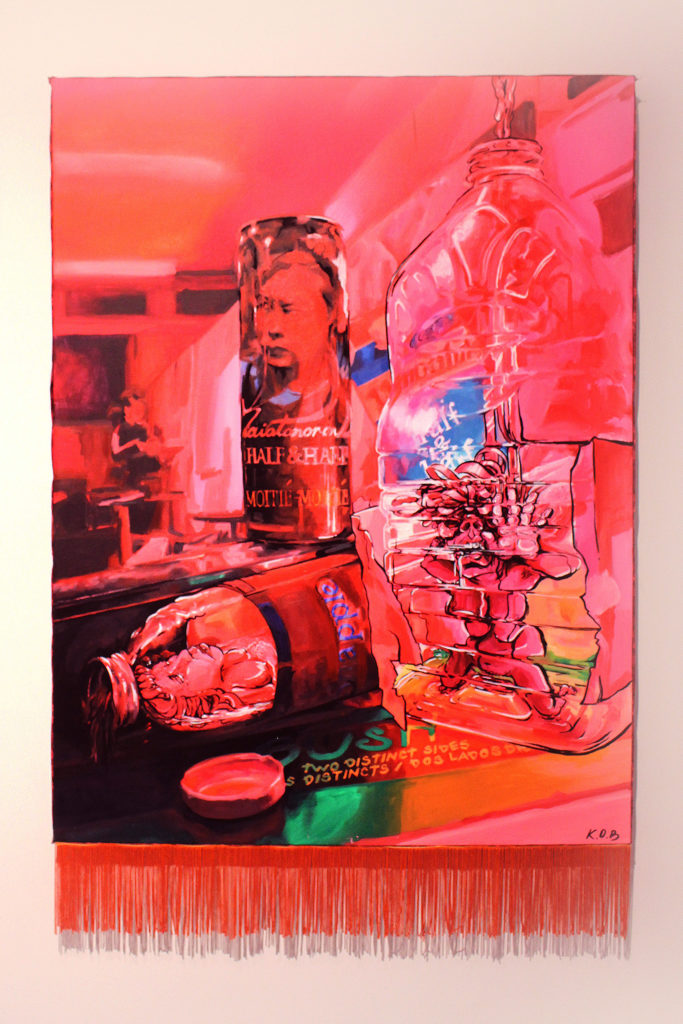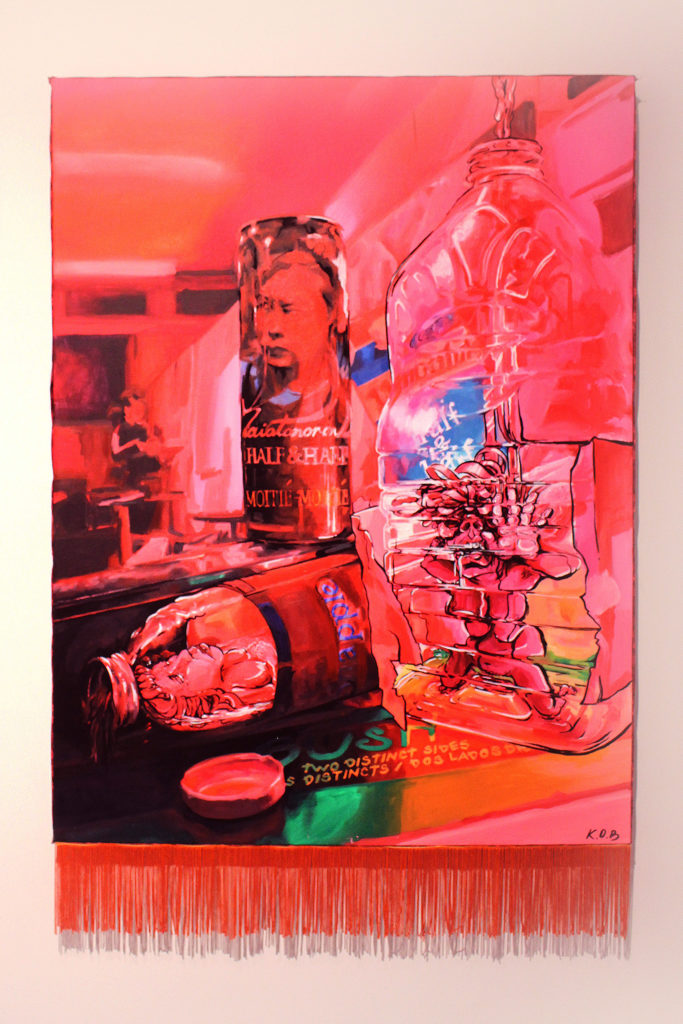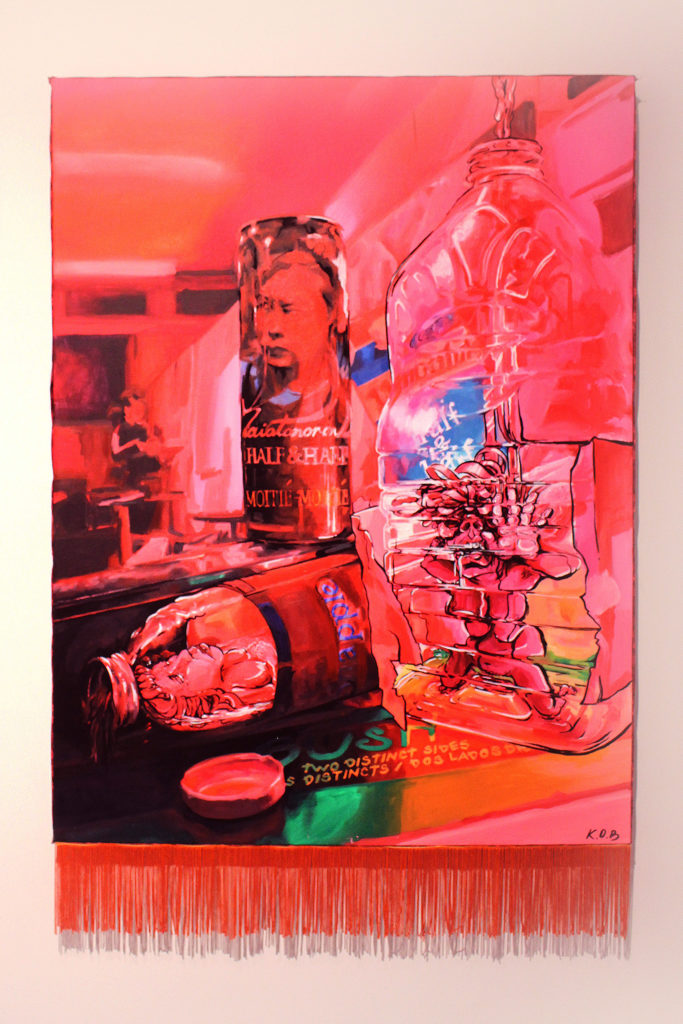 AN: It sounds like daphne can be a home base for people to come and ground themselves each week.
LB: Absolutely. We're an Indigenous artist-run centre, but we also see our audience as being non-Indigenous peoples and allies. It will be a space where people are welcome to come interact and to start conversations about the art and ask questions about topics that they may or may not know. I always think about art as a great starting point for [engaging] political and social issues because it's a relatively easy way to enter into a discussion. I think that contemporary Indigenous art often deals with interesting and hard topics that bring important subjects to the forefront.
AN: The environment that you're describing reminds me of David Garneau's writings on Indigenous spaces of conciliation, where you have a space that is defined by Indigenous peoples, yet it is open to everyone as long as they are respectful.
LB: We're starting this centre now with a group of Indigenous people who felt very strongly for a long time that there needed to be a place to gather and where Indigenous art could be seen. I keep using the word "Indigenous," but it is important to recognize that there isn't just one global word that we keep using, but that there are many people and many nations from different territories. We want to bring artists from other parts of the country and we're really hoping that French- and English-speaking Quebec-based artists' work gets to be seen across the country as well. That's one of the really important parts of our first year of programming. It is important to recognize that daphne will be a contemporary art exhibition space that is critically engaged and framed within an Indigenous world view.
AN: How has the pandemic shifted your plans and what has it been like trying to navigate some of those challenges?
LB:  It has had a huge impact, of course. One of the first things I was tasked with was to get out and find the space. The real-estate world had just completely shut down, so we weren't even able to start to look for a space until August. We saw a lot of places but there really wasn't anything that was quite right until we found this lovely space that we're now calling our home in Rosemont on rue St-Hubert.
We've also postponed our exhibitions three times—the schedule just keeps moving forward in time. As we work with curators, the postponement has had an impact on availability when we finally actually get to do these exhibitions. Everyone is incredibly supportive and are trying to work their schedules so that the curators and artists will still be in the first four exhibitions, but that's changing a little bit as well.
Then we decided that we absolutely had to do some online programming because we really wanted to get ourselves out there. We're hoping that our website will be available soon so that we can start to create interest and people can have a point of contact and a place to find information. Right now, we have a Facebook page and an Instagram page. We also have a GoFundMe campaign going and we have just reached our goal, which is really great. But as much as anything, it's been gratifying to see how supportive people are and how excited they are that daphne has come into existence. We have received special project funding from the Conseil des arts de Montréal and the Canada Council for the Arts. We are also very close to securing funding from the Conseil des arts et des lettres du Québec. All of these grants will help us open our doors and create exhibitions and programming.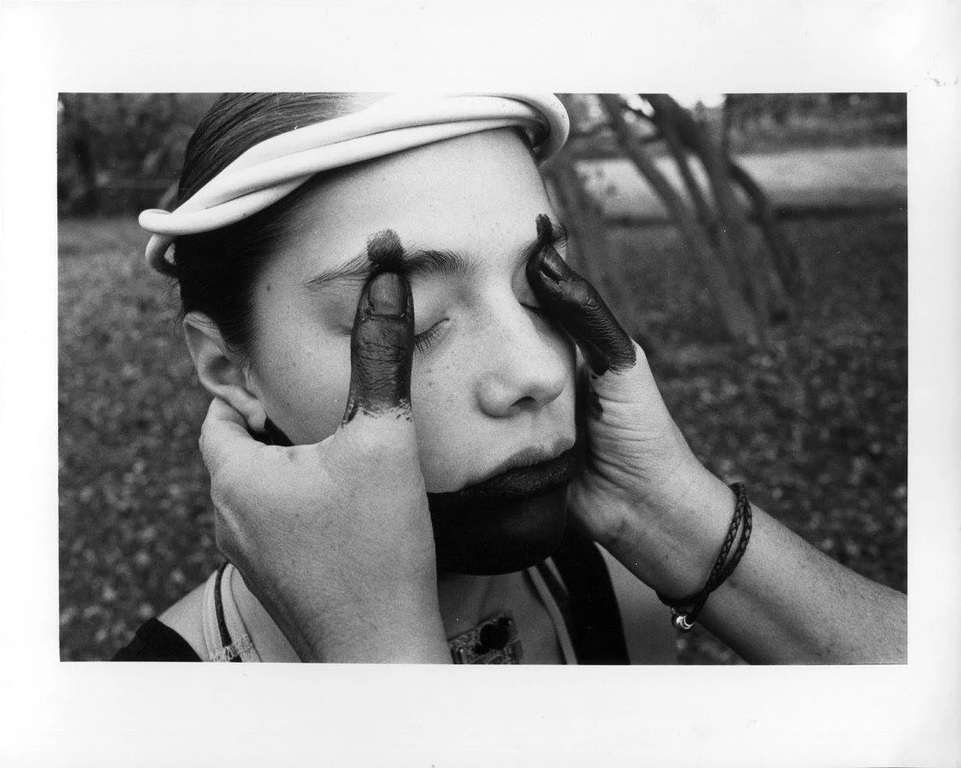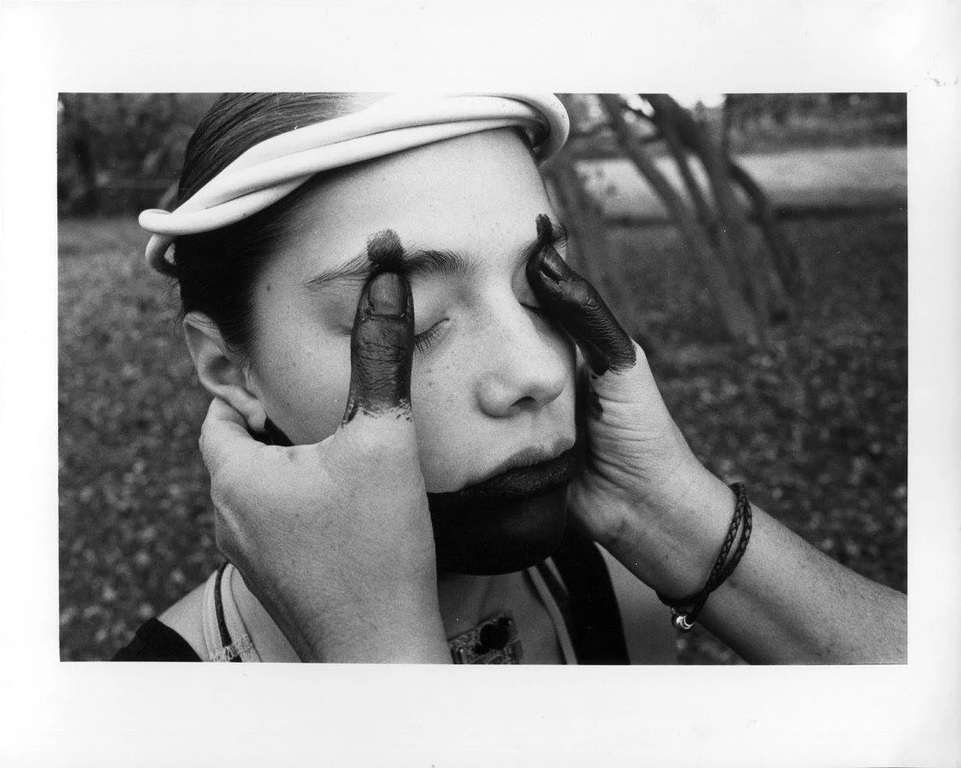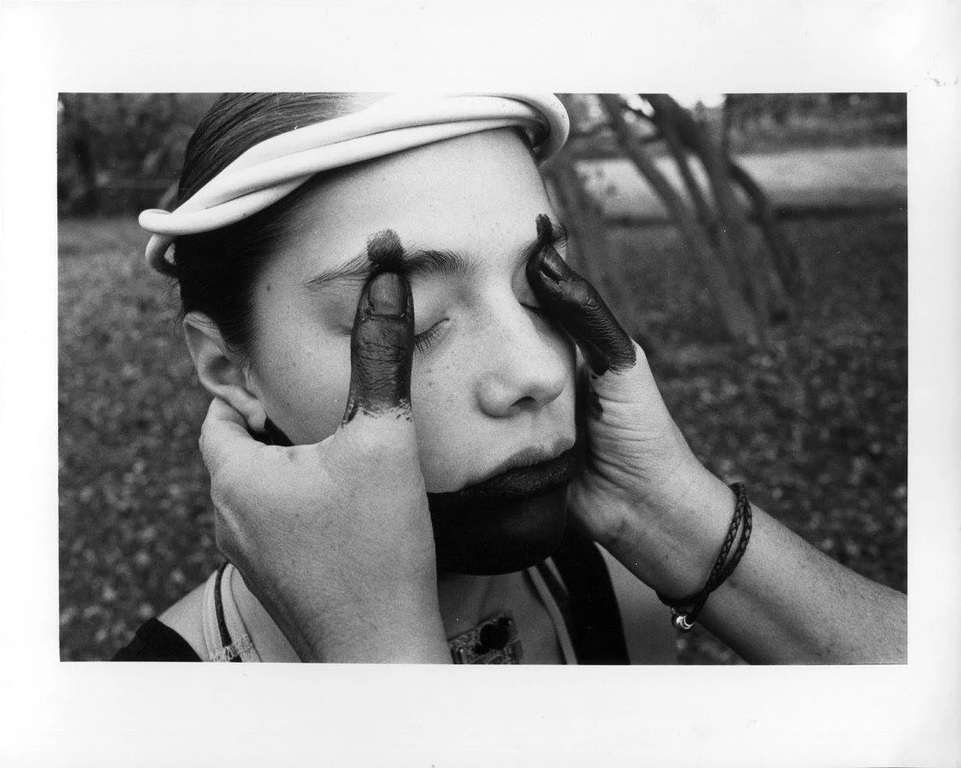 AN: This past summer, I was back home in Saskatchewan and my Nana, Rose Hilsendager, found an artwork on Facebook marketplace that she gifted to me. It's actually a limited-edition Daphne Odjig print titled Caring (1979).  I now have it hanging in my apartment, and so when I was approached with the opportunity to do this interview, I thought it was a lovely point of connection.
LB: I love the fact that the centre is called daphne. In one iteration of talking about daphne and why that name was chosen, Hannah Claus called Daphne Odjig "our Anishinaabe grandmother." I think that Odjig was so proactive. She worked really hard to bring community together and found opportunities for artists to gather to show and make their work. I feel very strongly, as an art educator, how significant it was that Odjig would go back to Manitoulin Island in the summertimes and teach art to whoever was interested in it because she was always thinking about the next generation of artists. That's just commendable beyond anything and speaks to what I hope we will do at daphne
AN:  I see the daphne as a space that both honours and builds off of the legacy and work of our grandmothers and generations previous in order to create communities of care and opportunity. Can you share where the centre will be located?
LB: We're at 5842 rue St-Hubert. One of the great things about the space is that it's a storefront and accessible. We felt very strongly about this. Skawennati always talks about the fact that so many artist-run centres are in a random building, and you have to go up an elevator and then you have to go down these hallways, and you think, "Am I in the right place?" And you keep looking and it's never quite clear. It's intimidating and something that we always have to remember because so many people might think that it's not going to be the place for them. We want to ease the entry point to be open, friendly and inviting.
AN: What do you think the impact of opening this centre will be like not only for urban Indigenous artists here in Montreal, but also artists within Quebec in general?
LB:  We are making an effort to have solo exhibitions because it's a strong recognition of an artist and a significant marker in the artist's career. We want our audience to know about these artists who have been working for years in the regions of Quebec and are building significant art practices. We also want those artists to be seen in Montreal and outside of this province.  We'd like to see their work circulate through the rest of the country. I also feel really strongly that daphne will bring in work by artists from outside of Quebec because they need to be seen in Montreal too.
AN: What does this mean for you to be a part of opening the first Indigenous artist-run centre in Montreal at this moment time?
LB: I have an academic background in art history and art education. I have always worked in the arts—collections management, teaching at community college or university, or at art galleries and community centres. More recently, I have been working as an independent curator and art educator.
Coming to daphne as the director is a chance to bring together all of the things that I've done up to now. I'm really happy to be the person who is helping this amazing group of women build the centre and make a contribution to Indigenous art and artists on so many levels. I feel very strongly that daphne is going to be a significant and successful space, and I look forward to welcoming people there.