Prairie Sky: I am a mixed, white-passing, urban-residing, Two-Spirit Indigenous person. That's a lot of handles! As a result, my definition of home is sensory, and not stationary. In my undergraduate studies at the University of Winnipeg, my community was the Aboriginal Student Service Centre (ASSC) lounge. There, the faint smell of sage and burnt coffee greeted you, often followed by the sound of crude jokes and bellowing laughs. Papers and scribbled notes lay forgotten next to occasionally sticky keyboards. Bonds were made over cigarettes and leftovers. One late winter night, I was making toast when a colleague, Joe, was digging in the fridge. He turned to me and said:
"Levi, you're gay, right?"
"Uh, yeah, that's pretty obvious, Joe."
"You're Indian too."
"Yeah, I have one of them colonization cards."
"That's pretty cool that you're still alive at 25."
I was jarred. To hear a cisgendered, heterosexual Indigenous peer acknowledge the strength of queer Indigenous existence was overwhelming. That exchange over peanut butter and jam lives within me.
Living as a queer Indigenous person in what we currently know as Canada means that your life expectancy is substantially shorter due to the ongoing violence and impacts of colonialism. Because of my whiteness, I have managed to escape being a victim of violence, racism, the child-welfare system and the disproportionate imposition of the Canadian justice system on Indigenous Peoples. I have always received fair treatment by health care providers and equitable employment opportunities. My direct ancestors worked hard to minimize the intergenerational impacts of the residential school system, notwithstanding the loss of language and so many cultural practices. The amazing gifts I've received from grannies, aunties, uncles, cousins, siblings, friends and my queer kin have given me strength to endure. I do not show love through tenderness, emotion and patience as they do, but I am Anishinaabe and from Treaty 3 Territory, so I do get shit done! What I have tried to do in my adult life is make the lives of those around me a bit easier.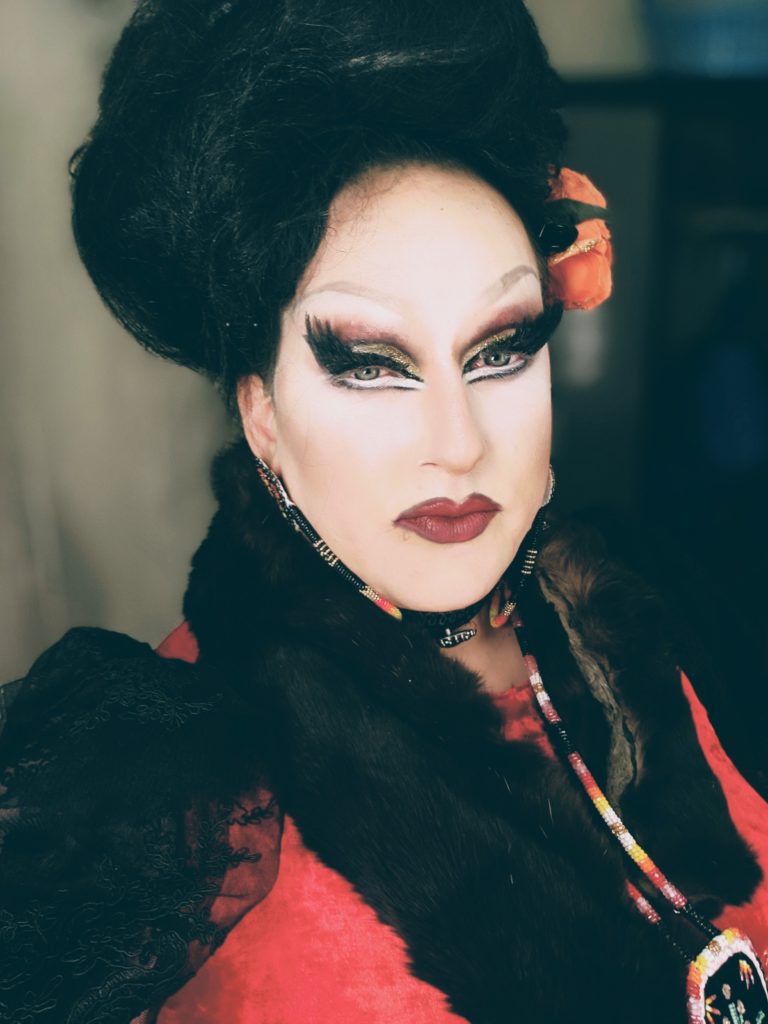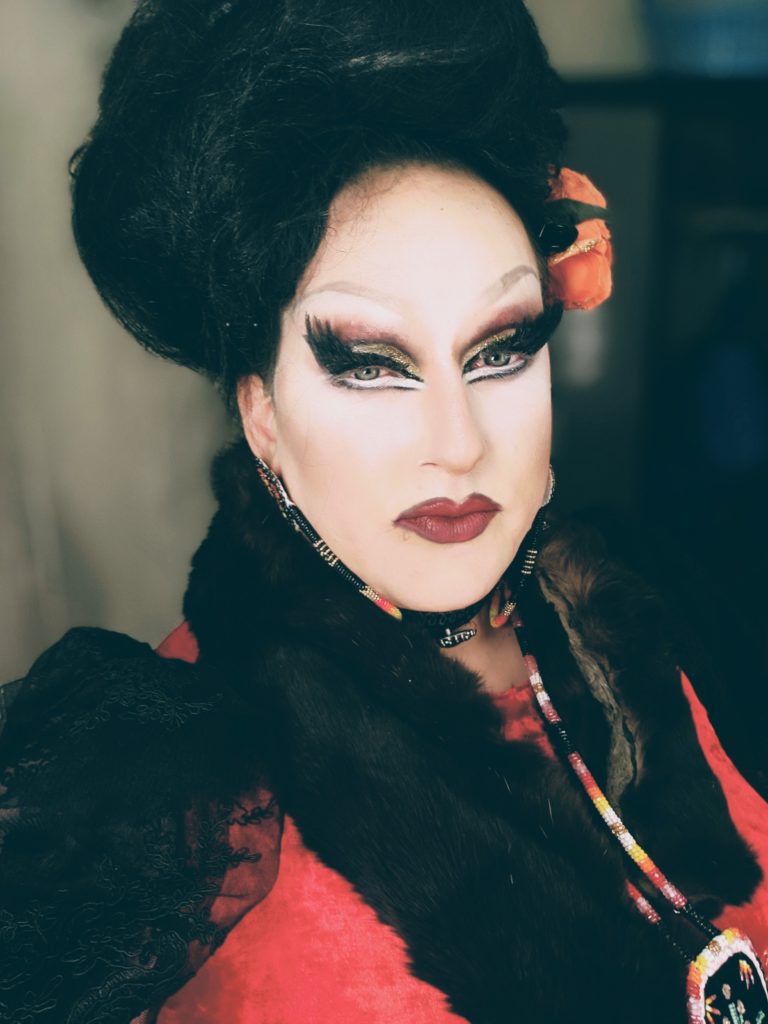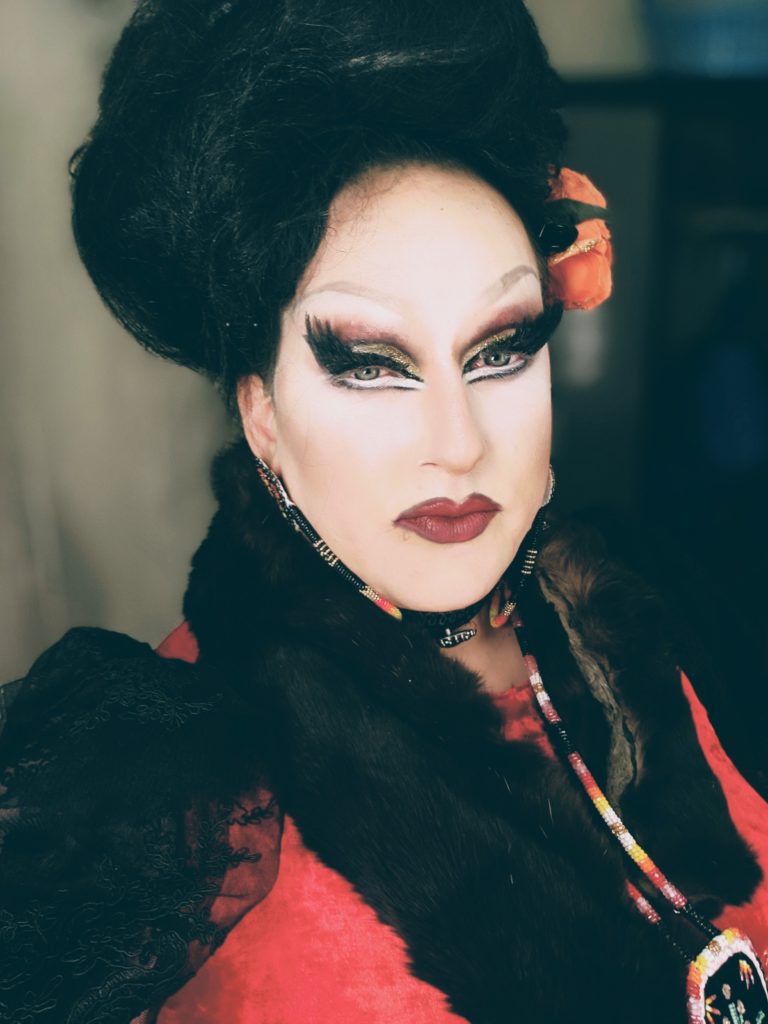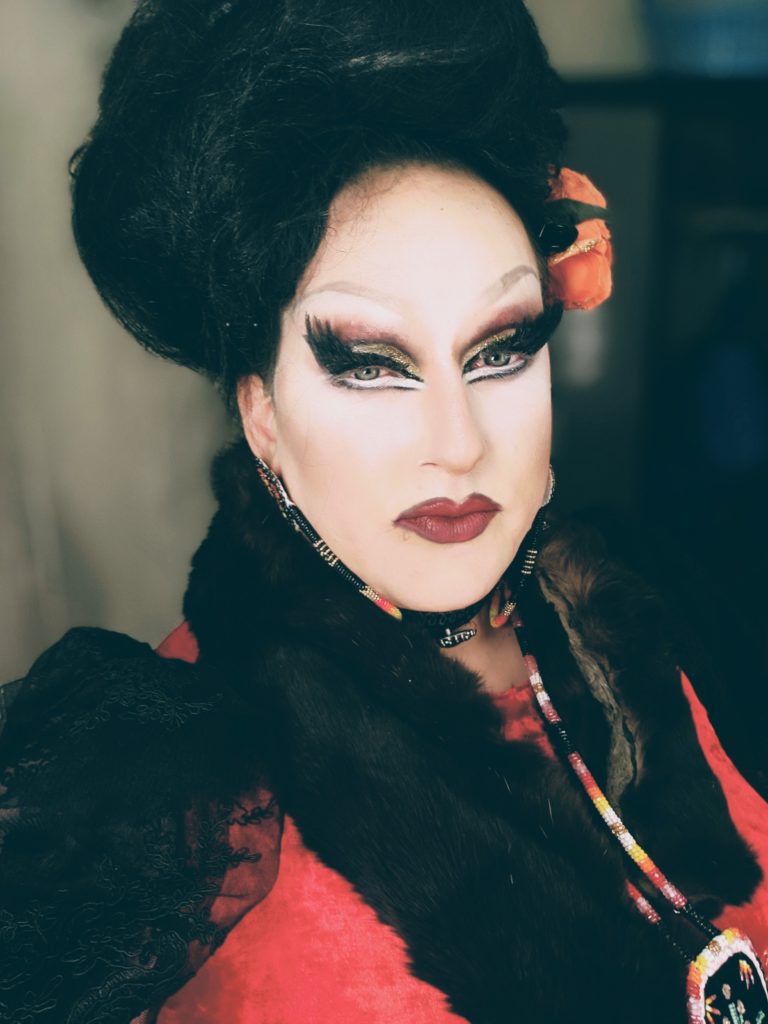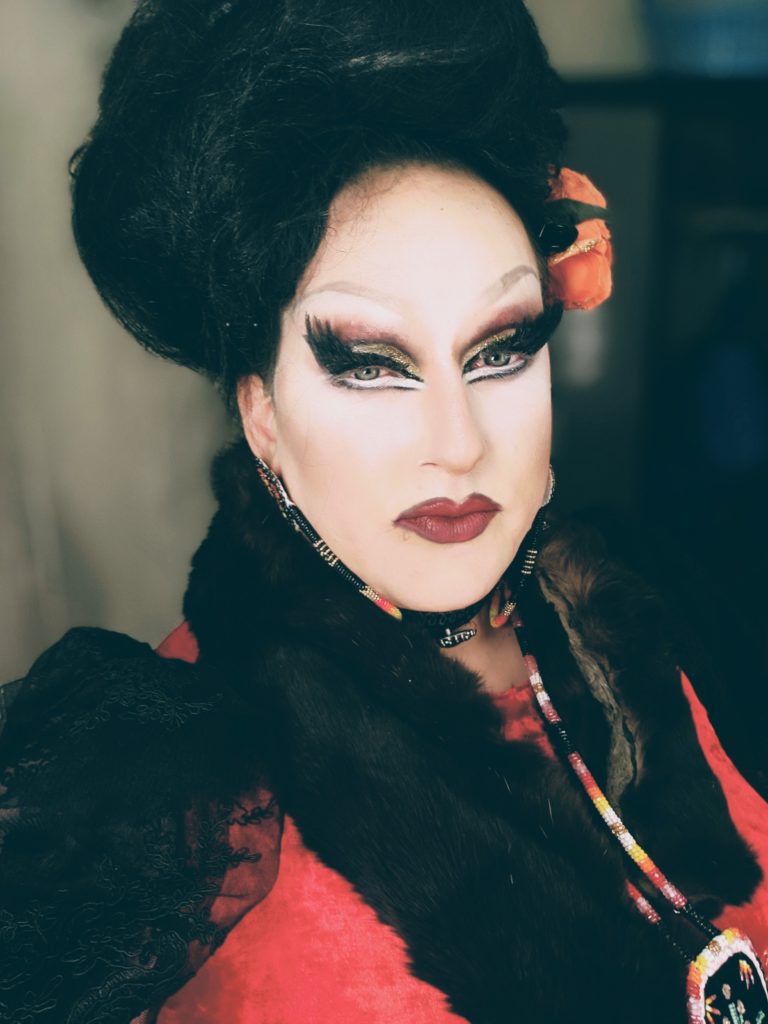 July 2019: I am sitting in a new "home" that is eerily similar to the ASSC lounge, with cigarette smoke wafting through the door, balls of kitten hair clinging to the rug, brutal honesty served with every cup of coffee. Sunshine House, a drop-in and resource centre in Winnipeg that focuses on social inclusion and harm reduction, has given me and many others a space to be. On this day in July, I am in a playful bitch session with some local drag aunties: Vida, who has been doing drag for 20 years, and Feather Talia, a younger Anishinaabe queen who relocated here from Regina. The main topic of our teatime talk is the lack of meaningful Indigenous representation in the drag scene. We know this is a problem because these conversations are happening among other Indigenous performers too. We message Allen Morrison, co-owner of Club 200 (Winnipeg's oldest—and now only—2SLGBTQ+-owned bar and nightclub), who gives us a performance slot in September. That's it; within 20 minutes, the seed is planted. It's really quite remarkable how fast four Anishinaabeg can get stuff done.
We called ourselves The Bannock Babes, and collectively we debuted that night in September. It was beautiful, it was scary, it was honest and it was us. There were 17 performers in all. We honoured Winnipeg's ethereal Anita Stallion; I tried my hand at jigging with Sandi Bay (the legend herself). The hangover the next day was bliss. Those who graced the stage demonstrated a cosmopolitan rawness that defines Winnipeg and its drag scene. The Bannock Babes showed Winnipeg who we are as Indigenous performers.
I can go on forever about the impact that The Bannock Babes has had on me, but I decided to ask four simple questions to four performers about their own involvement in this project.
Anita Stallion, who hails from Duck Bay, Manitoba, has been a staple in Winnipeg's drag scene for more than 20 years. She's held every title, she loves a stiff whisky and she provides that real aunty wisdom that many of us crave after being far away from our homes. Every gay in Winnipeg has an Anita Stallion story.
Feather Talia is the pride of Muskowekwan First Nation. She arrived in Winnipeg in 2019 and has since been a force. She's like our aunty-in-training, the one who sits there just watching, and then makes that cutting remark that's exactly what you need to hear. She is fearless, she's probably going to be on Drag Race, and she makes a mean bannock.
Buffy Lo is a newer performer in Winnipeg. Buffy embodies contemporary Indigiqueer identity through her trademark NDN beard, your uncle's flannel shirt, ripped tights, steel-toed boots and eyes that have never met a smoke they didn't like. Buffy has roots stretching from Gods Lake to Portage la Prairie. She is quiet, until she lets out that big Cree laugh.
Speaking of big Neechee laughs, our last performer is Local Honey. Local Honey is the community's baby, and their drag debut was in The Bannock Babes. Local Honey—in and out of drag—is a leader within our community. They express love and care in the most honourable ways. They work tirelessly alongside so many important people in Winnipeg's beautiful activism scene. They use drag to demonstrate the flaws of Western concepts of gender—and damn, do they make that the most fun.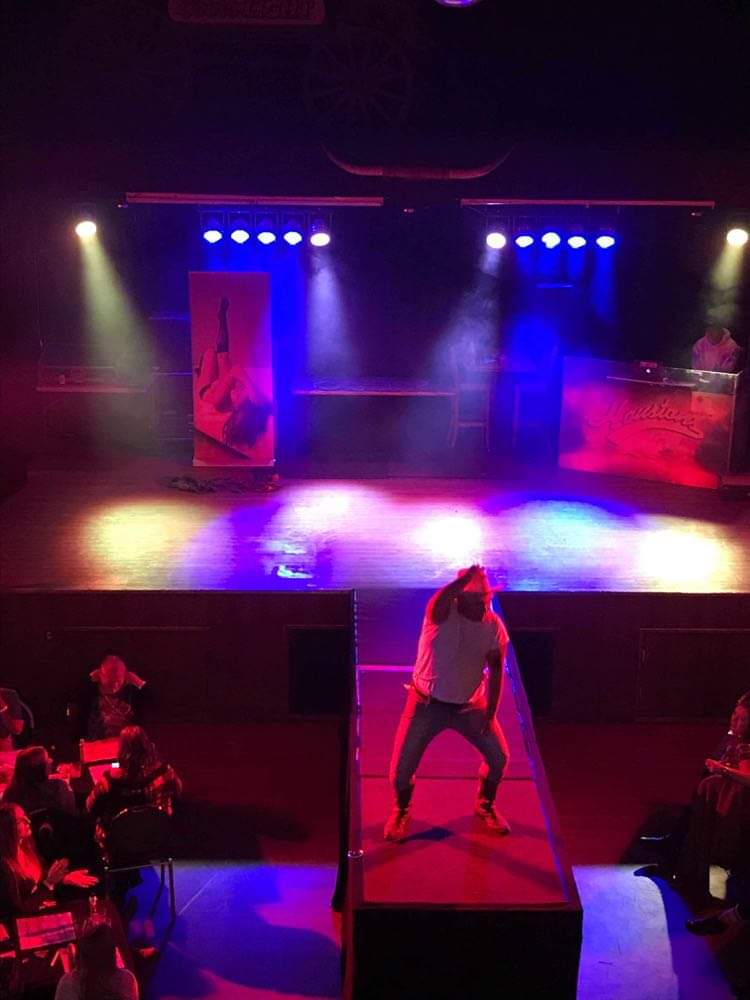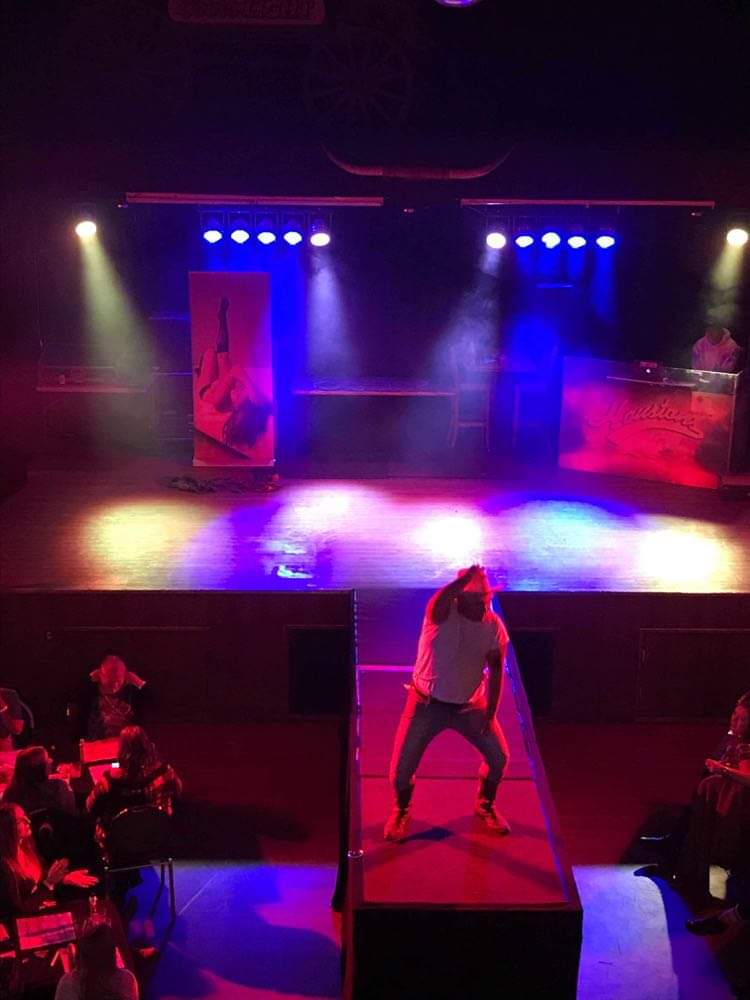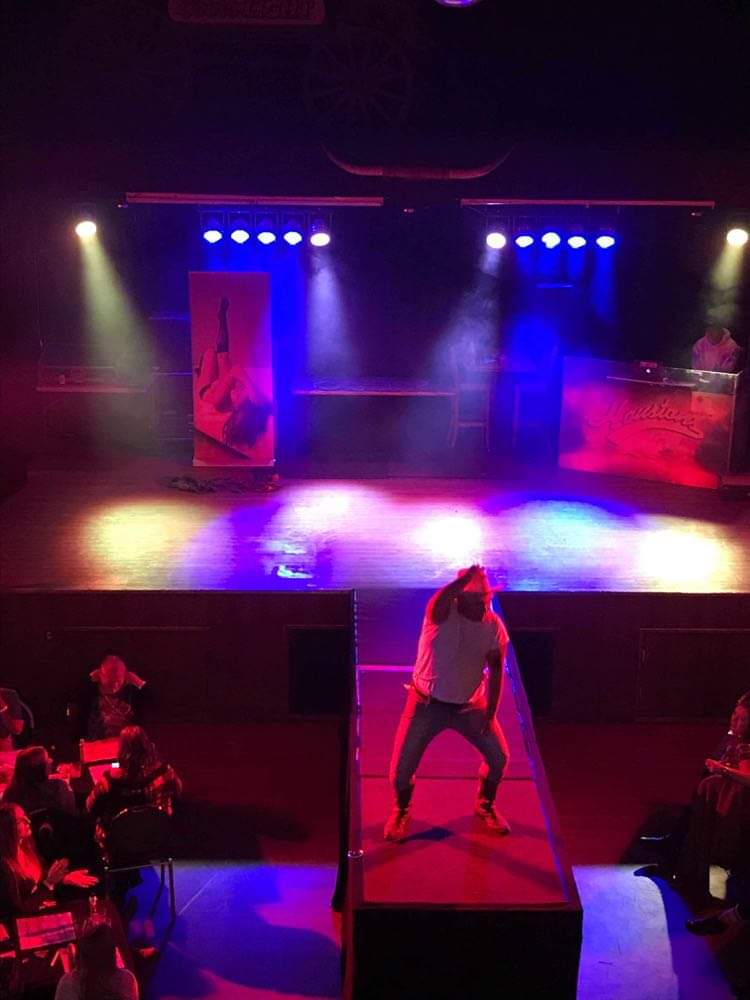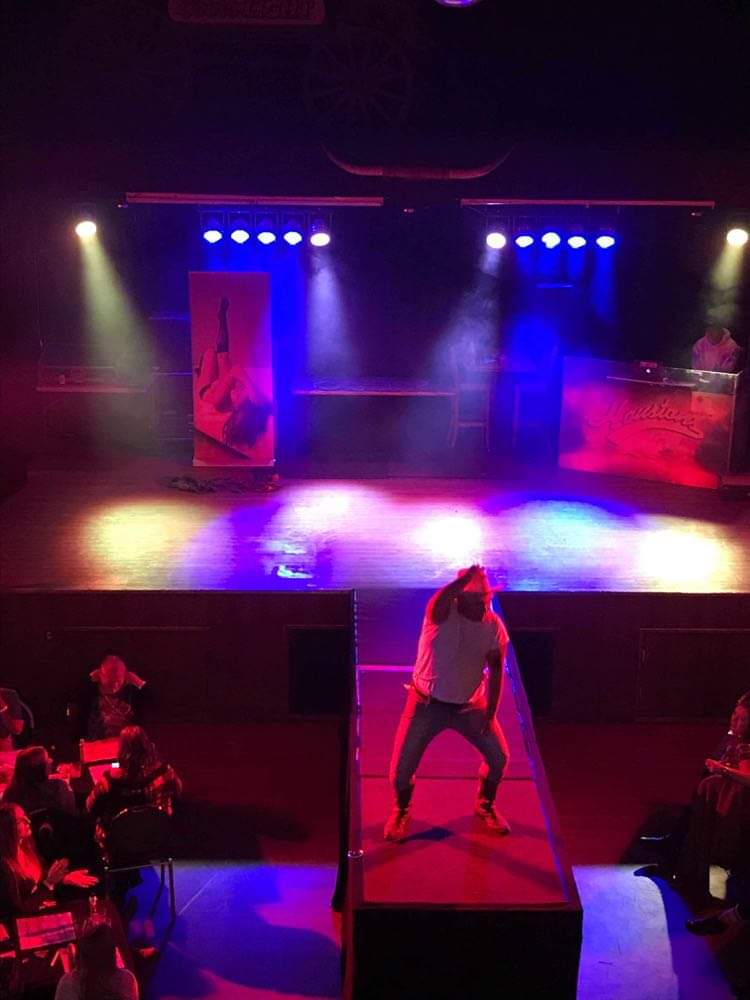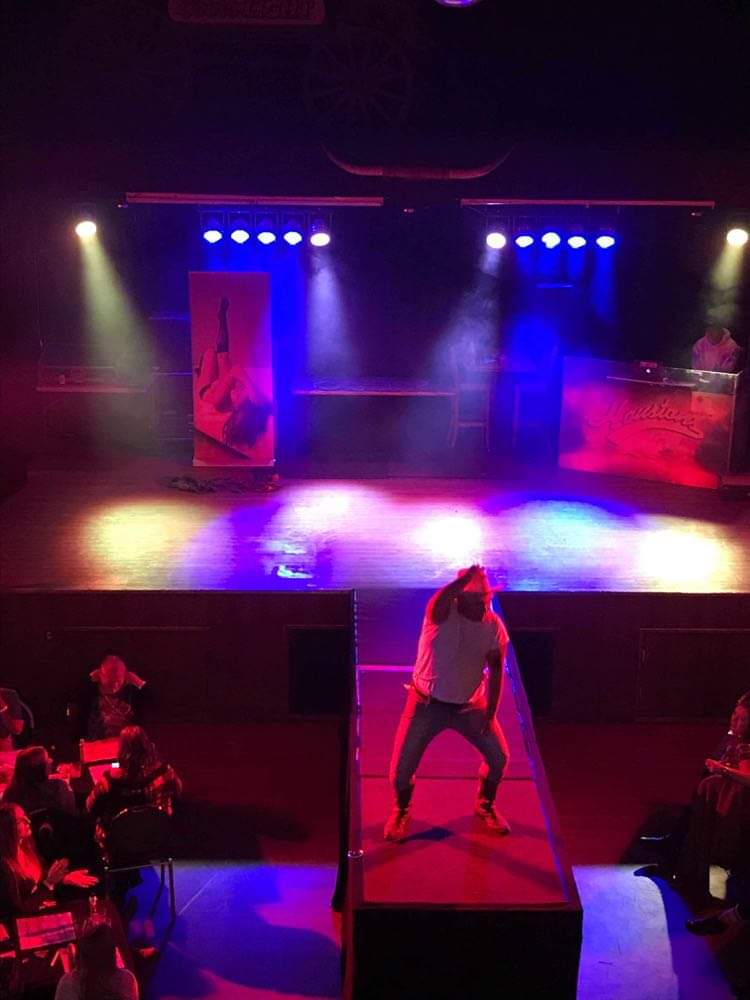 Prairie Sky: How has being in The Bannock Babes impacted you?
Anita Stallion: Being a part of The Bannock Babes has impacted me tremendously. As a drag artist years ago, it was tough to see a lack of other Indigenous performers. So today, it feels great to have The Bannock Babes. This group coming together later in my drag journey has been interesting. I feel that my role as a seasoned performer also supports my role as a mentor and role model, which definitely brings some pressure. I just try to put my best forward.
Feather Talia: One thing I love about The Bannock Babes is that it doesn't matter who you are or what your skill level is in drag—you will always be accepted as you. The Bannock Babes has impacted me on a personal level! This collective of drag personalities welcomed me with open arms when I first moved to Winnipeg. Being one of the newer queens when the crew first formed, I was brought in like I was always a part of the family. Everyone is awesome!
Buffy Lo: The impact has been pretty significant! Being surrounded by all the talented Indigenous individuals just fills me with so much love and support, and with every event I have been a part of, it just feels like we become closer each time. It feels more like a family to me.
Local Honey: The Bannock Babes has changed my life in many ways. Creatively, it meant being able to perform and travel with my friends and found family. However, it also gave me so much more of a connection with my identity as a Two-Spirit, trans Indigiqueer. I grew up in an environment where I couldn't explore any of those parts of myself, and The Bannock Babes has been a family of queer aunties, uncles and cousins who have so much space for us to be exactly who we are. I am so grateful for that.
PS: Why do you think this group might be important?
 AS: It's integral to have an opportunity to showcase the talents of our peoples and the opportunity to work together. We have such a vast diversity of representation from different nations and members from surrounding provinces, which adds to the beauty within this group.
FT: It's important because you rarely see Indigenous drag or Indigiqueer representation in any city here in Canada. Winnipeg has such a diverse group of drag performers, and I can honestly say that we all represent ourselves well, as queer people and as Indigenous folx. The Bannock Babes not only shines a light on our culture, but also opens a door for future Indigiqueer drag artists.
BL: I believe it's important because it really gives us the chance to express our own identities through the art of drag and our culture. We're opening the stage to Indigenous individuals who might not often get the chance to perform. We hope to give more inspiration to others who might have always wanted to try drag but never felt as supported, and having this group will give them that chance.
LH: The Bannock Babes is the most important because this is our land, and Indigenous performers should be celebrated every day. It is important because we are celebrating ourselves through The Bannock Babes in the ways we want, and that is a gift. It is important because we need spaces as Indigenous Peoples to laugh and heal and party and express ourselves in our own ways together.
…it also gave me so much more of a connection with my identity as a Two-Spirit, trans Indigiqueer. I grew up in an environment where I couldn't explore any of those parts of myself, and The Bannock Babes has been a family of queer aunties, uncles and cousins who have so much space for us to be exactly who we are.
PS: What has been the highlight for you?
AS: There have been so many highlights being a part of this group, like learning to square dance. It was also thrilling to be asked to perform at the 2-Spirit Ball [part of the Asinabka Festival] in Ottawa last year, which was a very moving experience. Most recently, we were invited to be part of a mural unveiling, which was so exhilarating. Not all of the highlights have been on the stage or in front of audiences. Sometimes it's the one-on-one chats and visits with good chuckles and shared stories that are the most cherished moments. I was honoured with a star blanket from our group, which took me by surprise. I was quite overwhelmed by the kindness of being acknowledged and named Aunty of the Year. I will try to continue to foster and promote kindness toward my niblings who see me in this role. The Bannock Babes will continue to strive and grow.
FT: My highlight was being able to take The Bannock Babes to Ottawa and represent the group at the 2-Spirit Ball. To be with others like us, from around the world, was a very eye-opening and humbling experience. It was the first time I had ever been able to be a part of something so magical.
BL: There have been so many highlights with the previous shows! I think the one that stands out for me was the first show we put on. At that point, I had performed maybe only three times. I was so nervous, but all the performers had showed so much care and support. It gave me the confidence I needed for me to step onstage and do my thing. It was so thrilling, and the amount of support and cheering from the audience was breathtaking. I'll never forget that feeling of love, support and magic in the air that night. Ever since then, the support has been phenomenal! Oh, and another highlight I would say is when I sprayed champagne all over the floor. That was a lot of fun! [laughs]
LH: There have been so many—too many. Like, probably just the whole experience is the highlight of my life. If I had to choose one, I think it would be the first The Bannock Babes show—we had 17 performances that night, and all of us were moving with this urgent, excited energy. It was my first drag performance, and we were doing a group number of Buffy Sainte-Marie songs to end the night. I remember feeling so happy and proud after my performance—that performance high. It had gone so well! The audience was wild that night, a packed club (what a thought these days!). I then rushed to the drag room to change for the group number—we were all back there helping each other hurriedly change, yelling for the next performer. All our stuff was in a shared pile among mirrors and lights, cocktails and regalia—"Who has nail glue?!" Prairie and Sandi were up for their jigging number, and Prairie needed a shirt, so she used mine; I got it back months later. I still have her tie from that night. When it was time for the group number, the nerves were still there, but they combined with the stark, obvious knowledge that this night was legendary. Each of us held our shared pride right at the surface, ready to burst as we waited for our cues. For our part of the performance, Feather ripped my dress shirt and tie off to reveal a shirt underneath that said "Indigiqueer"—the audience screamed. We ended the number in a round dance with all of us performers, and I still feel the tears welling thinking about that moment. We were full of joy, like that loud aunty laugh is full of joy, and the club felt sacred. I felt powerful and full of love, and we were.
PS: What would you like to do with the group?
 AS: It's my belief that the direction we will go in will involve both the younger members and those who have paddled our canoe through the first part of our journey. I see The Bannock Babes continuing to fundraise for causes dear to us. I see many sunrises and sunsets in this group's future, with lots of rainbows in between.
FT: I personally would love to take The Bannock Babes on a Canada-wide tour, or at least to our neighbouring provinces. I would also love to have that trip be recorded and shared, like on a TV show, because we have a lot of fun—kooky and hilarious times that other people never get to see. I'm serious. It is a stomach-hurting, laugh-out-loud time! I would also hope to see The Bannock Babes last a very long time.
BL: What I would love to do with the group is showcase all the talents we have here in the community! There's a lot of great drag talent, but there are also a lot of creative minds out there, with regalia designers, music producers, DJs, dancers and singers. It would be amazing to open the show to them as well. Someday I think it would be really fun to also do a little tour or something, just to travel around and showcase the talent we have.
LH: World tour.
The Bannock Babes is an incomplete but necessary story of community. It is a home where we can be safe, Indigenous and centred on our strengths. This is a good spot to stop for now.
Contact your Chief and Council and tell them that you want The Bannock Babes in your community.
From some of The Bannock Babes,
Peace and Bannock Grease
This is an article from our special all-Indigenous digital issue, "Sovereignty."