Based in downtown Tkaronto, imagineNATIVE Film + Media Arts Festival presents the world's largest array of Indigenous screen content every October. And from virtual reality experiences to feature films, the festival has, each year, expanded on the variety of Indigenous-made contemporary media it showcases.
One particularly special aspect of the festival, the imagineNATIVE Art Crawl, usually offers an evening-long tour of diverse and timely exhibitions, with opportunities to hear directly from the artists and curators involved.
However, due to the global pandemic, the festival moved that platform to the digital realm. Here, imagineNATIVE artistic director Niki Little gives insight on moving this crucial in-situ event to a virtual space—and keeping artists and community at the forefront along the way.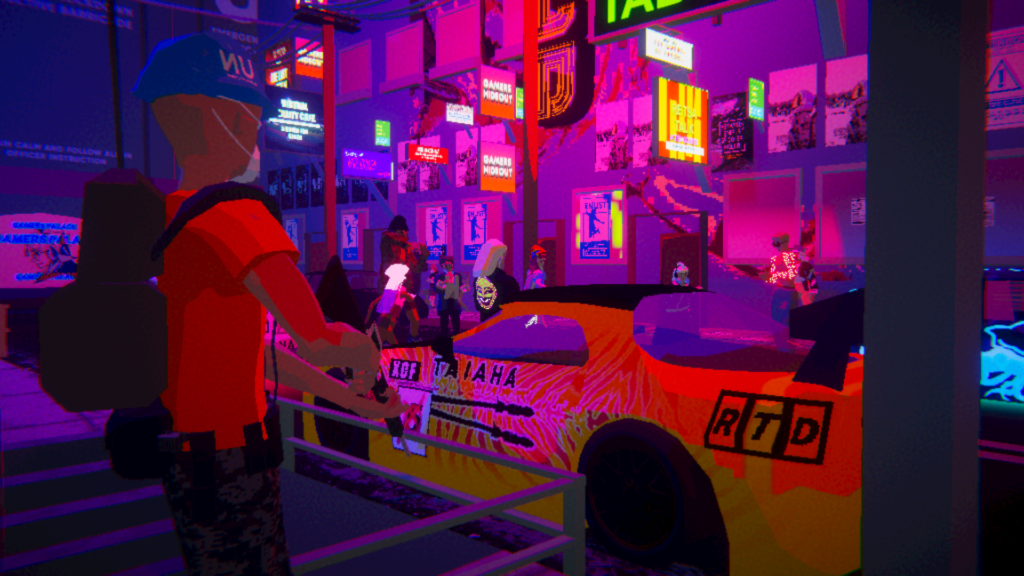 Naphtali Faulkner,
Umurangi Generation
(still), 2020. Video game.
Adrienne Huard: How did you approach imagineNATIVE's art programming during such a challenging year?
Niki Little: For the Art Crawl, we usually partner with between four to even six exhibition spaces, depending on the year. Last year I think we had five, and this year we had four.
It was Naomi Johnson, our executive director, who made the decision early on that we were going online. It was really nice to be able to [take time to] focus our efforts on researching and figuring out how we were going to do that logistically: to get to glean what other folks were doing, and to research what the best platforms were for the safety of the artists—to ensure that their works wouldn't being pirated and that the content would be protected.
So we kept it artist-led. And that meant: checking in with artists, letting them know where we were in terms of getting our platform built, how we were going to protect their work, whether we were using geo-blocking, how we were ensuring that no one could download it, what kind of access were people going to have, etc. Those things we took into account right away.
With the exhibitions, because they involve partnerships with other organizations that are dependent on what the city was doing [for pandemic measures], we had a conversation which was led by each organization around their comfort levels.
We hosted one exhibition: Thirza Cuthand's solo show. And I actually made the call two weeks before the festival to not install the show [physically] because we couldn't put anyone at risk to travel this year.
But two of our partners, Trinity Square Video and A Space are actually still physically open, as are their exhibitions "This moment an endurance to the end forever" and "Sāmoan Hxstories, Screens and Intimacies": they can each have maximum five people in the gallery and people make an appointment.
It all lent well to an online translation because the works we wanted to exhibit tended to deal with media and video, which was really adaptable.
Theola Ross,
Êmîcêtôsêt: Many bloodlines
(still), 2020. Documentary film, 10 minutes, 55 seconds.
AH: What did art crawl attendees experience this year? How did it work logistically?
NL: In previous years, the Art Crawl was either myself or my curators taking everyone along on a journey. Part of it was the madness of squeezing everyone into a space, trying to hear the artist engaging in the work.
It has always been a really fun way to expand on notions of what Indigenous artists were working on—and especially what film and media could be, since I think sometimes they're often put in a binary. And I know that expansiveness was one of the ways that helped dissolve the binary, that got more crossover of an audience, and also helped discoverability for the artists.
This year, we put together an hour-long program online, which I hosted while introducing all of the programs and curators. And the curators worked with their artists to have a conversation about the works or to show clips of the works and do a curatorial/artist talk.
We also did a survey prior to the festival, in the summer, to ask our audiences how they were engaging with the artworks this year. Facebook is one of the main platforms that they were accessing live content on.
So all of our free events were on Facebook Live and YouTube Live. When I think of people in my community [Kistiganwacheeng, Garden Hill First Nation], for example, the most active Facebook page is the community's Facebook page. We wanted to make sure that people could access it there.
AH: So the art crawl was entirely pre-recorded?
NL: Yes. The Opening Gala, the Welcome Gathering, the After Party, the Art Crawl, the Beat and the Closing Gala were all pre-recorded. So we were able to invite international guests who wouldn't necessarily have the time to or afford to come in person—we were able to get nice presence.
Alisi Telengut,
The Fourfold
(still), 2020. Documentary film, 7 minutes, 14 seconds.
AH: Do you feel like this year's approach is a more accessible way of presenting Indigenous art from all over the world?
NL: One of the many great things that has come out of this whole experience is the discoverability. I think when people can meander around our website to look at films, we're used to that—we're used to video on demand. And then some people are going into the audio or the digital spaces. I feel like I can maybe now see more crossover in how people are using media for storytelling.
I think especially with working with the curators early on, we were able to think about how we wanted to translate it specifically with Dr Léuli Eshrāghi's exhibition, "Sāmoan Hxstories, Screens and Intimacies." It's a two-year exhibition, so we're looking forward to another iteration next year. And to get a deeper look into Sāmoan film and video histories because we've had deep connections with folks in New Zealand and Australia, but not necessarily focused in this way on Sāmoan artists.
[And] everything was closed captioned. Even the audio works had subtitles or text available. We made sure we had all of that stuff accessible because we really wanted to broaden our community and have more accessibility for folks. We're really happy about that, too, in our digital VR games. Games are great in that they have text prompts, so they already kind of lent well to that.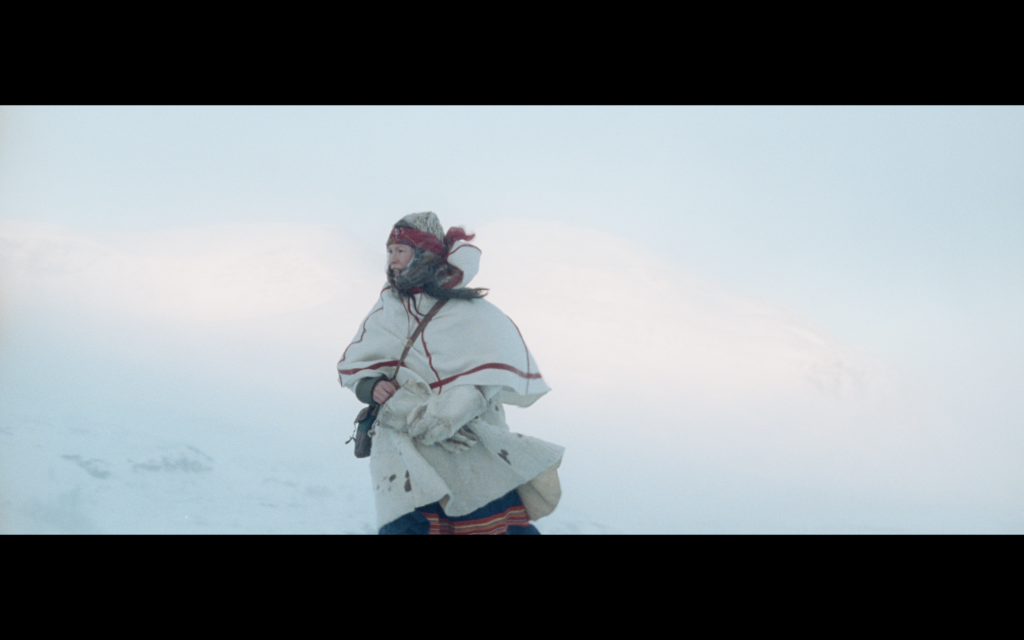 Marja Bål Nango and Ingir Bål Nango,
NJOUKCAMAT (THE TONGUES)
(still), 2020. Film, 15 minutes, 3 seconds.
AH: Community and relationality means everything to us, as Indigenous people. It really feels like the festival communicated that essence, even through an online platform when we couldn't physically gather. Was that something you kept in mind when you were planning?
NL: Yeah, it was. We wanted to come at it from a community-based gathering strategy, so we talked about doing a giveaway. This was a really great way not only for us to mobilize ourselves, but also for us to really see what was happening for artists, because they were quite vulnerable at the time. A lot of people have been losing their contracts and their exhibitions have been delayed. There's no certainty for artists, so recognizing those things was really important. For us to be in a privileged space among organizations getting government funding, we rely on artists for content. How could we not do something?
As a team, we talked about the giveaway. The act of giving is so nuanced from community to community. My community has giveaways incorporated into certain gatherings, some are ceremonial and some are a little more lighthearted. In the more lighthearted ones, it's quite fun because, at its essence, everyone who comes receives a gift. They range from utilitarian to funny in some cases—a little gesture to acknowledge and honour our kinship systems. That's what I really tried to ground this whole experience in—what that meant for us and for me is just ensuring the artists were getting the most that we could give them.
This year, we were able to increase our artist fees, some as high as four times the IMAA (Independent Media Arts Alliance – Alliance des arts médiatiques indépendants) rate from previous years. I have to accredit that to our Fundraising and Partnerships team, they did a wonderful job mobilizing our theme along with the values to find support. I am thrilled to say that not only did they help find support for the artist fees, but also our iN Award money increased this year from $17,000 to $55,500, excluding the in-kind and pitches. It's really phenomenal and I am so proud of the team.
Then also, to translate that into the idea of the giveaway, we mobilized our sponsors and our other funders. We also partnered with Indigenous organizations and businesses to give gifts, we ended up giving away over 16 prizes and awards. Not only were we giving the most amount of artist fees ever, but for our prizes, we were able to mobilize. That was really phenomenal to be able to do. That's what part of the giveaway was for me: it's just making sure we honour those artists.
Though imagineNATIVE has ended for this year, its Art Crawl and other events can still be experienced on the festival's YouTube channel, with more artist talks, roundtables and keynotes to be posted soon. Two related in-situ exhibitions—"This moment an endurance to the end forever" at Trinity Square Video and "Sāmoan Hxstories, Screens and Intimacies" at A Space—can also be viewed until November 14 and October 31, respectively.
This post was updated on October 30, 2020, with more information from Niki Little about giveaway practices.