A giant palm tree stood at the far end of the Darling Foundry's massive brick-walled gallery. Bathed in the same fuschia light that suffused the entire space, it provided a surprisingly fantastical greeting for audience members arriving to Zoja Smutny's Rosé Porn in June 2016. "It's a way to make people feel wonderful—to be in a fantasy," the Greek-Czech-Canadian choreographer recounted a few months later, back in Toronto.
Smutny first presented Rosé Porn in 2015 at Dancemakers Centre for Creation, where she was a resident artist. It has since visited Montreal and Los Angeles, landing back in Toronto at the Art Gallery of Ontario's recent April edition of First Thursdays, before travelling to Athens and Berlin this summer.
In each iteration, the piece operates through a fluid, ambulatory score. Performers roam, shifting set pieces, marking out space with pink tape, reciting instructions into microphones, locking eyes and dancing in close proximity to viewers, negotiating the social and material circumstances that the work manifests. Throughout its trajectory, however, the performance has undergone constant evolution, which we might be able to chart through its vegetation, like tracking a life in the rings of a tree.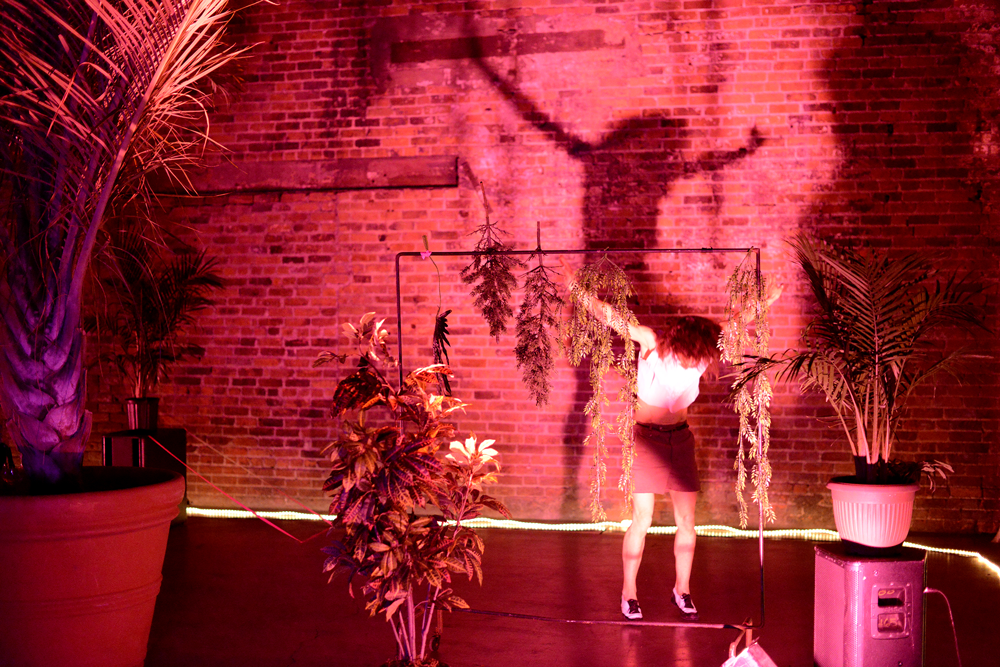 Zoja Smutny, Rosé Porn (performance view at the Darling Foundry, presented by Dancemakers), 2016. Photo: Tanha Gomes.

In Dancemakers' small dark theatre, performers moved potted and plasticized greenery about the space. "We used the fake plants that are at Dancemakers, and some of the furniture that was there—we would just sort of use what's available," explained musician, artist and Smutny's long-time collaborator Victoria Cheong, in an interview. In the Darling Foundry's expansive space, the flora grew to scale, with massive palms trucked in for the show. For the Los Angeles performance, the vegetation remained outside the gallery. "Even the palm trees are fake in LA. Or not fake, but they're brought in; they didn't grow there. It's all decorative," said Smutny. "And if you start to look at it, the way the palm trees are set up, it's aesthetically gorgeous, but it's not natural." And, finally, at the AGO last Thursday, plant life took on the gloss of high art, with fronds rendered silhouette-like in Aundrea Bell's Plexiglas triptych made to accompany the work.
In a sense, these mutating green things are metonymic for Rosé Porn, and the work's mutability extends far beyond foliage. Rosé Porn creates a sensual environment, a "warm space" as Smutny describes it, and intimates a set of parameters in which interactions—among the audience, among the performers, and between them all—can begin to emerge. Rosé Porn, then, responds not only to the specificities of its location, and the material resources available, but also to the people that come to inhabit it. "In LA there were a lot of cool kids who would stand in a circle. I would purposefully put myself in the middle of them and do my thing," Smutny told me. "They were so uncomfortable, and it was so funny because they were like, 'She's here, she's here, what do we do?' They were transparent about being uncomfortable. They just kept talking, and it was up to me to decide how long I wanted to deal with that."
Perhaps most essentially, Smutny's work questions "how to be together with your audience, with the people that are there." And while some of this language might sound familiar, Rosé Porn is more than a well-lit progeny of relational art: the piece deploys choreography to both enact and pointedly critique the voyeuristic basis of performance, and its commodification in contemporary art.
"Making Rosé Porn was [about] my personal conflict with this notion of performance and audience," Smutny told me. "The only way I could keep going was to deal with the idea of being looked at—that no matter what, you are looking at me or what I'm doing all the time." As a part of this reckoning, Smutny investigated looking as a conversation, and in the most recent versions of her piece, the context of the visual-art institution has been central to this project.
"I wanted to deal with it specifically in a gallery space, because there is a history of different ways of looking [there], at least in relationship to proximity and objectification." Consider how art historian Amelia Jones, citing philosopher Maurice Merleau-Ponty, discusses the "simultaneous subject-/object-ification" that takes place in the encounter between artwork and viewer: it's a relationship viscerally rendered in the "private dances" that pepper Rosé Porn. In these moments a performer approaches a viewer, making direct eye contact. Looking, such a hierarchical convention in most dance performance, becomes reciprocal. This is not a confrontational gaze, but a mutually held invitation. The dancer moves in proximity to the body they've encountered, seeking out the latent intimacies spectatorship holds.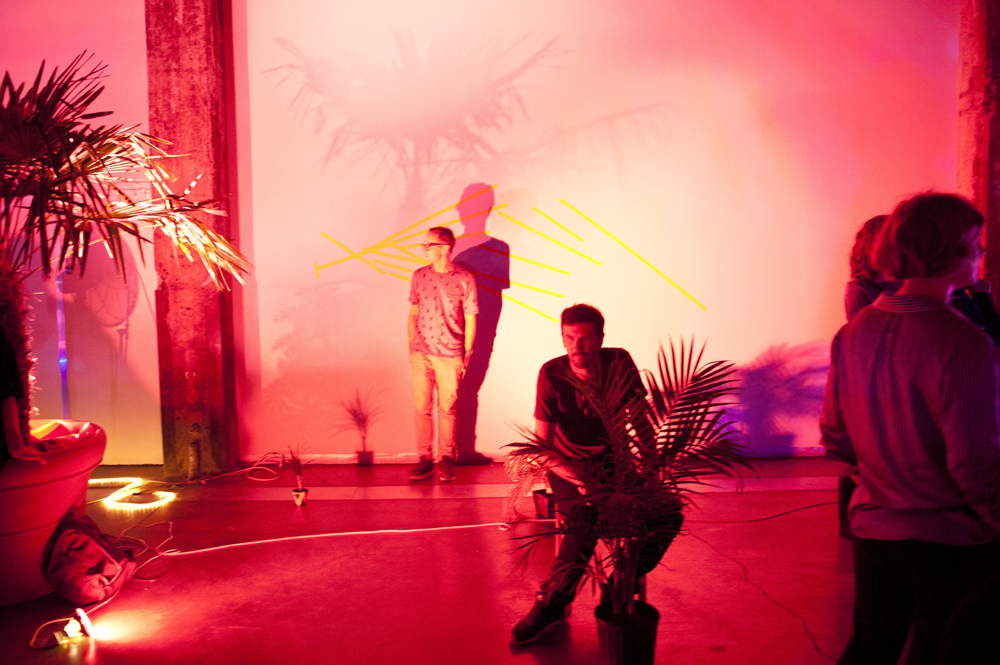 Zoja Smutny, Rosé Porn (performance view at the Darling Foundry, presented by Dancemakers), 2016. Photo: Tanha Gomes.

Indeed, there is something both generous and loving in the way Rosé Porn reimagines viewership—an unsurprising dynamic given the work's genesis. "When I left Berlin and came to Montreal, I was thinking about ways of working with these people that I had these [artistic] 'hard-ons' for. But I didn't necessarily want to work with all of them physically," Smutny explained.
"It made me wonder about what it is that actually makes me curious to work with someone…. What is it about them that makes me feel attraction? And I was already in this practice of songwriting, where I was curious about texts, and songs, and specifically pop songs and love songs. I'm not a musician at all, but I started thinking about how I would love to make songs for these people."
Smutny and Cheong spent a winter in the studio working together, and it was through this process that many of the elements central to Rosé Porn—instructions, conversations through microphones—began to emerge. This is also where Smutny began to articulate some of her fundamental questions surrounding spectatorship in the gallery: "I was always thinking about whether the songs I was making were for these performers or about them. And those are questions I'm still interested in. It comes into Rosé Porn a lot when I think about performing it: if it's for them, the audience, or about the situation."
In addition to providing a framework for looking, the gallery necessarily entails a relationship with the art market. Historically speaking, this is something performers have worked tirelessly against; many scholars have suggested that performance inherently resists reproduction and commodification. Or more recently, as Jones observes, artists such as Tino Sehgal have accepted the position of performance within capitalism, proposing that the truly progressive characteristic of the discipline, in the face of the burden that producing objects places on the environment, is its dematerialization.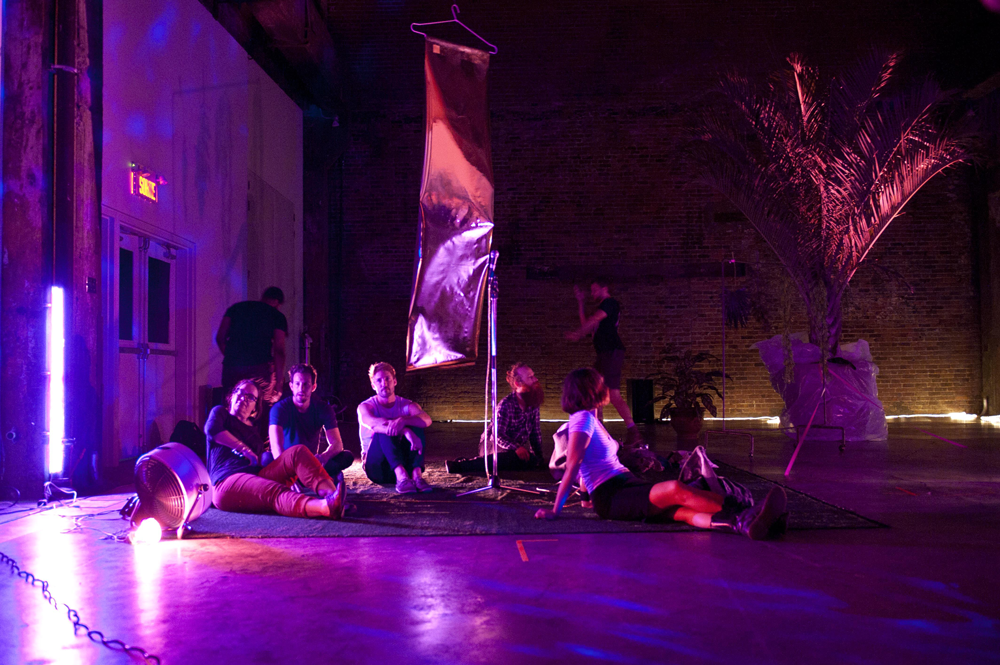 Zoja Smutny, Rosé Porn (performance view at the Darling Foundry, presented by Dancemakers), 2016. Photo: Tanha Gomes.

In contrast with these positions, Smutny's work approaches its own commodification with a knowing grin. Throughout the project's evolution, Rosé Porn has amassed a constellation of brand-specific products: tote bags, caps and fragrances that evoke art-retail collaborations or concert merchandise (the dance work, after all, also exists as a concept album created in collaboration with Cheong).
"I'm interested in how the object costs more than the human body," Smutny explained during one of our conversations. "Like, I sell the handbag for $400." She leaves the room and returns a moment later holding the one-of-a-kind: a supple black leather-and-suede bag with dramatic cut-outs that reveal a light fabric with the title printed in sweeping cursive.
Rosé Porn's affiliated products interrogate how we assess the value of performance, and performing bodies, amid the spectrum of our varied consumption. Yet they also emerge from a genuine curiosity. "I guess I'm interested in all the different forms the work can exist in. It can be listened to. And now I have visual artists making things like this gorgeous bag, or this necklace…. And it's all made for Rosé Porn."
The performance's multi-layered engagement with cultural and economic capital seems particularly relevant given its forthcoming presentation in proximity to Documenta 14's programming in Athens this summer.
"There's a lot of tension in Athens, and among Greek artists, about the fact that Documenta is there. I think a lot of people feel used," Smutny explains. "I don't know if you read the article, but [former Greek Minister of Finance, Yanis] Varoufakis basically said, the fact that Documenta is coming to Athens is kind of like very rich white people going to Africa."
Varoufakis's trenchant, if oversimplified, comparison comes from an interview with artist Leon Kahane, wherein Varoufakis equates the art fair with "crisis tourism. It's a gimmick by which to exploit the tragedy in Greece in order to massage the consciences of some people from documenta," which is "unhelpful both artistically and politically."
Varoufakis reflected on growing up during Greek military rule in the '60s and '70s. "I remember that we wanted those from the outside to do whatever it took to help strengthen…the forces of critical thinking, and the forces of a political solidarity," he recalled. "We should do things and say things which are useful to those who want to subject their own daily circumstances to critical scrutiny."
With her relationships to both Canada and Greece, Smutny hopes to facilitate the exchanges that make such activity possible. "I think that the danger of this Documenta is that, as an outsider, as a non-Greek artist, you will be a tourist. You're just going to go to a talk, or see a show, but you will not have access to really engage."
Smutny's work might provide a point of contact for stepping beyond such siloed art experiences: "It's how I think of Rosé Porn all the time, as a space for encounter."
Fabien Maltais-Bayda holds an MA in performance studies from the University of Toronto. He writes for publications including Esse, Momus and the Dance Current and is a writer-in-residence at Dancemakers.