It likely all began with a single brick from Alberta.
Now, The Witness Blanket is a huge installation built from 800-plus residential-school artifacts—including merit badges, photographs, letters, hockey skates, a door and other objects—and it's touring the country from coast to coast until 2021.
"I started trying to think of something that I could do that would somehow commemorate the residential schools in a respectful way," says Kwagiulth artist and master carver Carey Newman, who devised the project, currently on view at the Canadian Museum for Human Rights in Winnipeg. "My father is a residential school survivor, so that was how I was drawn to the idea of doing something."
Newman originally wanted to focus on using building materials from the schools, and other structures like churches and government buildings, but realized he needed to expand his ideas about suitable objects as the project grew.
"In my culture here on the coast, we believe that our big houses are the ancestors, that they have a spirit of their own," Newman says. "My idea was that each of the items would have stood in witness to part of the history of residential schools."
Among the most poignant objects unearthed in a yearlong, 200,000+-kilometer Witness Blanket research mission was a small children's shoe found by Harold Gatensby, a survivor of the Carcross Residential School in the Yukon, as he was touring the site of the original school.
"That really had a deep impact on me going forward," Newman says, "partly because of the symbolic nature of it. And it was a very emotional kind of thing to get this tiny little shoe. But also it made me rethink how all this was going to work, because if I was going to have these delicate textile things, I was going to have to change the way the blanket was built in my mind … it opened the door to so many other pieces that came in down the road."
In The Witness Blanket now, that tiny shoe is displayed behind Plexiglas, and is, in the words of the Witness Blanket website, "wrapped with a braid of sweetgrass, surrounded by sage (traditional medicines), and bound with red cloth, a symbol of healing and protection."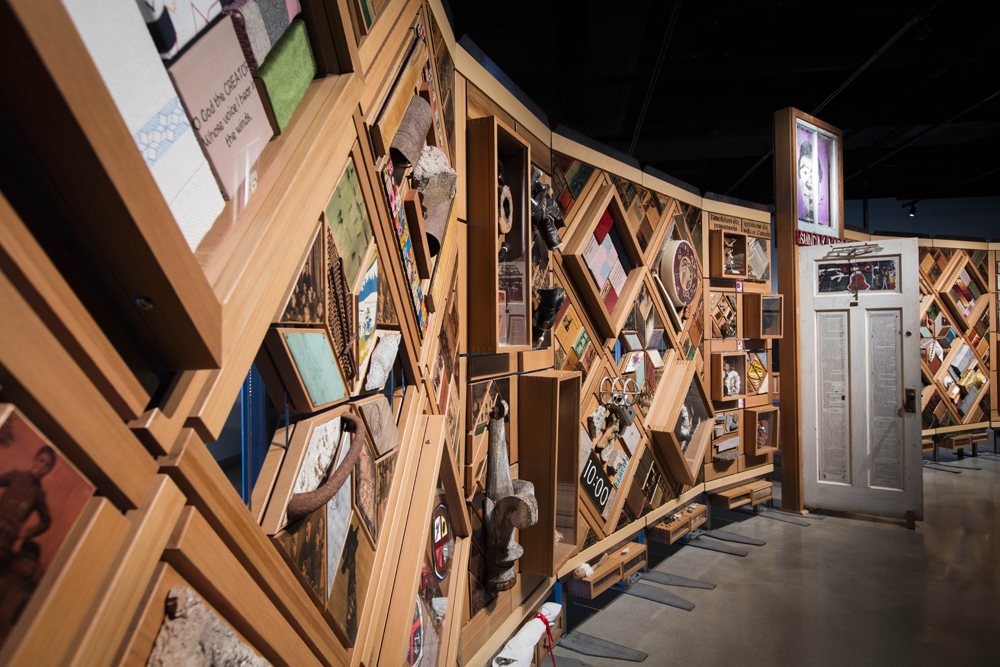 A door that Newman took from Alert Bay's St. Michael's Residential School before it was torn down is another vital part of the Witness Blanket, providing it with its central object and visual fulcrum. The door also serves as a frame for a work by artist George Littlechild, whose uncle was abused at St. Michaels.
And the number of artifacts in the Witness Blanket is growing as it tours.
"Over the last couple of years, as it has been moving from place to place, we often find pieces have been left—most often, sort of small blessings like tobacco, or some sort of medicine," Newman explains "But when we were in Ottawa, we were given a school bell, and when we were in Capilano, we were given a rattle. We were given a drumstick in another place."
Ultimately, the blanket represents "nearly all of the 142 residential schools that were covered by the [Truth and Reconciliation Commission] agreement and it also covers some that were not"—a remarkable feat of collecting, and of collective generosity.
And Newman is currently working with the National Research Centre for Truth and Reconciliation at the University of Manitoba to secure a solution for the Witness Blanket to be permanently archived when it finishes touring in 2021.
"Part of the idea is that it will become a permanent monument," Newman says.
One thing that monument may not be able to capture, however, is the way its making has changed many the people involved—Newman included.
"I think that from a personal perspective, the biggest surprise is how much it changed me and my relationship with my father and my family," Newman says. "I'd always known that my dad went to residential school, and I knew a few small stories of when he was there—but they were little anecdotes, like he didn't eat rice pudding, and he wouldn't eat scalloped potatoes, because he ate them both a lot at residential school… .But I didn't know, really, anything about the terrible things that happened to him there."
"Something I learned along the way is that survivors very often haven't told their children their stories, Newman says. But from the first seeds of the Witness Blanket project to its first exhibition, Newman says, "I could just see a shift in my dad and the way that he acknowledged and talked about his time in residential school—from being very unwilling to talk about that part of his life to now being able to express a little bit more between me and my sisters. We have learned more about him, and we have kind of come closer together because of it."
Some of those emotional changes for Newman and others, however, will be documented in a film that the Witness Blanket team hopes to release this fall.
Through interviews with survivors and footage of the artifact-collection process, the documentary shows, says Newman, "how art can impact people in different ways."
And if anybody is wondering how viewing this installation can make a difference in itself, the Witness Blanket website offers this: "To bear witness, or to show by your existence that something is true, is to pay tribute to all who have been directly or indirectly affected by Canada's Indian Residential Schools."
The Witness Blanket is on view until June 25 at the Canadian Museum for Human Rights in Winnipeg. From there, it will move on to the Peace River Museum in Alberta. For more details regarding touring through to 2021, and other aspects of this project, visit witnessblanket.ca.